Anime is one of the most popular forms of media in the world. This animation style from Japan can cover a wide range of genres such as action, adventure, romance or even horror.
A frequent setting in anime are stories involving martial arts and fighting. Many fans of anime like to create their own characters, and it can be very useful to learn how to draw anime clothes.
Anime is often very detailed, so this can sometimes be harder than expected!
By the end of this step-by-step guide on how to draw anime clothes, you will be able to do it yourself with ease!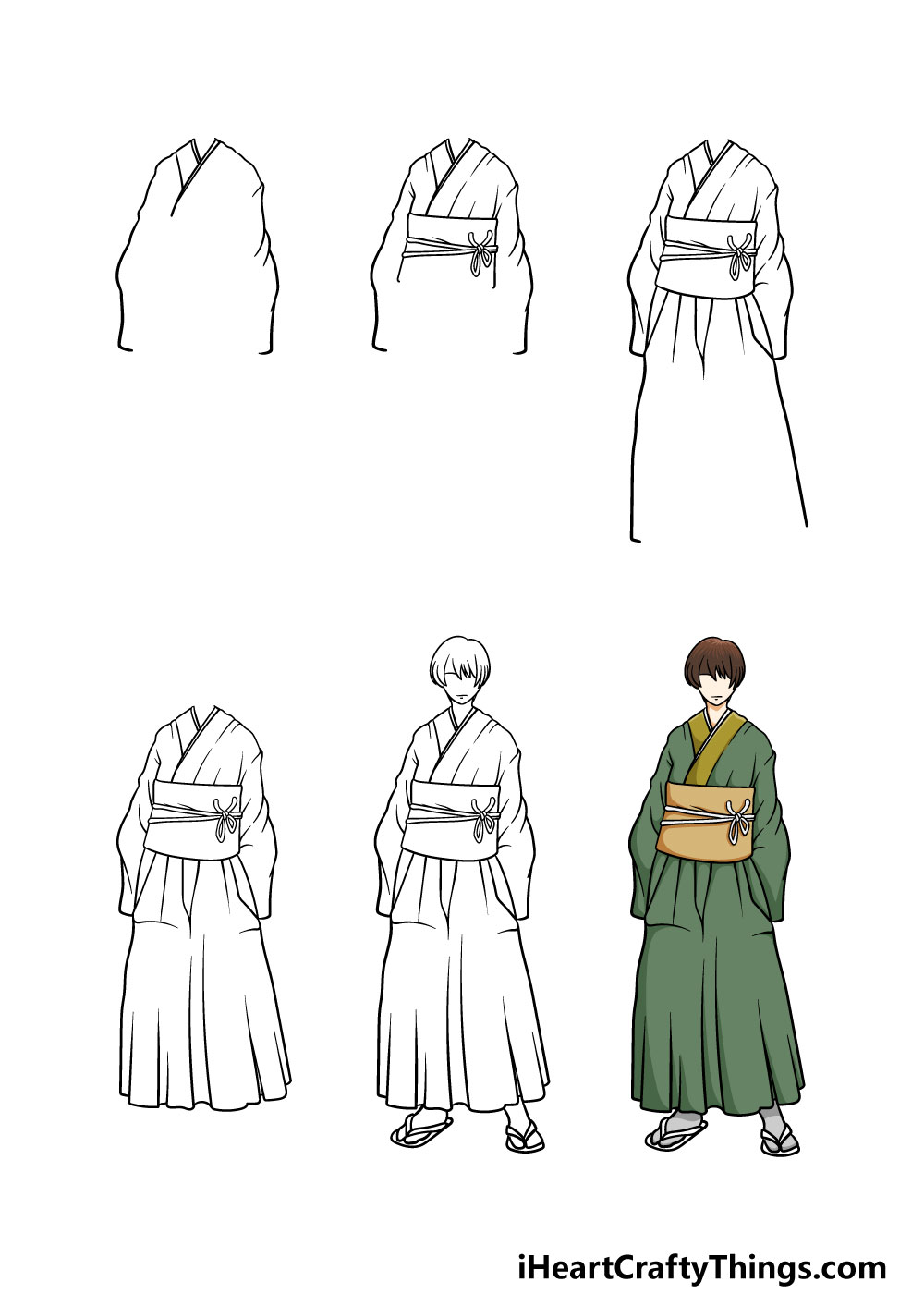 How to Draw Anime Clothes – Let's Get Started!
Step 1
In this first step of our guide on how to draw anime clothes, we will start with the outline of the top of the outfit. To do this, we will be using a variety of straight and curved lines to create this top.
The arms of the top will be quite long and flowy, as shown in the reference image. Then, the neck of the top will connect together in a way that makes it look like one side overlaps with the other.
Step 2 – Draw some details for the chest of the anime clothes
You started the outline for your anime clothes drawing in the first step, and in this one we will add some details to the chest.
There is going to be a large band around the waist, and this is what we shall start drawing now. You can start this by drawing a horizontal line near the chest of the outfit.
Then, there will be a thin rope tied around it to secure it onto the body. You can also add some simple line detail onto the top for even more detailing.
Step 3 – Next, you can begin the bottom half of the outfit
The top half of these anime clothes is pretty much done now, so next we shall start to draw the bottom part.
To start this section of our guide on how to draw anime clothes, simply draw two slightly bumpy lines down from the band around the waist.
These will form the outline of the bottom of the outfit, as shown in our reference image.
Then, we will finish off this step by adding some more lines coming down from the band-like belt, and these will help to give the impression of creases in the fabric.
Step 4 – Draw the base of the anime clothes
We will be finishing off the bottom half of your anime clothes drawing in this fourth step. To do this, we will be extending lots of straight lines down the fabric of the skirt section of the clothes, and these will be at various lengths.
By doing this, you will form some angular shapes at the very base. These lines will also help to create even more of a look of creased fabric for the picture. Once you have finished this bottom half, you're ready for some final details!
Step 5 – Now, you can add some final details
You have pretty much finished the clothes portion of your drawing, and in this step of our guide on how to draw anime clothes we will draw the person wearing them.
We drew a simple head with some jagged lines for the hair over the face. Then, we drew some feet clad in sandals to finish it off.
This is the way that we chose to finish off this drawing, but you can also put your own spin on it if you wish!
You could change the details of the face, and perhaps make it look like your favorite anime character.
Or you could take it even further and design your own unique character! Once you have finished the design of the character, you could also create a background for the drawing.
Once again, you could use your favorite anime as inspiration and recreate your favorite anime scene. You could also create a unique setting to show where this character is standing.
What details and extra elements will you use to finish off this image before the final step?
Step 6 – Finish off your anime clothes drawing with some color
This sixth and final step of your anime clothes drawing is the one where you get to kick back and have some great fun coloring in your picture! We showed you one color scheme you could try in our reference image.
We used shades of green and yellow for the clothes in this example, but this is just one option you could go for.
Anime characters are often bright and colorful, so that gives you a lot of freedom with how you can color in this picture.
This is a great opportunity to break out all of your favorite colors and patterns to bring this image to life! You can also achieve the kinds of colors you're wanting by choosing the right mediums.
Tools such as acrylic paints, colored pens and markers would work well with creating the kinds of colors you'll see in anime.
On the other hand, a softer look with mediums such as acrylic paints and colored pencils would look just as great too. We can't wait to see how you cap off this drawing guide!
Bonus: Make A Story Out Of This Anime Clothes Drawing
This anime clothes drawing was left pretty vague when it comes to who this character actually is. Their face and other personal details have been left up to interpretation, and that opens things up for you.
We think it would be amazing to make a story out of this image in order to show who this character is. In doing this, we decided to think about this before adding color so you can draw any details you like.
First of all, you can think of the format you would like to use for the story. It could all be told in one panel, and you could suggest things by adding objects and other details that tell the story of this person.
You could also use a small box of text to get the viewer's imagination going. If you're feeling confident enough to draw them in other positions and poses, then you could make a whole comic page.
After mapping out your story and sketching the panels, you could also sketch out the various poses before drawing them in more detail. Don't forget to account for any speech bubbles and text!
This could be done in a traditional comic format, or it could be fun to do it in an anime style where you read it from right to left. If you're stuck on the story, you can think of a central premise.
Maybe they're a samurai dispatched to hunt a monster terrorizing a village, for example. With that simple premise, you can build on it and add some cool details and characters.
You can be as simple or as complex as you want to be, and we would be interested to see what kind of story you can come up with, as well as how you portray it!
4 More Ways To Make Your Anime Clothes Drawing Unique
Create an anime look with these tips for your anime clothes sketch.
We kept the colors in this drawing of anime clothes fairly light and muted, and it's a great look for the clothes.
While they look good, you could start to customize it by choosing other colors for the clothes.
These could be as light or dark as you like, and any colors you choose will look amazing in their own way.
You could even draw some patterns or different fabric textures to make the clothing look even more distinct.
Another way that you could add to the look of these anime clothes would be to add a few accessories. For example, it would be cool to add a hat for the character to wear.
This could be something like a straw hat, which would go well with the traditional look of the outfit. That's not the only accessory you could add, as you could also add a weapon such as a katana.
The accessories that you add will go a long way towards building a story for this character that you have created.
We kept the facial features of the character in this anime clothes drawing blank so that you could focus on the design of the clothes. That shouldn't stop you from adding more distinct facial features if you want to!
If you were to add a face, it could be based on someone that you know. If you have a favorite anime character, then maybe you could turn this character into that one by adding their face!
Once the character in your anime clothes sketch looks exactly as you want them to, you can then finish off by showing where they would wear this outfit.
This could be based on a natural area outdoors, or you could make it a more urban environment. Looking up places online could be a good way to get inspiration.
If you have a place you love to visit, then it could also be used as a background!
Your Anime Clothes Drawing is Complete!
With the final details and elements drawn and your colors added, that means that you have finished this guide on how to draw anime clothes!
This guide was created to break this drawing down into more manageable steps to make it easier and more fun for you to take on.
Now you have everything you need to create your own anime characters or recreate your favorites from animes that you love! Be sure to get creative and have lots of fun experimenting with your drawing. We can't wait to see what you come up with!
The drawing journey doesn't end here, as we have many amazing guides for you to enjoy on our website! If that isn't enough, we also upload new ones all the time for you to enjoy.
We would love to see your awesome anime clothes drawing as well, so when it's ready we hope that you will share it on our Facebook and Pinterest pages for us to enjoy!