Alice In Wonderland is one of the most beloved stories ever created. It started as a book, and has since gone on to see many movie adaptations and other representations in media.
It has also inspired countless other stories, and this collection of free Alice In Wonderland coloring pages for kids will allow you to create some of your own!
There are some amazing pages featuring all of your favorite Alice In Wonderland characters to color in, and we can't wait for you to experience them!
So let's begin this adventure with the first page.
15 Brand New Alice In Wonderland Coloring Pages – Free to Print and Color
We shall begin this collection of Alice In Wonderland coloring sheets with our main character herself: Alice!
She is the heart of the story and the character that we follow through these bizarre adventures.
When coloring her, you can use the colors she has in the films, or you could create a unique look for her.
How will you get this collection started?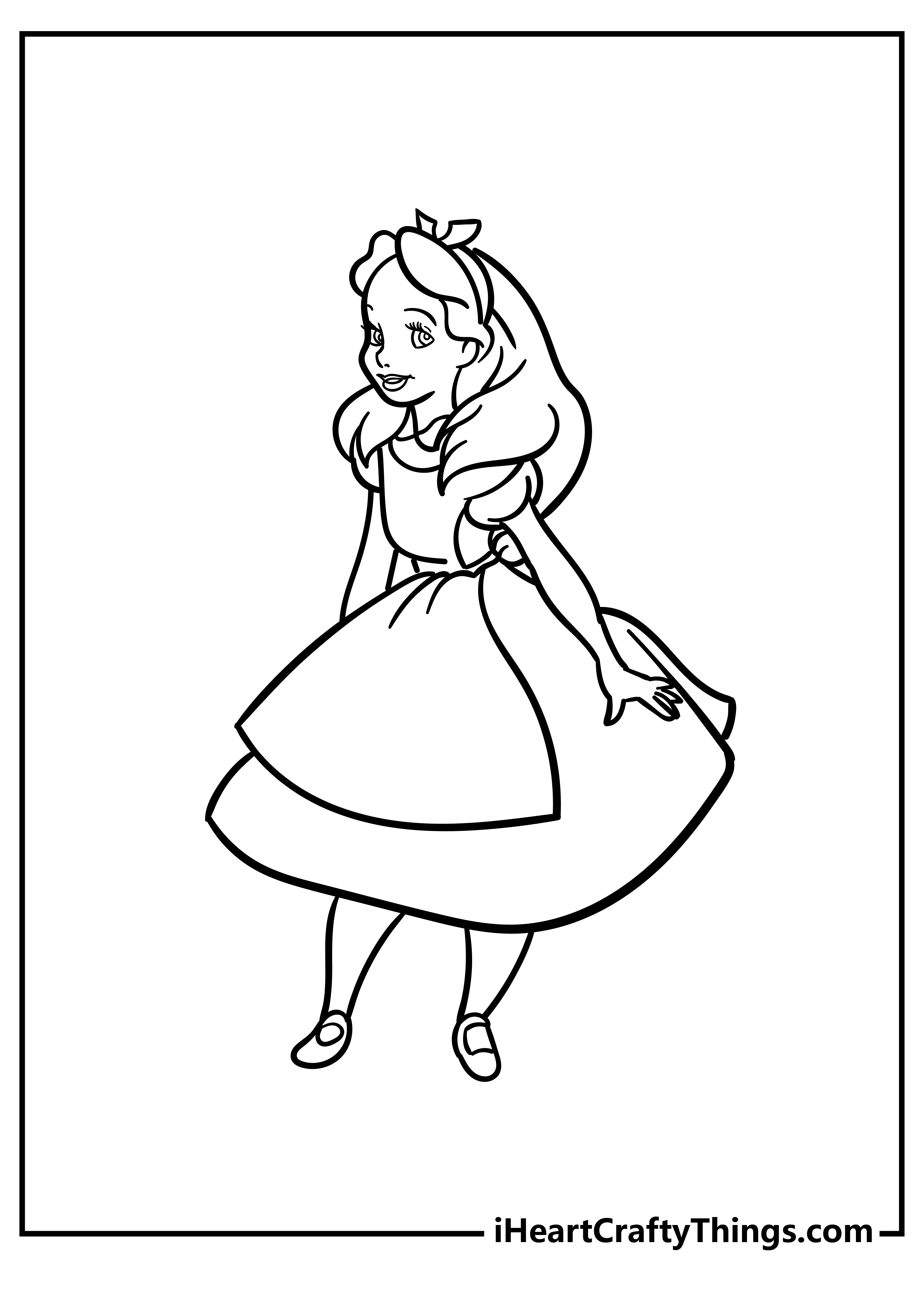 This second page features another image of Alice, but she is looking a bit more surprised and uncertain here.
There are definitely many moments in the story that would cause surprise and wonder in her.
You could show which moment you think it could be by drawing some background details or additional elements for some extra fun!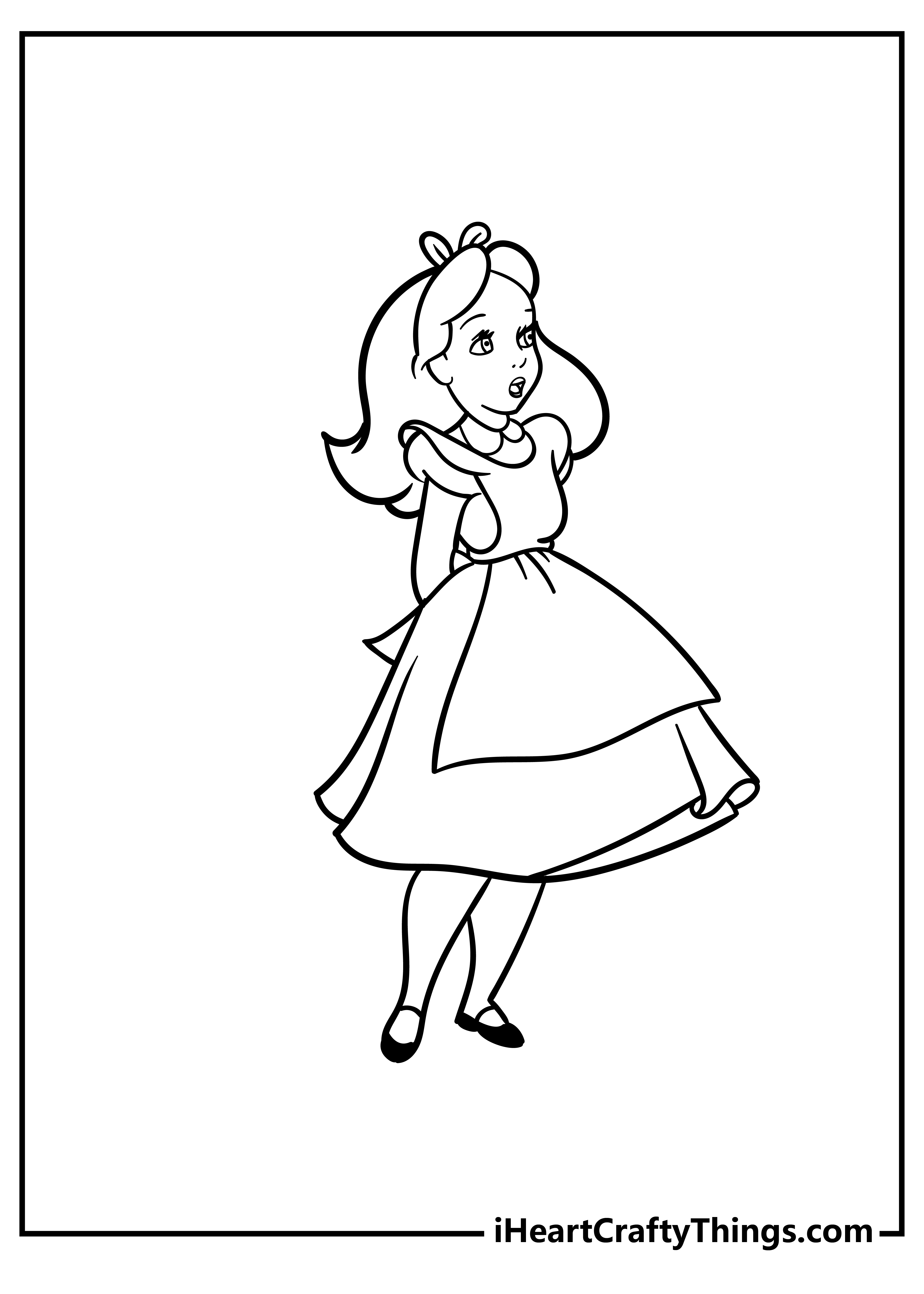 Our next Alice In Wonderland coloring page features a really adorable scene for you to color. Alice is a really kind-hearted person, and here she is sharing a charming moment with a cute cat.
There are some great little details here, and the flower crown she is about to put on the cat gives you some opportunities for some bright color details.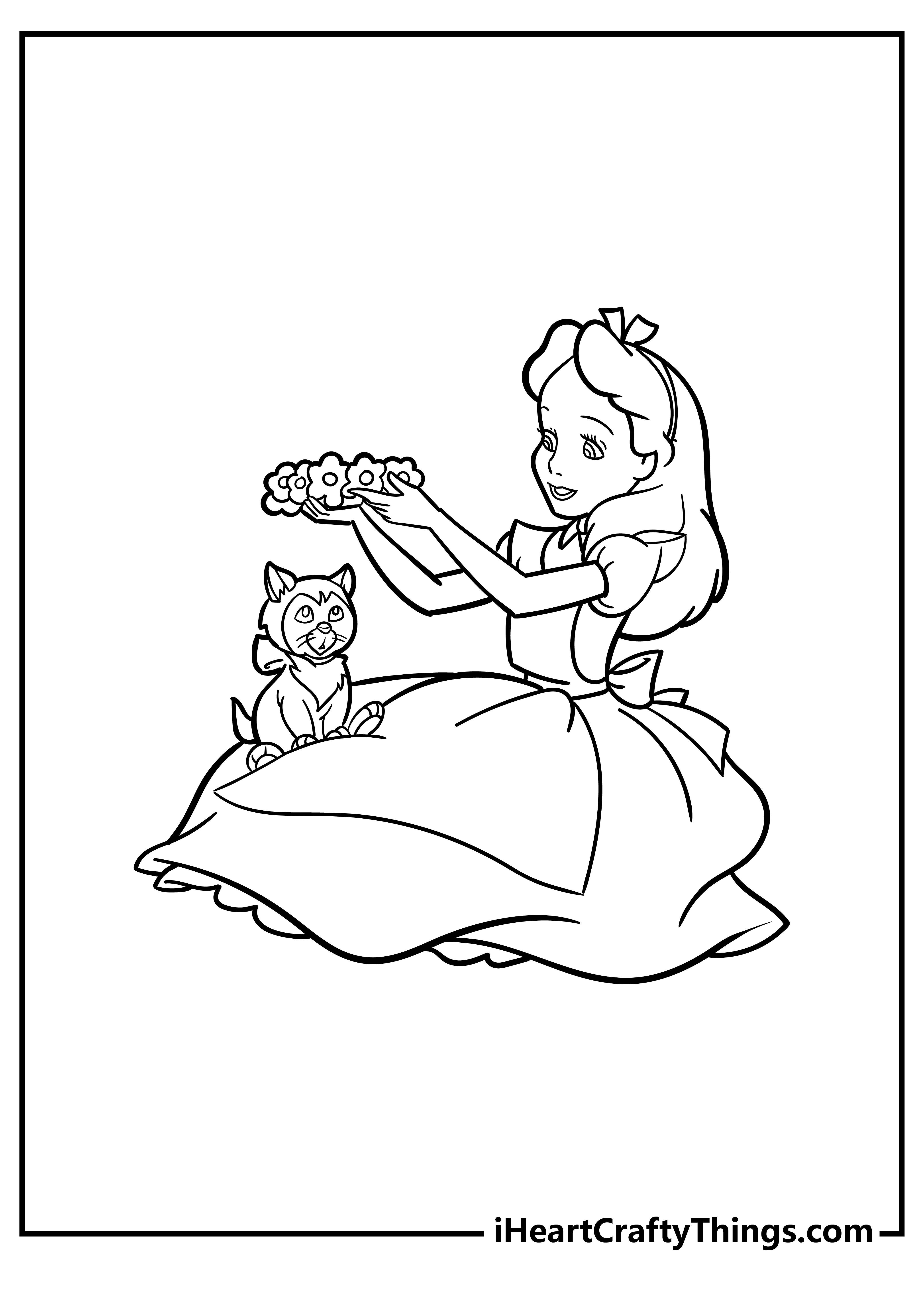 It's time for tea in this next picture! Alice is enjoying a nice cup of tea here, and she is joined by her friend, the mysterious Cheshire Cat.
This cat is usually colored with alternating pinks and purples which gives him a really vibrant appearance.
His stripes are quite narrow, so maybe you could use some colored pens or pencils in order to make coloring these tight spaces much easier.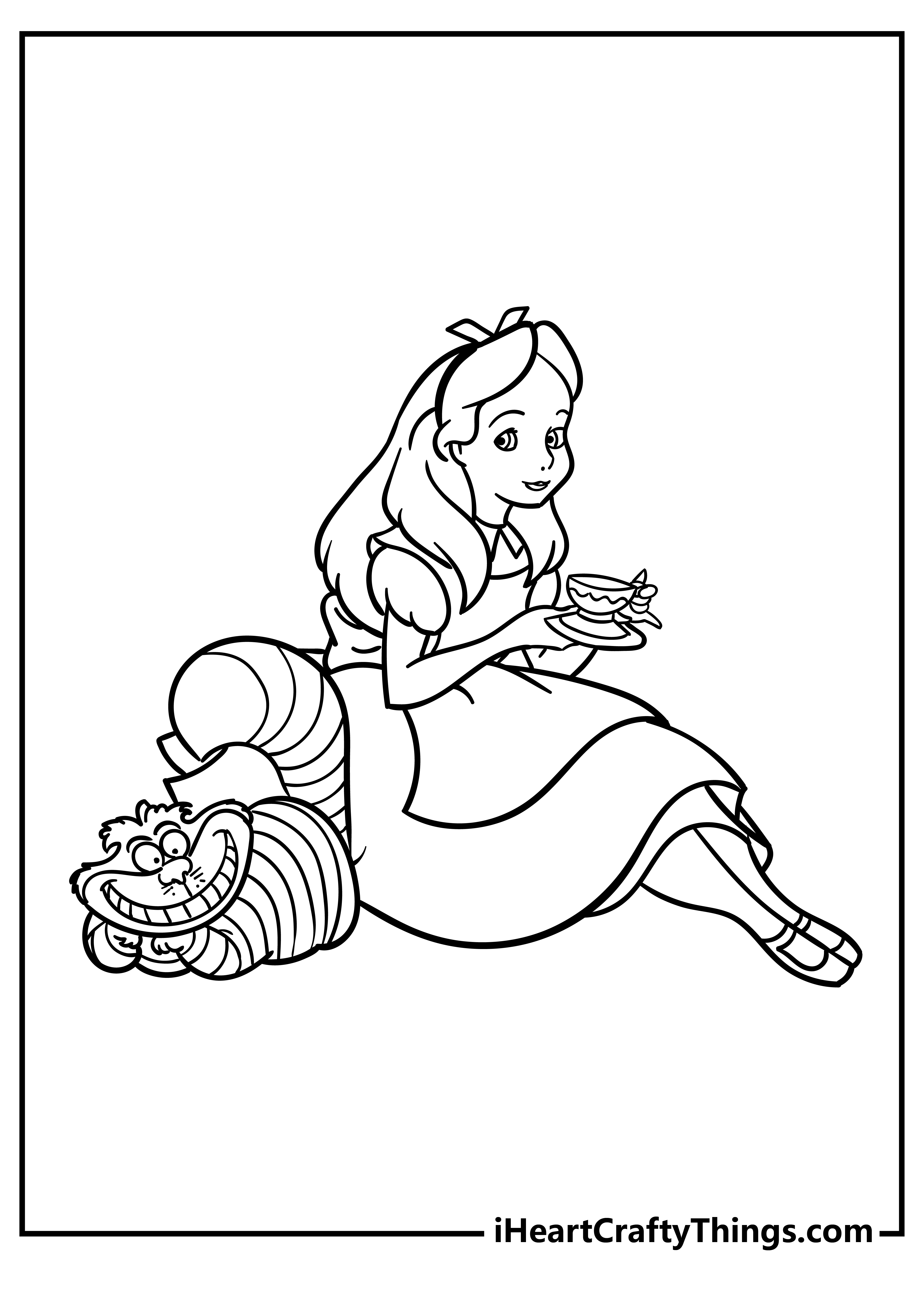 The March Hare is another iconic character from the story, and this fifth page captures his character brilliantly!
There are loads of details to color on his hair and outfit, and you could have a lot of fun creating a new look for this lovable character. We can't wait to see how you color him in!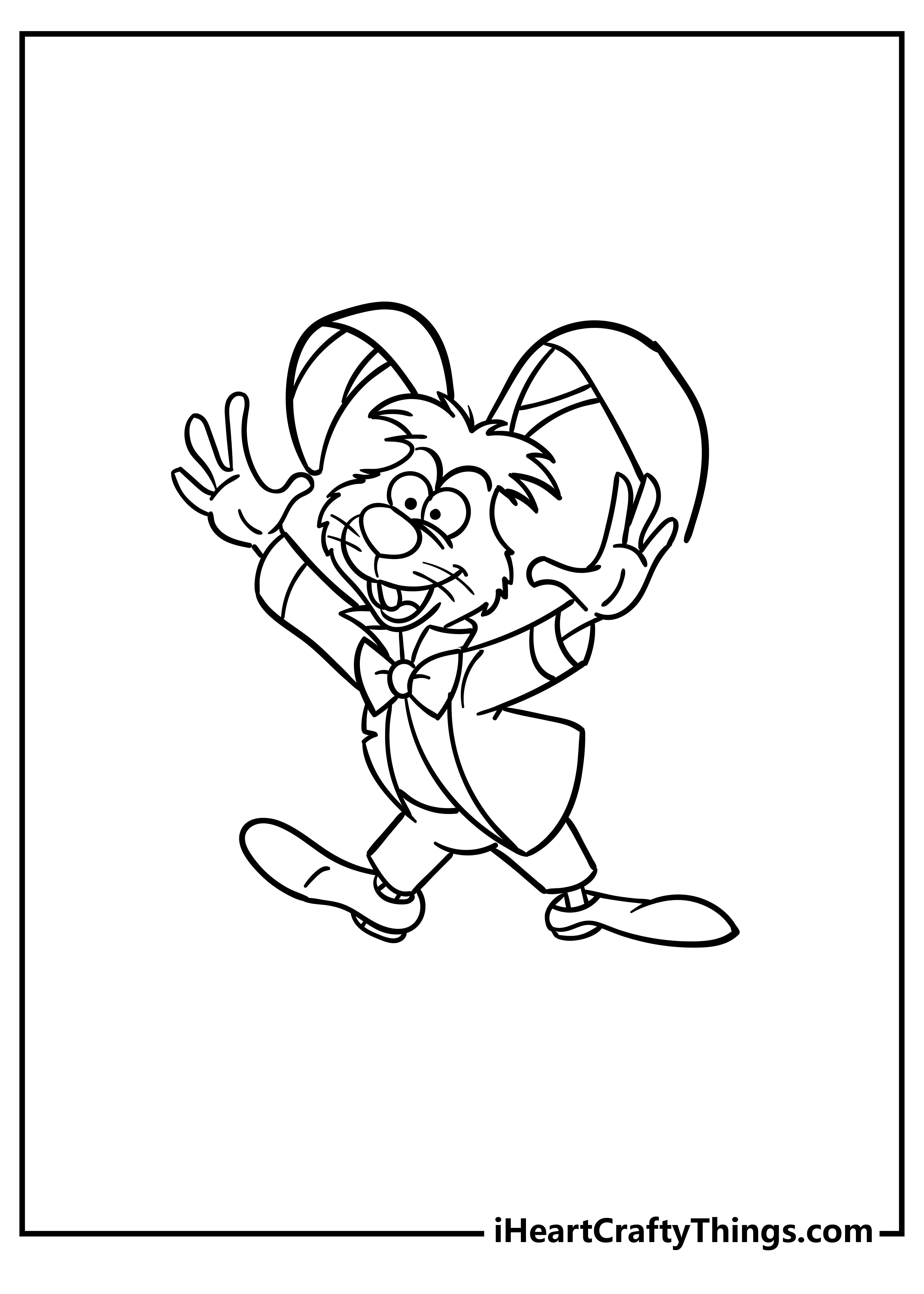 The Cheshire Cat stars in this next page in our collection of free Alice In Wonderland coloring pages for kids.
We get a much closer look at him here, and you can focus more on the colors of his stripes in this one.
Will you use his normal pink color scheme, or do you think you wll try out something new for him?
Alice is on the move in this next picture.
When a character is moving, one way you can portray the movement is by using lots of smaller strokes of color in the background to make it look like the scenery is whizzing by.
What other techniques can you think of? You could also add a more structured background, so you definitely have loads of options.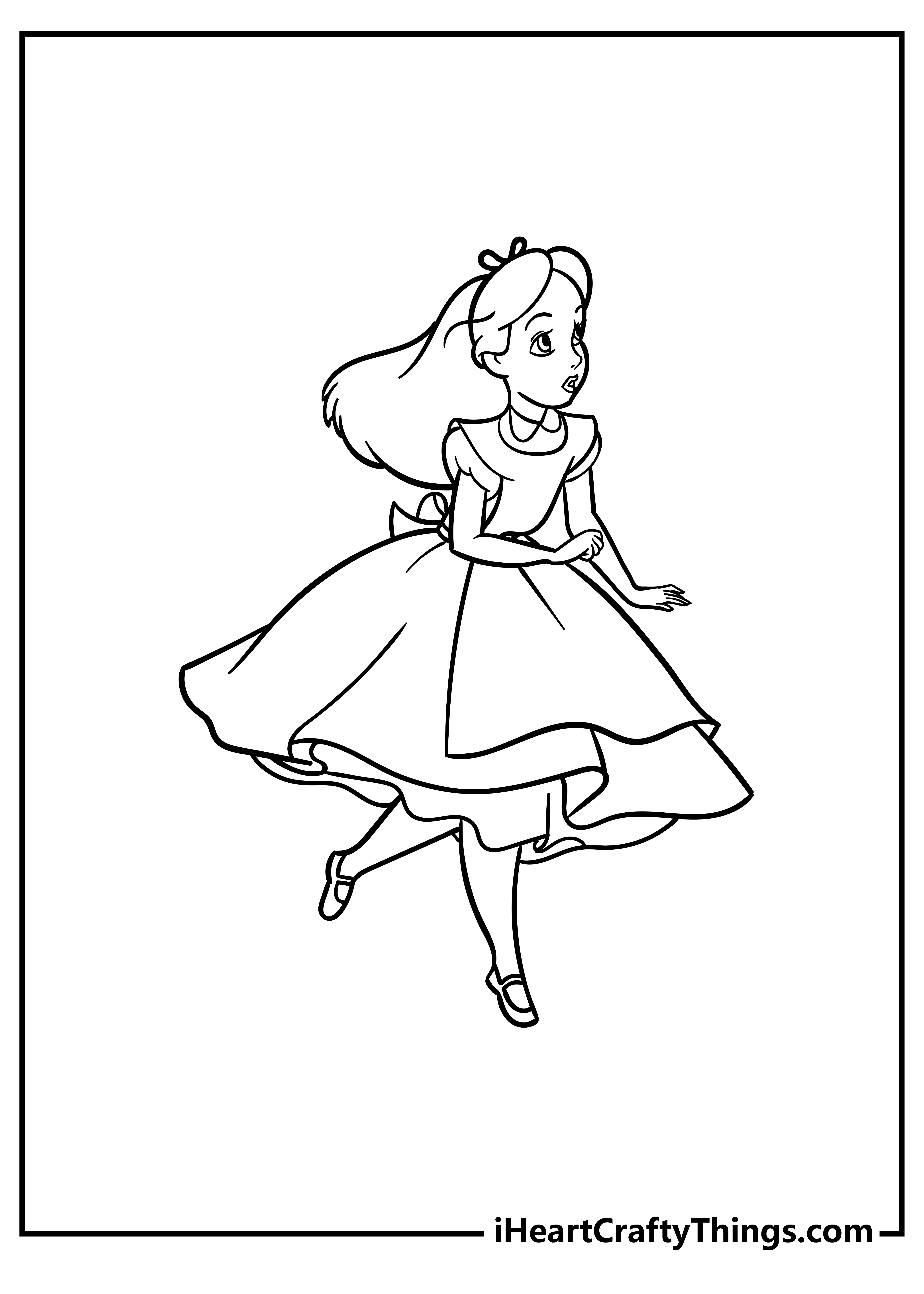 Next, we have the Dormouse popping out of a teapot for a really fun little scene. For this page, it could be one that would be fun to add some extra details to.
For example, you could draw some other teatime objects to be set on the table beside the teapot. What other little details would you add to a scene like this?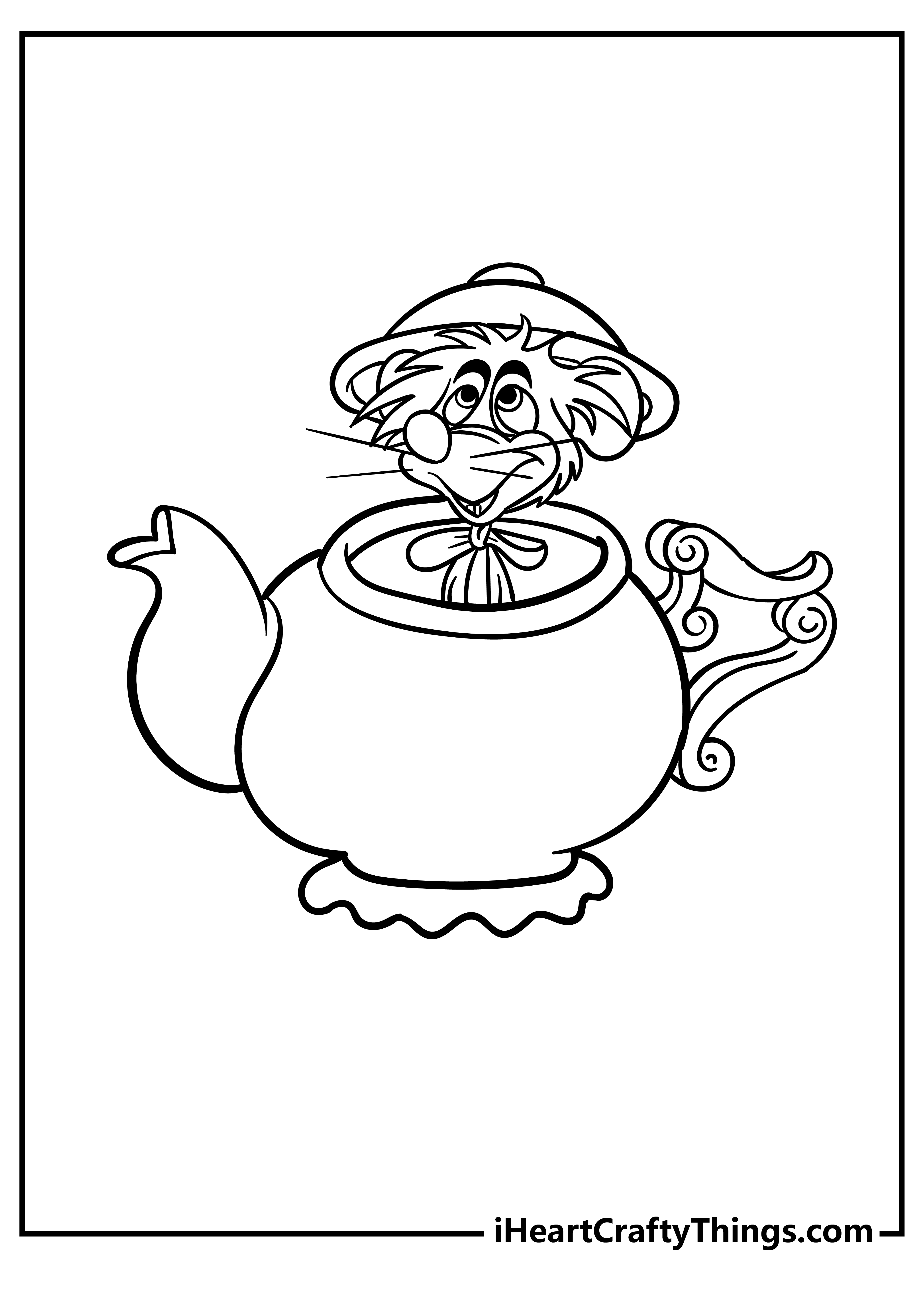 In the Alice In Wonderland story, she encounters a strange vial containing a potion that can shrink the user down once drunk.
This picture shows Alice after she consumed this potion, as the vial is now a giant object in her hands.
Will you add some color inside of the vial in order to make it look like it's got some potion in it?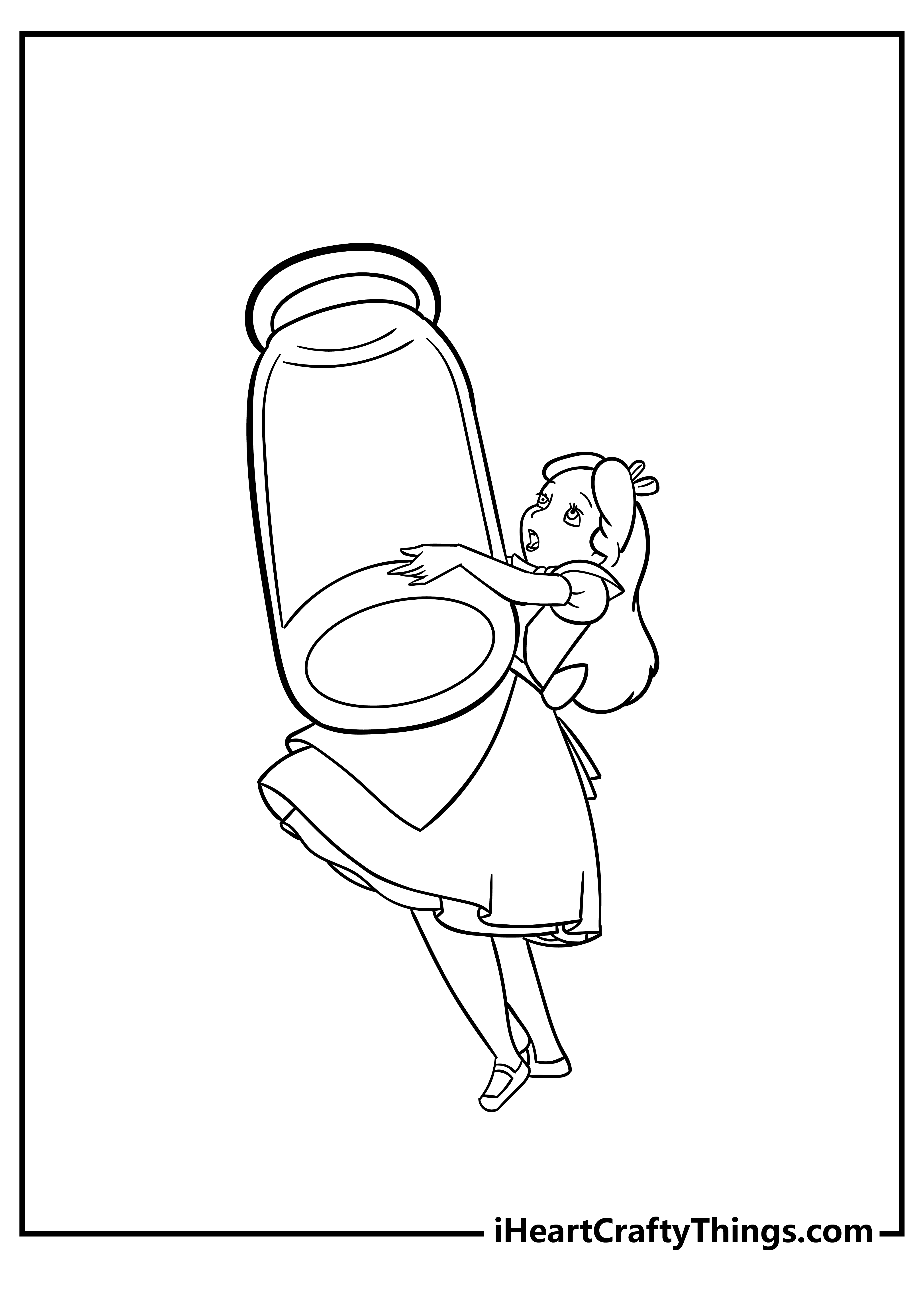 You're just in time and not at all late for this next Alice In Wonderland coloring printable we have for you!
The White Rabbit is our next character, and he is one that is always obsessed with being on time.
There are some wonderful small details on this one, so it's another we would recommend colored pens and pencils for.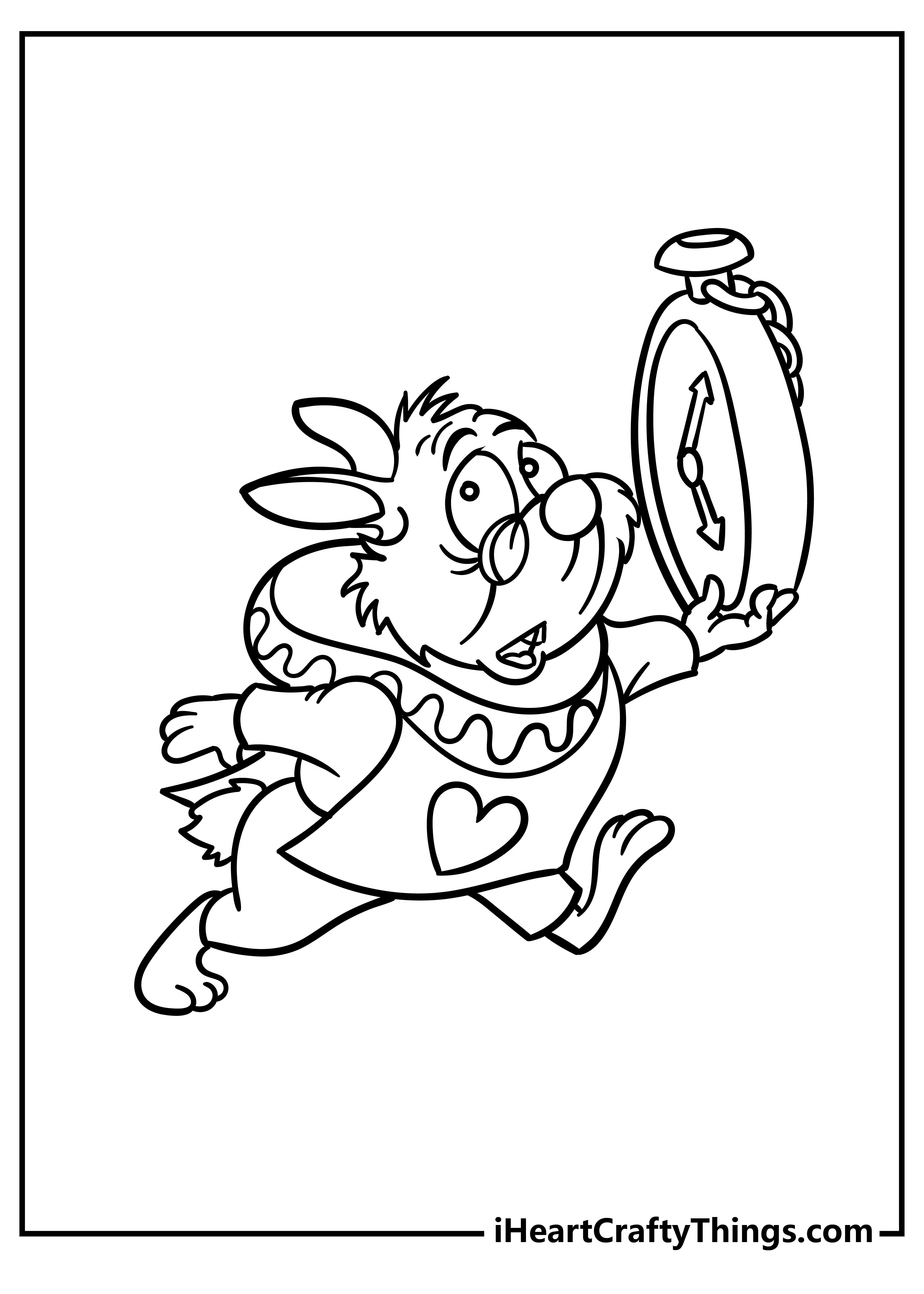 There's another lovely portrayal of Alice for you to color on this next page.
There has been quite a bit of space left around her on this page, so you could draw some background elements or maybe add some more of her outfit to finish it off.
These are two ideas, but what else can you think of?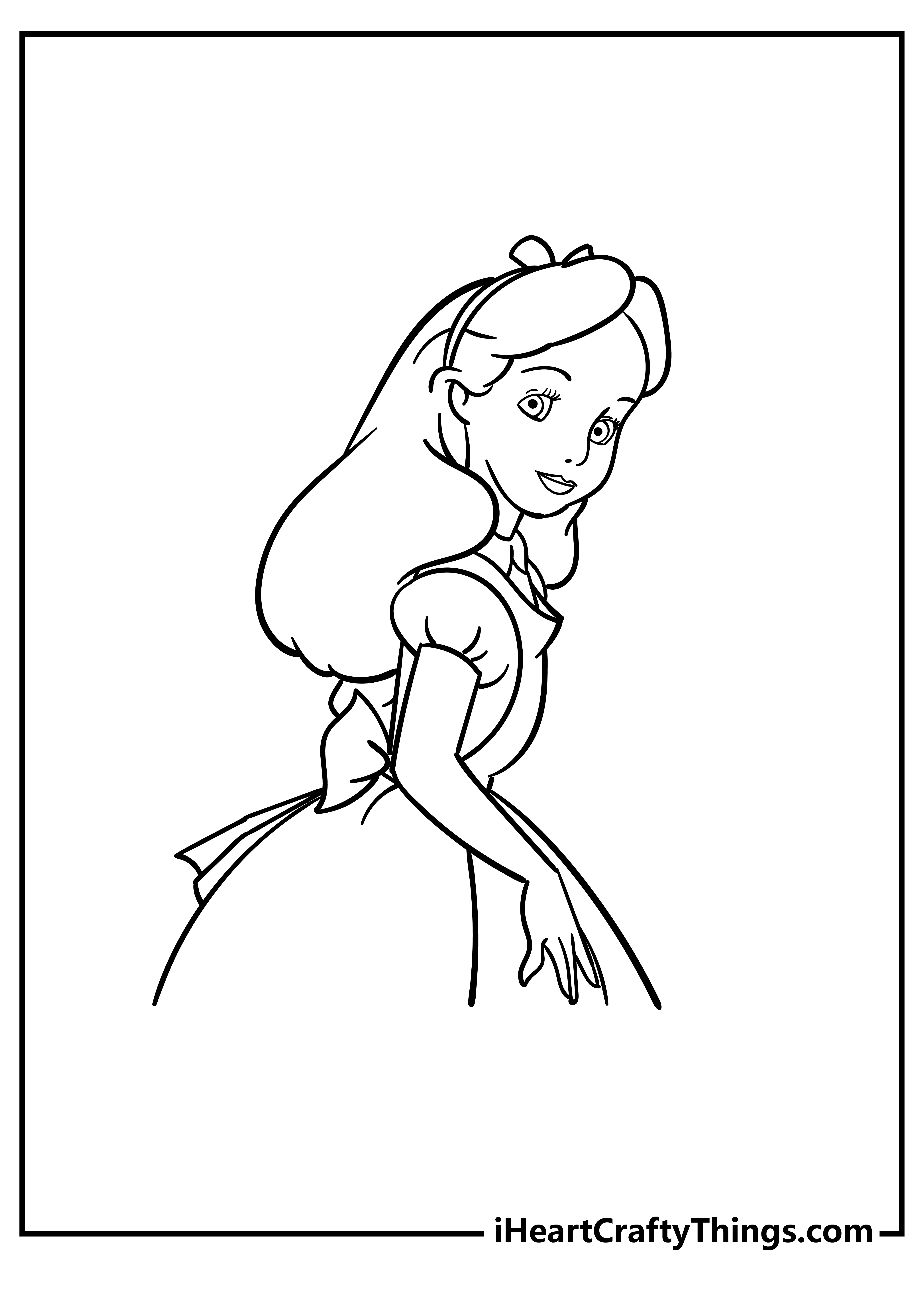 The Ace of Hearts is up next, and this is certainly an interesting character design. Because he is designed to look like a playing card, the hearts on this character are usually colored bright red.
If you go with this color scheme, then this should turn out to be a page that really catches the eye!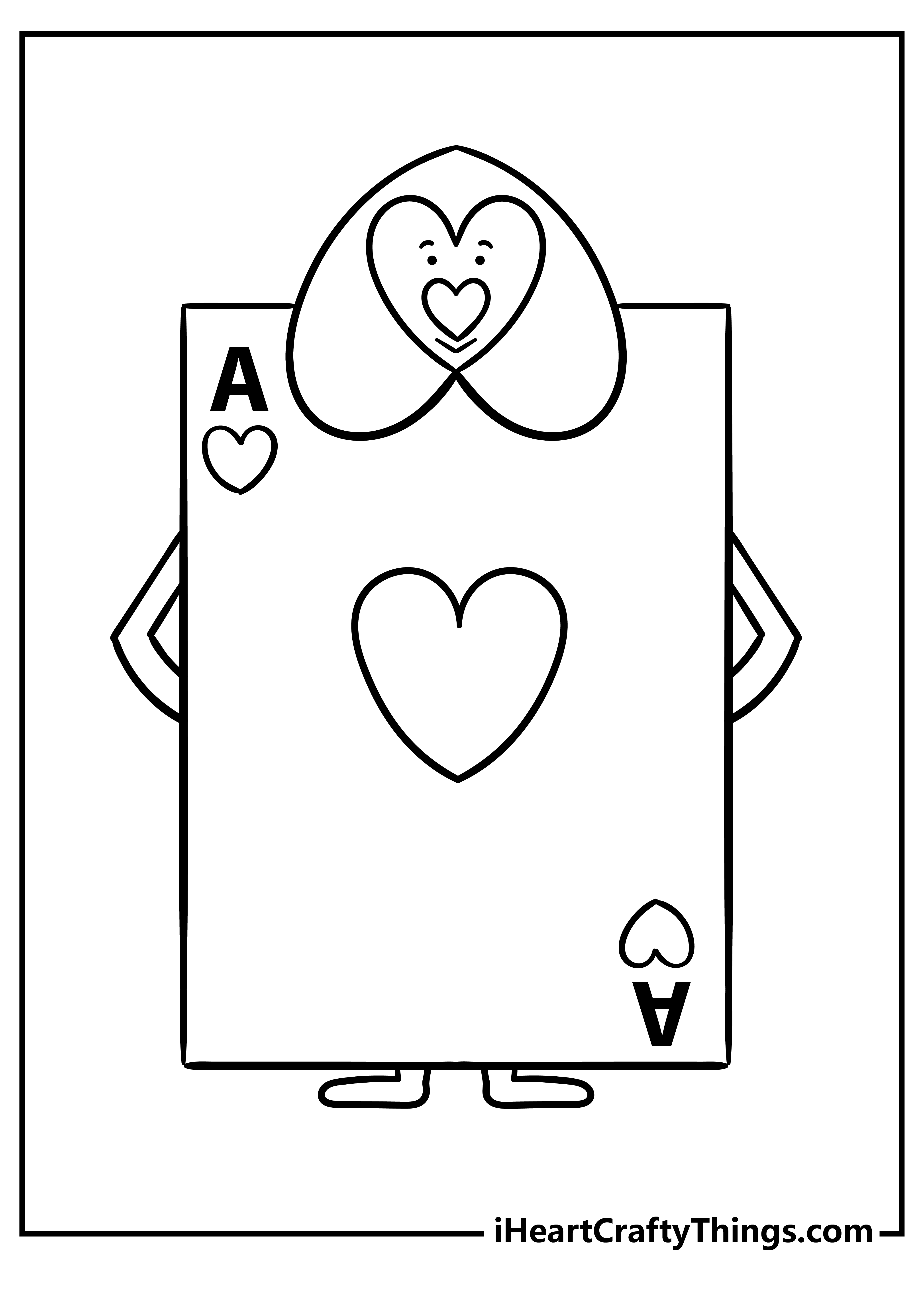 From the Ace of Hearts, we now have the Queen of Hearts, and this is a great portrayal of this character!
Her color scheme usually consists of reds and blacks, so you can use similar colors to create an accurate portrayal of her.
Do you think you will add any kind of background or maybe some more of her body?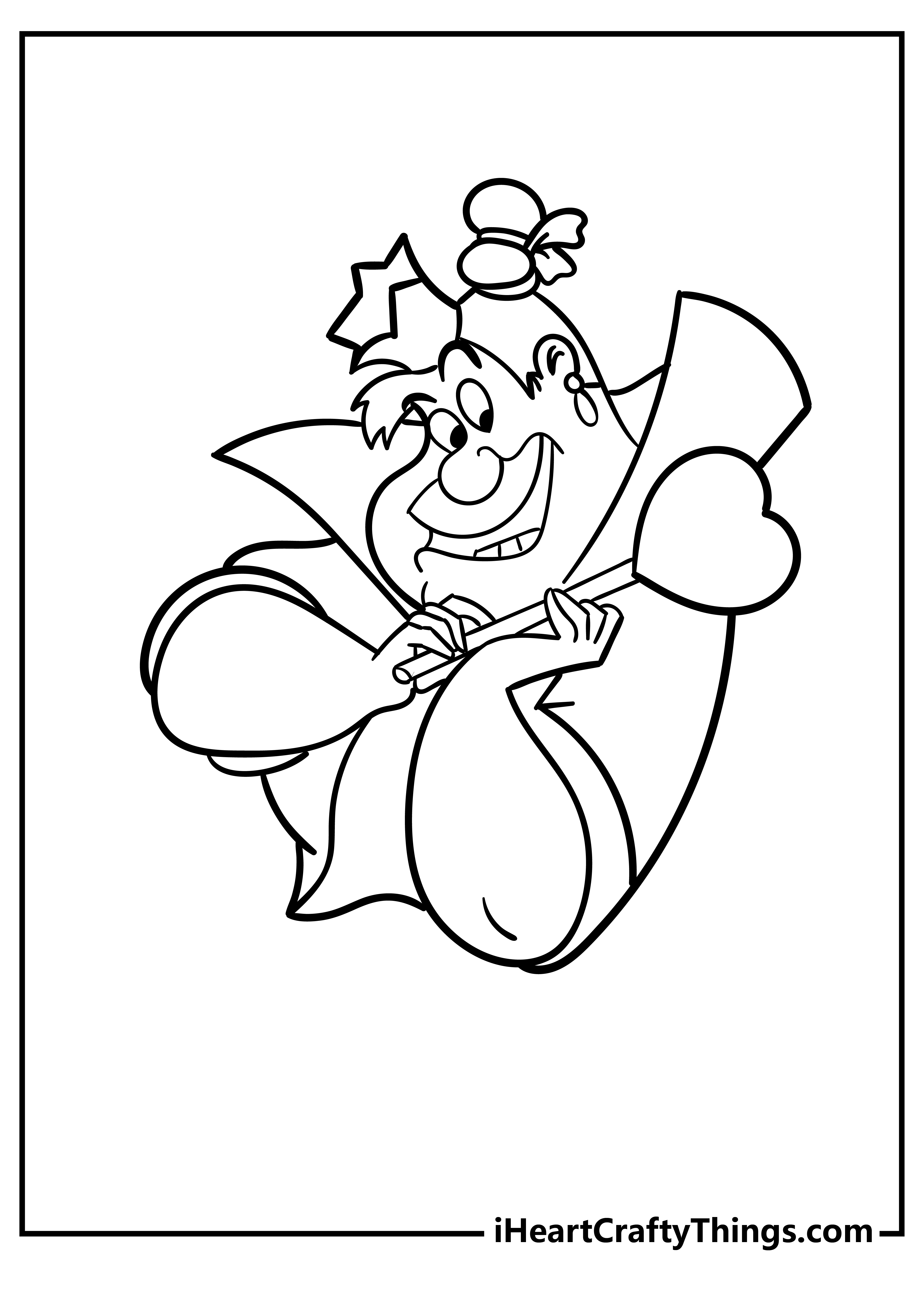 The Caterpillar is relaxing with his pipe in this imaginative image. This is one of the most interesting characters in the story, and there are usually some wild color effects in play when he is around.
We think this one would be perfect for experimenting with some crazy colors, patterns, art mediums and techniques!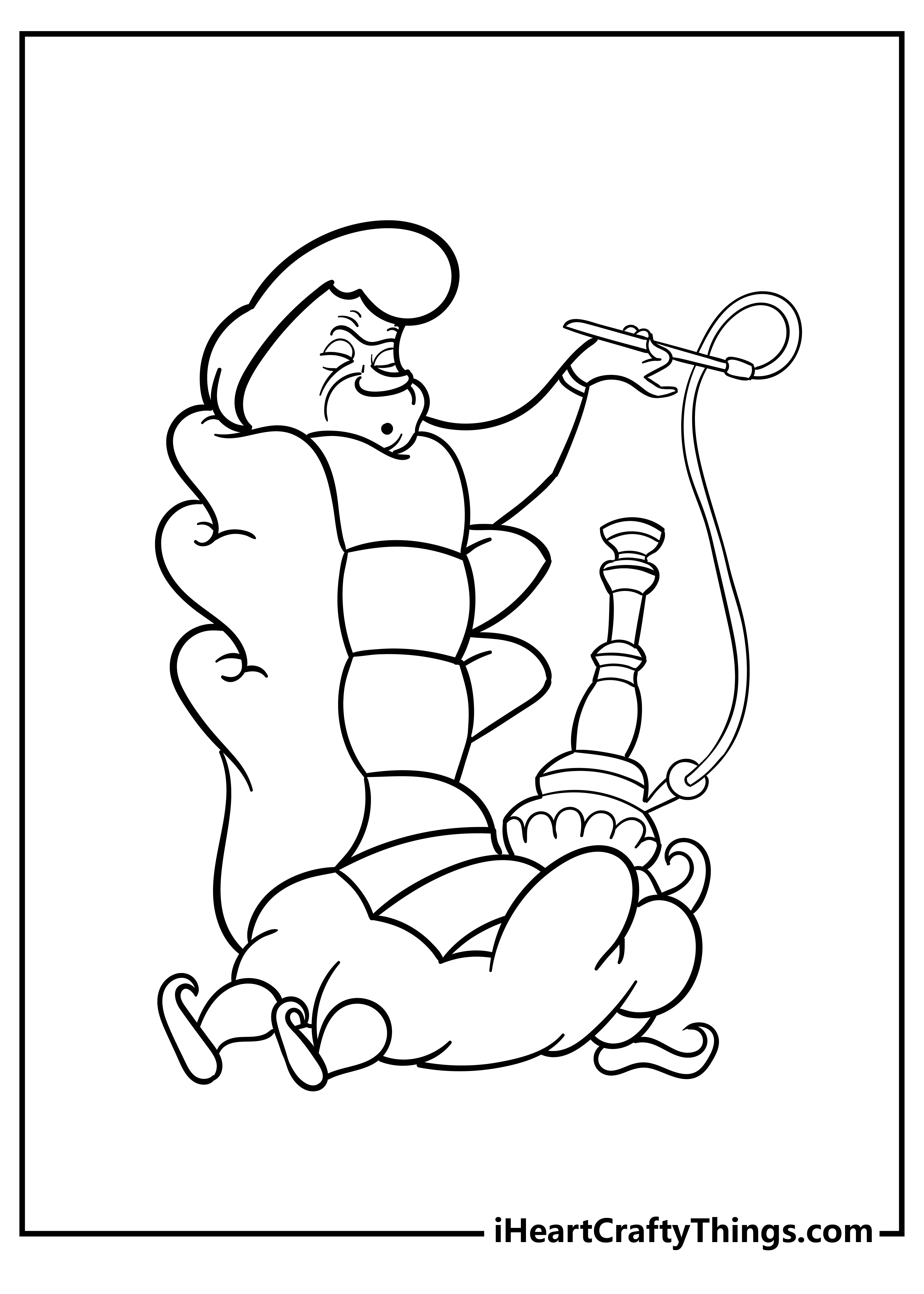 Tweedledee and Tweedledum are two lovable and amusing characters, and one of them is the star of this final Alice In Wonderland coloring sheet.
These two brothers are usually inseparable, and it could be fun to print two copies, cut one character out and then stick him on the page beside his brother.
Will you do a trick like that or stick to coloring just the one? We look forward to seeing what you choose!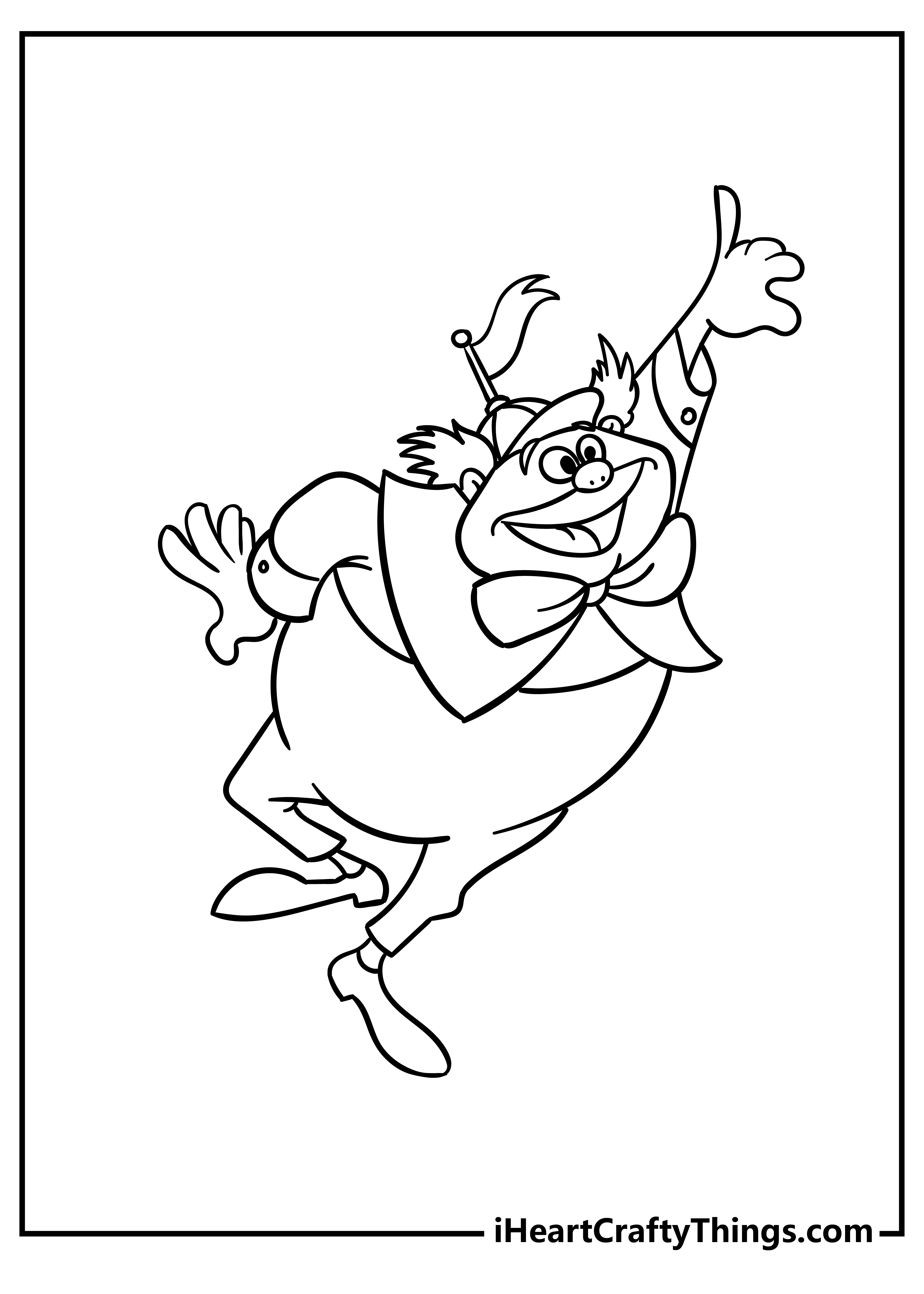 Alice In Wonderland Coloring Pages – Which will you choose?
This story we have been covering in this collection of free Alice In Wonderland coloring pages for kids is such a magical one, and we hope you had a great time with it!
If you have a favorite character in the story, we hope you got to meet them in this collection.
When you have finished these pages, you can check out what other coloring pages we have for you on our website.
We also hope you will share some of your finished pages on our Facebook and Pinterest pages!