My family has a few long road trips planned this summer and let's face it… the kids get bored! Although we allow our children the luxury of some electronic time during long drives, I also love to come prepared with fun learning activities to keep them entertained and busy for the long drive. This word building activity travel kit is perfect for toddlers and preschoolers for those long car rides and you can customize it with sight words, color words, word families, or whatever your child is currently learning.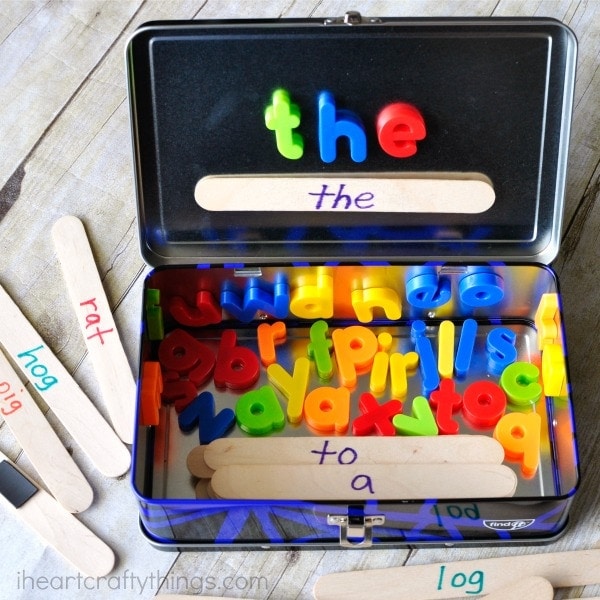 This post contains affiliate links to the products mentioned. Read our disclosure policy for more information.
How to Put Together the Word Building Activity Travel Kit

Supplies:
– metal pencil box (or lunch box)
– jumbo craft sticks
– permanent markers
– lowercase magnetic letters
– magnetic tape *We received ours from our friends at Craftprojectideas.com. All opinions are my own. You can find some at your local Walmart in the craft aisle.
– hot glue gun
Directions:
Start by gathering all of your supplies. We found our metal pencil box at Walmart. I've also included a link above where you can buy them on Amazon. A metal lunch box will work as well. Use your permanent markers to write words on your jumbo craft sticks. I have a few different sets I made, one is sight words and the others are words family words for -at, -ig and og. You can literally customize it however you like… number words, animals, days of the week, etc.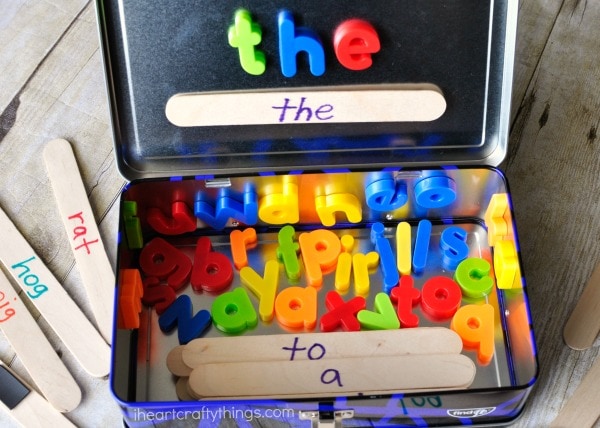 Use your hot glue gun to glue a small piece of magnetic tape onto the back of each jumbo craft stick. Even though the magnetic tape has adhesion on the back, I recommend using a hot glue gun. Magnets are extremely dangerous for children if swallowed so you want to secure the magnets with a hot glue gun.
Place your lowercase letters and a stack of your words in your metal pencil box. Now the word building activity travel kit is all ready for play.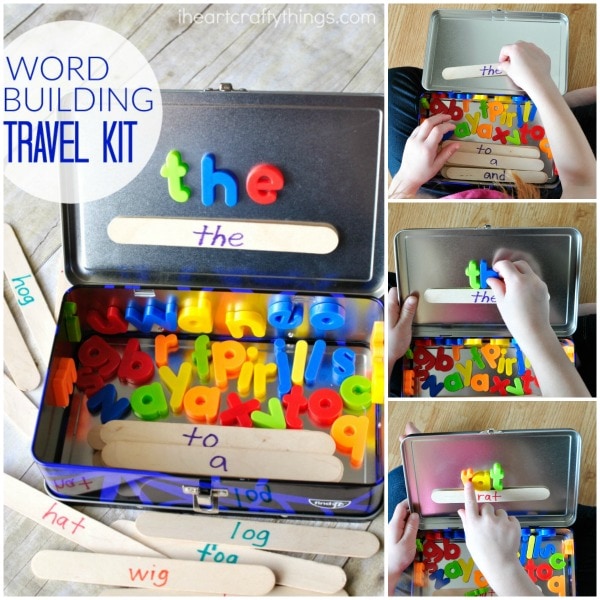 How to Play:
Choose a word out of the pile that you want to build. Place it onto the top section of the metal pencil box. Now build the word by finding each of the lowercase magnetic letters and placing in order above the craft stick.  Spend some time to sound out the word as best you can and read it out loud if you are able to. Continue working your way through the craft sticks, building all of the words.
I keep all of my different word types into a sandwich baggy and each time my daughter plays the activity, she chooses a different bag to use for a little more variety.
What fun activities do your children love during long road trips?