The Looney Tunes cartoons have given us some of the most memorable and iconic cartoon characters of all time.
One of these characters is the adorable Tweety Bird, a small canary that hapless cat Sylvester is constantly trying to catch.
Behind his adorable face and voice, Tweety Bird has actually shown himself to be quite cunning, constantly one-upping and thwarting the unfortunate Sylvester.
This contrast of cuteness and wiliness has made him a popular character, and it can be lots of fun to learn how to draw Tweety Bird to show appreciation for him!
If you love this little cartoon canary as well, then buckle up for an amazing guide!
Our step-by-step guide on how to draw Tweety Bird will show you how you can create artwork featuring this cartoon icon.
How To Prepare For This Tweety Bird Drawing
This guide on how to draw Tweety Bird is a special one, as it is featuring such an iconic character!
You may have seen Tweety in many different shows, movies and games, but you'll soon find out it can be harder to draw him than you may think.
He has a very specific design that looks simple at first glance, but can actually get a bit complicated.
His body is very small compared to his head, and if you get the proportions wrong even slightly it could throw off the design.
We will show you some tips on how to make this easier as we begin the guide, and this will include using a pencil to map out the drawing first. Therefore, we would recommend getting your drawing tools ready.
When it comes to drawing pencils, you should aim to have a variety of intensities. Darker pencils can be good for final drawings, but lighter ones are good for preparation.
Even if you use a light pencil, you should press very softly on the page. This is so that you can make it easier to erase later on.
But as we said, we will show you how to do that in more detail later. You can also refer to the character himself.
This could be done by freezing the cartoon or looking up pictures of Tweety online. Having these additional pictures to reference will help you if you use them along with our guiding images.
They could also allow you to portray different poses, facial expressions and situations. Basically, preparation is key!
Now that you know how to be better prepared, we can take on the first step of this guide and recreate this character.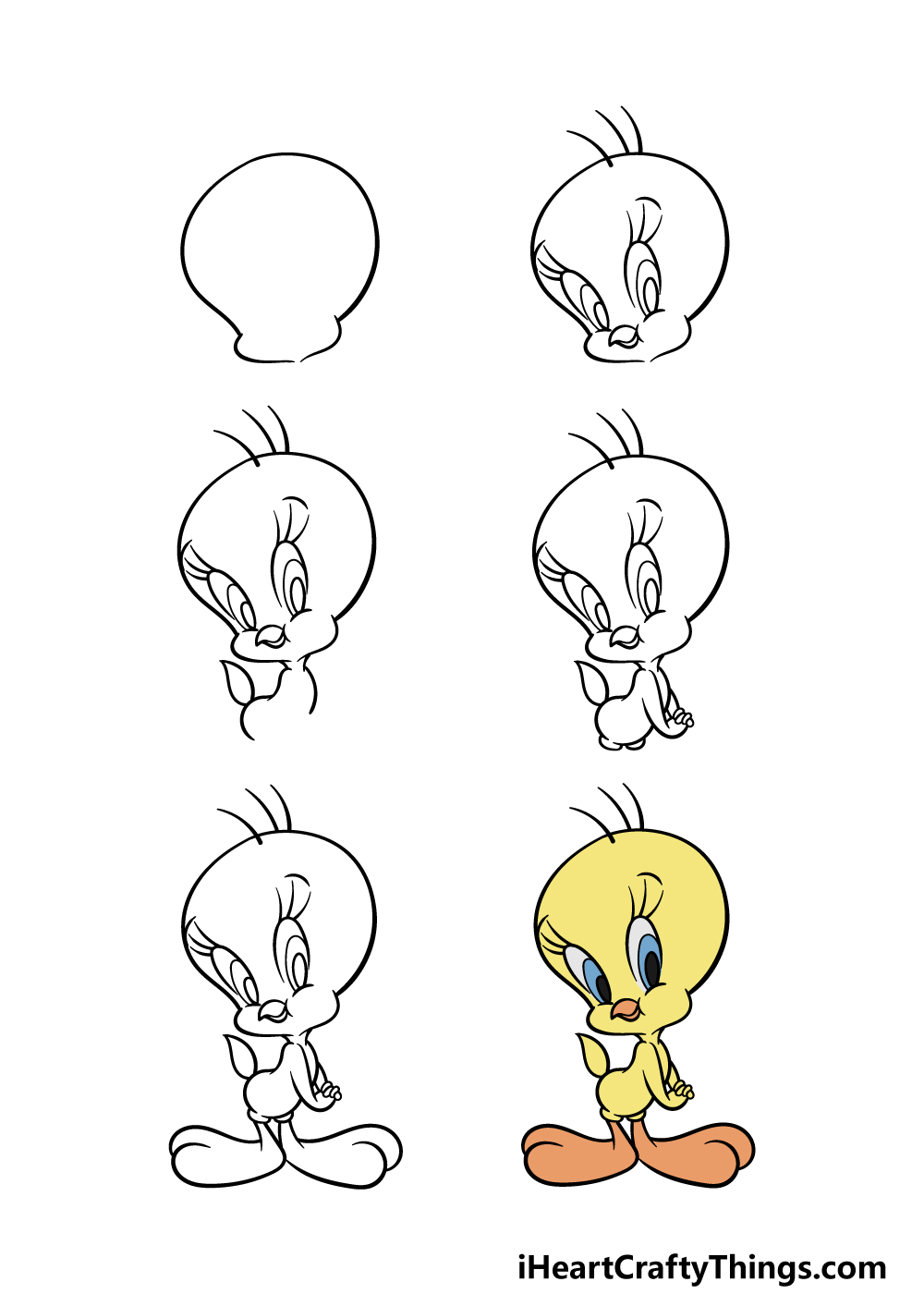 How to Draw Tweety Bird – Let's Get Started!
Step 1
The first thing one is most likely to notice about Tweety Bird is his head which is significantly larger than his body.
We will be beginning with his head outline for the first step of our guide on how to draw Tweety Bird. First, you can use a large rounded line for the top of his head. It is so tall and round that it is almost a bit lightbulb-like in shape.
Then, we will be drawing his chubby little cheeks below this head. To do this, we will be using two much smaller curved lines at the base of his head outline.
There will be a small space between these two lines, as that is where his head will connect to his body.
Step 2 – Next, draw some facial details for Tweety Bird
Now that you have the outline for his head, you are ready to draw some facial details for your Tweety Bird drawing in this step. First, we will start with his little beak.
This will be drawn with two sharp shapes connected to one another, and they will be angled in such a way as to make it look like he is smiling.
You can also draw a curved line on the right-hand side of his mouth for extra cuteness!
Finally, we will draw some long, round shapes for his eyes with some large pupils inside of them.
You can finish off by drawing three curved eyelashes per eye, and then add three more curved lines atop his head for some hairs.
Step 3 – Start drawing Tweety's body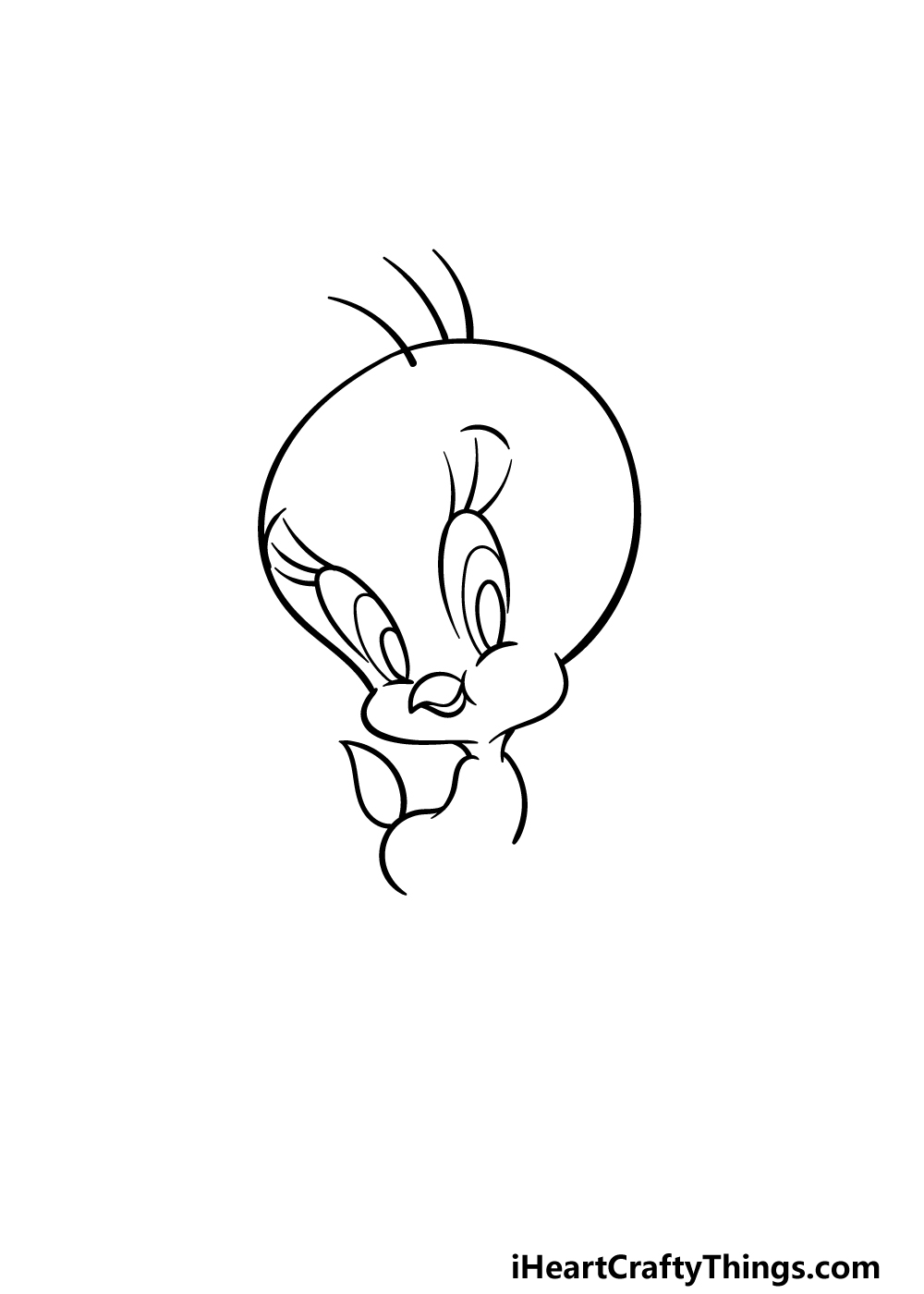 Tweety's body is disproportionately small compared to his head, but that only helps him to be even cuter! We will start drawing his body in this step of our guide on how to draw Tweety Bird.
First, draw two small curved lines down from the bottom of his head for his short little neck. Then, draw a curved line connecting to it for his shoulder, and then another on the other side for his chest.
Finally, add one more rounded line for his backside, and then you can add his tale using more curved lines that culminate in a sharp point.
That's all there is to it for now, so let's proceed!
Step 4 – Now, draw his arms and start his legs
We have Tweety in a very cute pose in this guide, and part of what makes it so cute is how he has his hands clasped in front of him.
This is what we will be drawing for this step of your Tweety Bird drawing. To do this, we will use some curved lines extending from near where you drew the bump for his shoulder.
Then we will draw his little fingers where his hands are clasped. This part can be a bit trickier than you may expect, so don't be afraid to closely copy the reference image as you draw!
We will finish off with two little bumps at the base of his body where his legs will extend from in the next step.
Step 5 – Add some feet and final details in this step
Now it's time to finish off the drawing to have you ready for the final step in this guide on how to draw Tweety Bird. Much as his head is really big compared to his body, so are his feet.
They're shaped quite simply though, so they should be easy enough to draw! Simply draw some short legs and then use some big and rounded shapes for his two-toed feet.
Once you have drawn the outline, you're ready for step 6! Before you move on, you could also add some details of your own.
Maybe you could draw a background setting for Tweety, or you could even draw Sylvester lurking in the background.
These are just a few ideas that you could go for, but what else can you think of to finish off this drawing?
Step 6 – Finish off your Tweety Bird drawing with some color
This final step of your Tweety Bird drawing will see you finish it off with some colors. In our reference image, we went with the classic colors for this character.
That means using some nice bright yellows for his head and body along with orange for his legs and beak. Finally, we used some nice light blue for his eyes.
If you would like to use these same colors, you could use mediums like acrylic paints and colored markers to give him a bright look similar to how he looks in the cartoons.
More subdued mediums would also look great though, so which approach will you take?
5 Tips To Make Your Tweety Bird Drawing Even Better!
Make your portrayal of Tweety Bird even better with these 5 tips!
For this drawing of Tweety Bird, we went with a really simple, classic portrayal. In the cartoons, Tweety Bird will sometimes be dressed in various outfits and disguises.
It could be fun to portray some of these in this image! If you have a favorite outfit that Tweety Bird has worn before then why not try to adapt it for this image you have created?
We love the pose that was used for this picture, but once you have mastered it you may want to portray a different one. If you wanted to do this, you could use the cartoons or pictures online to help.
What sorts of poses would you like to show Tweety Bird in to make this image even more personalized?
This famous canary is one of many iconic characters from the Looney Tunes series. You could make this Tweety Bird drawing even cooler by adding some more characters!
The obvious choice would be the unfortunate cat Sylvester who is always unsuccessfully trying to catch Tweety Bird. that is one possibility, but there are many more characters you could go for instead.
Do you have a favorite that you would like to add to this picture?
Adding a background would be another way to really finish off this artwork. If you were to do this, you could use one of the backgrounds from the cartoons as inspiration.
Or, you may want to take Tweety Bird on a brand new adventure by designing a brand new setting for him to be in. There are so many cool backgrounds you could create!
Finally, the way you present your Tweety Bird sketch can make a big difference! For example, you could draw it on some fancy cardboard to use as a poster or a birthday card.
Another great idea would be to put your drawing in a little frame which would then turn it into a great gift or a display piece for your room!
Your Tweety Bird Drawing is Complete!
You have completed this guide on how to draw Tweety Bird, and you have an incredible depiction of this classic character to show for it!
Tweety has more little details to his design than one may think, so that can make him surprisingly hard to draw.
We hope that this guide made it easier for you to do so that you could focus on the fun and creativity of drawing with no frustration!
We have some more drawing guides on our website, and many of them feature other classic cartoon characters along with a diverse array of subjects. We have more on the way as well, so be sure to keep visiting!
Please do go ahead and share your completed Tweety Bird drawing on our website. We know it will look great, and we look forward to seeing it!