In myth and folklore, trolls were fearsome monsters that no one wanted to encounter. This image saw a turnaround in the 1960s with the introduction of the troll doll toys.
These adorable toys became a sensation that is popular to this day. Their popularity also resulted in expansions to other media, and recently they featured in several hit feature films.
For fans of these adorable little monsters, learning how to draw a troll is the perfect way to show off your love for them.
If this sounds like you, then this will be a really great drawing tutorial for you to take on!
Let's get started with this step-by-step guide on how to draw a troll in just 6 easy steps!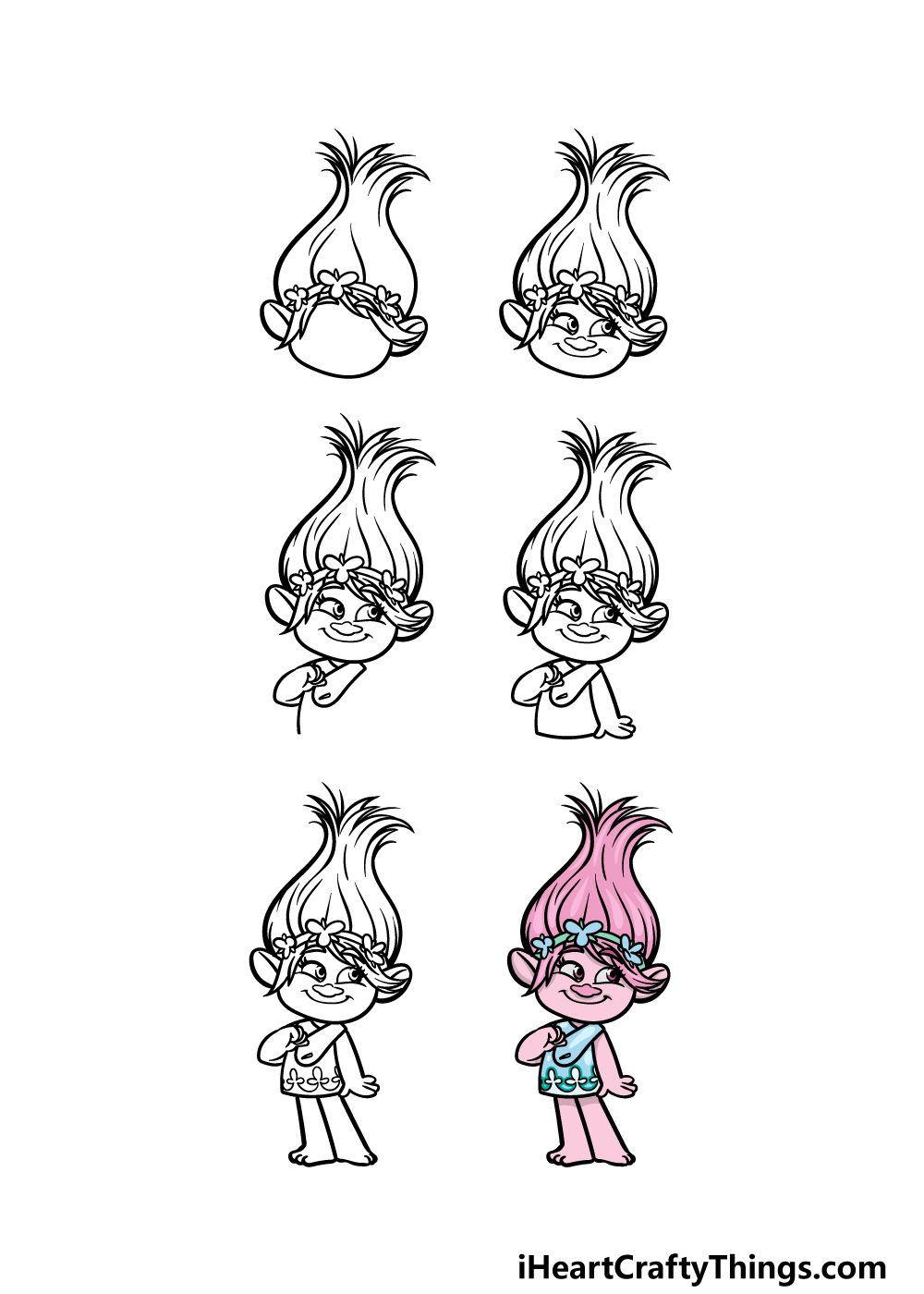 How to Draw A Troll – Let's Get Started!
Step 1
In this guide on how to draw a troll, we will be styling the picture after the character Poppy from the Trolls movies.
To get started with this character, you can begin by drawing a rounded, horizontal line for the base of her face. Then, you can add some large round ears on either side of her head, and then draw a flowery headband going across her forehead.
Finally, we will be drawing the famous troll hairstyle using some curved lines that end in some pointy lines on top. That will do it for this first step, and then we can move on to the next one!
Step 2 – Now, draw a face and some facial details for the troll
For this next part of your troll drawing, we will be drawing some facial features along with some line details for the hair.
Her eyes will be drawn as some rounded shapes with circular pupils inside. Then she will have a relatively large nose and a curved, smiling mouth beneath it.
Finally for this step, we will be drawing some simple line details onto her hair to give it the appearance of having flow and individual hairs. Then you're all set to head to step 3!
Step 3 – Next, draw her first arm and start her body
Now we will move from the head and face and start drawing the body in this step of our guide on how to draw a troll.
You can use some rounded lines to draw her arm on the left bent up to be under her face. Then, you can start to draw the left side of her chest, and this is a section that we will add to in the next steps.
You can also draw the strap of her dress coming down over the shoulder on the right.
Step 4 – Draw her other arm and her waist
For this part of your troll drawing, we will be adding another arm along with finishing off her waist.
Use some straight lines to extend her arm down on the right, and then draw a small hand at the end of it.
Then we will finish off drawing her body. The style that the trolls use has them with a large head and a disproportionately small body.
This is worth keeping in mind as you draw the rest of her body. The bottom of her waist should be around level with the hand on the right-hand side that you just drew.
Once that is drawn, you will be ready for the final elements and details in the next step of the guide.
Step 5 – Add the final touches for your troll drawing
This fifth step of our guide on how to draw a troll will see you finishing off with some last touches and details.
The main thing that we will be drawing in this first step will be her legs. These can be drawn with some straight lines going down, and then we can draw some small toes at the base of them.
Once the legs are drawn, you can finish off this step by adding a floral pattern to her dress.
Then you can move on to the final step of the guide, but you don't have to proceed just yet!
You could also add some elements of your own, and some ideas would be to draw a background, more troll characters or even by changing the appearance of this one.
How will you add your own touches to this image?
Step 6 – Finish off your troll drawing with some color
This is the final step of this troll drawing, and this should prove to be a really fun one! In this step, we will be coloring this adorable troll in.
As we mentioned before, this troll we have been drawing is styled after the character of Poppy from the Trolls movies.
For that reason, we went with her color scheme from the movies, and that means using some shades of pinks and blues throughout the drawing.
You can use this as a reference point if you wish to keep her colors looking accurate to the movie, but you could also use some colors of your own!
Troll dolls usually have some bright and vibrant coloring, so you can really go wild with your favorite colors.
You could also use some lovely bright art mediums such as acrylic paints and colored markers to really make the colors pop. How will you color this troll drawing in?
5 Tips To Make Your Troll Drawing Even Better!
Make your troll drawing even more fun with these 5 fun tips to try!
There are so many fun and colorful troll characters throughout the toys and other media creations they feature in. This drawing of a troll that we created is just one of these characters.
You could add some more of these troll friends to the image to give her some friends. If you were to do this, you could base them on the toys, the films or any other appearances you like!
The trolls are also famous for their crazy hairstyles. Altering and customizing the hair on this one would be a great way to make this character more unique.
You could change the shape, style or even just the color of the hair to create a drastically new look for the troll.
Adding some accessories would also be a great way to make a more unique troll drawing. These could take the form of hair clips in her hair or maybe an accessory like a purse.
These would help to make her more fashionable, but you could also go for some wackier accessories instead. What are some that you could add to make this troll more complete?
It would also be fun to give this troll a fashion makeover. Right now, she is wearing a simple yet pretty outfit. If you were to give her a new look, it could be any style you like!
You could dress her in a fancy gown or maybe go for a beach look with some shorts, sunglasses and a shirt. These are just a few ways to give her a new style!
By using some interesting art tools and craft items, you can make this troll look even more dynamic. Some ideas would include some stickers, beads or even some glitter.
By gluing these kinds of craft items on your drawing, you can add some crazy colors, textures and other effects to make it even more fun to behold.
What other crafts and art tools could you use?
Your Troll Drawing is Complete!
With that, you have completed this guide on how to draw a troll!
This was a really fun image to recreate, and we hope that by following the steps in this guide that you found it to be an easy and rewarding experience.
Breaking down a drawing into smaller, more manageable steps is always the best approach when trying to draw something new, so that is what we aimed to do for you.
Now that you have completed this troll, you can keep the fun going with your own idas.
You could draw a background, add some more trolls or even change up the details to create your very own unique troll. We can't wait to see what you can come up with!
You can then head on to our website once your picture is finished, as we have tons of amazing drawing guides for you to enjoy there.
This list of guides will be increased often, so definitely keep checking in to make sure you never miss out!
Please also consider sharing your finished troll drawing on our Facebook and Pinterest pages for us to admire!