For some of us the school year is already over for the kiddos but since we do the year-round thing around here, we've got a couple more weeks left. I wanted to do something cute and simple for my son's teacher and when I saw this over at
J&M's Eye Candy
I knew it was PERFECT!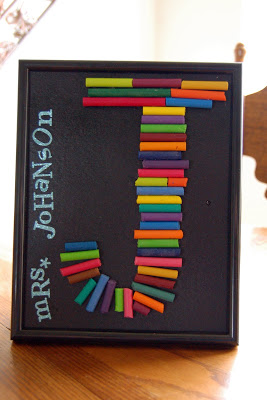 It was so cheap and so fun to make. I bought a 8×10 frame and a box of crayons at Dollar Tree and since I didn't have any glitter letter stickers, I used my 40% off one item coupon (that comes every week in the junk mail) to purchase those at Michaels. So I spent a total of $5 on this project. Isn't it cute? I figured she could put it somewhere in her room, or if she doesn't like it, I only spent $5 so it's not the end of the World if she chucks it (just sayin).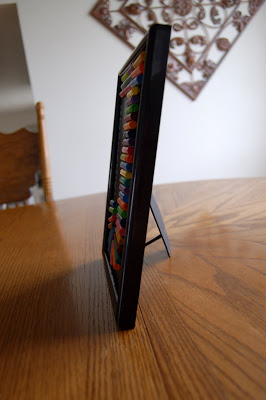 You just simply remove and throw away the glass from the frame and it's like 3-D art. The frame I bought didn't have a black backing (it was just cardboard color) but I had some black spray paint on hand so I just sprayed a coat on. I assembled the project with the black backing inside the actual frame because I was worried I would get too close to the edge and then it wouldn't fit. I used a white crayon to outline my big letter and then cut and put all the crayons in place before gluing them on with a hot glue gun.