Reading a good book is one of the most relaxing and enjoyable ways to spend your time.
Many book lovers also know the struggle of having an ever-growing stack of books towering on the bedside table, but at least it means many books are near at hand!
While it is really great to have a nice pile of books nearby, it can also be fun to learn how to draw a stack of books to imagine what books you would add to the collection.
Book lovers will definitely get a kick out of the guide that you see in front of you right now, as it will allow you to do just that!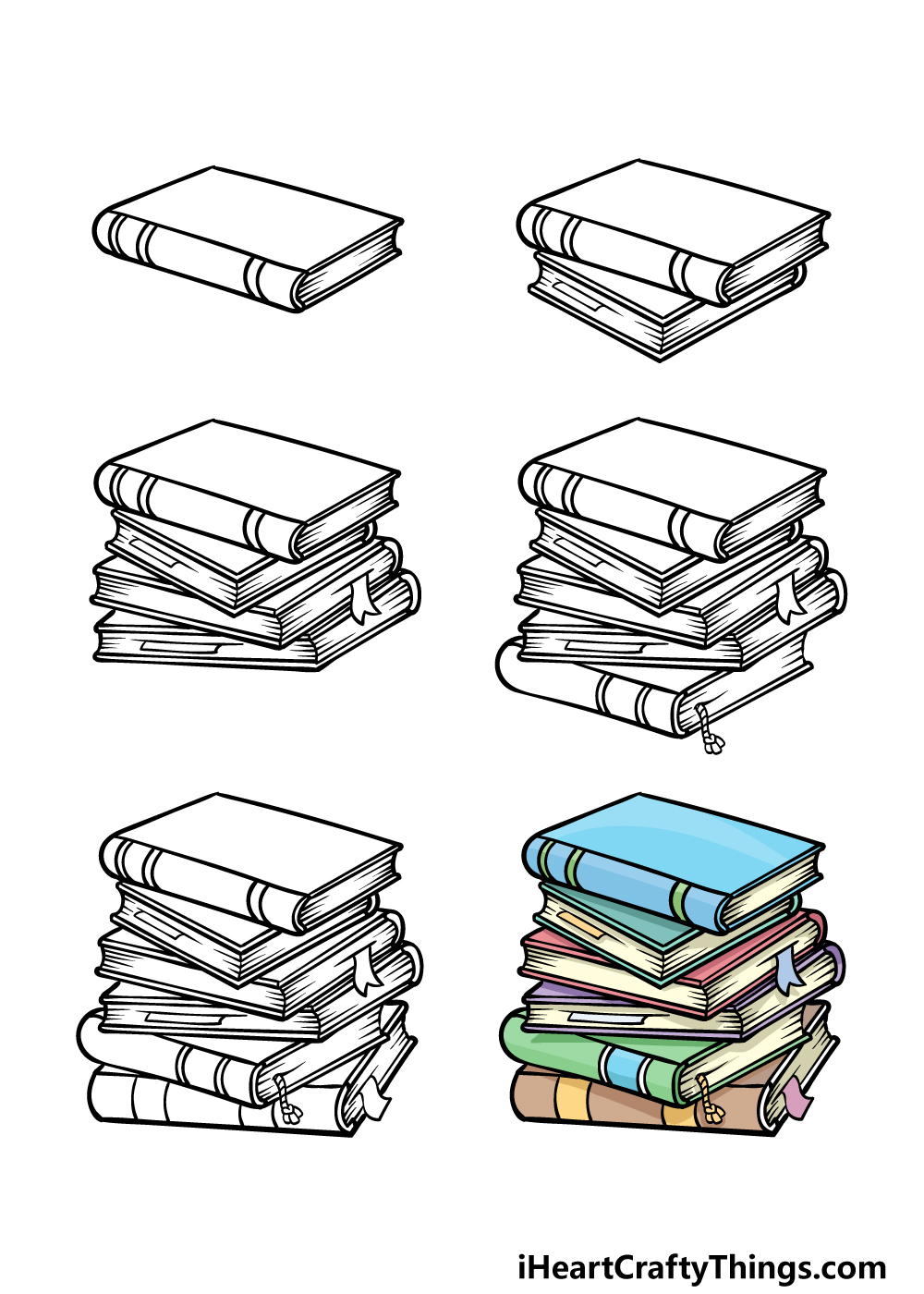 How to Draw A Stack Of Books – Let's Get Started!
Step 1
In this first step of our guide on how to draw a stack of books, we will be drawing the book that will be at the top of the pile.
This book will have its spine facing us, as shown in the reference image. To draw this book, you may want to use a ruler to draw the edges of the cover, as it will make the straight lines much easier to draw perfectly.
Using the reference image, you can draw a slanted rectangular shape for the front of the cover.
Then, extend a small, curved line down from each corner of this rectangle and then connect them with another straight line below.
Finally, draw another straight line parallel to the bottom of the book, and then draw some lines inside this outline for the appearance of pages in the book.
We will also add some curved lines across the spine of the book for some extra detail.
Step 2 – Draw the second book in the pile
Now that you have drawn the first book of this stack of books drawing, you are ready to draw the second one.
This book will be positioned a bit differently from the first one, as the spine won't be facing us this time.
We shall start by using your ruler to draw the top cover of the book poking out, and then extend more of those short, curved lines down from the corners.
Finish off by using some more straight lines for the back cover of the book running parallel to the pages. Then add some more page details, and we can move on to step 3 of the guide!
Step 3 – Next, draw two more books for the stack
This is the third step of this guide on how to draw a stack of books, and you have been doing a great job so far!
For this part, you will essentially be replicating what you did in the previous step two more times.
There will be two books added in this step, and while they're at slightly different angles they will all have the pages facing us instead of the spines.
Otherwise, you will essentially do what you just did in the previous step and draw some straight lines for the edges of the covers and some curved ones for the pages.
For a bit of variety, we will also draw some bookmarks dropping down from the books.
Step 4 – Now, draw another book for the stack
In the last step of your stack of books drawing, you replicated what you did in the second step. For part 4, we will instead replicate what you did in the very first step.
This means that the spine of the book will once again be facing us. Once again, use your ruler to draw the edges of the covers that are visible to us.
Then, use some curved and straight lines to draw the spine of the book to look similar to the first one.
There will be some different line details on the spine this time, and once again we will be drawing a bookmark dropping down from between the pages.
This time the bookmark will instead be a rope one sticking out.
Once this book is drawn, we will be ready to add the last book and some final touches in the next step.
Step 5 – Add some final details to your stack of books drawing
You're now ready to add the final book to the pile in this step of our guide on how to draw a stack of books. Once again, this book will also have its spine facing us as a few of the others did.
For this reason, you can simply replicate what you did to draw those other books for this last one. When it is drawn, you can add some more final details of your own!
Maybe you could draw the cover of your favorite book onto the top book or add some more objects sitting beside the pile. How will you finish off this drawing?
Bonus: Use These Ideas To Make This Drawing Even Easier!
A stack of books is not something that would really strike you as being difficult to draw, but as you saw in this guide it can be tricky. Before we move to the final step, we had a few more ways you could make the drawing easier.
These would be great tips if you struggled with the drawing or maybe would just like to improve. They could also be used if you wish to make some variations to the drawing that weren't in the guide.
First of all, we would like to emphasize the importance of having the right equipment ready to go. The common ones would be your drawing paper and pencil, but having a selection of each can help.
Instead of working with one reliable pencil, it's better to have several pencils with varying shades of darkness. That's because using a lighter pencil is better for doing rough sketches or attempts that may need to be erased.
The same is true if you use pens, as variety is always good when creating art. Having tools such as a ruler and other similar drawing tools can really help as well.
One of the best things you could do would be to have the real thing in front of you. You will likely have some books in your house that you could use to create a similar pile to the one in the reference image.
If you have an actual stack of books, then you can view it from different angles and get a better sense of the details. You can then use it along with the steps to make your stack of books drawing much easier.
We hope that these tips made it so much easier for you to take on!
Step 6 – Finish off your stack of books drawing with some color
We will be finishing off your stack of books drawing by adding some great colors to it now! In our reference image, we tried to use a different color for each book cover to add some great variety.
You could go for a similar approach or maybe even keep the colors more consistent to make these books look as if they are part of a collection.
These are just a few ideas that you could go for, but it's up to you in the end! Which colors and art mediums will you use to finish off this great drawing of yours?
Here's how you can make your stack of books drawing even better…
Show your love of books as we show you how to make this drawing look amazing!
This stack of books sketch is looking great, but small changes can make a big difference. We mentioned drawing the cover of a book you like onto the top book, but you could also make it so that the book is open.
Maybe it would have a picture inside that you could draw with a fine pen! You could also change the position of some of the books in the pile to make it a bit more unique.
This is already a wonderfully large stack of books, but people who love reading would say there is room for more!
Now that you have the hang of it, you could make the pile of books even larger and more precarious.
We don't have to worry about it falling over, so you could add as many as your page would allow to make a book lover's dream! How tall do you think you could make this stack of books?
We think you could create a lovely background for this drawing of a stack of books. Books are comforting for many people, so we would make a lovely cozy scene.
There could be a mug of hot cocoa steaming next to it and maybe a bookshelf in the background. If you love to relax with a book, you could show us your ideal book corner with this background setting! What would you add around this stack of books?
You can also make this stack of books drawing even greater with the colors and mediums you use.
There are lots of mediums to choose from, and we think it would be interesting to use a different one for each book.
This would help to show just how different each book is from one another, and would make for an interesting picture.
When picking your mediums, try to pick ones that allow for precision, as there are some small spaced on the covers and between the pages to color.
Your Stack Of Books Drawing is Complete!
We hope that you had a great time relaxing with this guide on how to draw a stack of books!
This is the kind of drawing that can turn out to be harder to draw than expected, so we hope that this guide made it much easier for you to do. We also hope that it was a lot of fun as well!
When you're ready for more drawing fun, be sure to check out our website, as we have tons of guides there for you to enjoy, with more on the way soon. You'll want to check in often to make sure you never miss out!
We would love to join the reading fun by seeing your finished stack of books drawing, so please remember to share it on our Facebook and Pinterest pages.