Pieces of crinkled up brown paper lunch bags are perfect for creating the lifelike texture of trees.
We coupled this technique with black and gray paint and spooky, bright eyeball stickers and created this awesome spooky tree Halloween Craft. It makes a fantastic Halloween kids craft or as an alternative is great when learning about nocturnal animals and their glowing nighttime eyes.
Look for book recommendations near the bottom of this post.
This post contains affiliate links to the products mentioned. Read our disclosure policy for more information.
How to Make a Spooky Tree Halloween Craft

Supplies Needed to Make this Spooky Tree Halloween Craft
– mixed media art paper
– black and gray paint
– paintbrush
– brown paper lunch bags
– spooky foam eye stickers (purchased at Michael's)
– scissors
– glue
Directions for Making this Spooky Tree Craft
1. Start by using your black and gray paint and a paintbrush to paint your mixed media art paper, creating the background for your spooky tree scene. I love how eerie the mixtures of gray is within the black paint because it gives the appearance of dark clouds in the night sky or fog. Let your paint dry completely.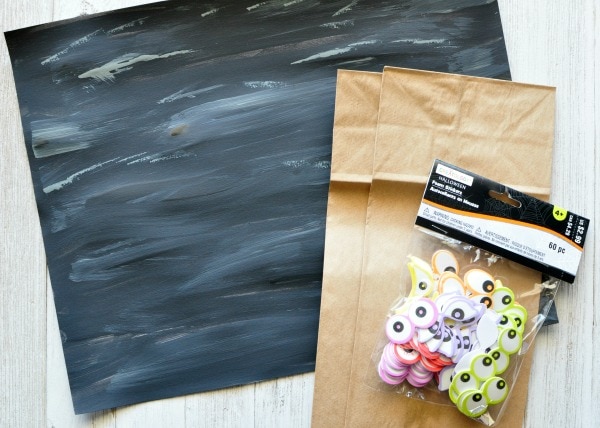 2. Once your paint is dry, cut out sections of your brown paper lunch bag for a tree trunk and branches. Crinkle them up and glue them onto your black painted paper to make a spooky tree. The brown paper bag pieces pop off the page and it's crinkled folded texture really makes this a lifelike tree.
3. Finish your spooky tree Halloween craft by placing your bright eye stickers around your paper and inside the branches of your tree. Ooooh spooky!!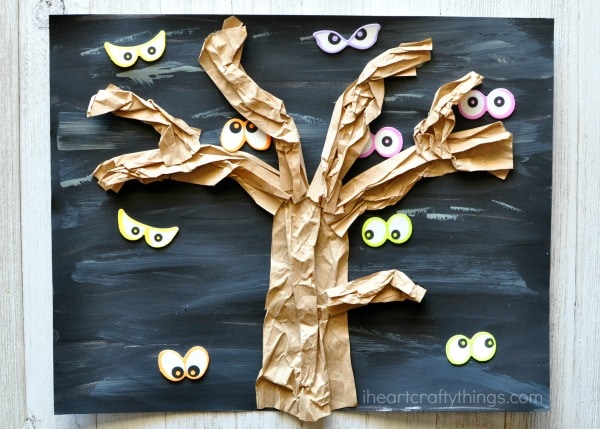 While we made this as a Halloween kids craft, this craft would also work well when learning about nocturnal animals and their glowing eyes in the dark such as owls, opossums and foxes. Here is a list of books that would go along great with that theme: