For many people, clowns are a source of joy and amusement. Typically found at circuses, carnivals and birthday parties, they will delight audiences with tricks and humor.
Some people find them to be quite scary, however, and characters like Stephen King's Pennywise the clown have only helped to make scary clowns more popular.
If you love (or are scared by) these creepy painted jesters, then learning how to draw a scary clown should be lots of fun!
If you're one of those that are scared of clowns, then at the very least it will provide some scary creative fun that would be perfect for Halloween!
We hope you have a great time working on this step-by-step guide on how to draw a scary clown in just 6 easy steps!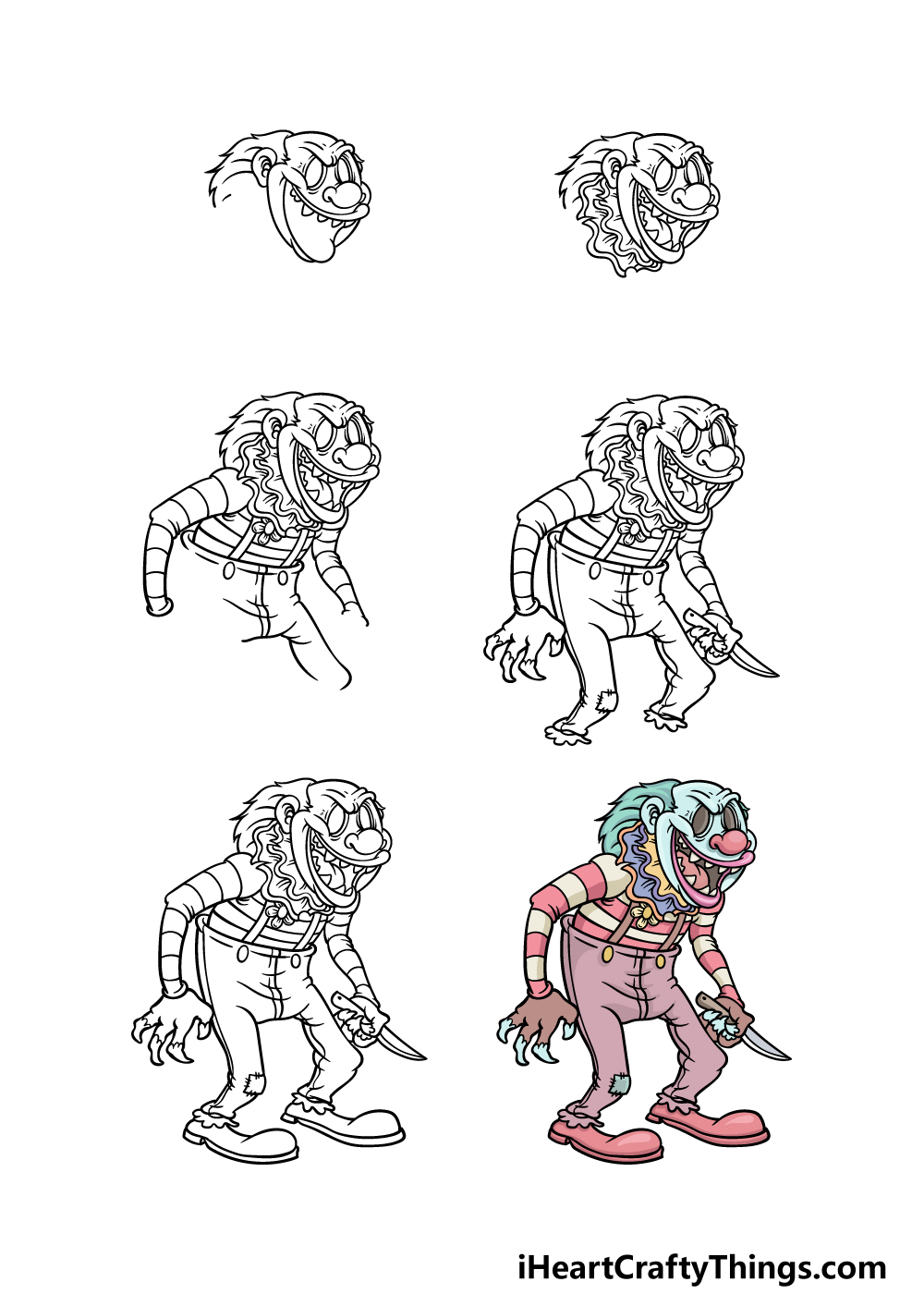 How to Draw A Scary Clown – Let's Get Started!
Step 1
To begin this guide on how to draw a scary clown, we will start with his scary face.
His face will have a large, grinning mouth, and the top lip will be quite thick with a row of pointy teeth on the upper side of the mouth.
Then you can draw a rounded shape for his nose before we add his eyes. The eyes will be drawn as two ovals and they will have some curved eyebrows above them to give him a more sinister expression.
Finally, finish off the outline for the top and back of his head before you add a tuft of hair sticking out behind his head.
Step 2 – Now, draw his collar and mouth details
We will be finishing off the details for his mouth and face along with drawing his ruffled collar in this part of your scary clown drawing.
First, we will be adding another row of sharp, shark-like teeth to the lower part of his mouth.
For the collar, we will be using two curvy lines to create both layers of the collar, and then there will be some line details throughout as well as a rim along the edge.
Once you have this collar looking as it does in our reference picture you will be ready to move on to step 3.
Step 3 – Next, draw his arms and legs
For this third step of our guide on how to draw a scary clown, we will start to draw the arms and the legs for this clown.
Use some curved lines to create his long, lanky arms poking out at the sides, and then add rows of stripes all along them.
Then, add some more curved lines for his chest and add some suspender straps along with a flower for his chest. This area will also have stripes going along it.
Finally, we will draw the start of his trousers, and they will be drawn in such a way that they look to be a little too big for him.
Step 4 – Now, finish his legs and add his hands
We're starting to get to the finishing touches of this scary clown drawing! First, use some more curved lines to finish off the outlines of his baggy trousers going all the way down to his feet.
We will be adding his shoes in the next step, so don't worry about the empty spaces there for now.
Once you have finished the trousers and added the creasing details, we will be able to add his hands. The hand on the left will have long, sharp fingers that almost look a bit claw-like.
There will be some small, jagged lines along each finger to make it look like his fingers are bursting out of some gloves.
The hand on the right will be closed into a fist that is clutching a knife for some extra scariness.
Then we can move on to the final touches and details in the next step.
Step 5 – Add some final details to your scary clown drawing
Before we add some colors to your picture, we will first finish off the final little details in this step of our guide on how to draw a scary clown.
You will also have a chance to add some elements of your own!
For now, we will focus on drawing his shoes. These can again be drawn with some rounded lines and will be quite long and thin to give them an oversized look.
Once these shoes are finished, you can add some details of your own! It could be fun to draw a cool background for the image, and a creepy carnival setting could be a good one to go for.
What setting would you choose for this clown?
Step 6 – Finish off your scary clown drawing with some color
To conclude this scary clown drawing, we will finish off with some colors. We used a lot of colors that in other circumstances could be quite bright and vibrant, but we used some more muted shades of these colors to fit the spooky vibe.
You could go for a similarly muted look, or you could keep the colors bright and cheerful for a bit of irony to the image!
If you would like more muted tones, then watercolors or colored pencils would be a good bet.
Brighter tones can be achieved with something like colored markers or acrylic paints, and now the choice is up to you! Which colors and mediums will you use?
5 Tips To Make Your Scary Clown Drawing Even Better!
Making this scary clown sketch even better doesn't have to be scary with these tips!
This drawing of a scary clown is dressed in clothing you could expect to see on any normal clown. It looks great dressed like this, but you could also customize the clothing of this scary clown!
This is something you could get really imaginative with and even add extra elements such as a hat or a scarf. How would you like to dress this scary clown?
What could be scarier than a scary clown? One answer would be two scary clowns! For that reason, you could add a partner in crime for this terrifying clown.
This would be a fun chance for you to create your very own scary clown design. What would this second clown look like?
The scary clown we created here is armed with an intimidating knife. There are many weapons that a scary clown could be armed with, so you could give him some more to wield.
Maybe it could be a baseball bat with some nails in it, or he could wield a giant mallet. These are just a few clown-themed ideas, but what other weapons could he wield?
Earlier, we mentioned adding a second clown to this scary clown drawing. You could also populate it with other scary characters!
We think it would be fun to make these other characters also circus themed. For example, a scary mime would be just as terrifying as a clown.
You could also make a spooky magician or trapeze artist, for a few more ideas. What other circus characters could be added to this drawing?
Speaking of the circus, that would be a great background for your scary clown sketch to finish it off. You could create a dark and foreboding circus setting for this clown to stalk.
Or, you could think of some other places where a scary clown would be most intimidating, such as a mall or maybe an amusement park.
What other background ideas can you think of?
Your Scary Clown Drawing is Complete!
We hope that this guide on how to draw a scary clown was lots of fun instead of being a scary challenge to take on!
We aimed to make this cool and detailed design for a scary clown not only much easier but also more enjoyable for you to take on, so hopefully we achieved that.
Now you can show off your creativity by using some creative color and mediums choices, along with adding some extra background details of your own. What final touches do you think would best suit this scary clown?
You can head on to our website when you're ready for more drawing fun! We have lots of guides there for you to enjoy, and we have more on the way soon.
We would love to get creeped out by your awesome scary clown drawing, so please share it on our Facebook and Pinterest pages for us to see!