Christmas is probably the most magical time of year.
There are always plenty of signs that this wonderful holiday is near, such as snow falling, decorations lighting up the street, Christmas songs and Christmas trees in living rooms around the world.
Perhaps the most recognizable symbol of Christmastime is probably the appearance of the man himself: Santa Clause!
If you want to get into the Christmas spirit no matter what time of year it is, then this guide will help with that.
We made this step-by-step on how to draw Santa in 10 easy steps to get you into the jolly Christmas spirit!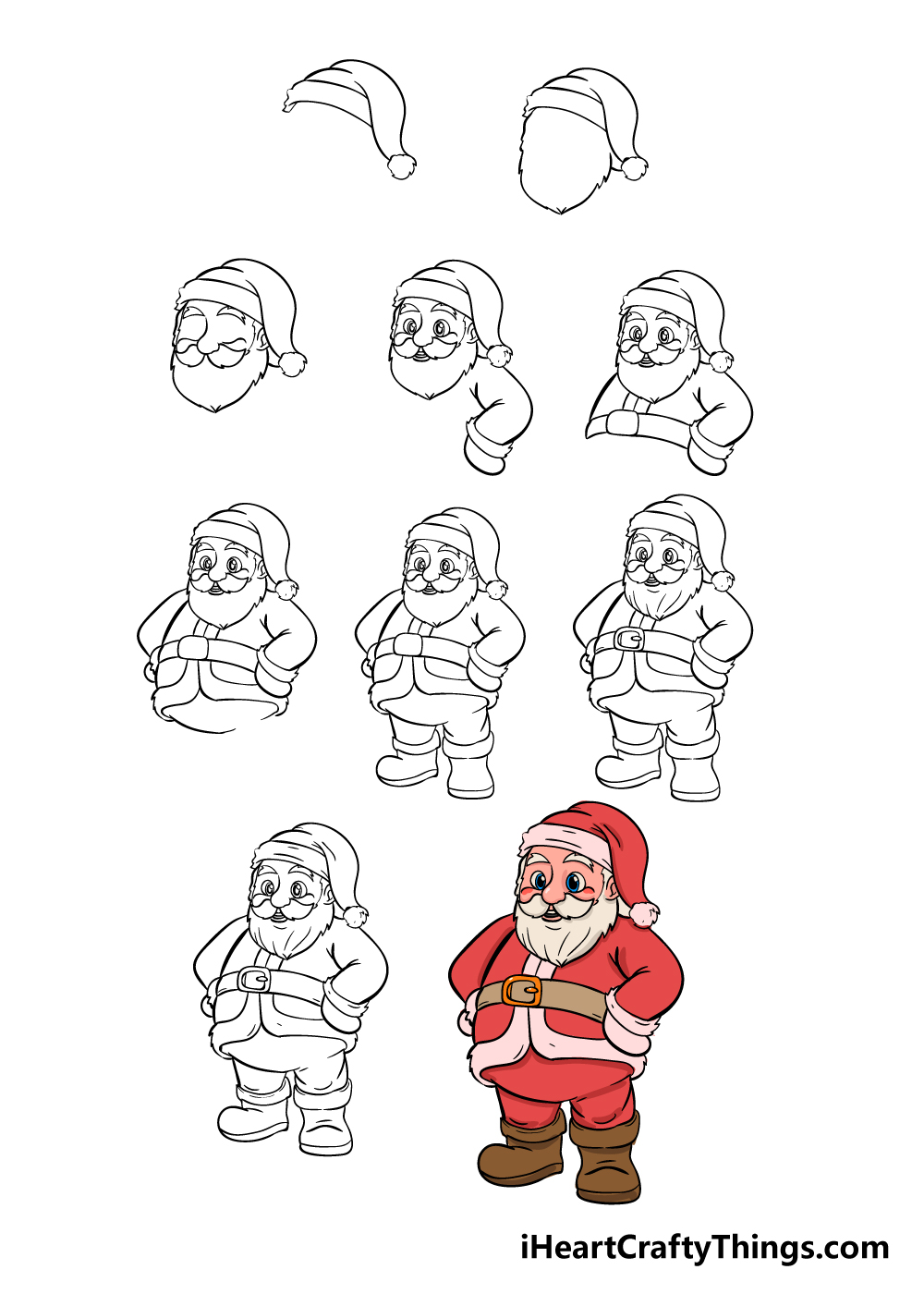 How to Draw Santa – Let's get Started!
Step 1
In this guide on how to draw Santa, there will be a lot of smaller details, so it could get tricky at some points!
Don't be afraid to refer closely to the reference image and take it slow in order to get the hang of this drawing.
To begin with, we will draw Santa's signature hat. The hat is made up of lots of curved lines to form the fluffy rim of the hat.
Then, you can draw the top of the hat flopping down over the rim with the fluffy ball at the end of it.
For most of the steps in this guide, you might want to use a pencil to draw before going over in pen once you're happy with how it looks.
Step 2 – Draw in the face and beard outline
With the hat drawn, you can draw the face and beard outline of your Santa drawing.
This will be drawn using a slightly jagged line to give some shape definition for his beard and hair.
Step 3 – Next, draw the start of his face
In this step of our guide on how to draw Santa, we shall start to draw some facial details for him. You can start off by drawing a curved line to give him a big, rounded nose.
Then, you can give him a big, bushy mustache before adding some curved lines for his cheekbones.
Then, you can draw a line up from his mustache to his hat to show the end of his beard, and then finish off this step with ears and eyebrows.
Step 4 – Now, you can draw more face details and the first arm
Before we draw the first arm for your Santa drawing, let's first finish up the face. You can give him some big, friendly eyes as they appear in the reference image.
Then, you can give him a smiling mouth. You could also draw some simpler versions of these for a different look to your Santa if you prefer!
Then, you can complete this step by using some curved lines to draw his left arm at his side as you can see in the reference picture.
Step 5 – Let's add a belly for your Santa
It wouldn't be much of a Santa without a big jolly stomach, so we shall draw one in for this step of our guide on how to draw Santa.
To add this element, simply use a curved line coming down from his beard, and then use more lines from the stomach to his hand to create a fluffy belt for him.
Step 6 – Now, we will draw more of his body and other arm
For this next step of your Santa drawing, we will continue to add to his body. First, draw in the bottom of his coat extending below his belt.
Try to align the lines with the ones coming down from the neck of his coat to make it look like it's extending down from there.
Finally, use some curved lines to draw his other arm to look like the one in the picture.
Step 7 – Draw in some legs for Santa
We will add some short legs to your Santa in step 7 of our guide on how to draw Santa.
His legs are made up of a few straight lines coming down and then ending with some more curved lines for his boots.
Be sure to closely follow the reference image for this part!
Step 8 – Next, draw in some more details
By this step, you have most of your Santa drawing complete! For now, we shall add some smaller details to your drawing.
First, draw in the belt buckle onto his belt as it appears in the picture. Then, simply add some straight lines to his beard to give it some texture.
Step 9 – Now, let's add some final details
You've done an amazing job getting to this point of our guide on how to draw Santa! Before moving on to the final step, we will add a few more line details.
Simply add some lines to his coat, hat and boots to give these elements some creases to make them more realistic. You can also draw in additional details that you like to give your drawing even more personality!
Step 10 – Finish Santa off with some color
Santa is a bright and colorful fellow, so let's add some for this step of your Sata drawing!
He is usually seen in a bright red and white suit, so this should be a wonderfully bright image once you're done with it.
For this picture, I think some vibrant acrylic paints or colored pens would be perfect to add a bright color look to this image. Maybe you could even stick on some glitter for a magical feel to this Santa!
I know that any colors and art tools you use to finish off this picture will look great, so what mediums will you choose for it?
Your Santa Drawing is Complete!
That brings us to the end of this step-by-step guide on how to draw Santa! This was a tricky drawing with lots of details, but we really hope that by using this guide you found that it can be easier than it looks!
If you follow this guide, take it slow and try your best then you will have an amazing Santa drawing in no time.
How will you further personalize your drawing? By using some extra details, positions for Santa and choosing some wonderful colors and mediums, you can really put a great personal spin on your incredible drawing!
We have lots of great step-by-step drawing tutorials coming out soon for you to enjoy, so be sure to check out our site frequently to catch each new one that we release!
Hopefully, you'll share your beautiful Santa drawing on our Facebook and Pinterest pages for us to enjoy as well! We can't wait to get into the merry Christmas spirit with your creative drawing.