Here's a simple and fun Halloween craft your kids will love! All you need is some paint, cardstock paper and a potato to make this cute and spooky potato stamp ghost craft.
It is simple enough for even toddler to enjoy, but kids of all ages will love it. Go grab your supplies and get ready to have some fun making these Halloween ghosts.
Look for some book recommendations at the end of this post.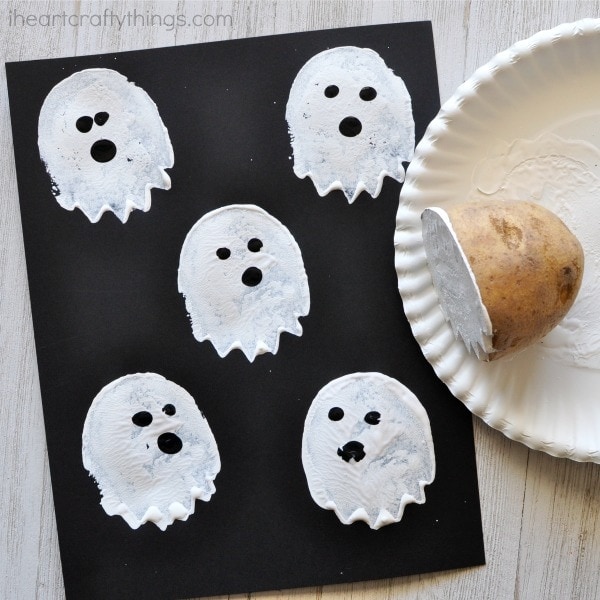 This post contains affiliate links to the products mentioned. Read our disclosure policy for more information.
How to Make a Potato Stamp Ghost Craft

Supplies Needed for this Potato Stamp Ghost
– black cardstock
– potato
– white and black paint
– knife (for adult use only)
– paper plate
Directions for this Potato Stamp Ghost Craft
1. (Adults only) Start by cutting the potato in half. Then use the knife to cut out triangle shapes from one end of the potato to make the shape of a ghost.
2. Pour some white paint onto a paper plate. Dip the ghost potato shape into the white paint and then stamp it onto your black cardstock to make a ghost. Coat the potato again with white paint and stamp it back onto your black cardstock. Continue stamping until your page is full of ghosts.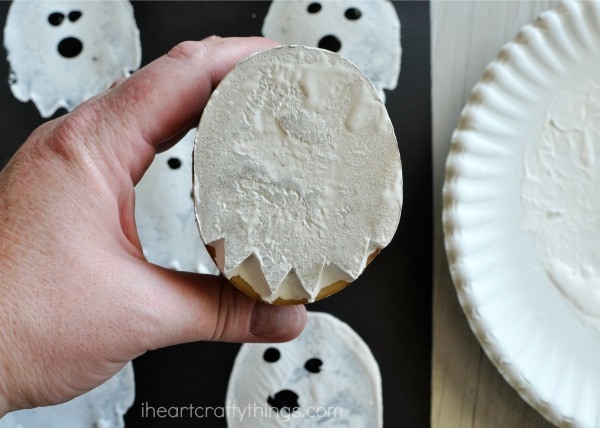 3. Pour a small amount of black paint onto your paper plate. Dip your finger into the paint and then onto your ghosts to make eyes and a mouth. Let the paint dry completely and then hang your craft up to admire your cute and spooky ghosts.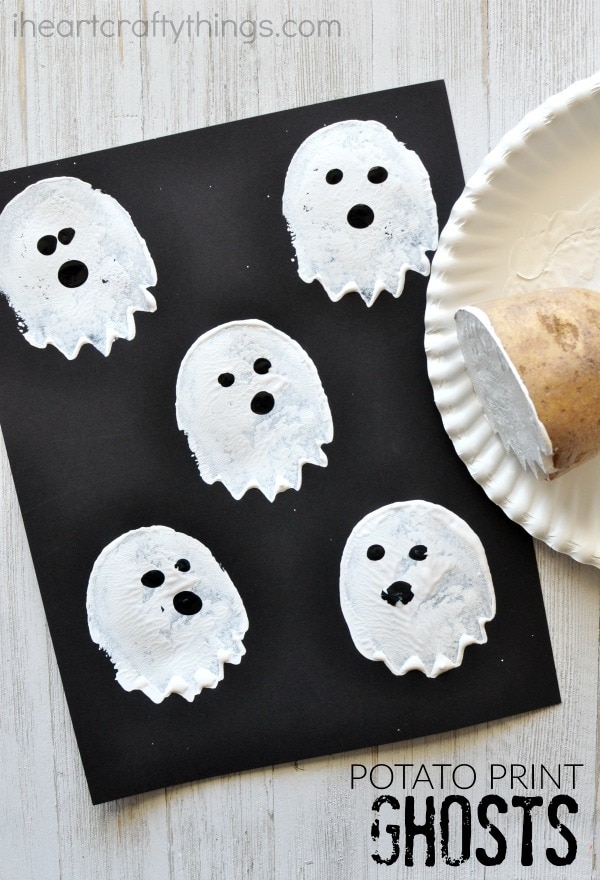 Try coupling this craft with one of these book:
– The Boo! Book by Nathaniel Lachenmeyer
– Boo! by Joe Fenton
– Ten Timid Ghosts by Jennifer O'connell