The story of Pocahontas is one that has been told through various iterations throughout the years.
What people may not know is that the stories about Pocahontas are loosely based on a real person who once lived.
There have been many books and films written about her, however the most famous portrayal is probably the 1995 Disney film Pocahontas.
This is a film adaptation that has seen enormous popularity, and it created a really recognizable visual appearance for her. Many fans may want to learn how to draw Pocahontas but not know where to start.
That's what we're here to go over today, as this tutorial will be perfect for fans of the film!
We hope that you enjoy our fun and easy step-by-step guide on how to draw Pocahontas in just 6 steps!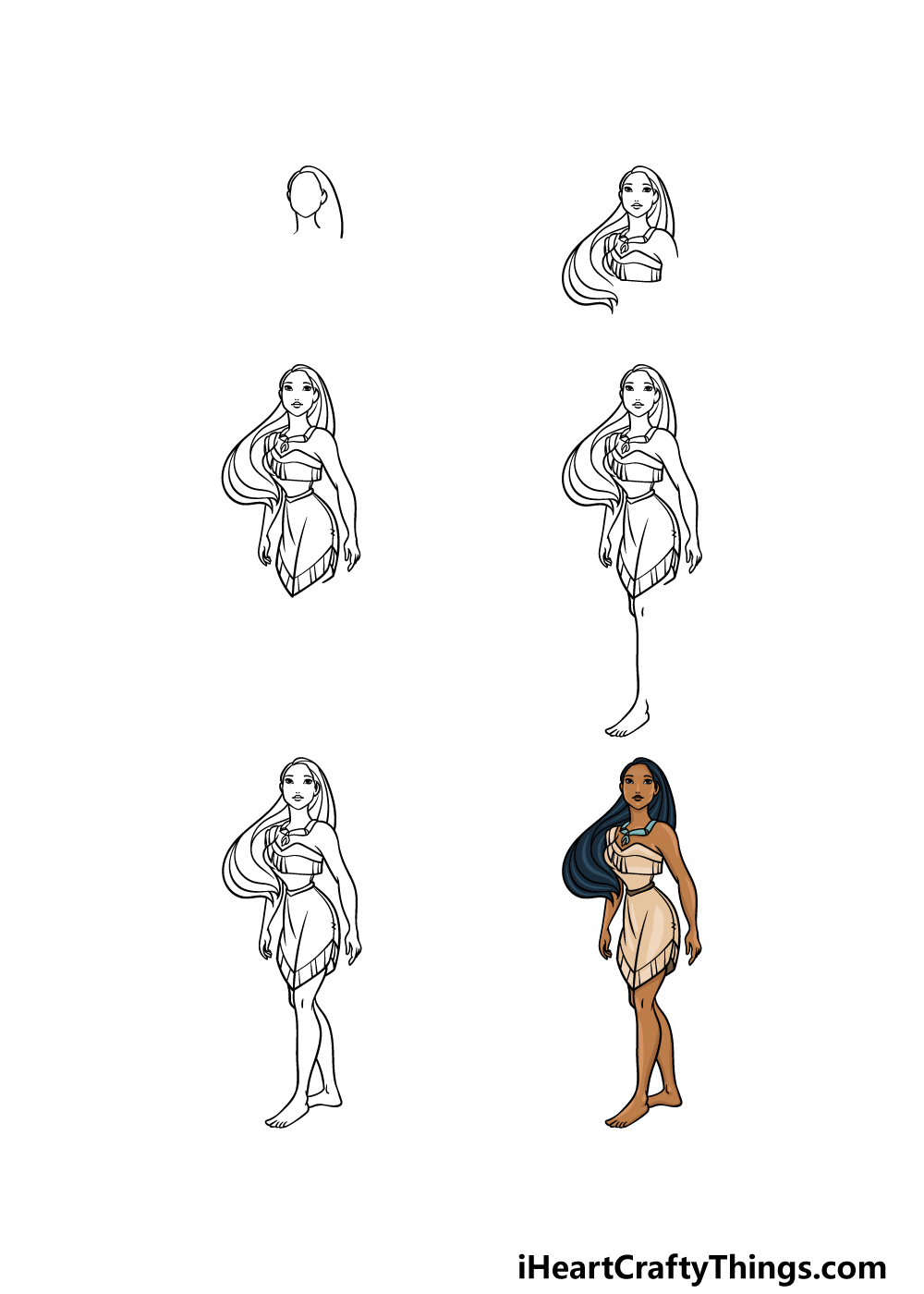 How to Draw Pocahontas – Let's Get Started!
Step 1
In this first step of our guide on how to draw Pocahontas, we shall start with her head and hair outlines.
First, use some rounded lines for her face outline and be sure to add her ears as well. Then, use two shorter lines for the neck, and then use some longer wavy lines for her hair dropping down from her head.
We won't be drawing any facial details for now, but we will add a lot more details in the next few steps of the guide, so let's proceed!
Step 2 – Now, draw her face, chest and more of her hair
To continue this Pocahontas drawing, we will be adding a lot more details to her face, hair and chest.
Her face is drawn with some simple lines and shapes, but even though they are simple they do culminate in a rather expressive face.
Use some angular lines for her eyes, then add some small dots for her nose. Finally, draw her smiling mouth using some more curved lines.
Moving down, we will draw some thin shapes for the necklace she is wearing, and then you can draw the top that she is wearing.
This will also be drawn with some curved lines, but there will be some sharp sections cut into it to make it look a bit rougher.
Finally, draw her curved shoulders and then add her wavy hair dropping over her shoulder. Her hair will also have some curved line details drawn inside the outlines, and then we can move to step 3.
Step 3 – Draw her arms and the rest of her top
For this step of our guide on how to draw Pocahontas we shall be drawing her arms along with more of her outfit.
Her arms will be at her sides to make her look more relaxed, and they will extend down from the shoulders that you started in the previous step.
Then, you can draw her thin waist that then moves outward to form the bottom of her outfit. This outfit will be pointy at the base and will also have a striped rim near the bottom of it.
Step 4 – Next, draw the start of her legs
This Pocahontas drawing is already looking great! All that remains is to draw her legs and some final touches, and we will start to do that in this part.
She isn't wearing any shoes, so we will be drawing her legs and feet extending from below her outfit.
For now, use a slightly curving line for her knee and the rest of her leg extending to the start of her foot. With that drawn, we can then move on to the final details in the next step of the guide!
Step 5 – Add the final details to your Pocahontas drawing
You're now ready to finish off the legs and any other final touches in this step of our guide on how to draw Pocahontas.
The main aspect to finish off in this step will be the rest of her leg outlines. Use some more curved lines for the back of the leg that you started in the prior step.
Human legs have a very specific muscular structure to them, so try your best to replicate the leg as it appears in our example.
You can finish off with her leg extended backward a bit, and then you're ready for the final step!
Before you proceed, you could also add any extra ideas you may have for the image. Can you think of any cool setting from the movies that you could draw as a background for Pocahontas?
Step 6 – Finish off your Pocahontas drawing with color
For the final step of your Pocahontas drawing, you can finish off with some color!
We kept her colors accurate to her film appearances in our reference image, so you can follow this image if you want to replicate her look from the movies.
Her clothing is made from animal skin, so it is colored with a light beige. Then, we used some blue for her necklace, shades of brown for her skin tone and finally some black for her hair.
Will you use these colors for your own drawing or will you go for some unique choices? We look forward to seeing what you go for!
Remember that you can also have loads of fun experimenting with various art tools and mediums to achieve your color choices. Why not try an art medium that you've never used before for this image?
Do this to take your Pocahontas drawing to the next level
Celebrate this iconic Disney princess with these tips for your Pocahontas sketch!
This drawing of Pocahontas shows her on her own, but there are so many other characters from the film you could add. These could be some of the members of her tribe for example.
Another obvious choice would be her love interest John Smith. You could look at the movie itself or look up some pictures online to help you as you draw these additional characters.
You could also add some of the animal friends that join Pocahontas on her journey! Which characters from the films would you like to add to the drawing?
This depiction of Pocahontas that we created together shows her in the casual outfit she wears throughout the film.
This is a recognizable look for her, but you could also go for a different look for her.
Not only this, but you could also add some weapons or other accessories for her to wield in this image. This would be a great way to recreate some favorite scenes from the films!
Speaking of recreating scenes, you could also do this by adding background locations from the films. There would be so many amazing locations you could use for your Pocahontas drawing!
Choosing one of your favorite scenes from the movie would be a good place to start.
Then, you could pause that scene while watching the movie in order to have something to work from as you recreate it for the drawing.
If it's tough to choose, then you could make a few variations of this drawing with different locations.
Like most Disney films, the Pocahontas movie is famous for its beautiful songs. These could also be incorporated into your Pocahontas sketch!
One way of doing this would be by choosing your favorite song from the movie. Then, pick a line or quote from the song that you like and then add it with text around Pocahontas.
Which songs and lines would you choose for this?
Your Pocahontas Drawing is Complete!
This is a really classic character, and we hope that you had a great time recreating her in this guide on how to draw Pocahontas!
Drawing the Disney style of characters can often be harder than expected, but if you follow the steps and try your best then you'll definitely get the hang of it.
Then, when you've finished the drawing you can keep it going by adding your own elements, ideas and additions. We mentioned a few ideas to try, but what else can you think of to finish it off?
If you loved this drawing guide, we have great news for you because there are many more like it on our website. Be sure to visit us there often to never miss out on our new guides!
When your Pocahontas drawing is all done, please be sure to share your artwork on our Facebook and Pinterest pages! We would love to see how your amazing drawing turned out.