Every year we read Room on the Broom by Julia Donaldson before Halloween and I get super excited to create a fun witch craft with my kids for family fun night.
This year with paper plates handy we got creative making this playful paper plate Halloween craft. Kids will love watching their witch fly around on her broomstick on a spooky full moon Halloween night after making this simple and fun paper plate Halloween craft.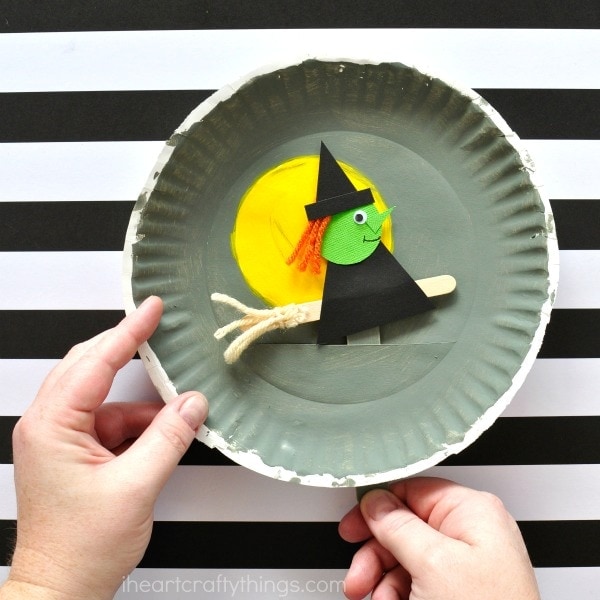 How to make a playful Paper Plate Halloween Craft
This post contains affiliate links to the products mentioned. Read our disclosure policy for more information.
Supplies Needed to Make this Paper Plate Halloween Craft
paintbrushes
cup for tracing
pencil
small googly eye
black marker
scissors
glue
craft knife (adult use only)
Instructions for Making this Halloween Paper Plate Craft
1. Begin by tracing your cup on your paper plate where you'd like your full moon to be. Paint your moon yellow and the rest of your paper plate gray. Then paint your jumbo craft stick with gray paint. Set them aside to dry completely.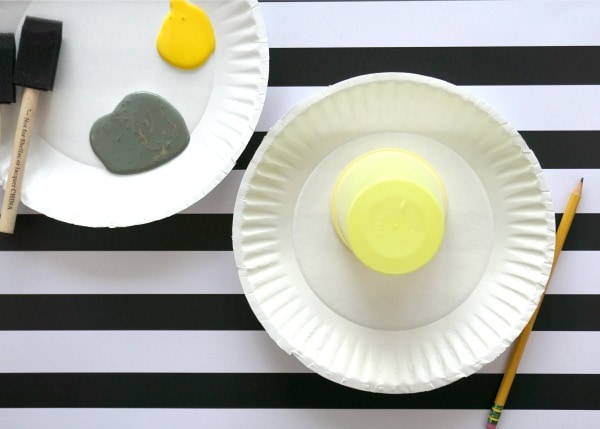 2. Assemble your witch. Cut out a 1 1/2-inch circle and small triangle nose from your green cardstock. Cut out a witch hat and triangular witch dress out of your black cardstock. Glue orange yarn hair at the back of the witch head. Glue the witch hat at the top of the head and the dress at the bottom of the head. Then glue on your small googly eye and nose and draw a smile on your witch with your black marker.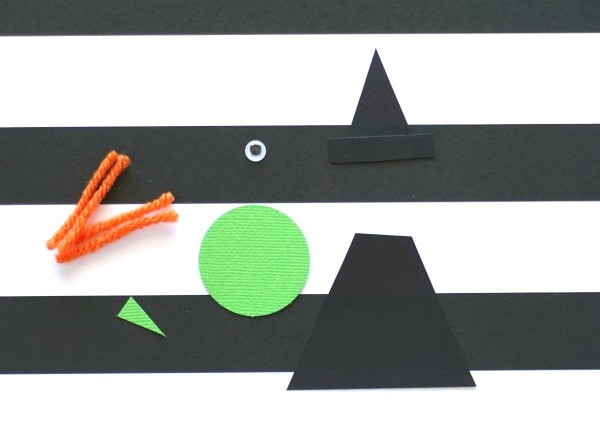 3. Assemble your witch broom. Cut off four pieces of tan yarn, one long enough to tie a knot. Glue the smaller three pieces of string on the end of the craft stick. Then wrap the longer piece of string around the craft stick and other pieces of yarn and tie a knot. Use scissors to trim the yarn pieces to look like a broom.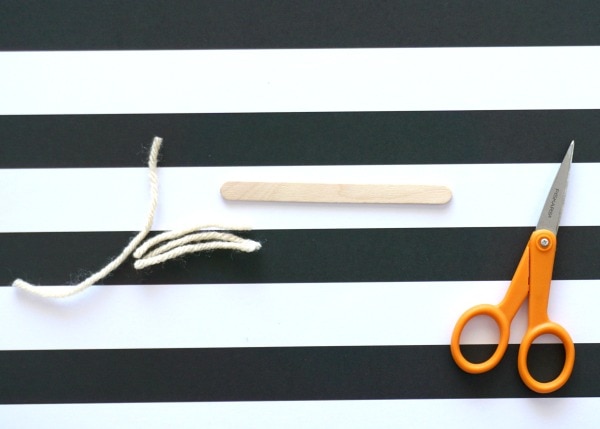 4. Glue the witch onto the broom. Then glue them onto the end of your gray jumbo craft stick.
5. Have an adult use a craft knife to cut a slit along the bottom 1/3 of your paper plate for your witch puppet to slide into.
Your Halloween Paper Plate Craft is finished!
Slide your witch down inside the paper plate slit. Hold the paper plate steady with one of your hands and use your other hand to move around the jumbo craft stick behind the paper plate to make your witch fly around on her broomstick on the paper plate.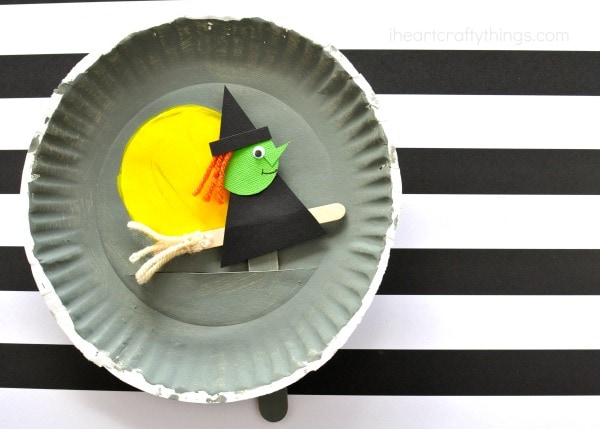 Did you love this paper plate Halloween craft? You might also enjoy these colorful paper plate spiders. This paper plate pumpkin lacing activity is another fun way to celebrate Halloween craft.