Peppa Pig is a character that came out way back in 2004, and her popularity only grows stronger as time goes on!
Throughout the years, Peppa has won legions of fans both young and old, and she has gone on many wonderful adventures.
The show has a distinctive style and Peppa has a rather unique design, leaving her many fans to wonder how they can learn how to draw Peppa Pig themselves.
The good news is that if you're one of them then you're on the right guide!
Our step-by-step guide on how to draw Peppa Pig will show you how you can draw this adorable character yourself!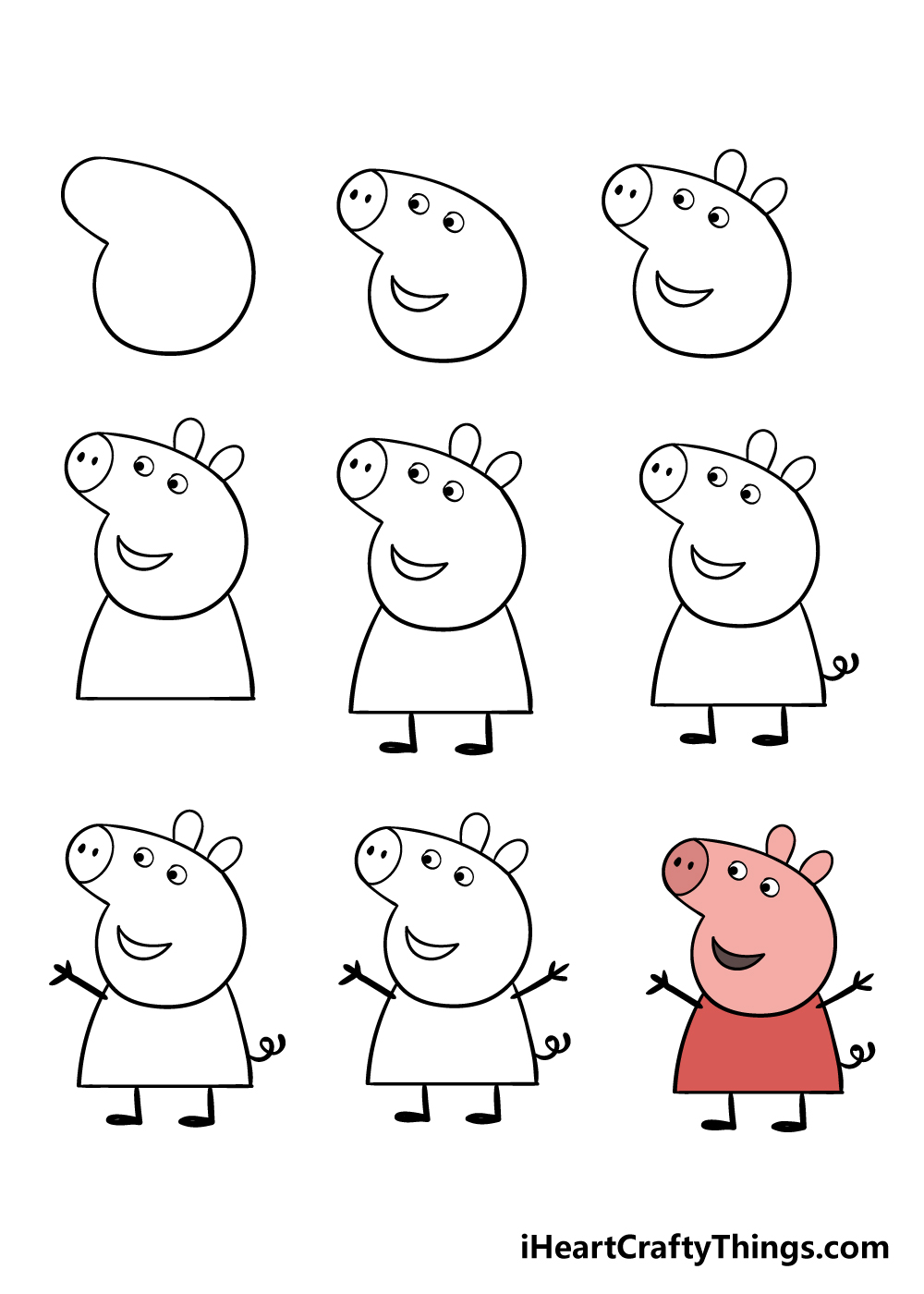 How to Draw Peppa Pig – Let's get Started!
Step 1
We will be starting with Peppa's head in our guide on how to draw Peppa Pig. Her head is made of two rounded shapes together that form one singular shape.
The top of her head could be an oval, whereas the bottom is more circular. Once you have her head outline looking like the one in our example image, then we're ready for step 2!
Step 2 – Next, draw a face for Peppa
Now that you have the head outline of your Peppa Pig drawing, you can start to draw a face for her.
For her nose, you can draw a curved line down her snout, and then draw two small dots inside that area for hr nostril
. Her eyes are then made of two small circles with a dot inside each one. Finally, her mouth is made using a curved crescent shape. Now she's already starting to look more like Peppa should!
Step 3 – Now, draw some small ears for Peppa
This third part of our guide on how to draw Peppa Pig will be quite a simple one! All you need to do in this step is draw some ears for Peppa.
Her ears are small and made of some simple curved shapes that go at the top of her head.
Step 4 – Next, draw a body for your Peppa Pig drawing
Your Peppa Pig drawing needs a body now, so let's draw one in this step! Her body is also made of a fairly simple shape, so this shouldn't be too much of a challenge for you.
All you need to do is draw two curved lines coming down from her head, and then connect them at the bottom with a flat line.
Step 5 – Give Peppa some legs in this step
Peppa's limbs are very simple and made up of a few lines, so we shall concentrate on them for the next few steps of your Peppa Pig drawing.
For her legs, simply draw two thick lines down from the bottom of the body, and then draw an equally thick horizontal line at the bottom of each leg.
Step 6 – Next, draw Peppa's tail
Every pig needs a cute corkscrew tail, and Peppa is no exception! For that reason, it seems only fitting to give her one in this step of our guide on how to draw Peppa Pig.
Her tail can be drawn using a single line that loops on itself like the one in our reference image
Step 7 – Draw the first arm for Peppa
We may have drawn some legs and a tail for your Peppa Pig drawing, so now we had better start adding the arms to really finish her off!
We will be adding the first arm on the left hand side, and it will be raised quite high in a waving motion.
The arm is also pretty simple like her legs were, and can be drawn with one thick line that ends in a couple of other forked lines for her fingers.
Step 8 – Next, draw the other arm and final details
Before we move on to the final step of this guide on how to draw Peppa Pig, we just have a few finishing touches to add.
First, you can finish off the main part of the drawing by adding her other arm. This one will look exactly as the other one did, and will also be up in the air to show that she is feeling excited!
Now that you have finished the Peppa Pig drawing, before you move on you can add any extra details that you would like.
Perhaps you could draw a background that represents your favorite scene from the show, or maybe even draw a favorite character from the show to go with her.
There are lots of ways that you can get creative with your Peppa Pig drawing, so let your imagination run wild!
Step 9 – Now finish Peppa Pig off with some color
The final step of our guide on how to draw Peppa Pig is all about bringing your amazing drawing to life with some beautiful colors!
As you know from the show and can see in our reference image, Peppa is colored with shades of pink.
Even if you stick to her primarily pink color scheme, you can still incorporate some bright and amazing colors by coloring in the background or any extra elements and details that you added.
You can also get some color variation with the mediums that you use, so maybe try to use some art tools that you're not as familiar with for some extra fun!
5 Tips To Make Your Peppa Pig Drawing Even Better!
Make your Peppa Pig sketch even more amazing with these 5 ideas we have for you!
This drawing of Peppa Pig shows her looking very excited about something. You could very easily put her in a different pose by changing just a few lines and details.
For example, if you wanted her in a more relaxed pose then all you would need to do is draw her arms pointing down. What poses and facial expressions would you like to portray?
Our version of Peppa Pig shows her in her usual simple pink outfit. It could be fun to give her a makeover by changing her outfit!
This could be as simple as a small picture or pattern on her dress, or you could go with a completely new outfit. For instance, maybe she could be dressed as a chef or a dancer.
This character has many funny lines in the show, and you could show some of your favorites in this Peppa Pig drawing! One way of doing this would be by drawing a speech bubble above her head.
Then, all you would need to do is write your favorite line inside of the speech bubble. You could also write one or two phrases near her to make it look like a poster!
Peppa is one of many characters from the show, and you could add some more to the artwork. You would have many to choose from!
For instance, she has a few family members that could be added, and they are even drawn similarly to her. You could also add one or two of her friends, so who will you add to this image?
Finally, you could finish off your Peppa Pig sketch with a background. The backgrounds in the show are simple and colorful, so it would be easy to add a fun background.
You could add a background that is based on a location from the show, or you could create your own one! Where would you like to show Peppa Pig hanging out in this picture?
Your Peppa Pig Drawing is Complete!
We hope that you had lots of fun with this step-by-step guide on how to draw Peppa Pig!
We created this guide to show you that by breaking down the picture into steps it can be easier than you would ever think to draw this beloved character while having fun with it!
Now you get to take over and bring your image to life with some incredible colors, extra details and maybe even a background.
How will you put your own spin on this picture of yours?
This drawing guide is one of many that we have for you on our website! We also upload more all the time, so be sure to check in often to make sure that you can be among the first to enjoy each new guide.
We would love to celebrate this character alongside you and your amazing Peppa Pig drawing, so please share it on our Facebook and Pinterest pages for us to enjoy!