I've had a swarm of paper plate spiders take over my house the last couple days! Luckily they are the cute kind that I don't mind having around!
These colorful spiders are so simple for kids to make and they make spooktacular Halloween decorations!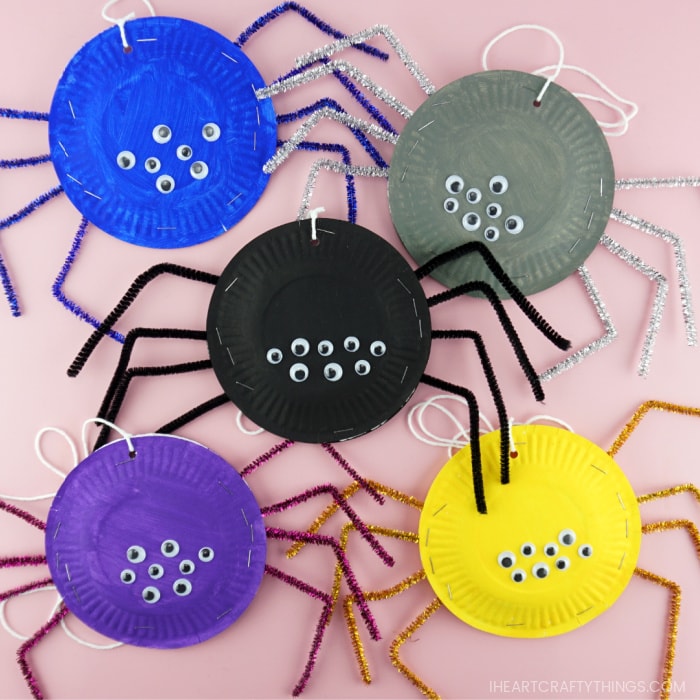 We used small, dessert sized paper plates for this Halloween craft. I found they were the perfect size when coupled with the pipe cleaner spider legs. I'm a big believer in using whatever you have on hand though, so any size you have will do.
Make sure to check out our paper plates category if you are looking for more fun ways to craft with paper plates at home or school.
[This paper plate craft was originally published on October 8, 2012. The photos and tutorial have been updated and a video tutorial has been added.]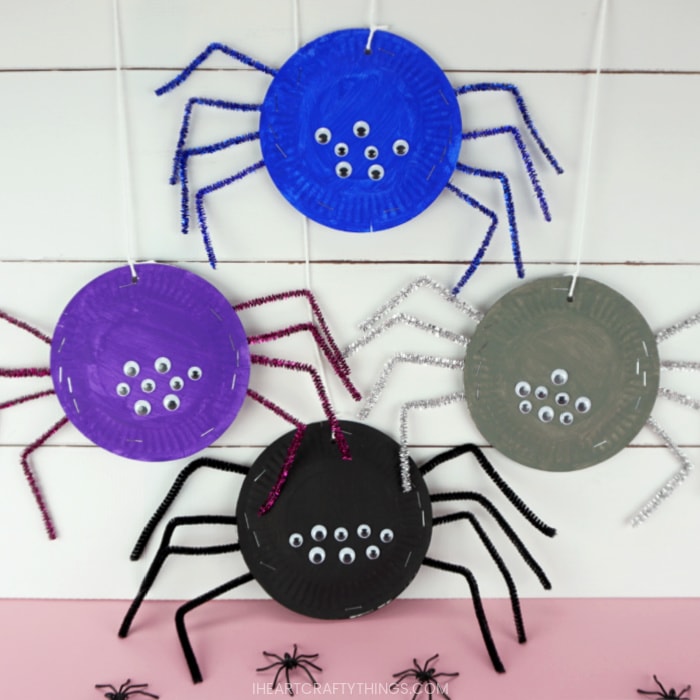 How to Make these Easy Paper Plate Spiders
Read our easy step-by-step instructions below for how to make your own paper plate spider craft. Make sure to watch our video tutorial inside this post before get started too.
Before you know it, you'll have some spooky spiders to hang from the ceiling for Halloween decorations too!
Supplies needed for this paper plate Halloween craft:
This post contains affiliate links to the products mentioned. Read our disclosure policy for more information.
small paper plates (2 per spider)
acrylic paint (any color you choose)
googly eyes (we used varying sizes, 8 per spider)
chenille stems (4 per spider — we used some of the Kids Craft glitter brand from Wal-mart to make our spiders extra bright and sparkly)
paint brush
scissors
stapler
glue
Instructions for making your colorful spider craft
1. Paint the underside of two small paper plates with acrylic paint and set them aside to let them dry completely.
2. When the paint has finished drying, cut four chenille stems in half to make eight spider legs.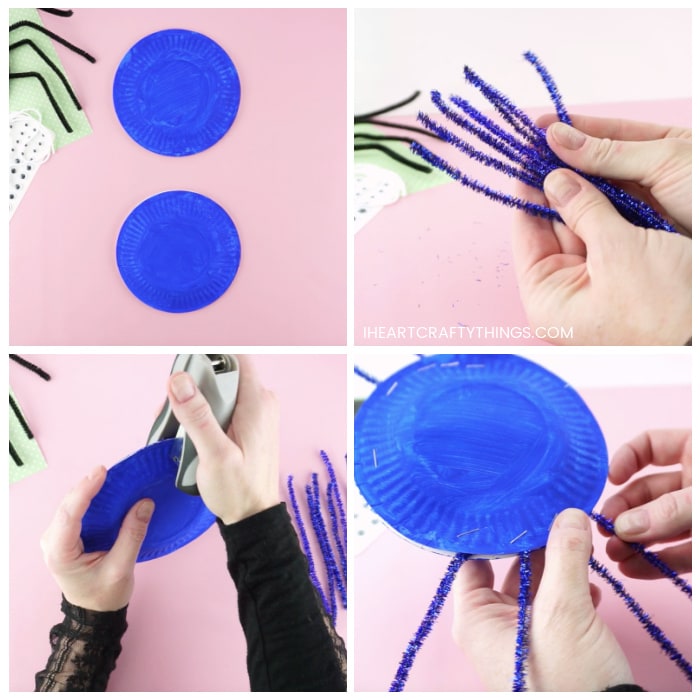 3. Line up your two painted paper plates with the paint facing out on both sides and then place a staple at the top to connect them together.
4. Insert a spider leg in between the two plates about one-inch and then staple it down between the two plates. Do this with all eight legs, with four on each side of the paper plates. Then place additional staples around the paper plates to close them shut.
Love drawing things? Learn how to draw a butterfly
What if you can't use a stapler in the classroom with children?
I have had a few people comment that they are not allowed to use staplers inside the classroom. An alternative would be to tape each pipe cleaner spider leg onto one of the unpainted sides of the paper plates. Then add a line of glue around the edge of the paper plate, on top of the taped down legs. Finally, place the second paper plate onto the glue with the painted side facing out.
One reason I used a stapler with my preschooler when making these is because the gripping and stapling is such a great fine motor activity. It is completely optional though.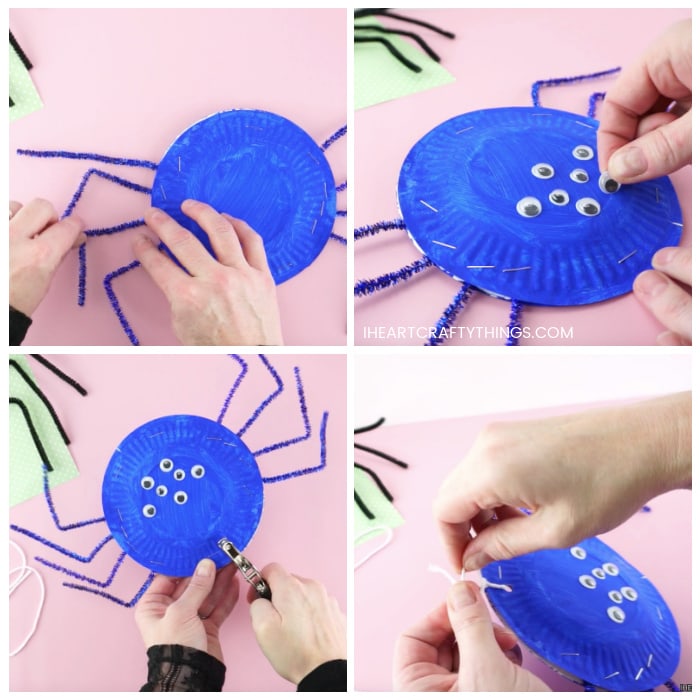 5. Create a bend in each of the chenille stems to make them look like spider legs.
6. Glue on eight wiggly eyes of different sizes on the top of your spider. You could also use self-adhesive googly eyes so you won't have to wait for drying time.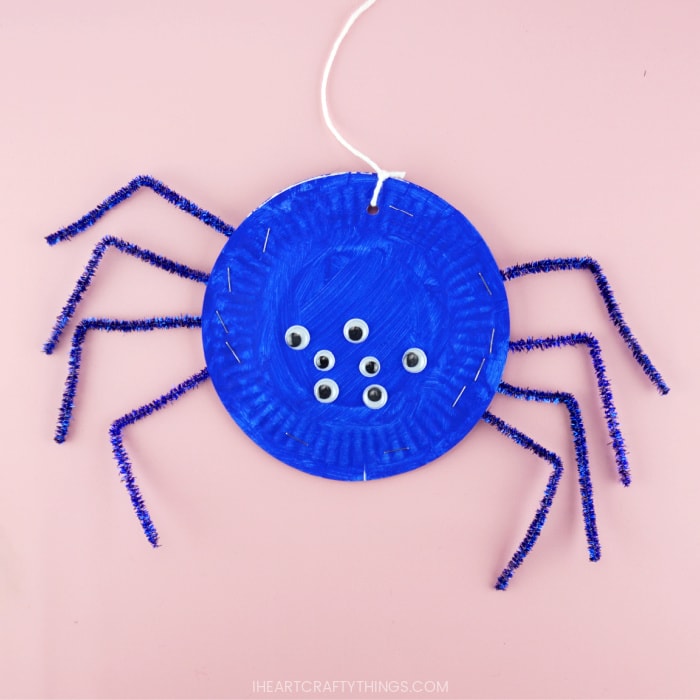 As a side note, my kids are way smarter than me because I didn't even know that most spiders have eight eyes. After they insisted on gluing on 8 eyes, I googled it and sure enough, they were right!
7. Use a hole punch to punch a hole in the top of the paper plate spider and tie a white string through it so you can hang it up as if it's coming down it's spider web.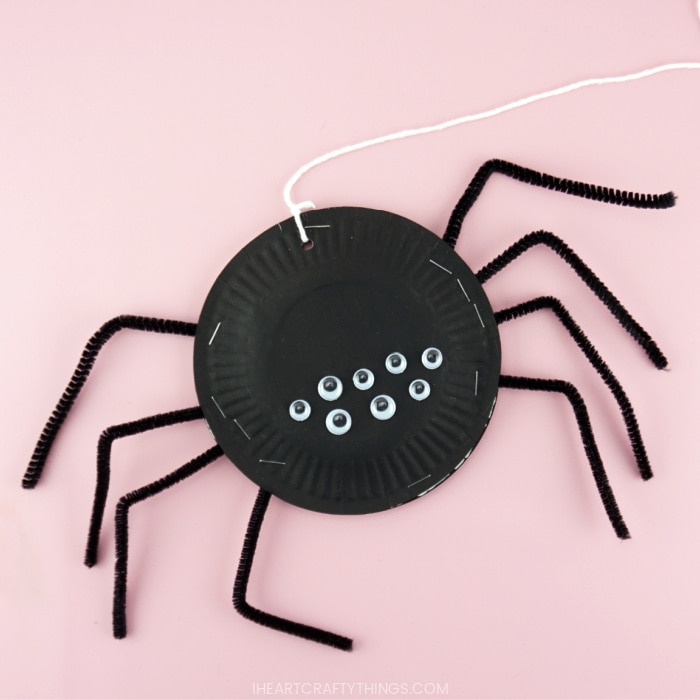 My son's black spider is extra creepy. He told me it was a black widow. Yikes!
These look super fun hanging down at varying lengths along my living room curtains as Halloween decorations.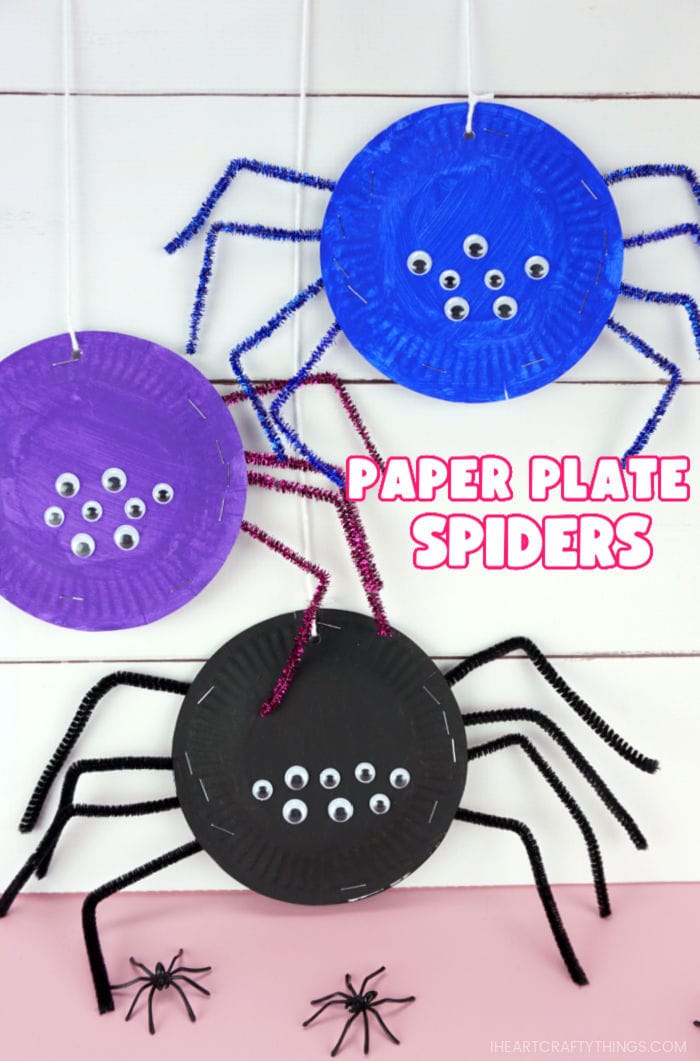 Looking for children's books about Spiders?
We love combining story time with craft time. Here are some recommendations for children's books you can check out at your local library to go along with making your paper plate spiders:


Miss Spider's Tea Party by David Kirk
Little Miss Spider by David Kirk
The Eensy Weensy Spider Freaks Out! by Troy Cummings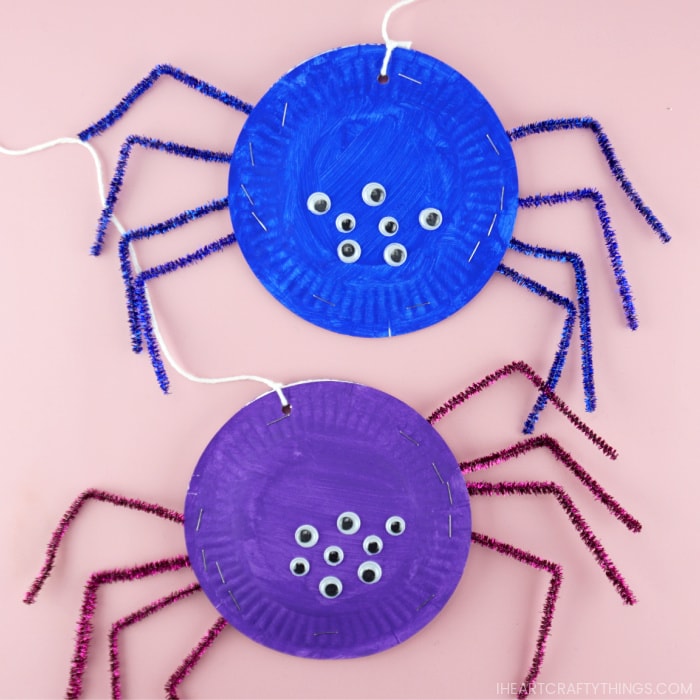 More Fun and Easy Halloween Crafts for Kids
These cute Halloween Windsocks are another fun craft to hang up for Halloween. Use our template to make a witch, Jack-0-Lantern, bat, mummy or ghost.
This yarn wrapped mummy craft is a fun way for preschoolers to work on strengthening fine motor skills while crafting.
Here's another clever way to turn a paper plate into a spider craft. This time the paper plate becomes the spider web and children have fun sliding their spider in and out watching it move around the web.
The three-dimensional effect of this paper bowl pumpkin craft makes it a lovely craft to display up on a classroom art wall for Halloween.
Check out our complete list of over 125 fun and easy fall crafts for kids!