I couldn't be more excited about sharing this adorable paper bowl scarecrow craft with you today because I love everything about the fall season! Apples and pumpkins and Halloween and scarecrows… Fall time is the best! If you are looking for a fabulous fall craft to make at home or in the classroom this scarecrow craft is perfect. These cute little guys would be perfect hung up on a harvest themed bulletin board with the saying "1st Grade is Pick of the Crop" or "Happy Fall Ya'll!". Make sure to check out more fall themed activities for kids at the bottom of this post.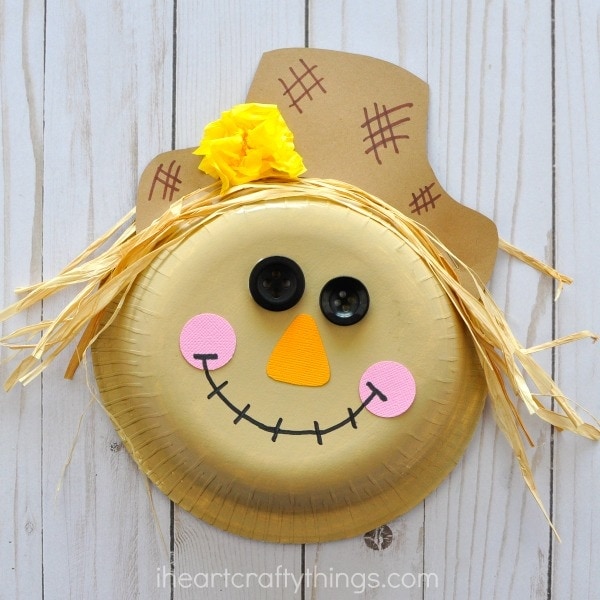 [This craft was originally posted on August 17, 2017.]
How to Make a Paper Bowl Scarecrow Craft
This post contains affiliate links to the products mentioned. Read our disclosure policy for more information.
Supplies:
Instructions:
1. Begin by painting the bottom of your paper bowl with your tan paint. Set it aside to dry completely.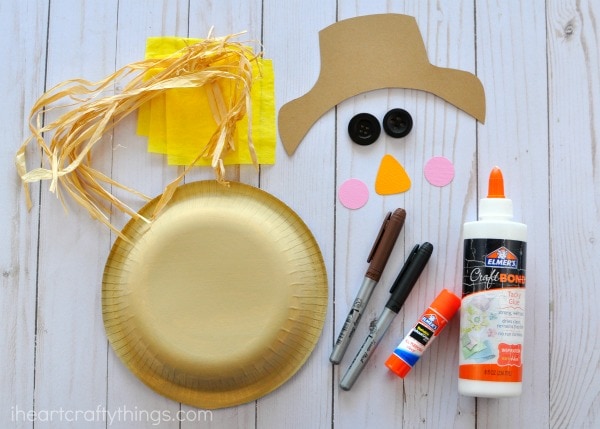 2. Print out the scarecrow craft pattern and use it to cut out a brown scarecrow hat, an orange scarecrow nose and print scarecrow cheeks.
3. Cut off several sections of raffia about 12-inches long. Add tacky glue to the top of the paper bowl and add your raffia to it. You will need to hold down the raffia for a minute or two to help it hold securely. You could also use yellow construction paper strips as an alternative to raffia.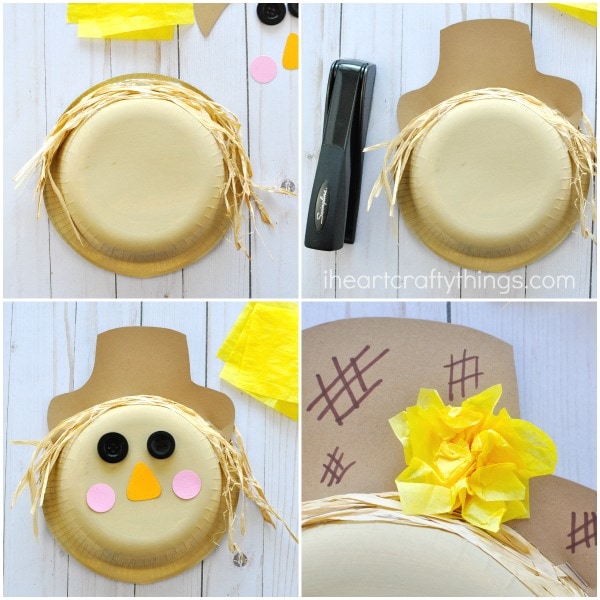 4. Use a stapler to staple the brown scarecrow hat to the top lip of the paper plate.
5. Glue black button eyes onto your scarecrow craft. Then glue on your scarecrow nose and cheeks.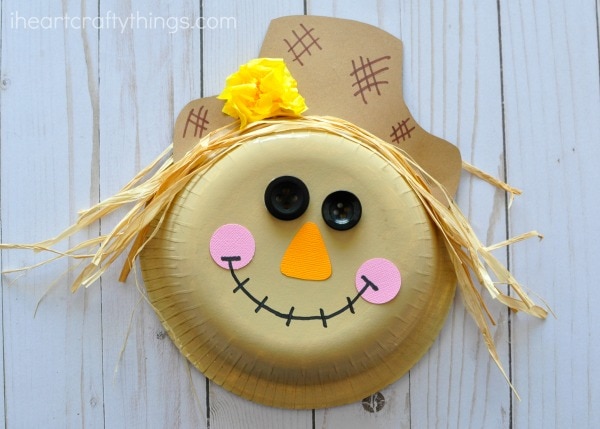 6. Layer three yellow tissue paper squares together and scrunch them up together to make a yellow flower. Glue it onto your scarecrow hat.
7. Finish your paper bowl scarecrow craft by using your black maker to draw a mouth with stitches on your scarecrow and add some markings to the scarecrow hat with your brown marker.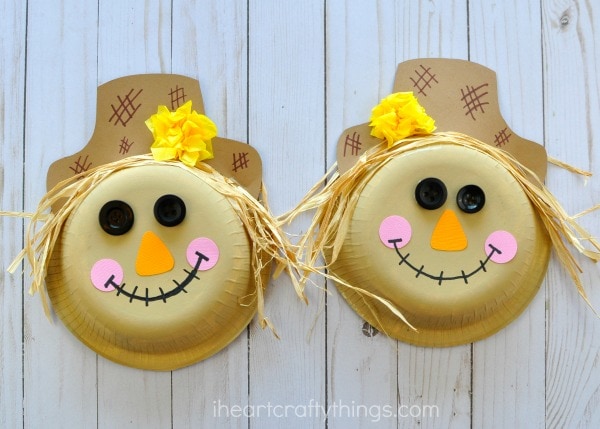 Your paper bowl scarecrow craft is finished!
If you're looking for more fun fall and harvest crafts to go along with our darling scarecrow craft you'll love our paper bag crow puppets. Our puzzle piece fall tree craft is another one of our favorites for fall.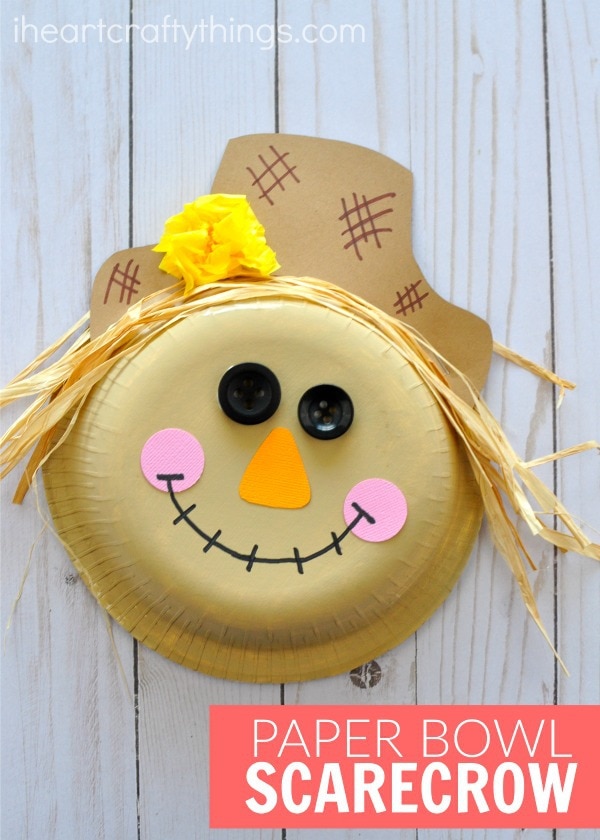 More Fall Themed Activities for Kids: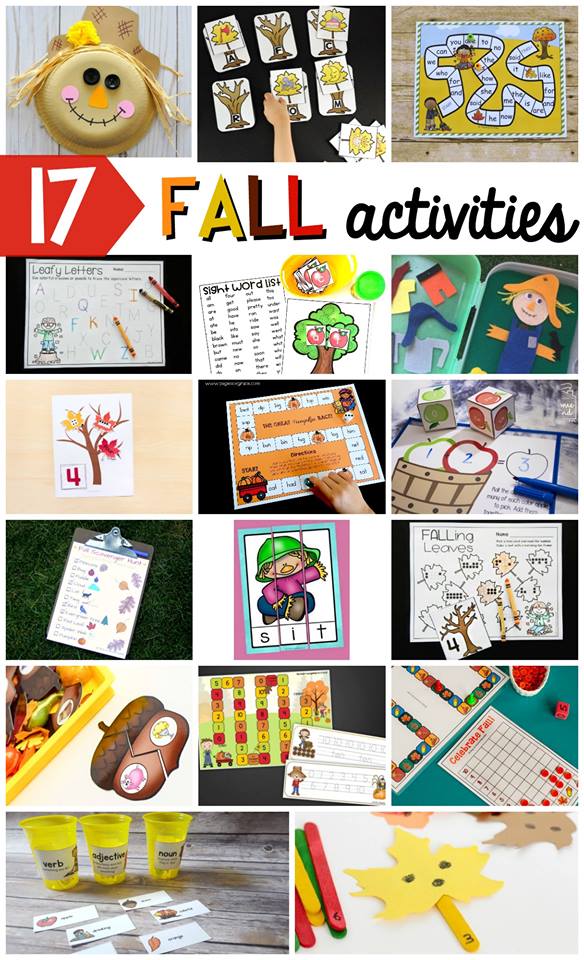 FROM LEFT TO RIGHT:
Scarecrow Craft // I Heart Crafty Things
Fall Initial Sound Match-Up Free Printable // A Dab of Glue Will Do
Fall Sight Word Dash // Playdough to Plato
Fall Letter Tracing Printables // The Letters of Literacy
Apple Word Building // Recipe for Teaching
Scarecrow Busy Box // Teach Me Mommy
Fall Tree Number Sense Activity // Mom Inspired Life
Pumpkin CVC Game // Pages of Grace
Fall Apple Picking Math with Free Printables // Homebound but Hopeful
Fall Nature Scavenger Hunt // Science Kiddo
24 Free Fall Puzzles // Liz's Early Learning Spot
Fall Subitizing Math Center // The Kindergarten Connection
Rhyming Acorns Fall Literacy Activity // Mrs. Jones' Creation Station
Fall Number Activities (0 to 10) // Fairy Poppins
Free Fall Printables // Stay at Home Educator
Fall Parts of Speech Sort // Sara J Creations
Fall Leaves Number Match // Schooling a Monkey
(Not Shown) Preschool Scarecrow Counting Activity // M is for Monster