We are having so much fun playing with painted newspaper lately. Our latest project is this fun painted newspaper jellyfish craft.
There's just something about painted newspaper that brings an awesome texture to crafting. This colorful newspaper jellyfish craft is a perfect summer craft to make with the kids after visiting your local aquarium this summer. It also makes a great craft after story time with a fun jellyfish book.
Look for some book recommendations at the end of this post.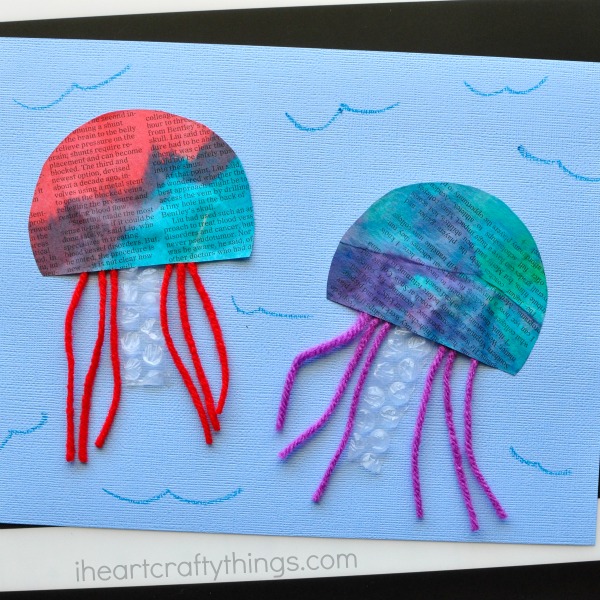 This post contains affiliate links to the products mentioned. Read our disclosure policy for more information.
How to Make a Painted Newspaper Jellyfish Craft

Supplies Needed to Make this Jellyfish Craft
– light blue cardstock paper
– newspaper
– liquid watercolors
– paintbrush
– yarn
– bubble wrap
– blue crayon
– scissors
– glue
Directions for this Newspaper Jellyfish Craft
1. Start by using your liquid watercolors to paint your newspaper. The newspaper will be saturated so you'll need to let it sit and dry completely for several hours or overnight.
2. Cut out the shape of a jellyfish body from your painted newspaper. We found it easiest to cut out a circle shape and then cut about 1/4 off of the bottom of the circle. You'll also need to cut out about six strips of yarn for jellyfish tentacles and a piece of bubble wrap for the oral arms. I love how you can get creative with different colors of yarn and watercolors to make a unique jellyfish.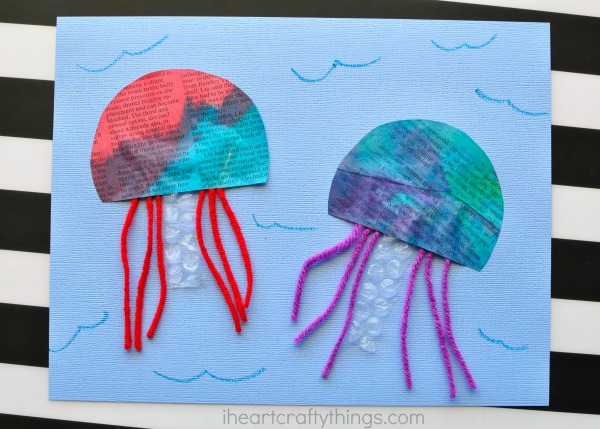 3. Glue your jellyfish tentacles and oral arms in a line together on your blue cardstock paper. Then glue your jellyfish body on top of them.
4. Finish your painted newspaper jellyfish craft by using your blue crayon to draw water wave all over your blue cardstock paper.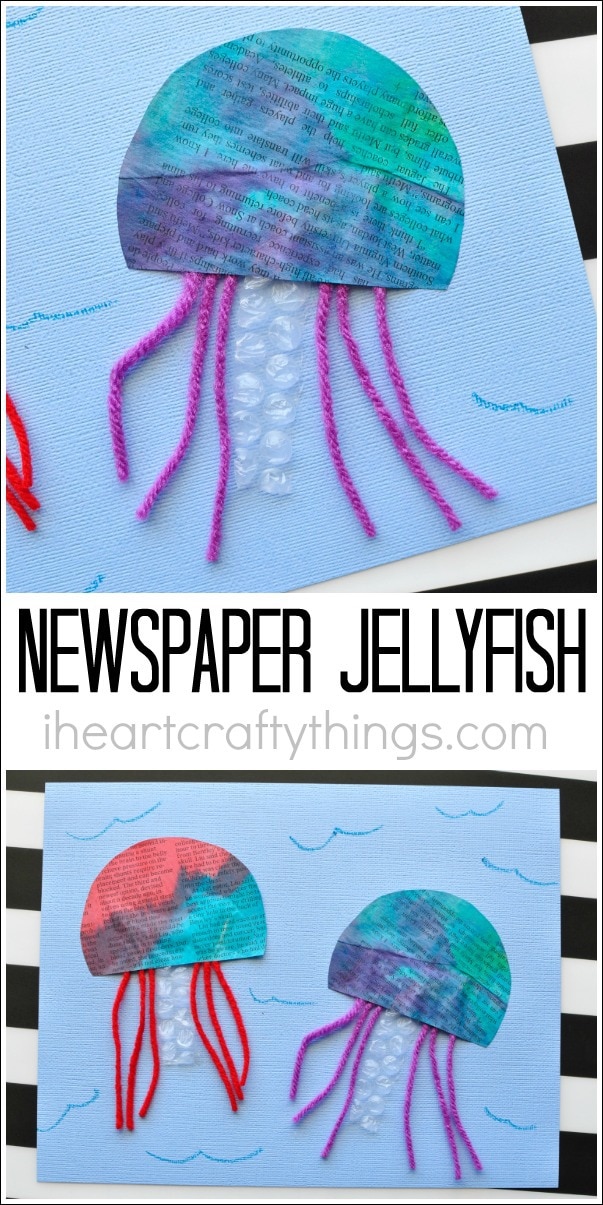 Looking for some fun books to go along with this jellyfish craft? Try one of these:
– Peanut Butter and Jellyfish by Jarrett J. Krosoczka
– Jeremiah Jellyfish Flies High by John Fardell
– Messy Jellyfish by Ruth Galloway