Newspaper is one of my favorite crafting mediums! I'm continually impressed with how many unique and awesome things you can create with it, like this newspaper witch craft we are sharing today.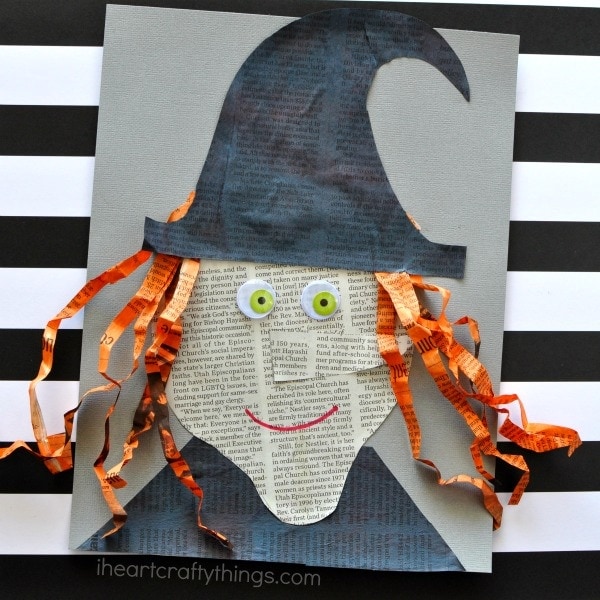 How to Make a Newspaper Witch Craft
If you are looking for a unique and creative craft to make this Halloween with your kids, look no further! This newspaper witch craft is perfect.
Supplies needed for this newspaper craft:
This post contains affiliate links to the products mentioned. Read our disclosure policy for more information.
optional Witch Pattern <—-Get this in our TPT Store!
newspaper
watercolors (We love liquid watercolors!)
paintbrush
cardstock paper (background color of your choice)
markers
scissors
glue

NOTE: If you are in the EU, please visit our TpT Store to purchase any of our templates.
Instructions for making this Witch Craft:
1. Begin by painting a portion of your newspaper with orange watercolors and a portion with black watercolors. If the newspaper looks saturated, don't worry. Allow it to dry completely for several hours and it will crisp back up.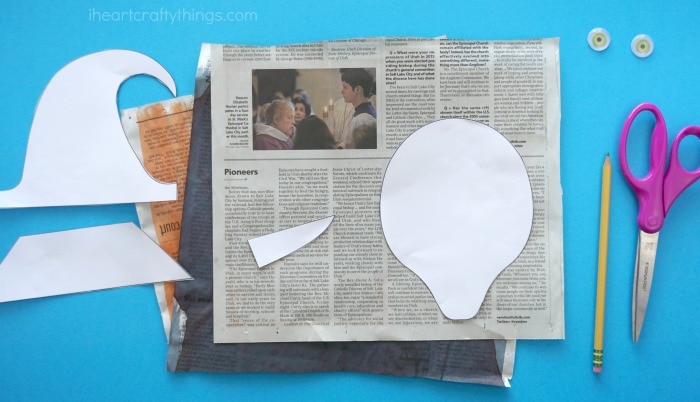 2. When your newspaper has finished drying cut out the pieces for your newspaper witch craft. You'll need to cut out a face and nose from your unpainted newspaper. Cut out a hat and dress from your black painted newspaper. Cut out small strips from your orange painted newspaper for witch hair.
3. Glue the witch dress at the bottom of your cardstock paper. Then glue the witch face at the top of the dress. Crinkle up pieces of the orange newspaper strips and glue them on the sides of the witch face for witch hair.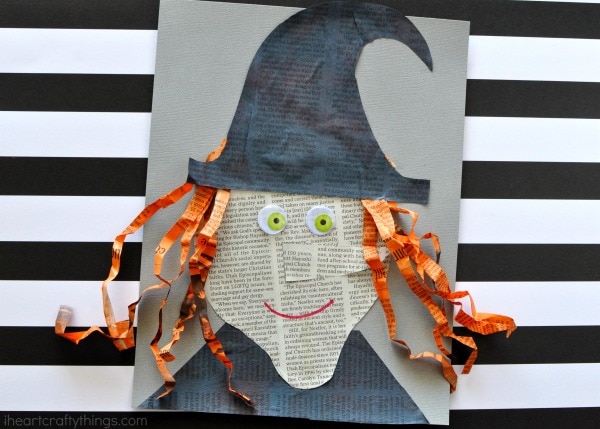 4. Glue the black hat onto your witch then glue the witch nose onto your witch craft.
5. Finish your newspaper witch craft by gluing on googly eyes and drawing a smile with your markers.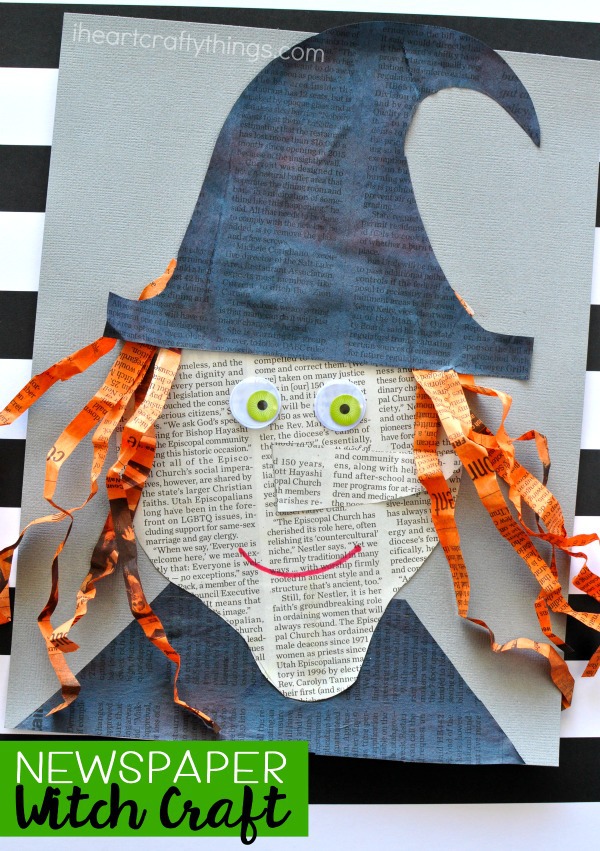 More Newspaper Crafts your Kids will Love:

This Newspaper Polar Bear Craft is great for a winter art project and is a perfect compliment to an arctic animals learning unit.
Paint newspaper adds an awesome texture to this fun Newspaper Fox Craft. It makes a great craft for the fall season and for learning about woodland animals.
Yep, you can even make a cute turkey craft with painted newspaper! Such a fun craft to add to your Thanksgiving to-do list.
This Colorful Newspaper Owl Craft is one of my favorites! Kids can paint their newspaper with the colors of their choice to give it a unique personality.