On this page, you will find 15 all new Moon coloring pages that are completely free to print and download.
Night time is always a magical time of the day, and it's a stunning sight to look outside and see the moon surrounded by millions of stars.
The moon has several phases it goes through that make it distinct to look at, so you can make the images in this collection of free moon themed coloring pages for kids just as distinct with some creative coloring and color choices!
We're looking forward to see how you convey the moods of these cute and fun moon coloring sheets.
Whether it's day or night, these moon coloring pages are perfect for some coloring fun! Don't forget that when you finish coloring your favorite pages we'd love to see them, so please share them on our Facebook for us to enjoy!
We always are thrilled to see how creative our readers are with these free coloring pages.
REMEMBER: You can get the COMPLETE set of these coloring pages >> HERE
15 Brand New Moon Coloring Pages – Free to Print and Color
The sleepy comfort in this first moon coloring page is infectious to look at! You really get a cozy, sleepy atmosphere from this image, and that would be fun to represent with your color choices.
The two sleeping moons at the bottom of the coloring page would work great with softer, cooler yellows and blues. The more lively and awake moon at the top could contrast them with a bright yellow.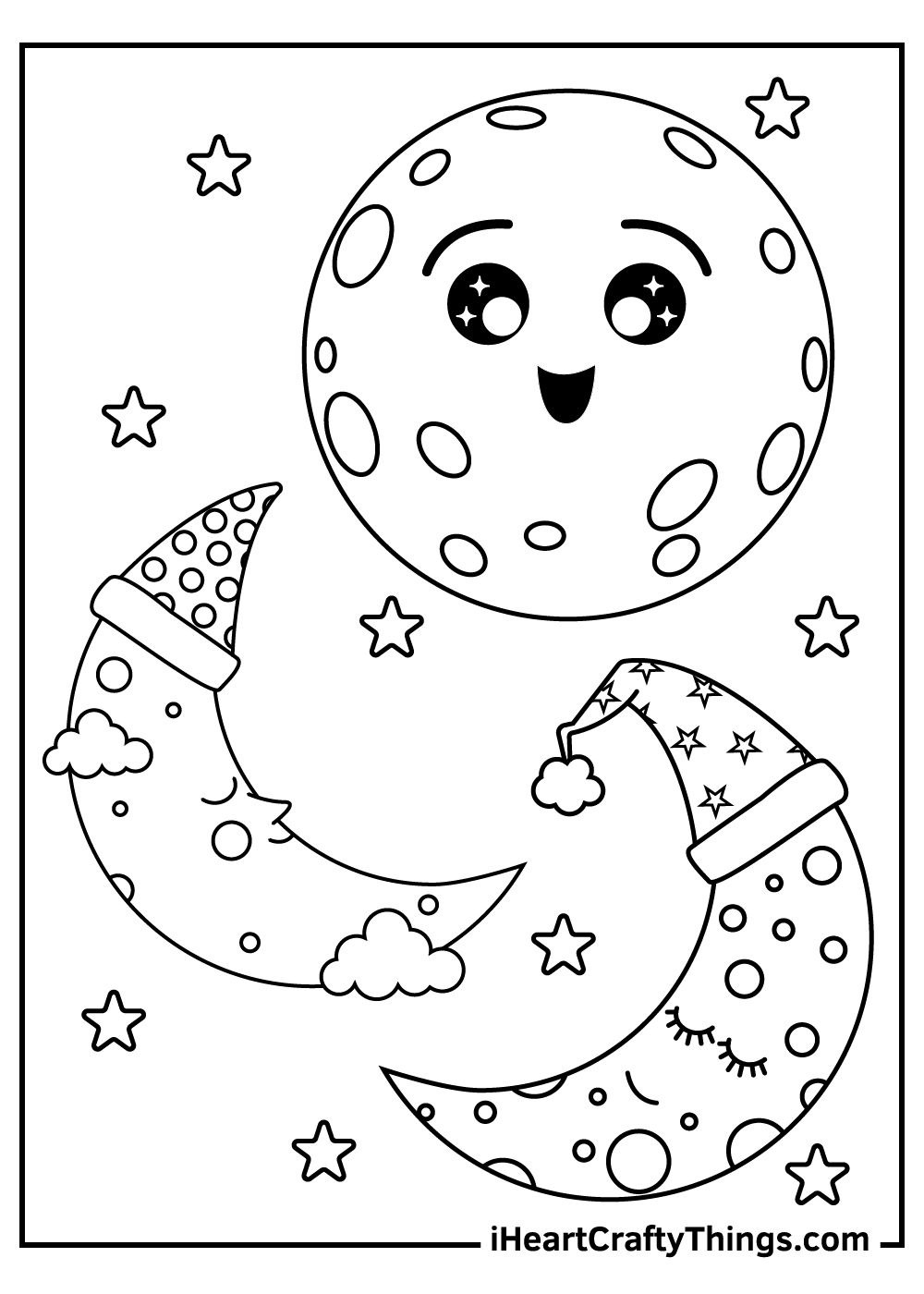 This coloring page features a beautiful crescent moon with a sparkling star on top. The moon and the star are surrounded by a wavy night sky with tiny dots that look like distant stars.
You can use your favorite colors to make this image come alive with joy and brightness. How about using some glitter or metallic colors for the star and the dots?
Or maybe you can use some dark and cool colors for the night sky to create a contrast with the moon and the star.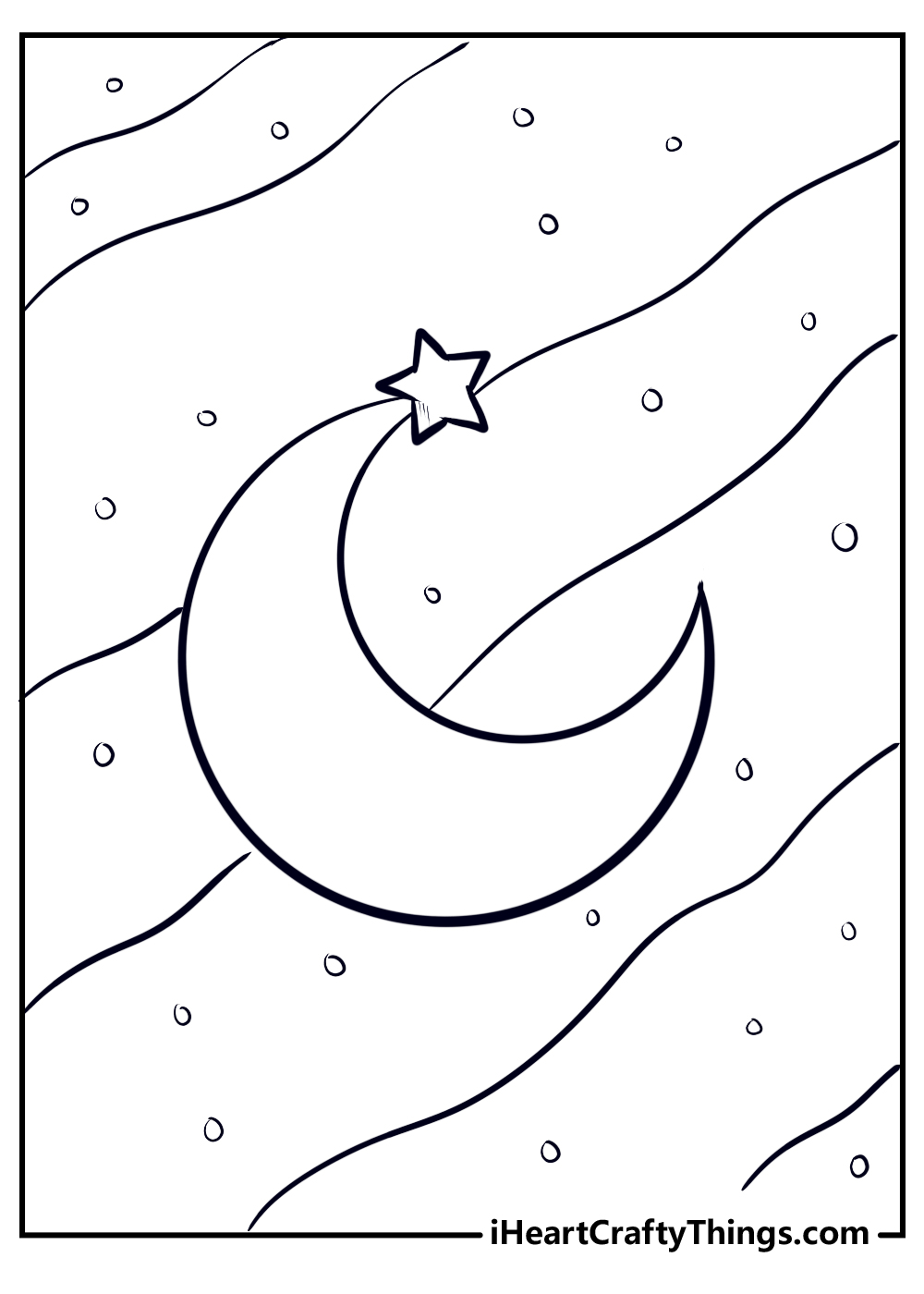 The sleepy vibes of the previous coloring page is continued in this cozy printable.
You can convey a lot of feeling with the colors you use, and I think some deep purples and rich blues would do just that for this moon coloring page printable. How will you color in this sleepy moon?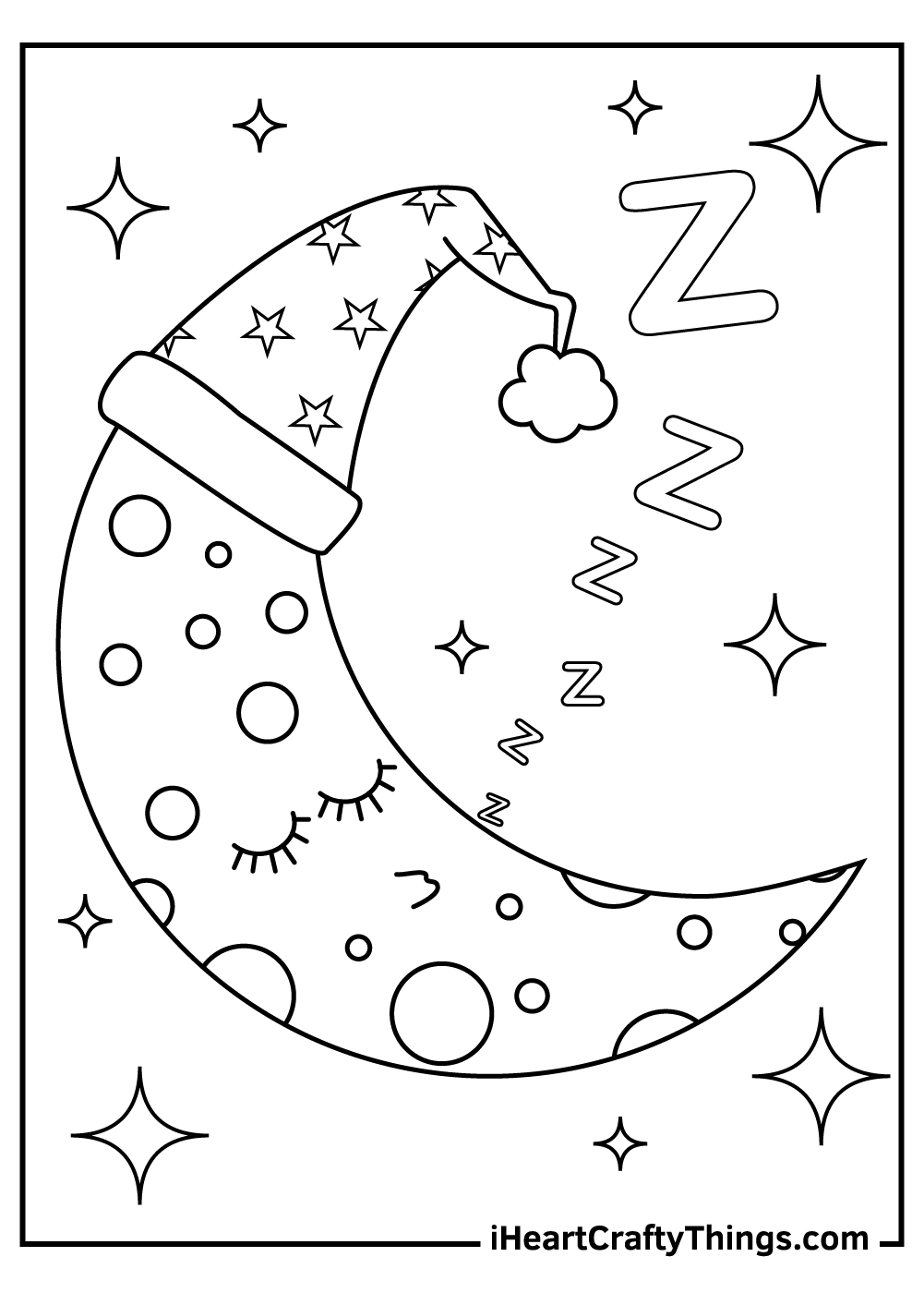 Wouldn't you like to relax with this content looking moon? He looks very chilled amongst some stars and fluffy clouds in this coloring page.
It would be really beautiful to make the moon and the stars the brightest yellow you have, almost making them look like glowing night lights against a dark blue or purple sky.
That's the feeling I get for this image, but how will you color in this printable?
REMEMBER: You can get the COMPLETE set of these coloring pages >> HERE
The next moon coloring page shows a bumpy moon surface with lots of round craters. These craters were made by space rocks crashing down. The moon also has lots of clouds around it.
Color this moon any way you like. Use crayons, markers or colored pencils to fill in all the crater details. Add stars and alien spaceships around your moon.
Or make it look real with grays, whites and silvers. Let your imagination blast off.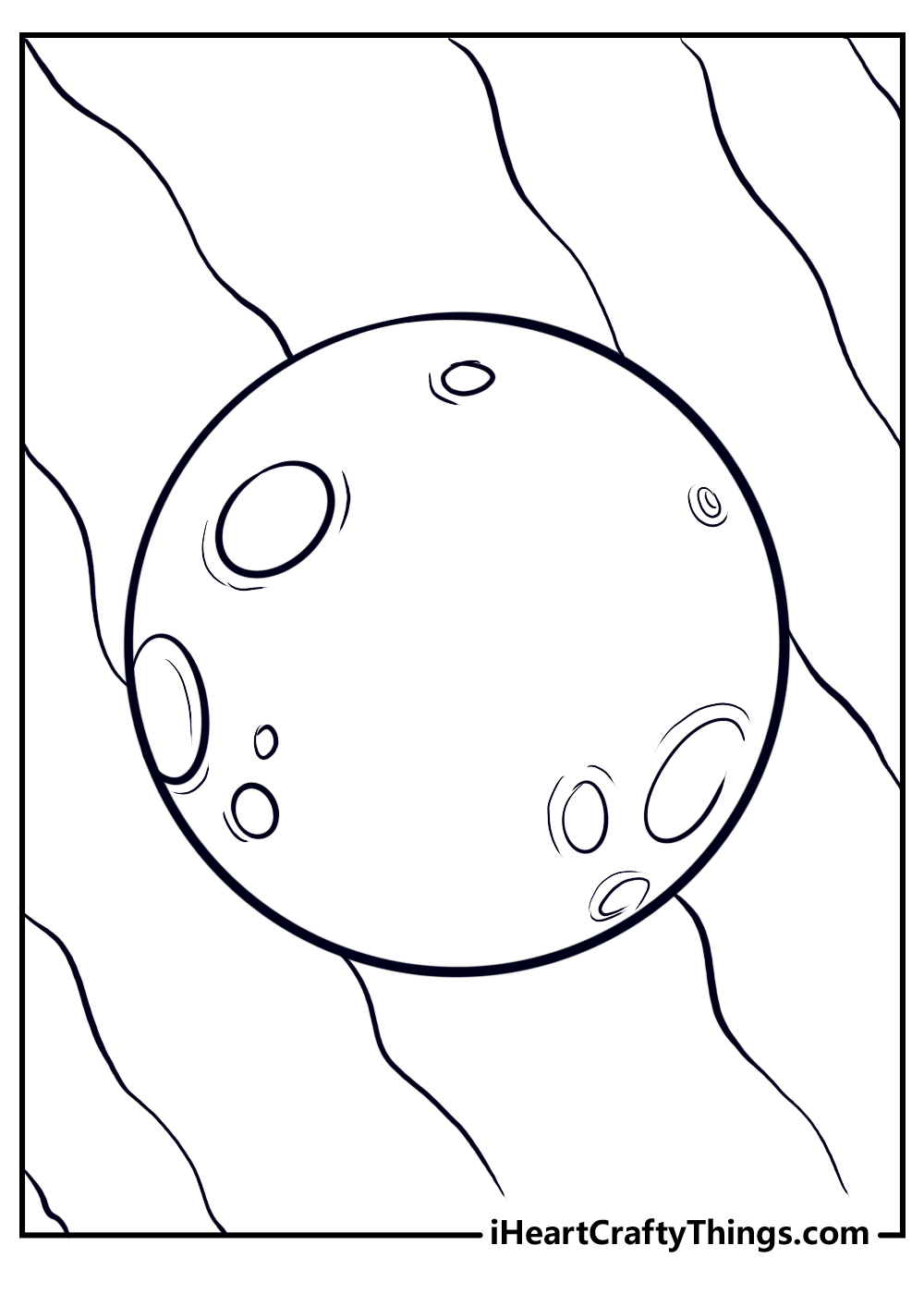 We've had a few sleepy moons in the last couple coloring pages, but now e have a very excited looking one that gives us a chance to use some brighter colors in this printable.
It's a cool idea to have the stars on strings beside this moon. Do you think the moon is part of a baby's hanging mobile, or maybe he's putting on a play with these stars as his props.
I think some varied colors for the stars and background would make this coloring page pop!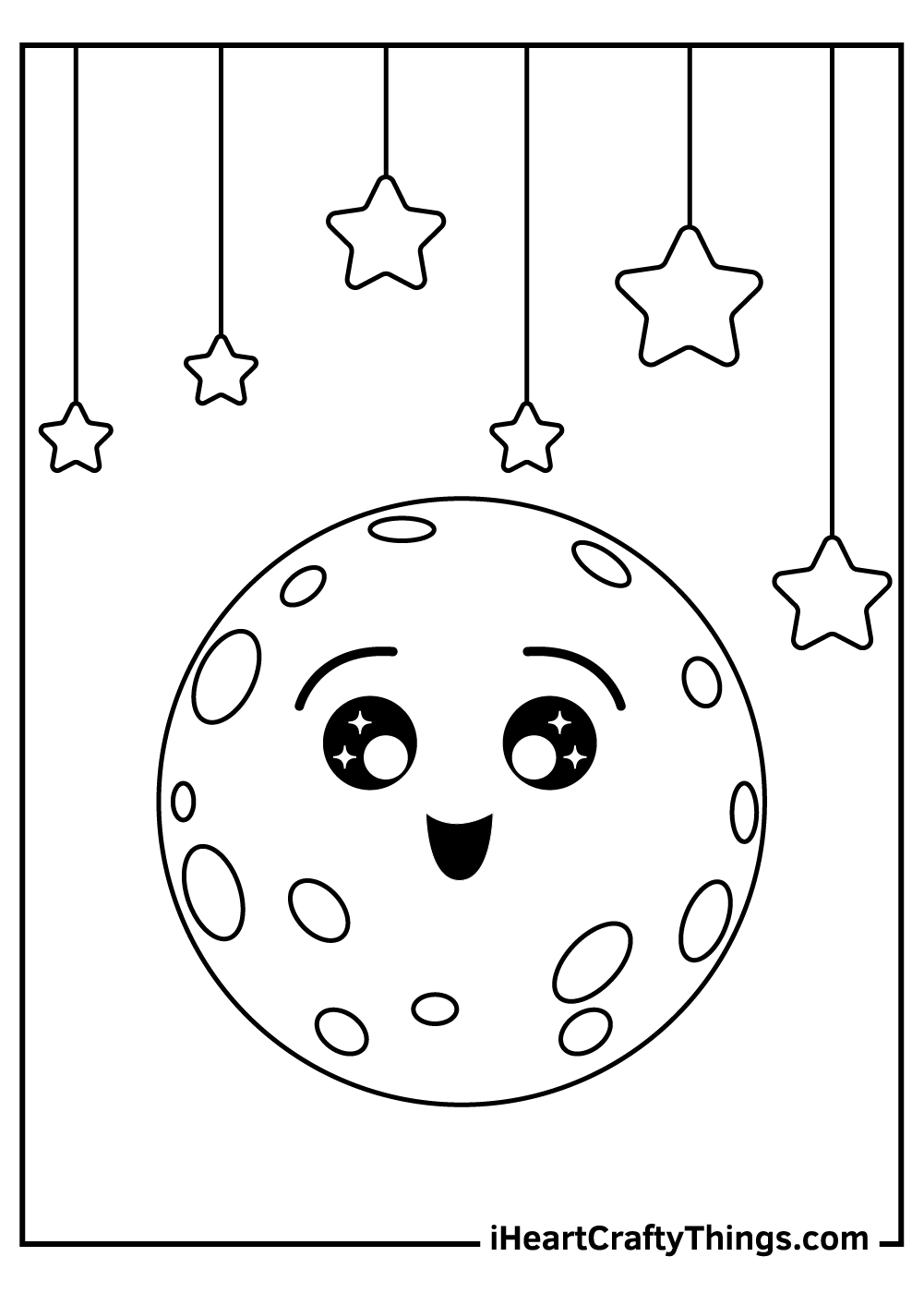 Here's a really cute image; an astronaut cat exploring a smiling moon! I wonder if this is a dream that a kitten is having after gazing at a bright moon in the sky?
There's a sense of adventure to this image, so I'd suggest some more vibrant colors to reflect that for this coloring page printable.
REMEMBER: You can get the COMPLETE set of these coloring pages >> HERE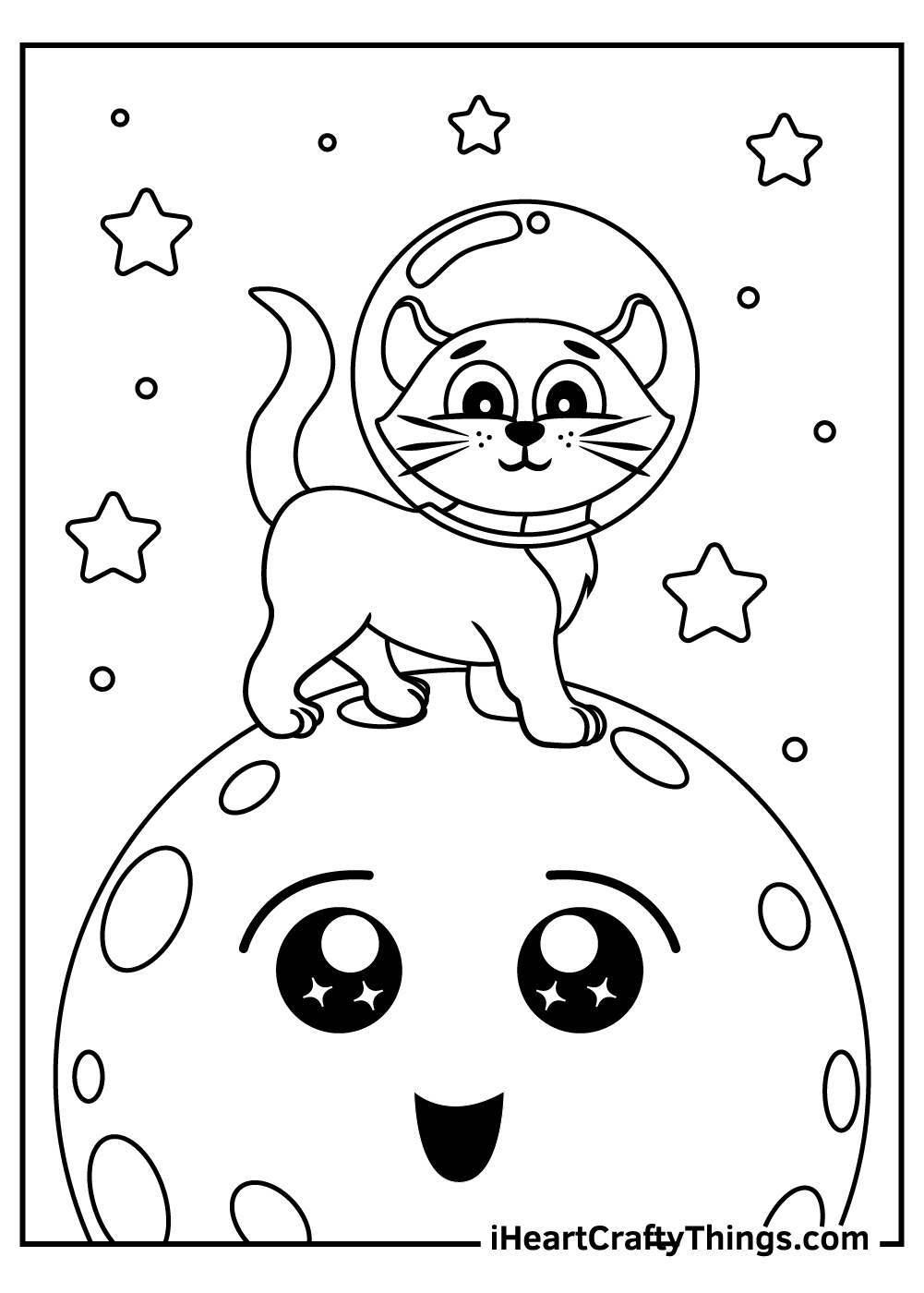 Next, we have a fun and whimsical egg-shaped moon with holes in it. There are three stars to the right of the moon. The background also consists of wavy lines and clouds that you can color in.
You can color this and make it look like a cheese moon, which is a popular myth that the moon is made of cheese.
Or maybe you can make it look like a hollow moon, which is a conspiracy theory that the moon is actually a hollow spacecraft.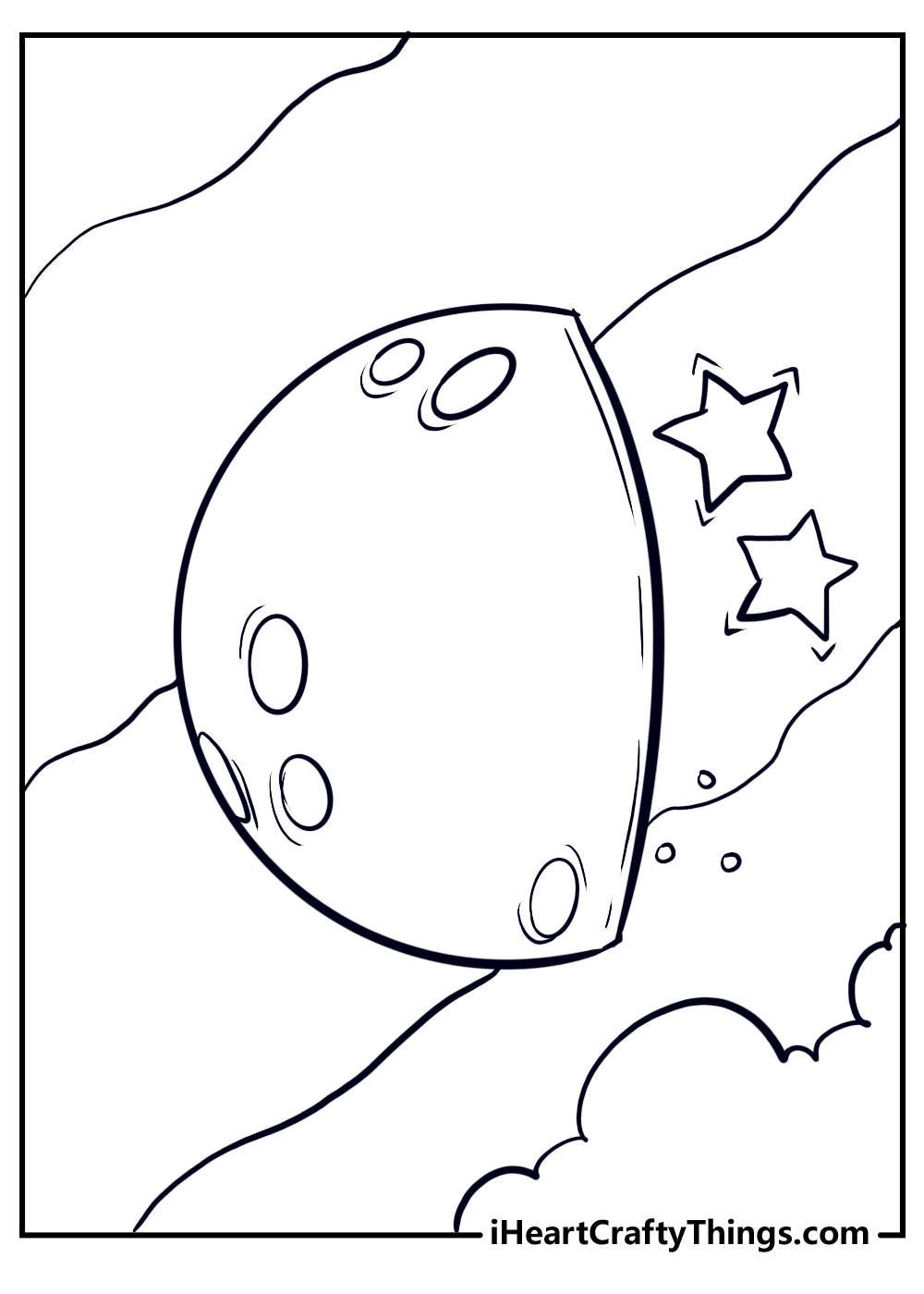 We have another cute cat on the moon for this adorable coloring page! This cat looks very at peace sitting on this moon. It looks a bit like he's meditating or doing yoga, wouldn't you say?
For this calm printable I'd think dialing things back with your color palette again would suit the feeling of this coloring sheet.
I'd go for more blues and purples for the majority of this image, but what colors will you choose?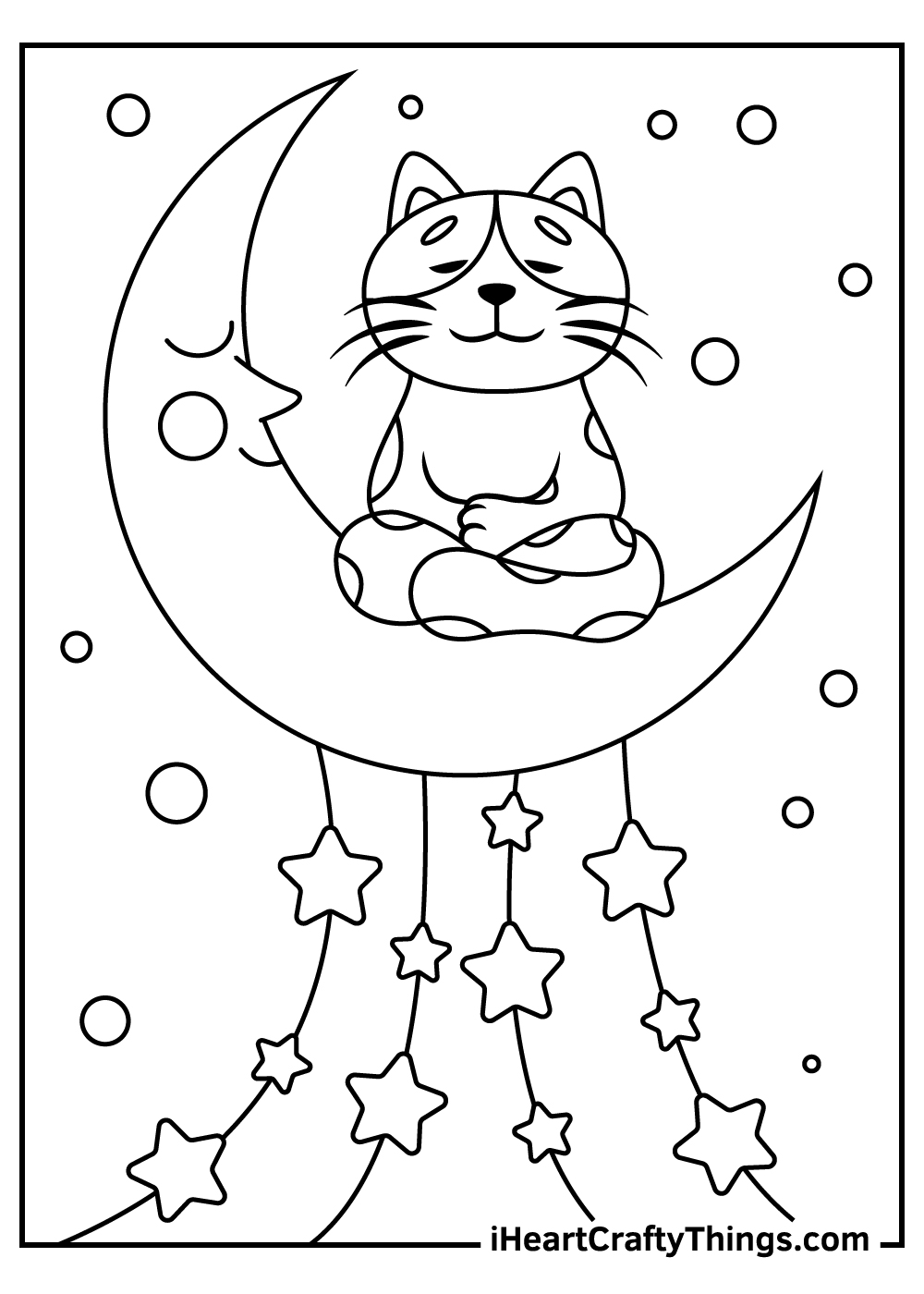 A wolf howling at the moon is a haunting and beautiful sound to hear floating on the night air, and for this coloring page we get to see a very cute wolf doing just that!
This page is one that would look stunning with a strong contrast.
Maybe the wolf could be a darker gray or brown and then have bright colors in the sky to contrast.
Some greens and purples used for the background may make it look like the Northern Lights above the wolf, wouldn't that be gorgeous?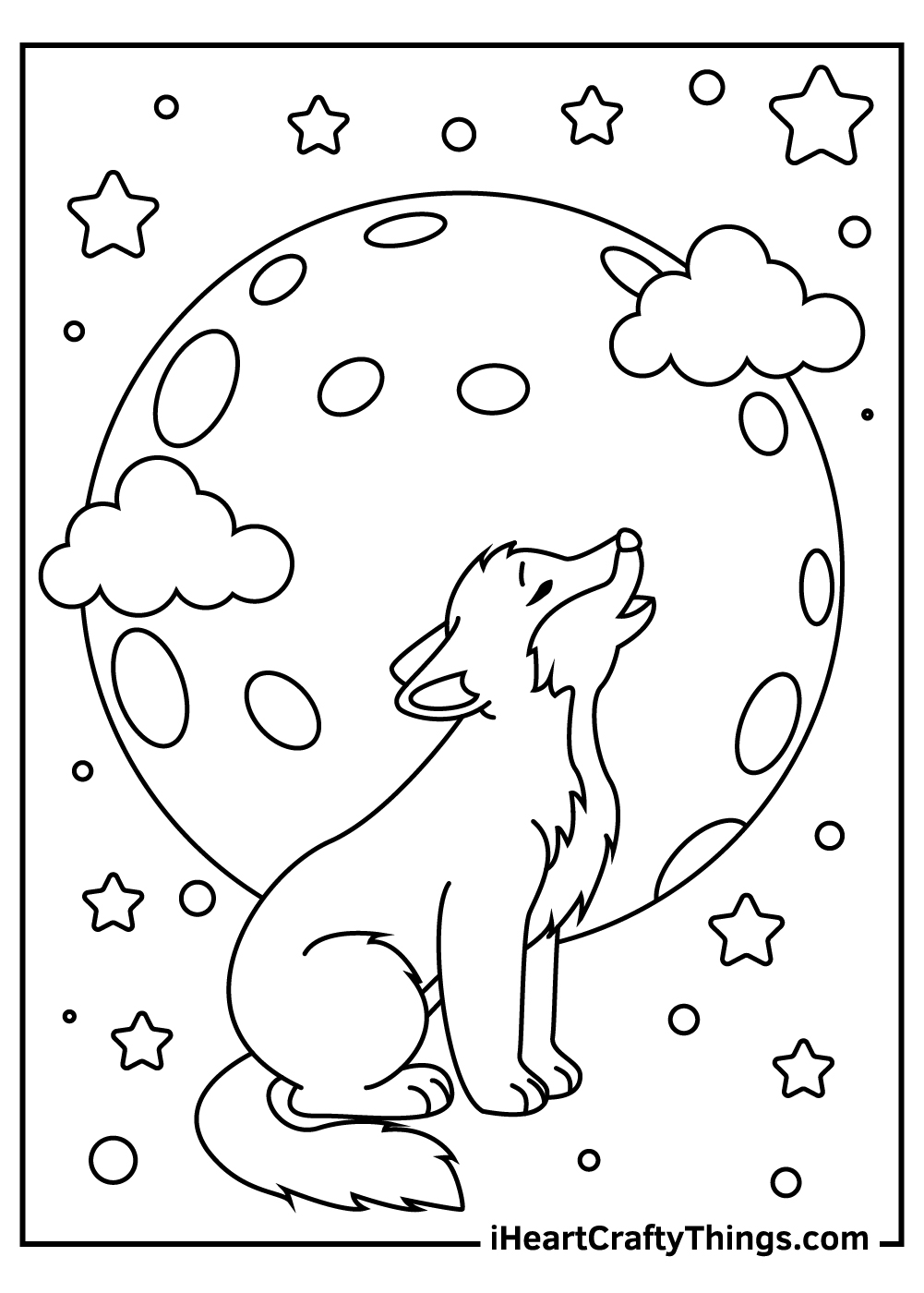 In this moon coloring page, we have a beautiful and serene full moon with clouds and stars. The moon is large and round with craters on its surface and fluffy clouds surrounding it on all sides.
Did you know that the full moon is when we see the entire illuminated side of the moon? The full moon has different names depending on the month and season, such as the wolf moon, snow moon, or flower moon.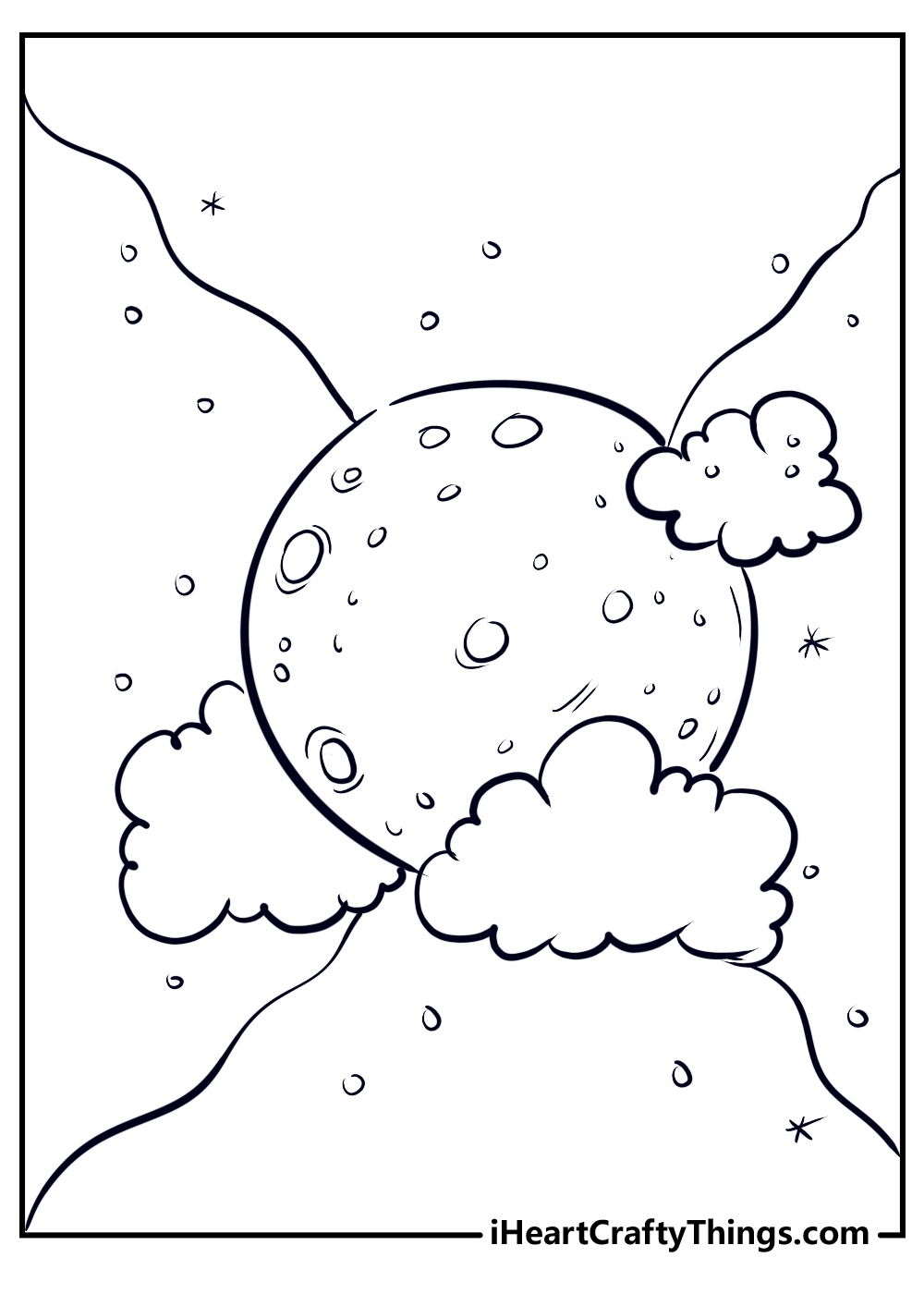 The aliens have landed to explore the moon in this free coloring page printable! What colors do you think aliens would have their spacecraft as?
I'd think some bright neon greens would be an obvious choice, but there are no wrong answers for what colors you could choose.
If you're feeling extra creative, maybe you could draw a funny alien head inside the craft.
REMEMBER: You can get the COMPLETE set of these coloring pages >> HERE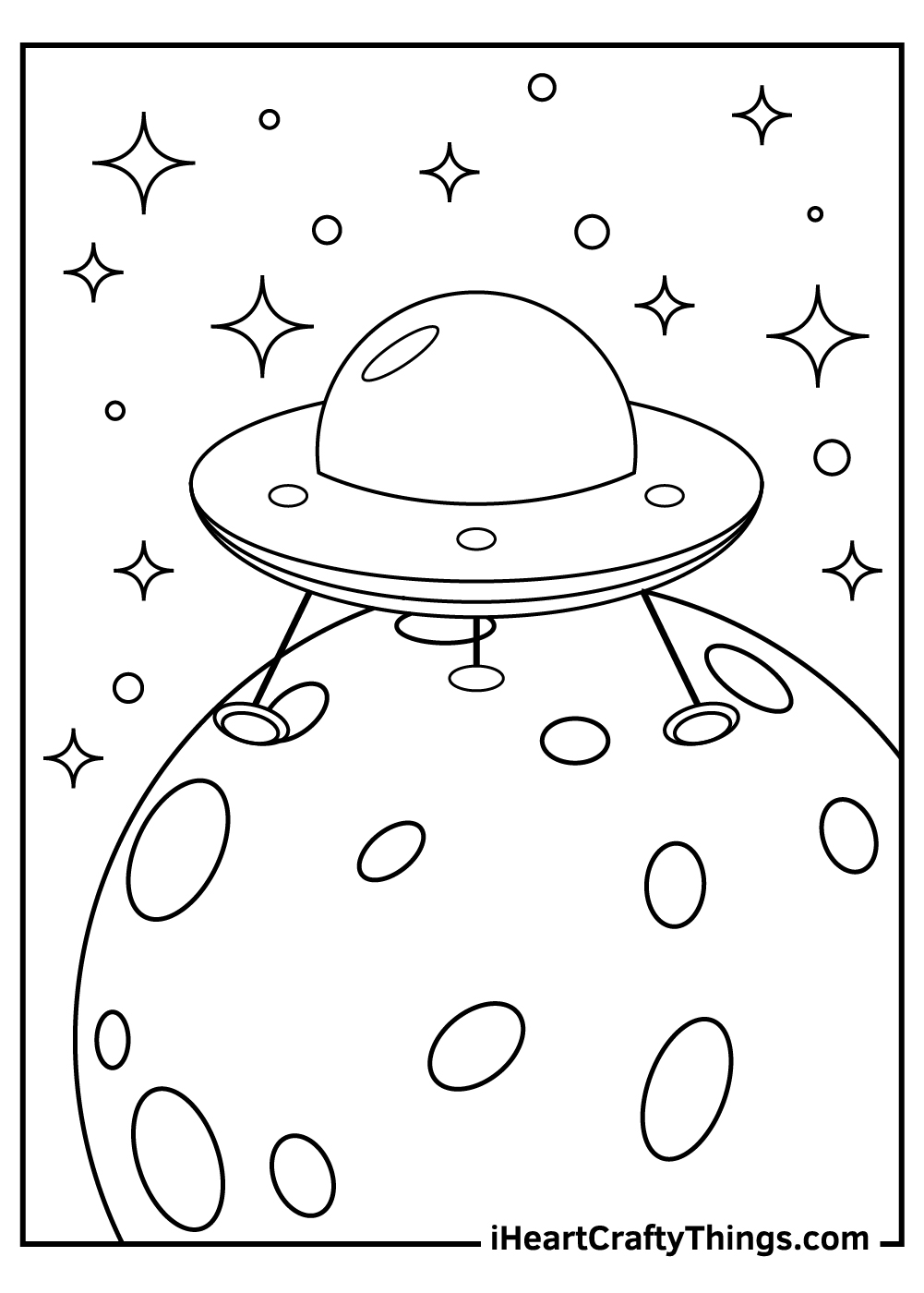 The next coloring page printable shows a happy moon, and it's clear to see why he's so thrilled: he has visitors incoming!
A rocket is about to land for a visit, and I think the rocket would look really cool with some bright reds and yellows. How do you think you'll color in this coloring page? We can't wait to see!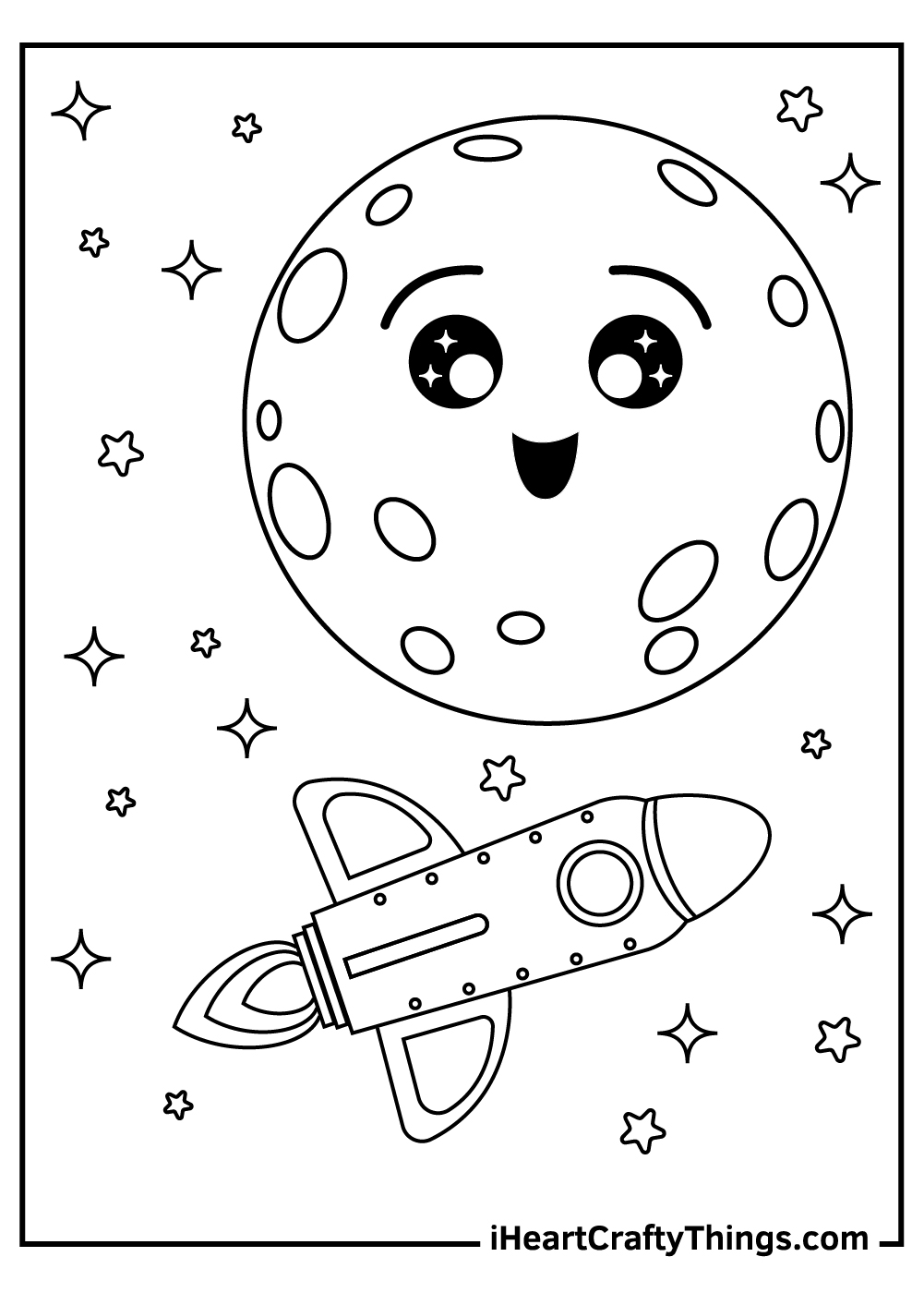 Don't you think the final image in this moon coloring page collection looks like it could be a Valentines Day card for a loved one?
We have another sleepy moon with the phrase "I love you to the moon and back" in fancy letters beneath it.
Why don't you use all of your favorite colors to color in the letters and give this coloring page as a card to a friend or family member to show them how much they mean to you?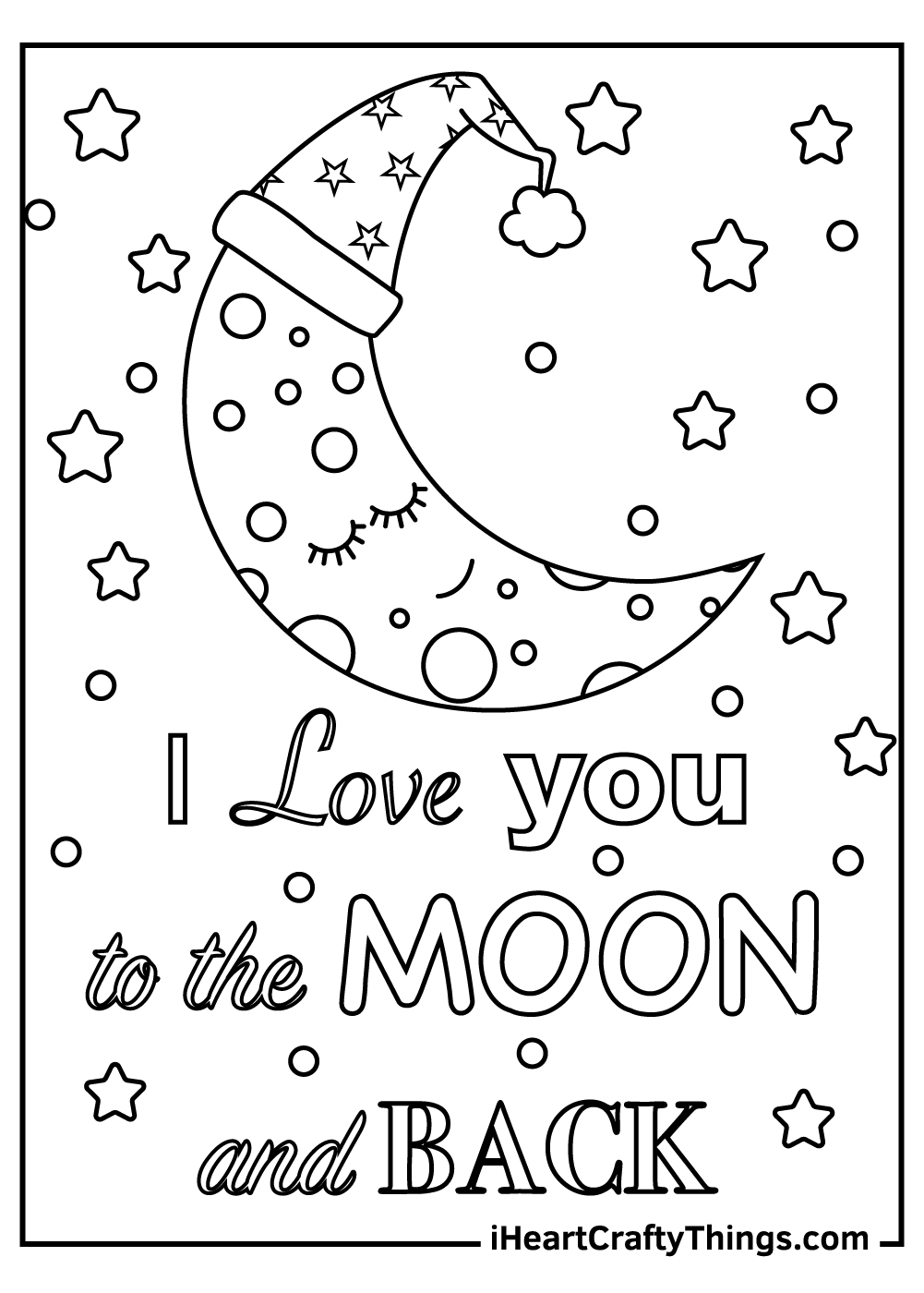 We have another lovely and graceful crescent moon and a star in this moon coloring page. The moon is a large crescent with craters and spots on it.
The star is a five-pointed star and is at the center of the moon.
Did you know that the moon has different phases depending on its position relative to the sun and the earth?
The crescent moon is when we see only a small part of the moon's illuminated side. The star on top of the moon is a symbol of hope and guidance.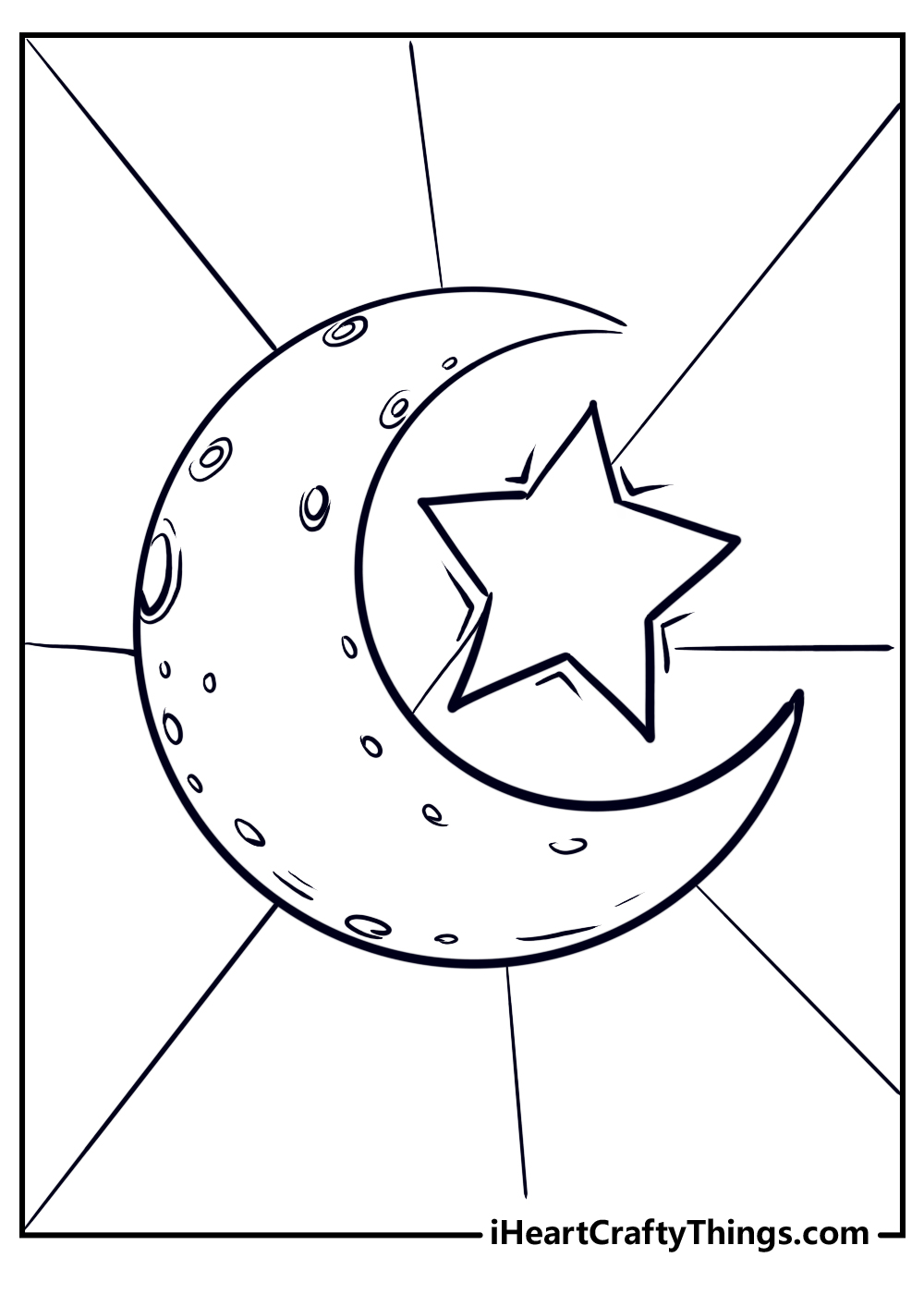 Moon Coloring Pages – Which will you choose?
We hope you had a really fun time with these moon coloring pages! All of our art and printables are completely free for you to print out and enjoy, so print as many copies as you like and let your creativity go wild!
Please be sure to like and share our Facebook page so that you and your friends don't miss out on any of our great art and goodies.
And don't forget to show us your favorite moon coloring pages once you've completed them, we love to see all the colorful creativity on show!
REMEMBER: You can get the COMPLETE set of these coloring pages >> HERE