The minions first appeared in the film Despicable Me, but since then they have become an international phenomenon with their own movie, shows, video games and toys.
These lovably dimwitted characters are constantly causing fun and mayhem wherever they go.
With millions of fans around the world, many people like to learn how to draw a minion to make their own minion artwork.
By the end of the guide, you will be able to create your own minion fun!
We hope you have some incredible fun with this step-by-step guide on how to draw a minion in just 6 easy steps.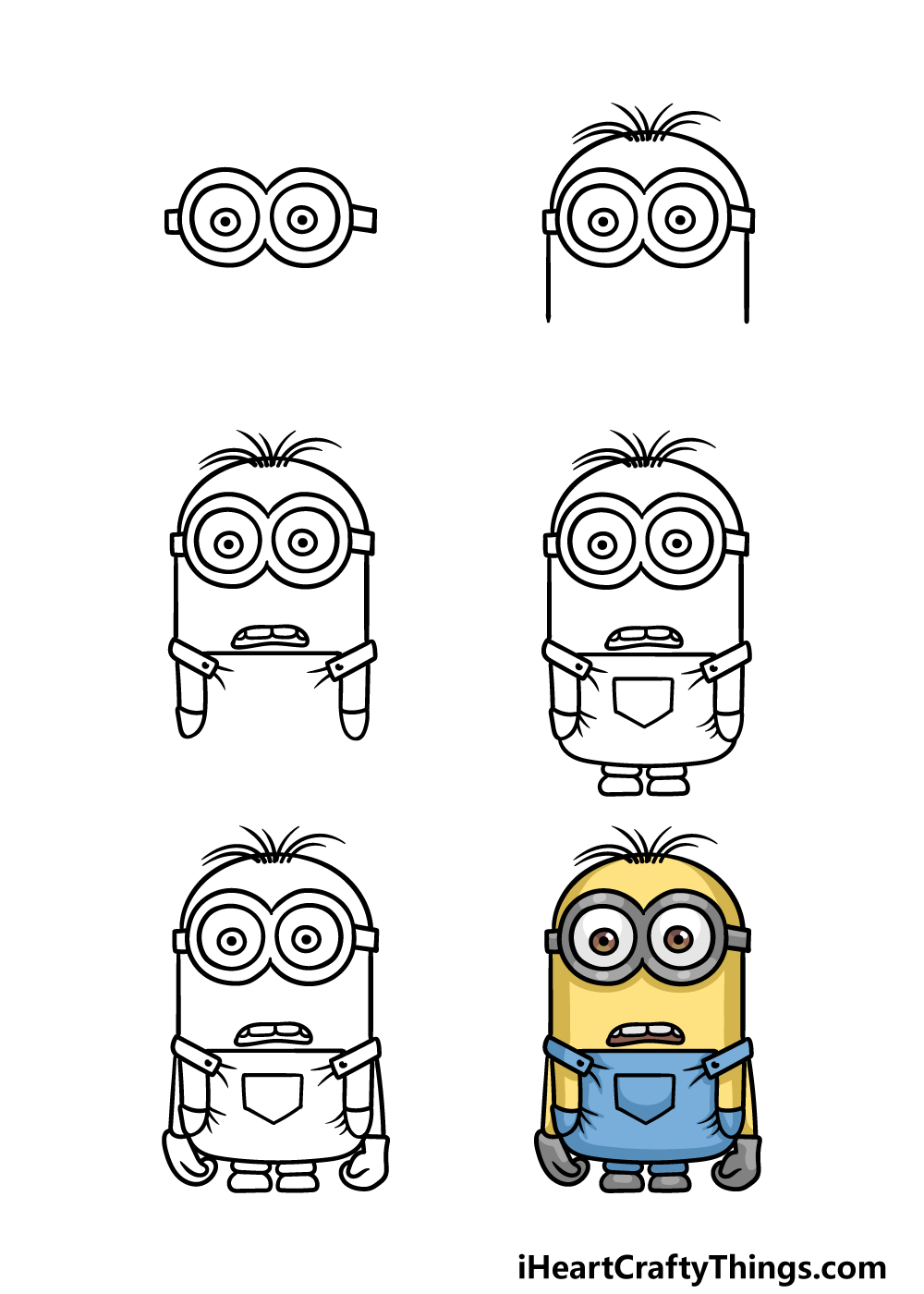 How to Draw A Minion – Let's Get Started!
Step 1
The minions usually use goggles to aid them in their scientific endeavors, and that is what we will start with in this first step of our guide on how to draw a minion. Start off by drawing two circles near to each other. Then, draw a circle in each eye, and then add a dot inside each of those circles.
Then, draw some round lines around the outer perimeter of the circles for the eyes. Then, add some square shapes on each side of the eyes. Then you're ready to move on to step 2, so let's move on!
Step 2 – Next, start drawing the head of the minion
With the goggles drawn, we will start to draw the head of the minion in this step of your minion drawing. First, draw some straight lines coming down from the sides of the goggles.
Then draw a curved line over from one side of the goggles to the other. That will form the top of the head, and to finish off this step you can draw a bunch of curved lines on top of the head for some hair poking out.
Step 3 – Draw the mouth and start the suspenders
In this step of our guide on how to draw a minion, we will be drawing the mouth and start the suspenders for him.
First, start with a flat and rounded shape for the mouth to give him a bit of a surprised expression. Then, draw some flat shapes inside the open mouth for the teeth of the minion.
To finish off this step, we will be starting the suspenders that the minion is wearing. First, draw some flat rectangle shapes at a bit of a diagonal angle for the straps.
Then draw some more thin, vertical rectangles down from these ones and then draw another rounded shape at the bottom of it. Then, we're ready to keep drawing more of his outfit in the next step of the guide!
Step 4 – Now, draw the rest of his overalls
You started the overalls in the previous step and we will finish them off in the following step. We will start by drawing a pocket on the front of the overalls.
It will have a flat top with a sharp point at the bottom of it. Then, draw the bottom of the body with another long, curved line going from side to side.
This step will then be finished off by drawing his short stubby legs at the bottom of his body. The legs will be very short and drawn with two shapes connecting to one another for each leg.
We will just have a few final details to add in the next step, so let's move on to that step!
Step 5 – Finish off the arms for the minion
This guide on how to draw a minion will be finished off by drawing his arms. He has a rather dumbfounded look to him, and this will be highlighted by his arms hanging limply at his side.
Use some straight lines going down from his body with his gloves at the end of the arms.
Once you have added these arms, you have finished your minion drawing! Before you move on, you could also add some details of your own.
Minions come in many shapes, sizes and variations, so you could change some of the details on the minion to make some more minion characters.
You could also replicate your favorite minion scene by drawing a background or by drawing some more of your favorite characters from the films.
How will you finish off this drawing before you close off this guide with some color?
Step 6 – Finish off your minion drawing with some color
The minions are some of the brightest characters you can find, and we have shown you how they are typically colored in our reference image.
We used bright yellow for the body and some nice blue for his overalls, and you can use this picture as a guide if you would like to create a classic minion!
You could also use some unique colors of your own to create your own minion variation, but even if you use the typical colors there are ways to add some favorite colors.
If you drew a background or extra details, then these will be great for adding your favorite colors.
Then it's just a matter of picking which art mediums and tools you will be using to bring the colors to life. We can't wait to see how you decide to finish off this picture with your colors and art tools!
Your Minion Drawing is Complete!
We hope that you enjoyed working through all 6 steps of this guide on how to draw a minion!
Whenever you take on a new drawing, you will always find it easier and more fun when you break it down into smaller, more manageable steps.
Now that you have mastered this drawing, there are lots of ways that you can put your own spin on the drawing.
We mentioned a few ways such as drawing a background or more characters from the films, but this is your chance to get creative and make this drawing your own. Be sure to have fun with it and let your creativity flow!
When you're ready for more, we have so many cool guides for you to enjoy on our website! We upload new guides often, so be sure to check in frequently to never miss out.
Once your minion drawing is finished and colored, we hope to see your artwork! You can share it on our Facebook and Pinterest pages for us to see.