In folklore, leprechauns are supernatural beings in tiny human form that are believed to be the bankers and cobblers of the fairy world. They are especially known for their wealth and mischievous traits.
The mystery that lies upon the leprechauns' true existence is what makes these creatures very interesting, making this a highly-requested tutorial.
You've asked for it, so we delivered. We have curated a step-by-step tutorial on how to draw a leprechaun summarized in 9 easy and simple steps.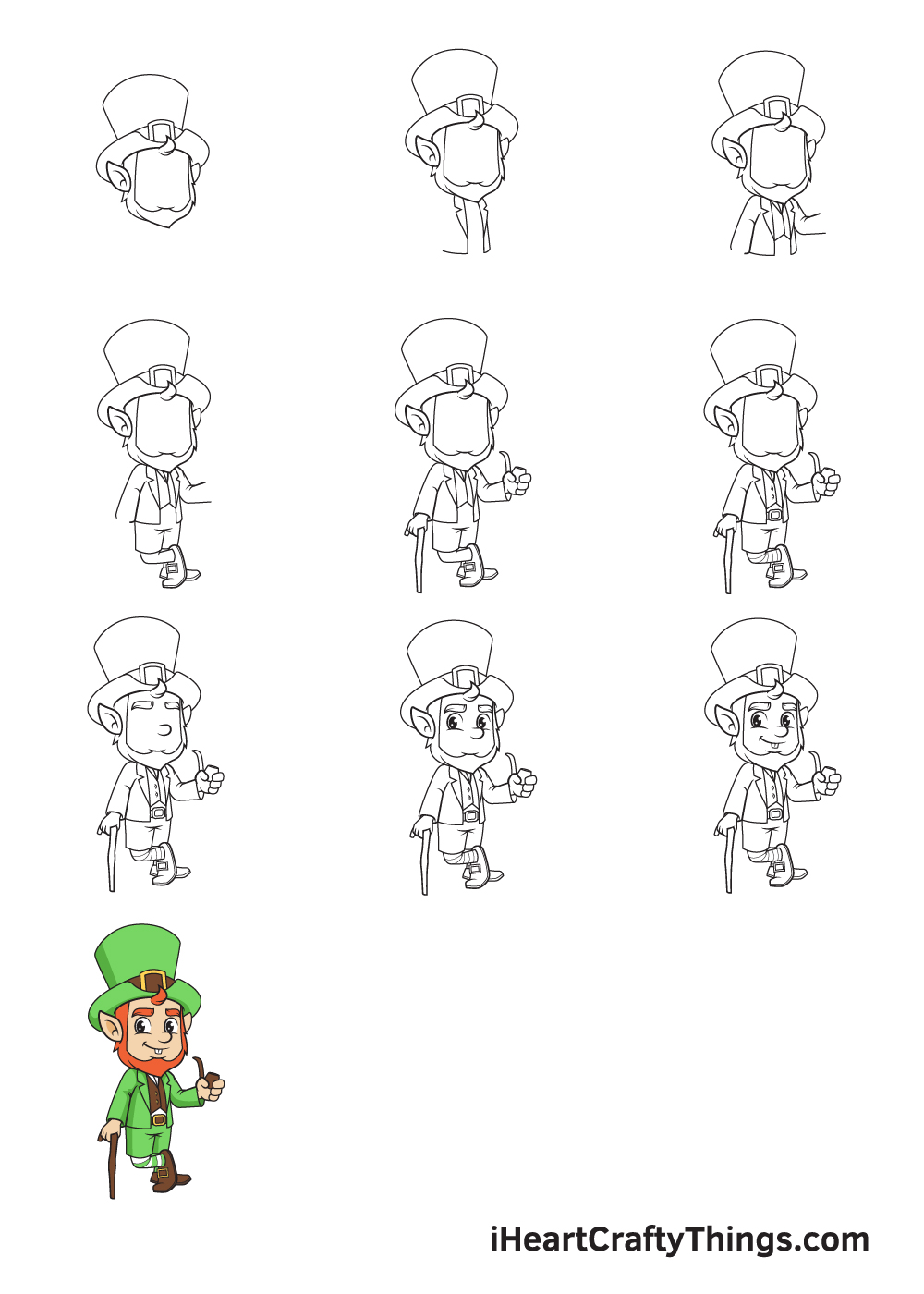 You can apply these steps whether you want to draw a realistic-looking leprechaun or an animated one.
Each step is accompanied with comprehensible illustrations that serve as your visual guide as you follow the instructions.
Whether you are a novice or an expert in drawing, we're sure you can follow these steps effortlessly. What's more, you can add your own style and improvise in every step.
Feel free to mix and match colors to customize your artwork and make it unique. Let your imagination wander and unleash your creativity. So, pick your favorite drawing tool and start drawing!
Have fun and use your artistic skills!
How to Draw a Leprechaun – Let's get started!
Step 1
Start by structuring the head of the leprechaun in the upper portion of your paper. Create an outline of its head and draw a huge hat right on top of it.
Afterwards, surround its face with hair, from the top of its head all the way down to its beard. Now, to complete the appearance of its head, draw a pointed ear on each side of the leprechaun's face.
There you have it—you have successfully drawn the head of a leprechaun. Way to go!
Step 2 – Draw the Collar of the Leprechaun's Suit
Right underneath the leprechaun's face, draw the collar of the suit it is wearing as well as the flaps. Needless to say, you can draw the suit however you like and add your own style to it.
Step 3 – Now, Finish Drawing the Whole Suit
Now that we have finished drawing the opening of the suit, it's time to complete the entire suit.
Draw the sleeves on each side of the suit. Don't forget to add an inner shirt because leprechauns are the professional bankers in the world of the fairies.
Step 4 – Draw the Trousers Paired with Shoes
Draw a pair of short trousers below the suit and pair it with nice-looking shoes. Afterwards, draw the leprechaun's legs underneath its shorts. Now, decorate the shoes with a buckle design in the middle.
As you can see in the illustration, the leprechaun's left leg is crossed while the other one remains upright.
Step 5 – Put a Pipe and a Stick on its Hands
Leprechauns are always holding either a pipe or a wooden stick, or both! So, don't forget to incorporate those in your drawing.
You can create the stick by drawing uneven vertical lines with a hook-shaped handle at the top. The pipe, on the other hand, can be drawn by forming a curved line with a pointed tip on one end and a wide U-shaped vessel on the other end.
Step 6 – Add Details on the Leprechaun's Clothing
Adding patterns and textures on your drawing is essential to make it appear more realistic. Start by adding specific details on the leprechaun's clothing.
Draw two buttons in the middle front of the inner shirt the leprechaun is wearing. Then, draw stacked horizontal lines on the socks to create a fun design. Lastly, attach a belt on the trousers to complete the outfit!
Step 7 – Then, Draw the Nose and the Eyebrows
Going back to the leprechaun's face, draw a curved, pointed nose in the middle and a pair of thick eyebrows just below the hat.
Step 8 – Next, Draw the Leprechaun's Eyes
Create the eyes by drawing two overlapping curved lines underneath the eyebrow. Then, draw an oval shape inside each eye outline to form the iris.
Afterwards, draw two tiny circle shapes within the iris. Now, shade the entire iris aside from the two tiny dots inside to create a dramatic "glimmering eyes" effect.
Step 9 – Complete the Leprechaun's Facial Features
Draw a curved line to put a wide smile on the leprechaun's face. Then, draw a single tooth in the middle of its lips. The form of the leprechaun's lips should be more curved on one side to make it look like a smirk.
Here, you can see the leprechaun is nearly finished! The only thing it's missing is a dash of multiple colors to complete your artwork!
Finally, here is the most exciting part—filling in the colors for your awesome drawing! This is the part where you can show off your artistic skills and your ability to mix and match various colors.
Leprechauns have ginger hair and a beard. They typically wear all green clothing paired with black or brown shoes. You can opt to follow these standards or color the leprechaun using any colors you like. We suggest doing the latter. After all, it's your work of art!
Feel free to color your leprechaun drawing however you like and watch as your drawing ultimately comes to life! And while you're at it, why not try experimenting with different coloring materials such as watercolor and brush pens as well?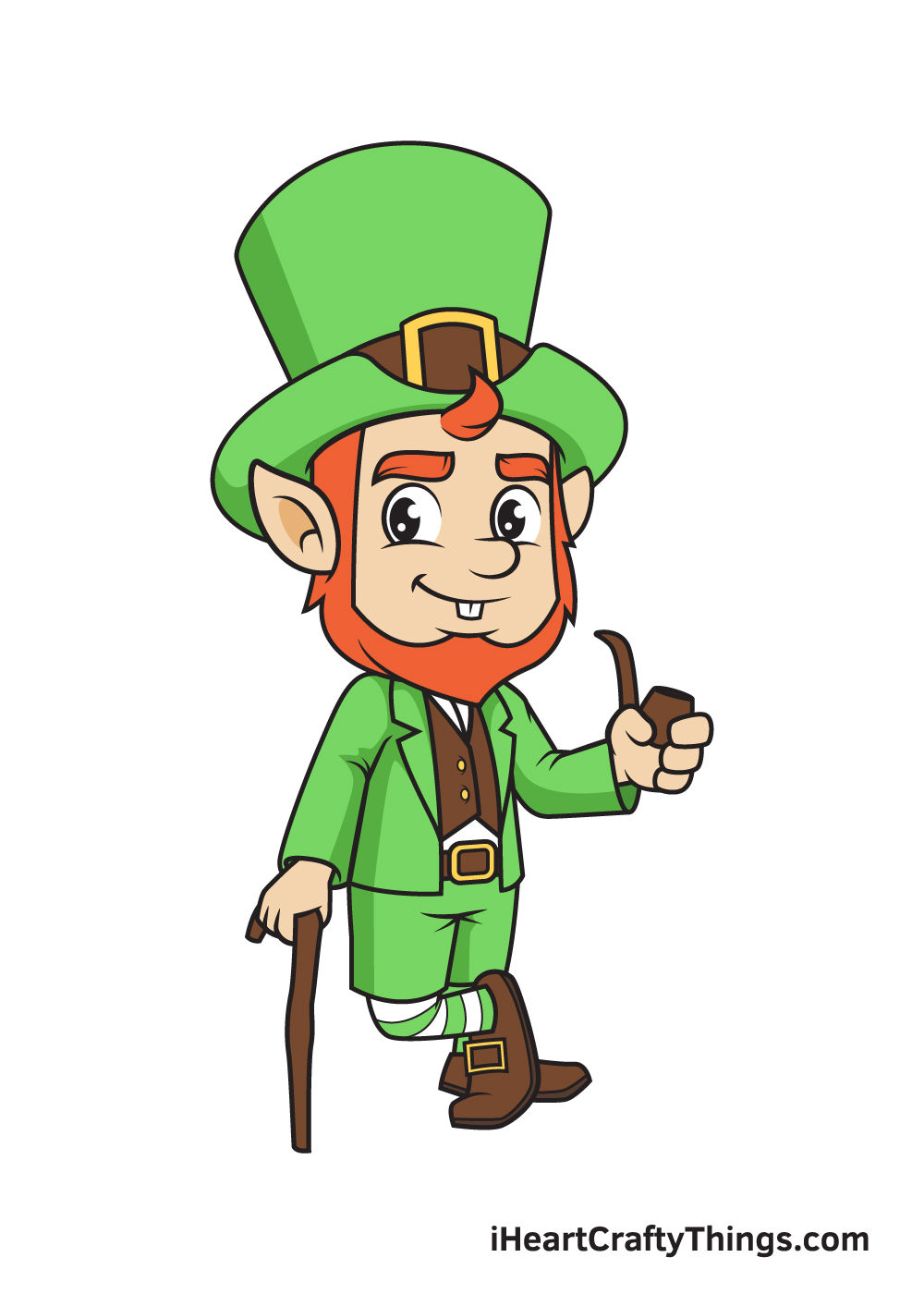 Here's how you can make your leprechaun drawing even better…
You won't need any luck to make your leprechaun drawing look even more amazing!
For this leprechaun sketch we created together, we drew him in a cartoony yet detailed style.
Leprechauns have been depicted in so many different styles throughout the years, however, so you could try out some different interpretations.
Even though they aren't real, you could try out a more realistic take on these creatures. Or, you could even make it look even simpler and more cartoony!
What kinds of styles would you like to try for this leprechaun?
When you have chosen the style you would like to use for this drawing of a leprechaun, you could then add some additional objects. For one obvious example, you could reference the leprechaun legend by adding a pot of gold.
Adding these kinds of details can help you to build a background scene for your artwork. You could also make the background more stylistic.
One way of doing that could be by creating a pattern made up of four-leaf clovers behind the leprechaun. How else could you complete this picture?
Once you have the hang of this drawing, it could be fun to turn this leprechaun drawing into a leprechaun party! You could do this by adding as many leprechauns to the scene as you like
You can draw these additional characters by following the guide and changing their poses and facial expressions. By doing this, you would be able to create all sorts of fun shenanigans for the leprechauns to take part in!
Finally, you can think of the colors and art mediums you would like to use to complete your drawing. In our guide, we used some greens and reds for the image as these are colors traditionally associated with leprechauns.
Even if you stick with these classic colors, you can shake it up with different art tools and mediums. You could even take it a step further with some crafts.
For example, you could stick some real four-leaf clover shapes onto the image!
Your Leprechaun Drawing is Complete!
We hope you enjoy this step-by-step tutorial on how to draw a leprechaun. With this guide, you can surely draw and color a leprechaun along with its complex features and elaborate details in no time.
And the most fun part is, you can customize its physical attributes and play with various colors as much as you like!
We are always updating our "How to Draw" catalog, so make sure to keep checking back on our website to take advantage of newly uploaded tutorials.
All you need is a pen and paper and you're all set to start drawing! We are excited to see what you will draw next. We're sure it will be just as amazing as this one!
Once you've finished your masterpiece, we're certain you must be feeling very proud of yourself—as you should be! Completing this leprechaun drawing is definitely fulfilling.
Make sure to show off your work of art and share it on our Facebook page and on Pinterest. We're sure it looks amazing! We can't wait to see your colorful leprechaun drawing!