House coloring pages are really popular and beloved by children. Around the world, houses have various constructions, designs, and elements that are very fun to color.
Houses can be single-story or multi-story, and their roof structures can be varied. Some homes have hut-like roofs with chimneys on them, while others may choose a flat roof instead of a chimney.
Coloring sheets illustrating many types of houses are fun to color because they allow you to experiment with different color combinations.
The environment or scenery surrounding a house is usually fun to color as well since it provides lots of elements that can be brought to life.
The house coloring pages you will find here are free and ready to print and may be used at school or at home.
20 Brand New House Coloring Pages – Free to Print and Color
This house coloring sheet has one that has a really classic and old-fashioned feeling to it.
With its bricked chimney and tiled roof, you could imagine this house is situated in a quiet countryside setting.
If you agree with this feeling, you could finish off this page by adding some background details to show this peaceful countryside location.
Do you think this is where the house could be, or do you have another setting in mind? Even if you keep the background blank, you can add all sorts of great color details to this beautiful house.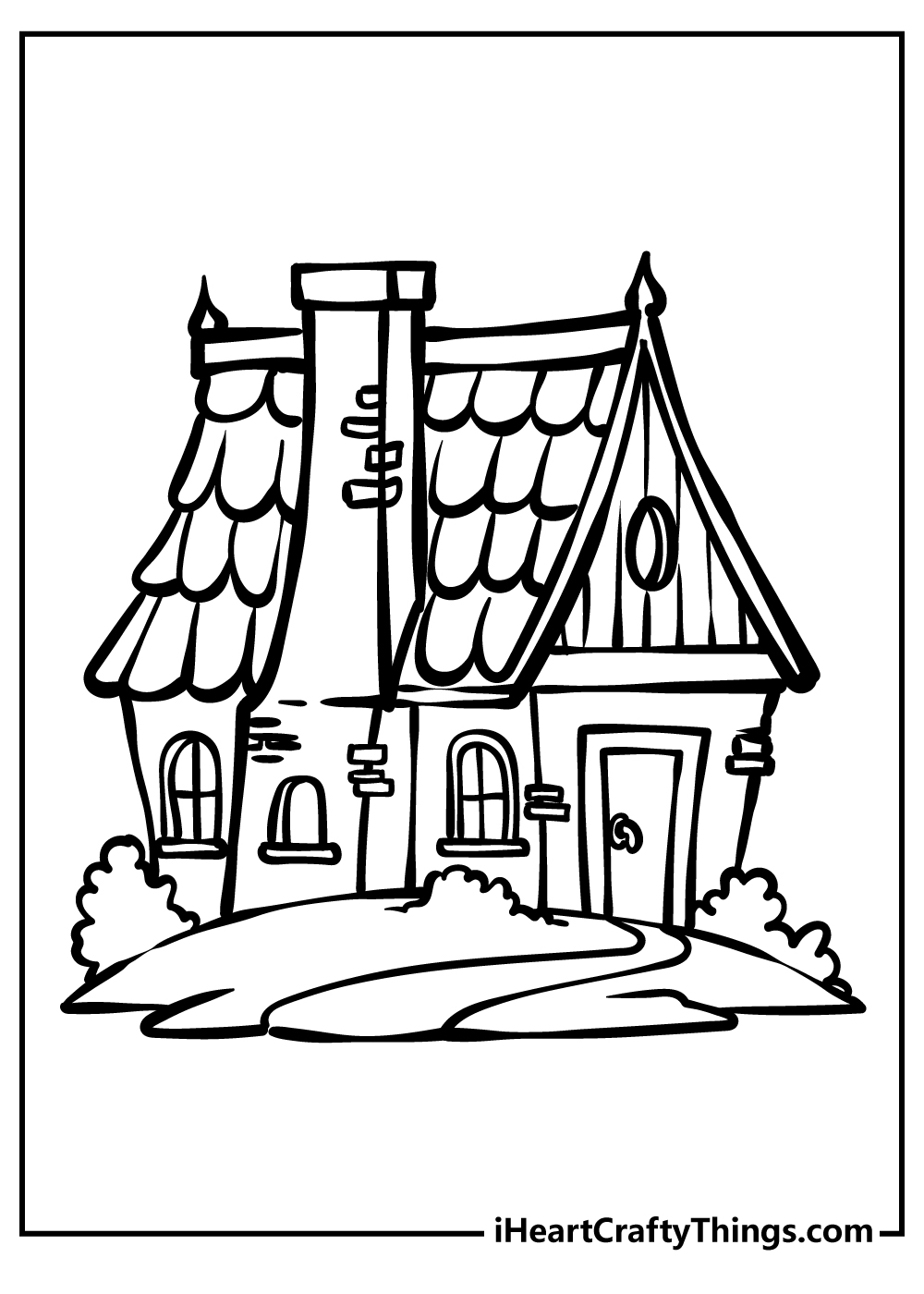 Next, we have a house that is a bit simpler in its design, but it still looks like a charming little place!
It has a more modern feeling to its design, so we would probably go with some bolder, bright colors for this house.
There are also some smaller details to color in the background and the foreground, and you could add some details to these areas as well.
Do you have some ideas for details and elements that you could add to this house and its surroundings?
We're sure you can create something really cool and unique by adding some of your own personal touches!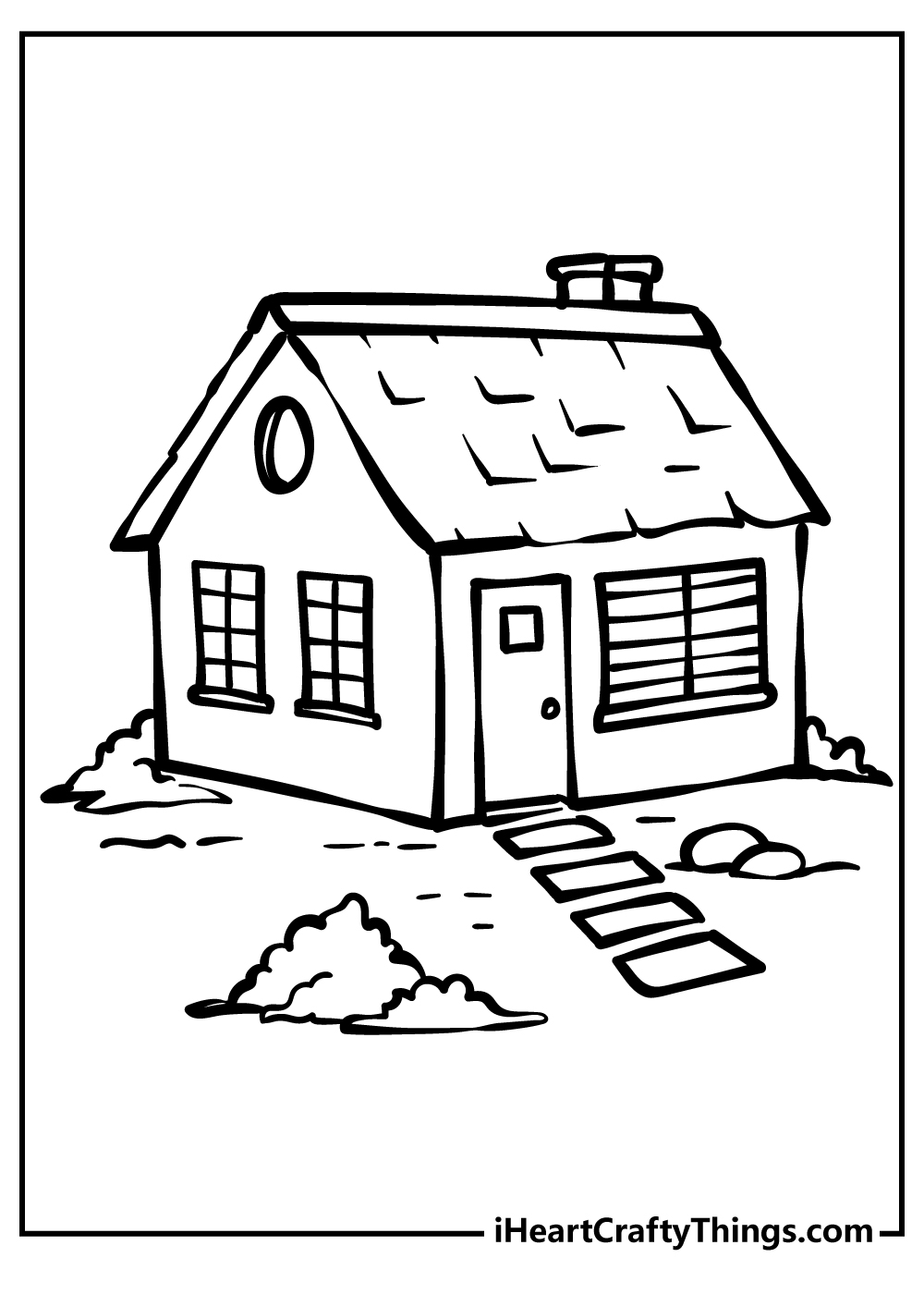 The first house on our list is a very traditional one – a small home with a chimney and a paved road leading to the front door.
Children can color this in a traditional way, with a red-brown roof, gray pavement, and a brown door, or can experiment with colors and turn this into a rainbow home.
Because this house coloring page is so simple, it allows the children to add their own elements to the image.
They can draw trees, flowers, or even a small bench near the house. The sky is missing sun and maybe even a rainbow if your child wants to put even more colors on this sheet.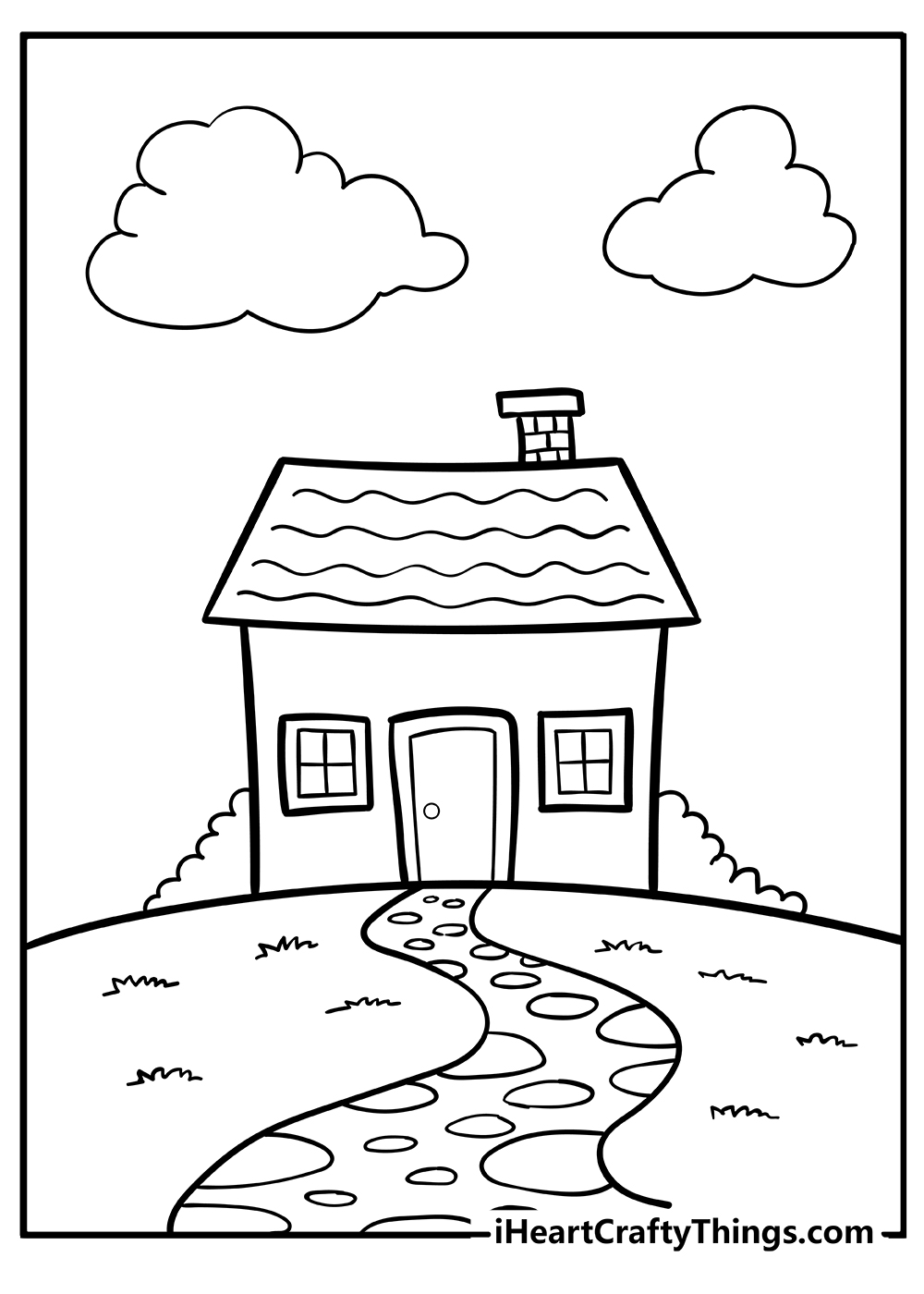 This house can easily pass as the home of a forest fairy. The wooden details and the bricks make it seem like an old home, and the small window on the roof adds to the cuteness.
Challenge your children to imagine who is living in this home and color it to fit the character.
This little exercise will help children use their imagination and create stories, which will be very helpful when they have school assignments.
They can even add their own elements to this house coloring page, such as flowers, animals, and more.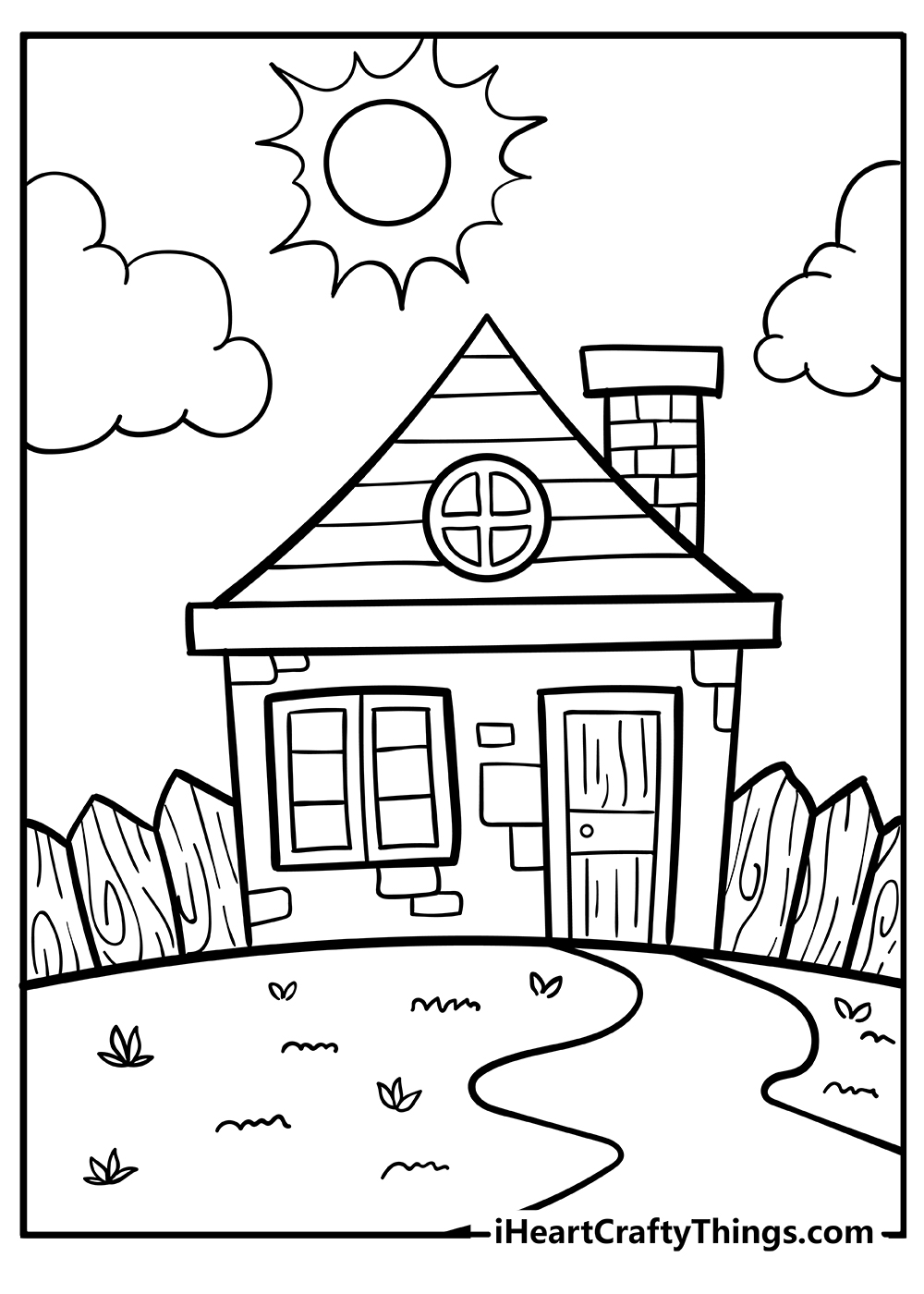 There is a real feeling of coziness to this next house. The texture on the roof has a lot of texture lines, and this makes it look like it is a thatched roof.
You could further create this thatch texture by using lots of small strokes of color for the roof. This would make it look like it is made of lots of individual strands instead of being made of solid pieces.
That's one trick you could go for, but how else could you show this thatched texture? You could also make it look like it's made of something else if you prefer!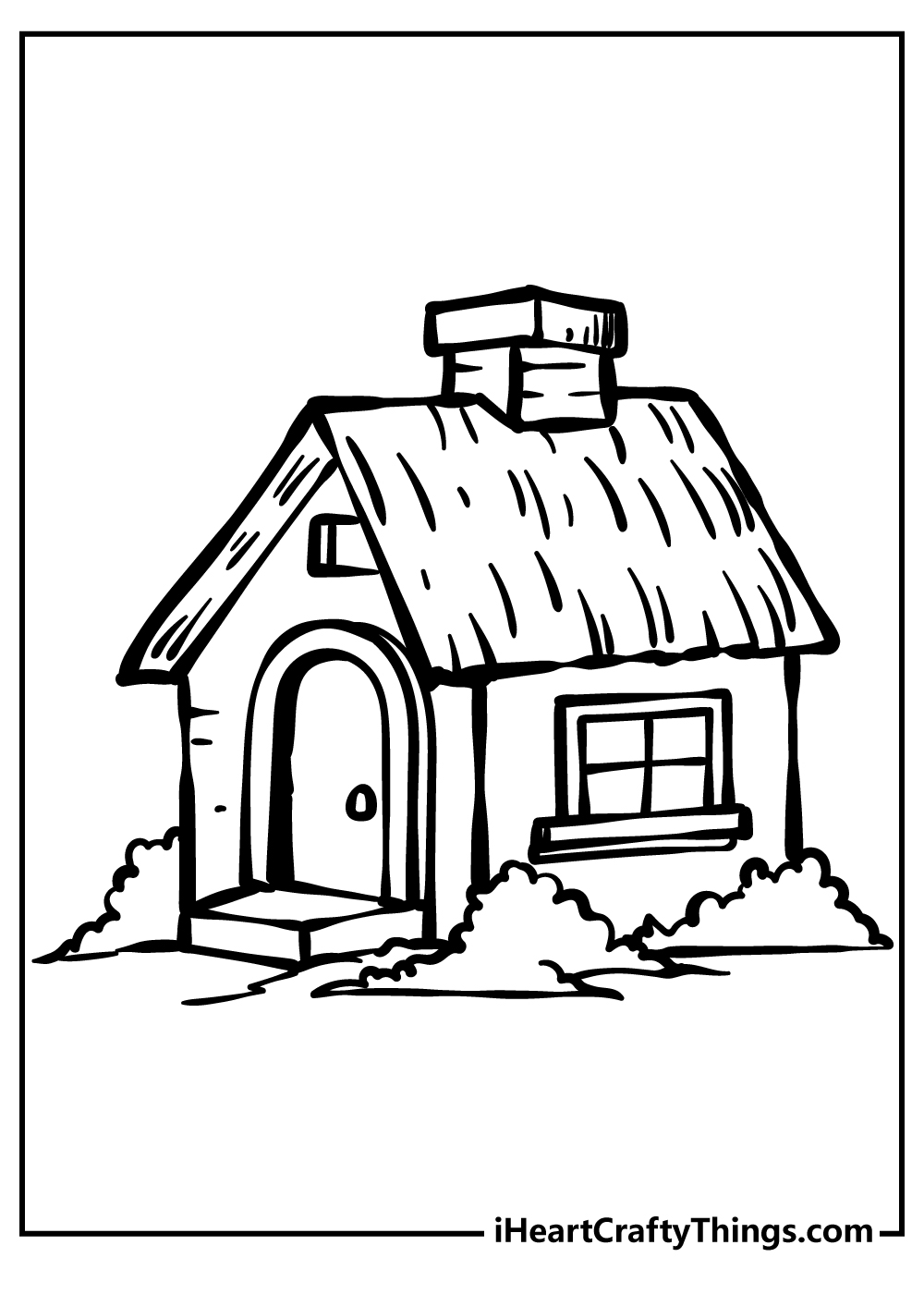 On this next page in our collection of free house coloring pages for kids, we have another cozy scene for you to enjoy!
This one has some great details drawn for the background, as there is a little garden, a pathway, a small fence and other details.
There is also a sense of life to this one, as there is smoke coming from the chimney.
You have a lot to work with even if you don't add any details of your own, and you can create a wonderful little house setting with your creativity.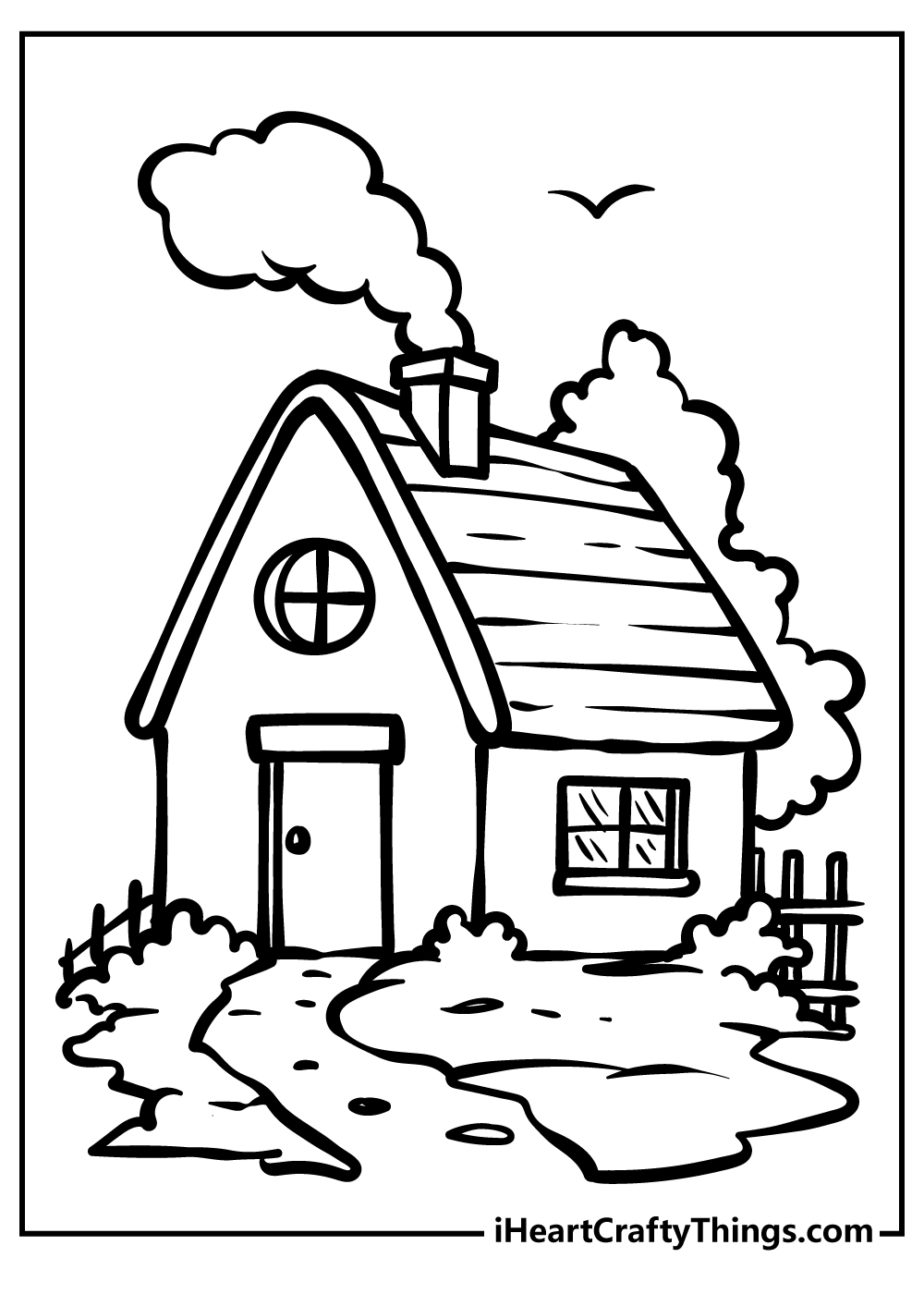 This house coloring page depicts a winter scene with the chimney running and snow covering everything.
Children can have fun coloring the exterior of the house, the clear blue sky, and all the other elements that compose this cute home.
If children want to try something new, they can imagine this scene happening at night and color the sky a dark blue hue, use some yellow inside the windows to make it seem like the light is on inside the house, and even draw an animal or two outside.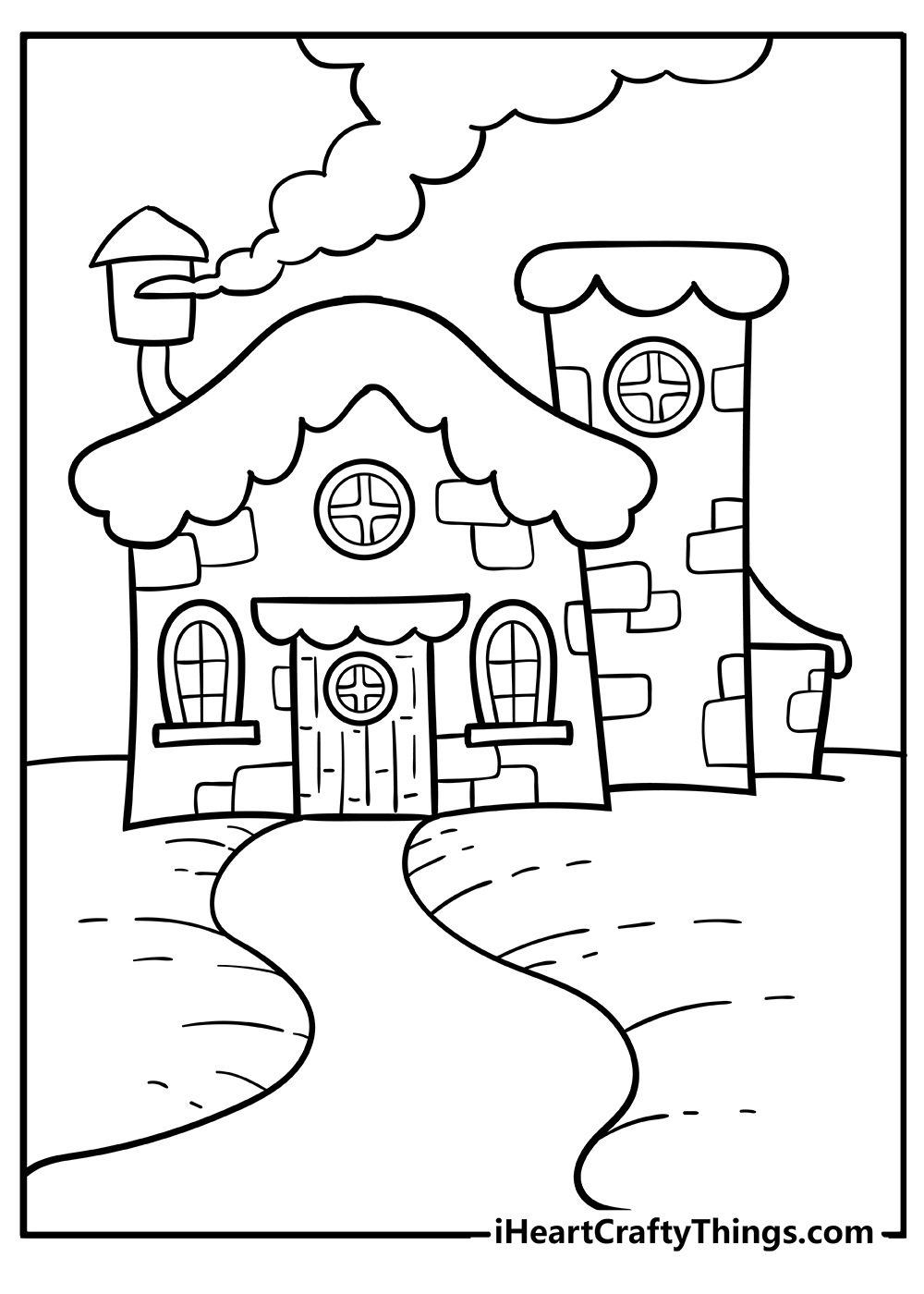 This wooden home looks almost like a lighthouse, and the round windows make it seem like it's a sailor's home.
Of course, this is just the story we imagined, but children are welcome to create their own stories and color this house however they see fit.
All of these house coloring pages can be used as challenges to help children train their imagination and create stories. Who are the people living in this house?
Do they have any pets? These questions can help them create the story and color this printable sheet so that it fits their creation.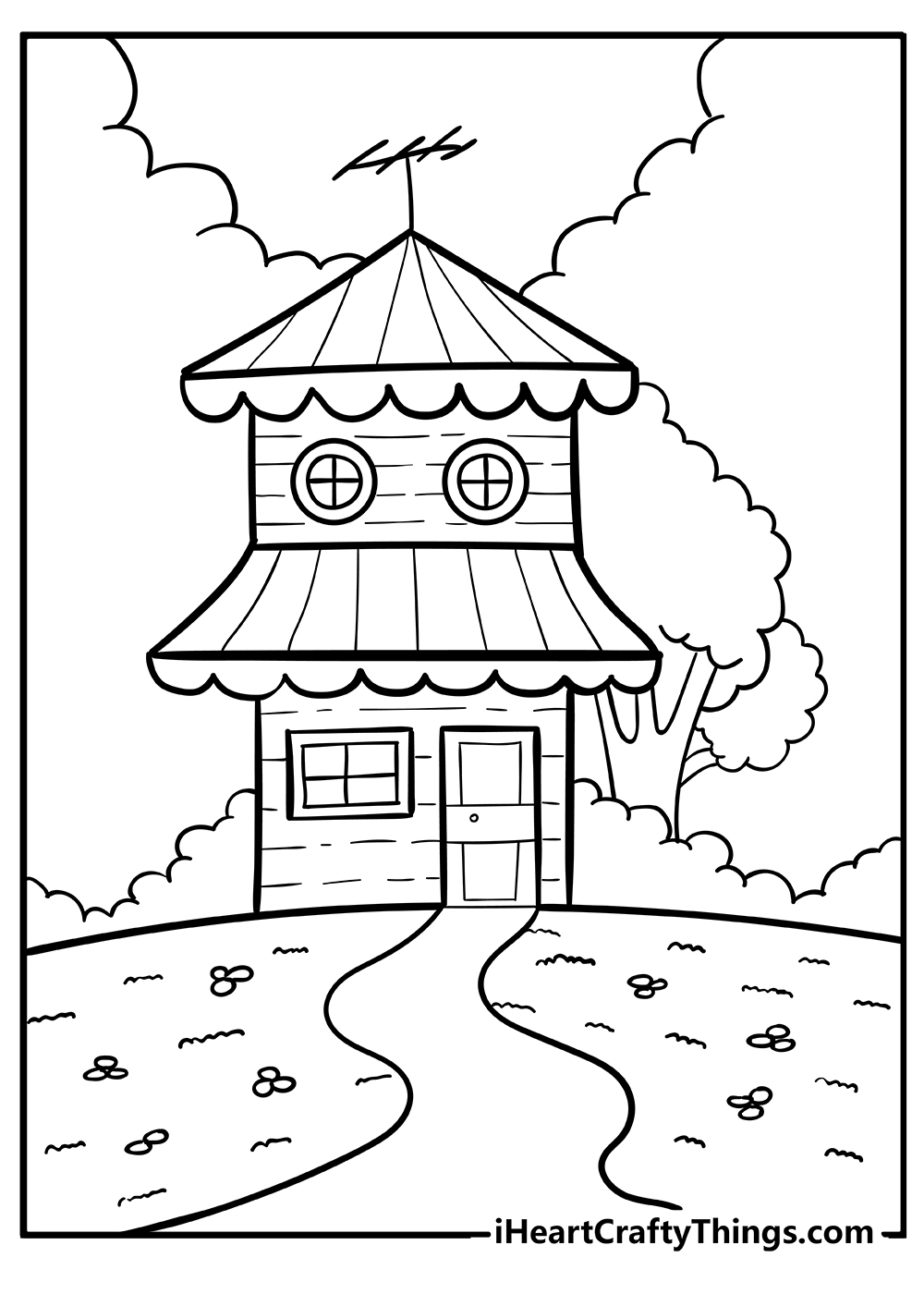 The design of this next house is something a bit different. It has a quirky, vintage feeling to the design, and the walls are made up of bricks.
Bricks can come in many different colors, and you could use shades of browns or reds as two examples.
Then, when you have chosen your colors, you could draw extra elements such as a pathway or maybe some shrubbery to finish it off.
Do you think you will use colors that match the vintage feeling of this house or will you take a more modern approach to the colors that you choose for it?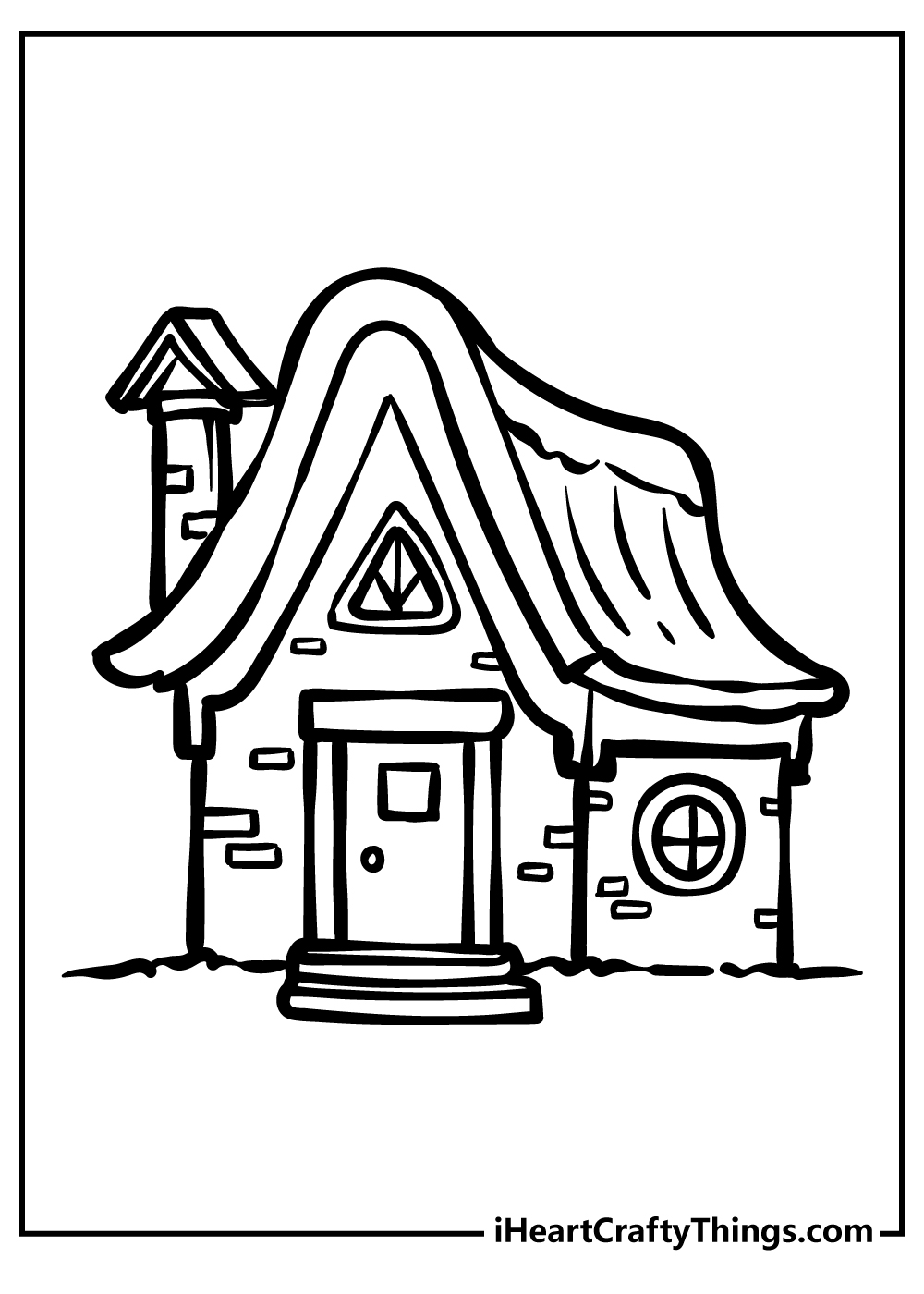 It's time for another trip to the countryside for this next page. This one looks like it could have come right out of a storybook, and it gives off such a calm and happy feeling.
For this page, we would probably use some watercolor paints. This medium is common in picture books, and we think that it would suit the feeling of this page wonderfully.
That is what came to mind for us, and you could also go for that medium if you agree. Do you have any specific art tools or mediums in mind?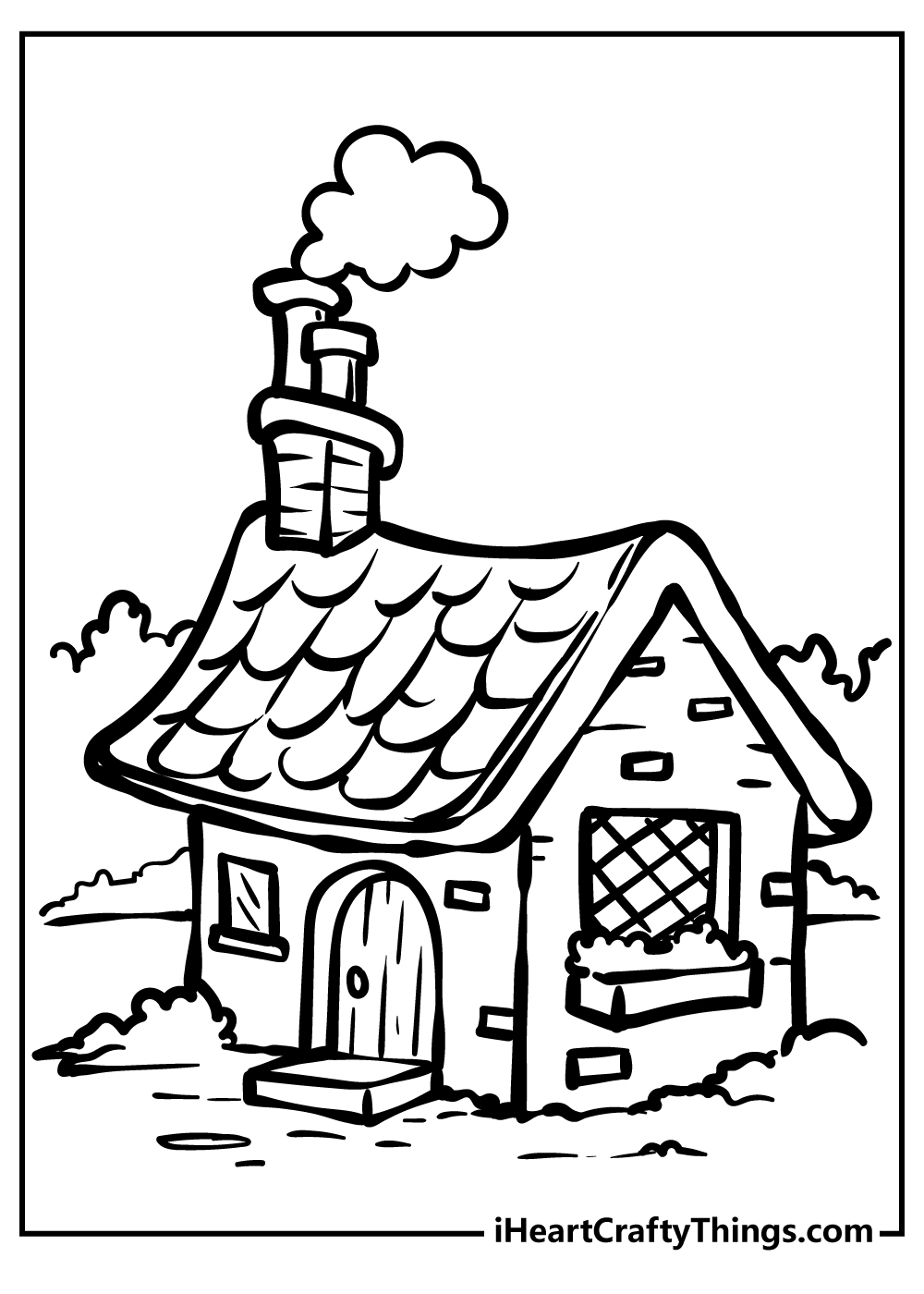 It looks like it's going to be a bright day for the people living in this house. The sun is up, the clouds are fluffy, and the grass is as green as it can get.
The house is a small and traditional one but has lots of small elements that allow children to use many colors and express their creativity.
Did you notice that there are no plants or trees around this house? What if your little artist were to draw some and bring this coloring sheet to life?
It does not matter the type of flowers or trees they want to draw – what matters is that they have fun!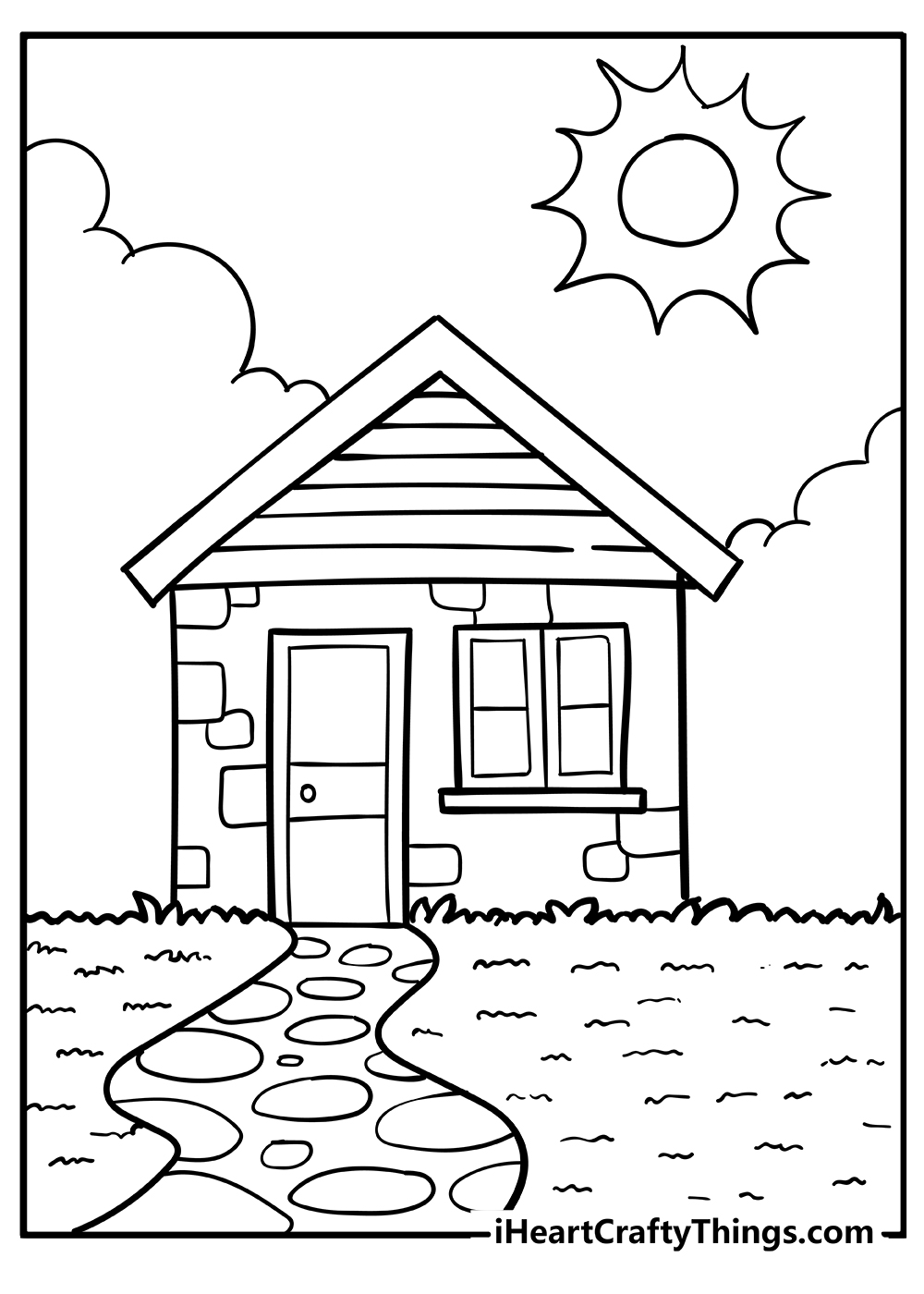 This small house in the woods is taken right out of a fairytale, so children are going to love coloring this one in.
It seems to be a wooden hut, but what if it's exactly the one from Hansel and Grettel, where the witch used to live?
The witch was living in a gingerbread house somewhere in the woods, and she was luring in children with the yummy building.
However, the twins did her good, so no one needs to be afraid of the witch now. How will your children imagine the story behind this house coloring page?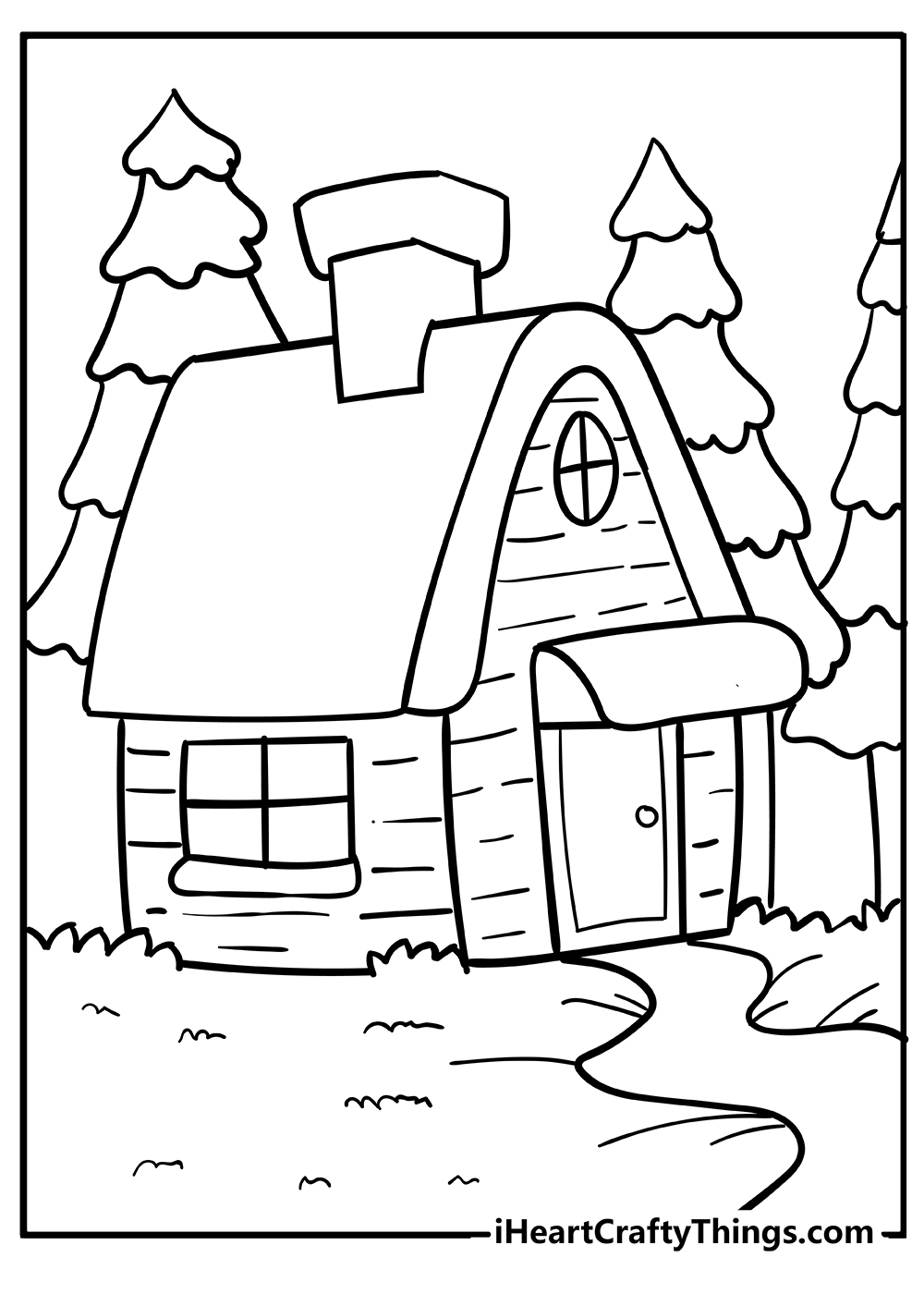 The clouds are out for a lovely day on this house coloring printable. With the setting of this image, you have a few options for how you could color the background.
The clouds would work with some grey, dark colors for a more moody, rainy day. Or, you could use some bright blues to make it seem like it's a beautiful day in the countryside.
These are just a few ways you could tackle the setting of this page, and it's up to you to decide what you think would look best for it!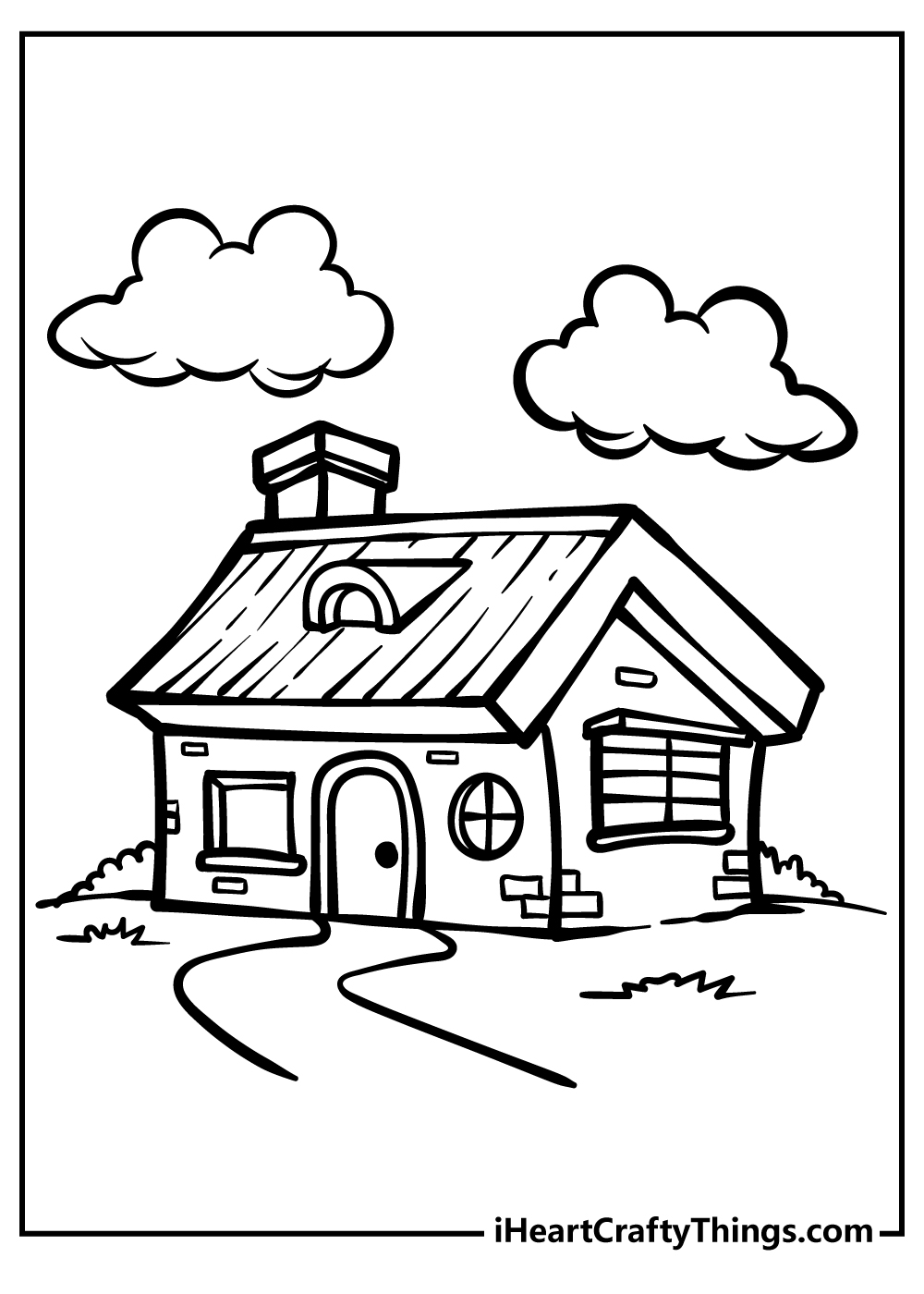 For this next house, we have a design that is simple but practical. Unlike many of the other houses in this collection, this one has two levels to it which means that it would be great for a larger family.
One fun way that you could show that many people live here would be to color every window a different color and add some small details.
That would help to suggest the personality of each person occupying a room.
That's just one way to add some personality to this image, but what other details and ideas could you add?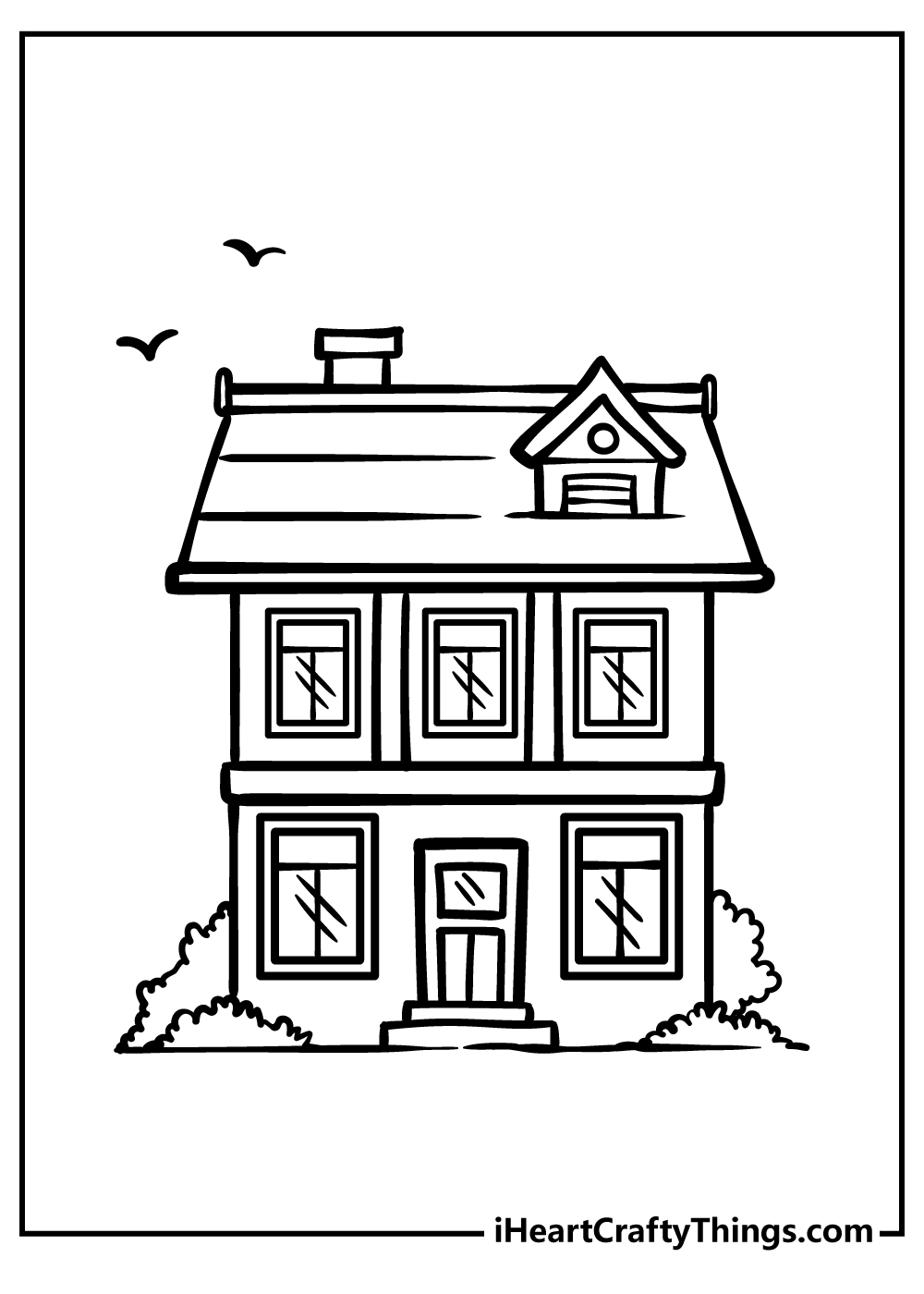 They say a house is made out of brick and mortar, but a home is made out of the people who live inside it. We think this is very true, and this little house coloring page is the perfect example.
Just imagine what is happening inside this cozy forest home! The chimney is running, so it's warm inside, the lights are turned on, and everyone is at the dinner table.
Or maybe mom is still cooking, and dad is out in the forest chopping some wood. The kids are playing inside, and there is also a cat warming up next to the chimney.
The perfect home story, right?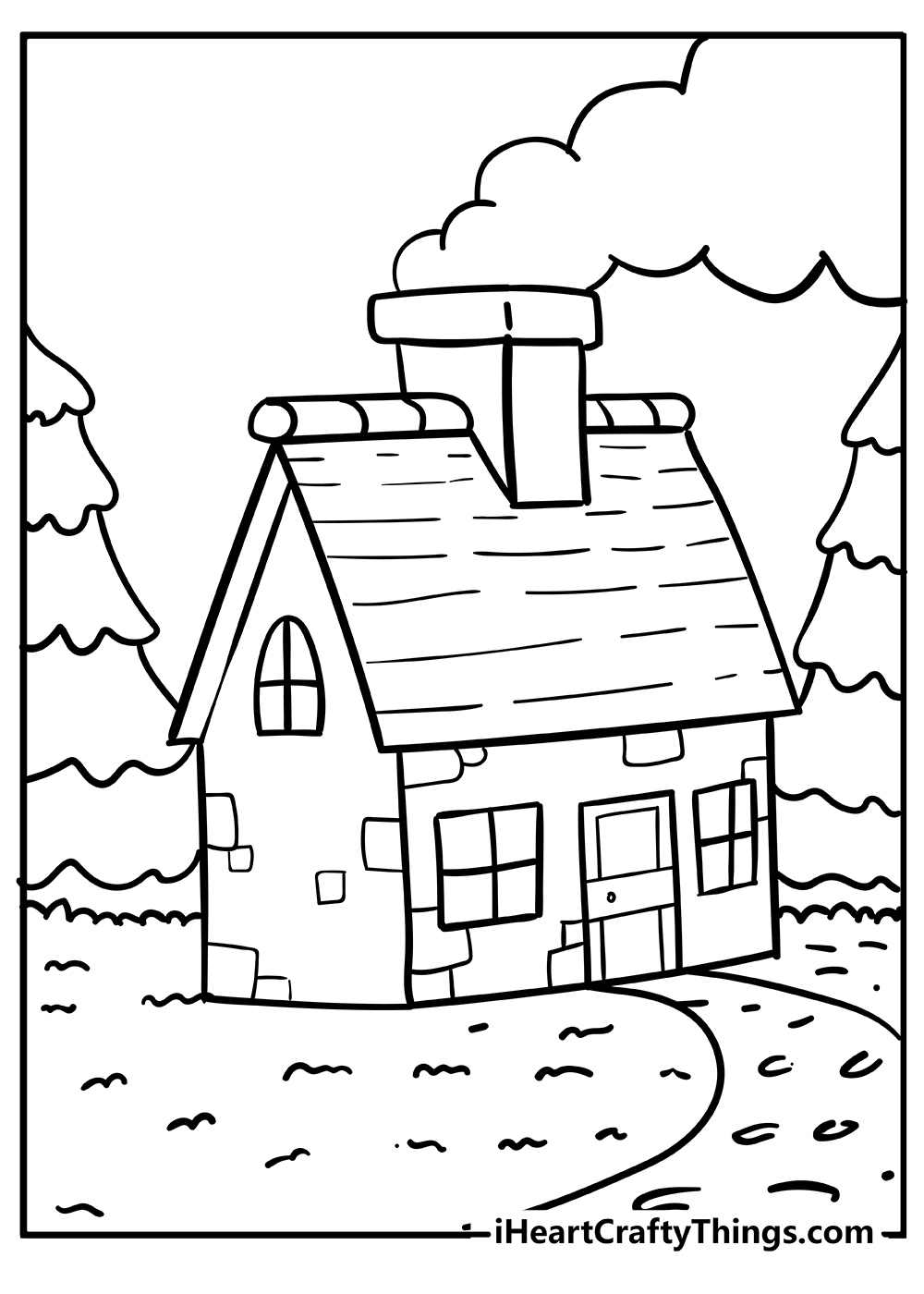 We can all appreciate a charming piece of art, and this home is adorable. Just take a look at that adorable tiny chimney.
Did you know they can reach temperatures of up to 2,000°F? They became popular in northern Europe in the 12th century.
And thank heavens for it! How else would Santa make an appearance on Christmas eve?
This winter scene is great, but do you know what's missing? A snowman, of course! Challenge your kids to draw a snowman as well and decorate it using cute colors!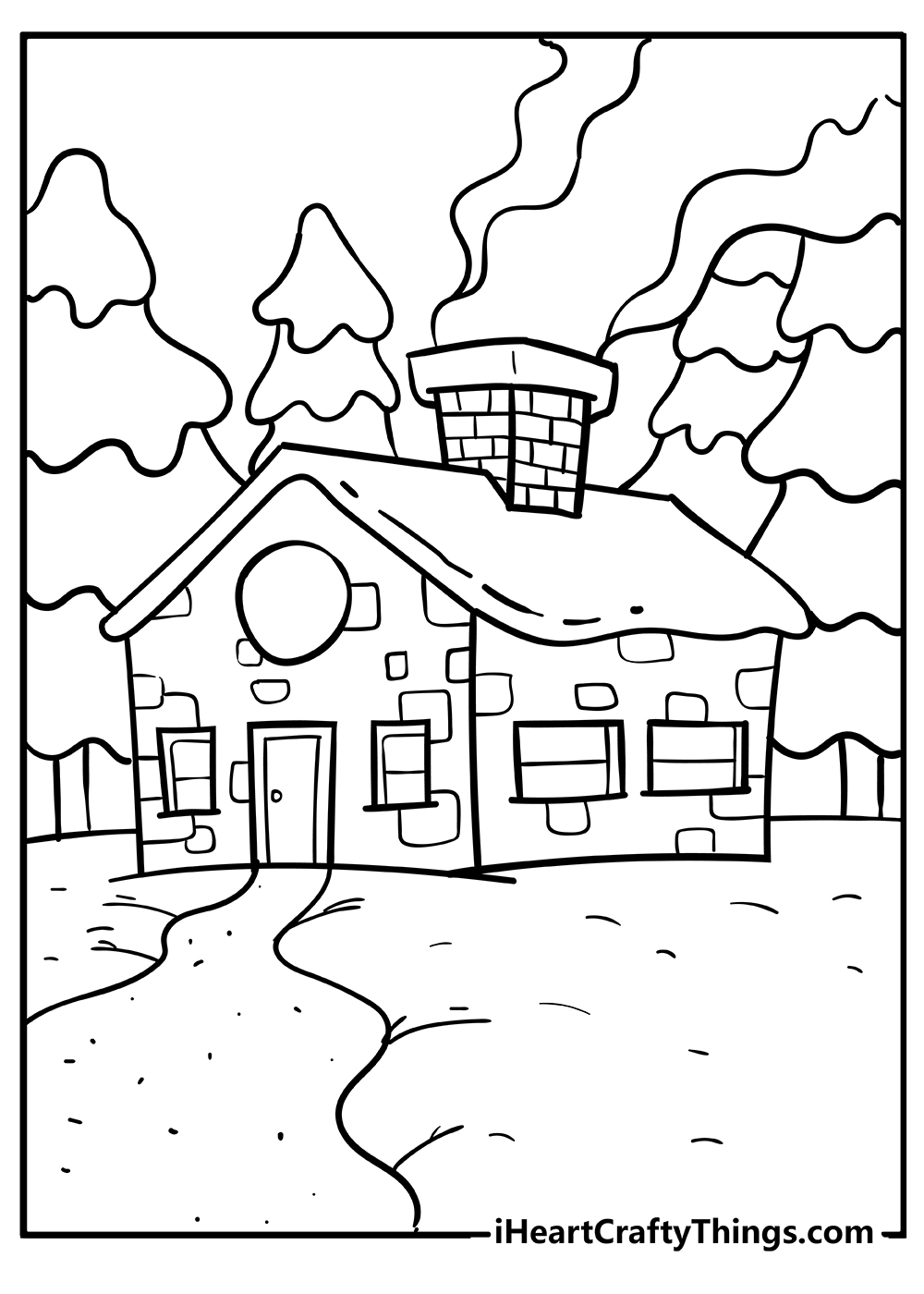 Houses can be made out of many different materials, and this one looks like it is made out of wood.
This is a popular material as it is cheaper and easier to work with, but it's also not ideal for certain locations.
For this house, we would use some darker, warm browns to give it a cozier feel. We would also use broad strokes of paint in order to give it more of a wooden texture.
Do you think you will try out a technique such as that for this wooden house?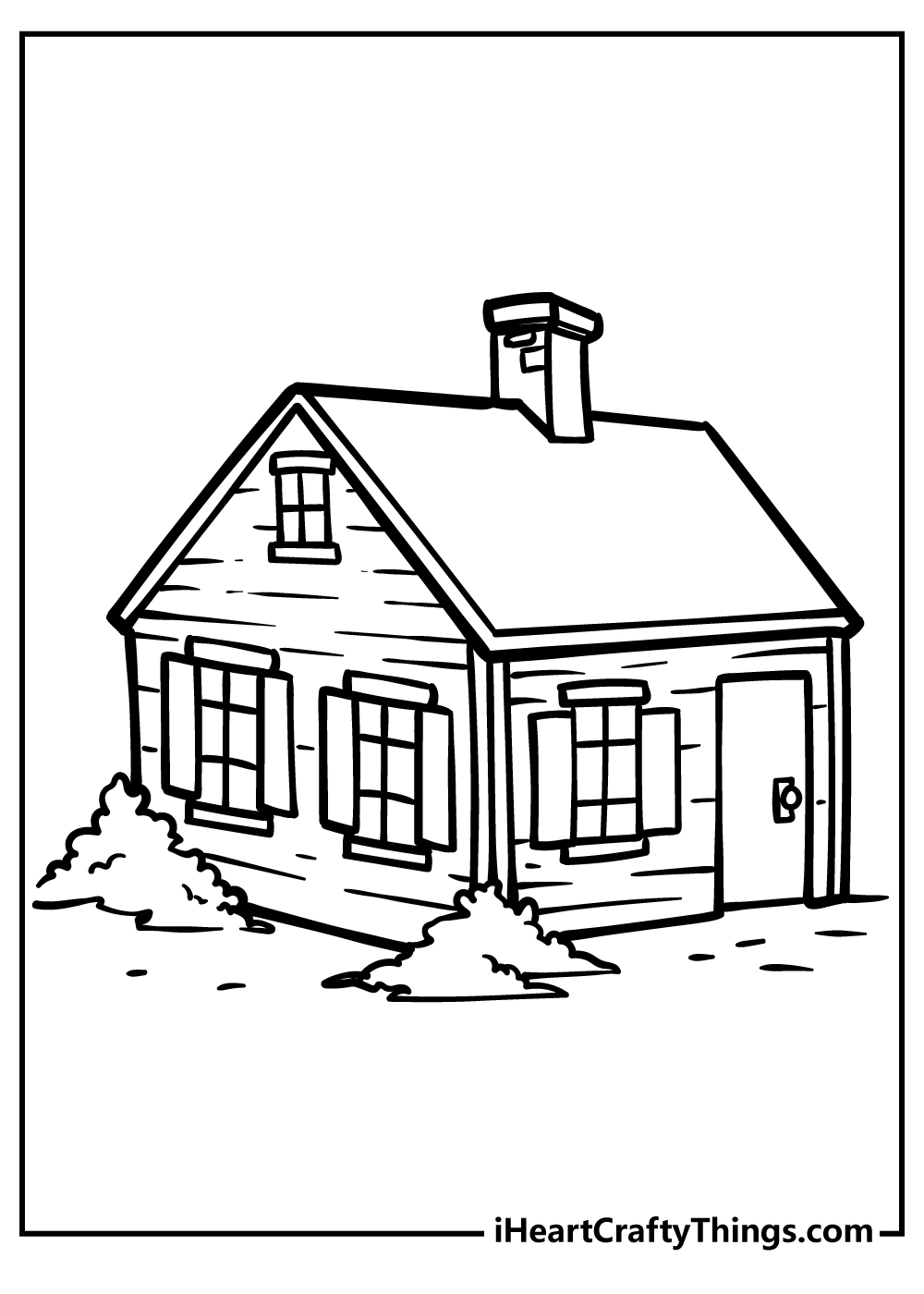 We love the classic design that is featured on the next house coloring page. It may not be the flashiest house in the collection, but it has a real charm to it.
The details have also been kept to a minimum, so you could add some extra details and elements of your own design to make this closer to your dream house.
Can you think of any extra features that you think this house may be missing? We can't wait to see how you finish off this charming abode!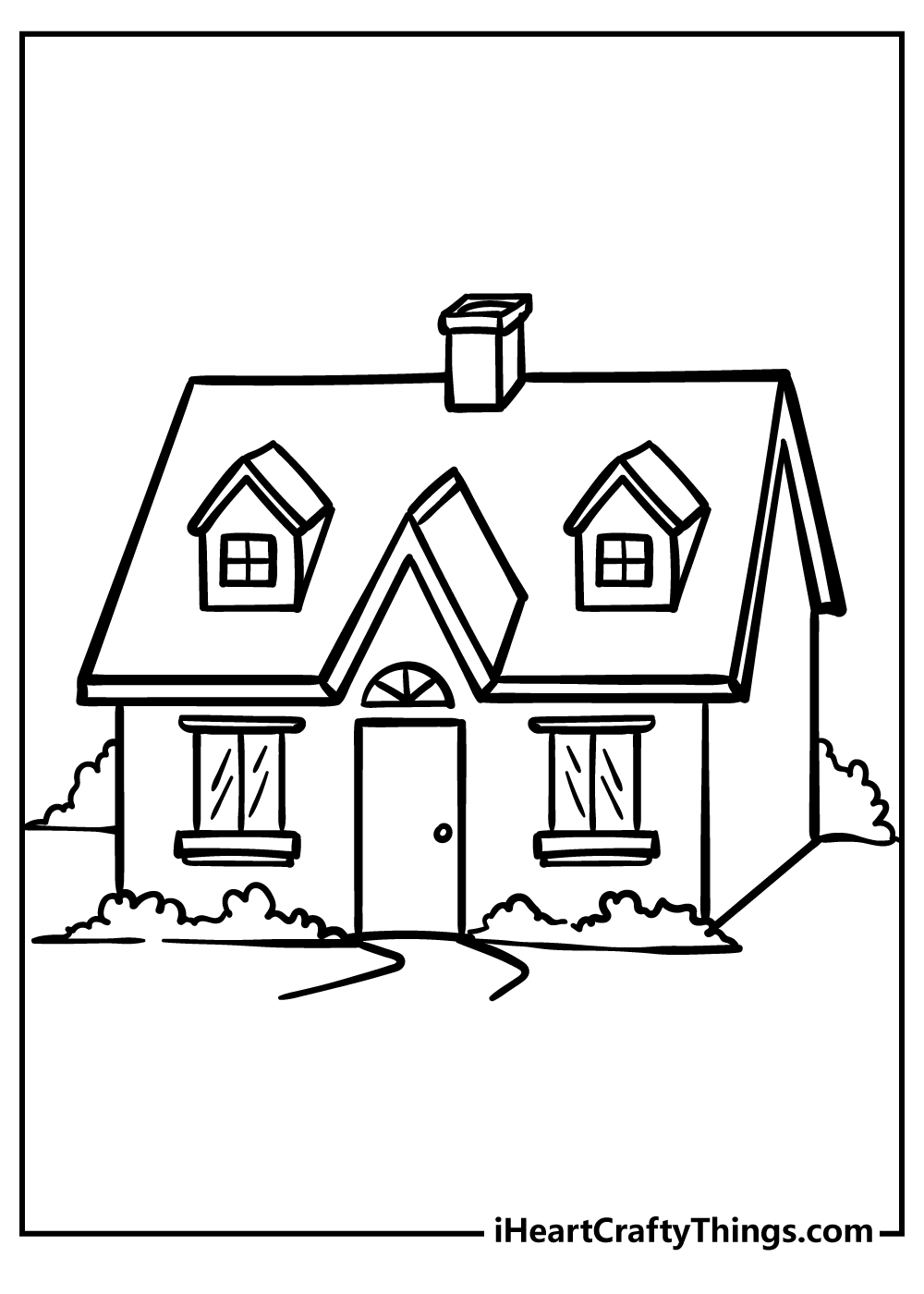 This wintery home looks just like it was made from gingerbread, doesn't it?
The curved roof, the small window, and the pergola above it make this little home very cozy and welcoming, but you know what's missing?
Another window next to the door to let the sun shine through. Can your children draw one?
The window can be square, circle, or even triangular if the little artists want to. Let them use their imagination and bring some life into this house coloring printable.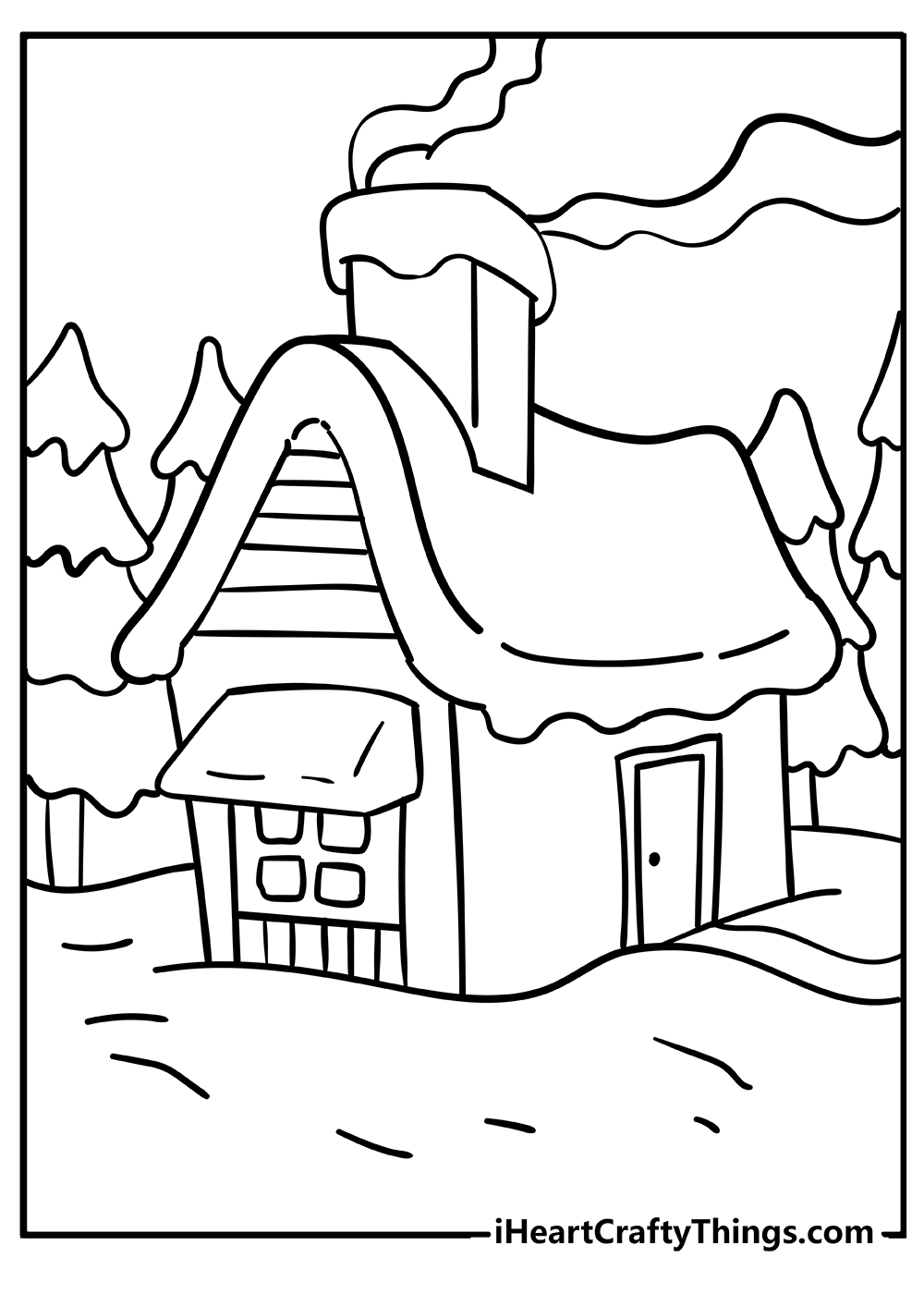 "There's nothing half as wonderful as returning home again," the saying goes. This is something you can teach children using these house coloring pages.
Even if your children enjoy school, they will undoubtedly enjoy going home each day to mom and dad, the family pets, and their toys.
These house coloring sheets should assist whether you're just trying to keep your little children occupied or genuinely searching for methods to prepare your youngster for a relocation to a new residence.
Maybe ask them to imagine their dream home and try to bring elements from their drawings into the new house you will be moving to?