The hotdog is one of the simplest yet most tasty foods you can enjoy! This classic food can be enjoyed at everything from baseball games to lazy Summer barbeques.
While they can be simple, some people like to experiment with different toppings and accompaniments.
It can be lots of fun to design your perfect hotdog, and to do this it can be helpful to learn how to draw a hotdog.
This very guide will give you all the tools you need to make it happen!
This step-by-step guide on how to draw a hotdog will let you design the hotdog of your dreams!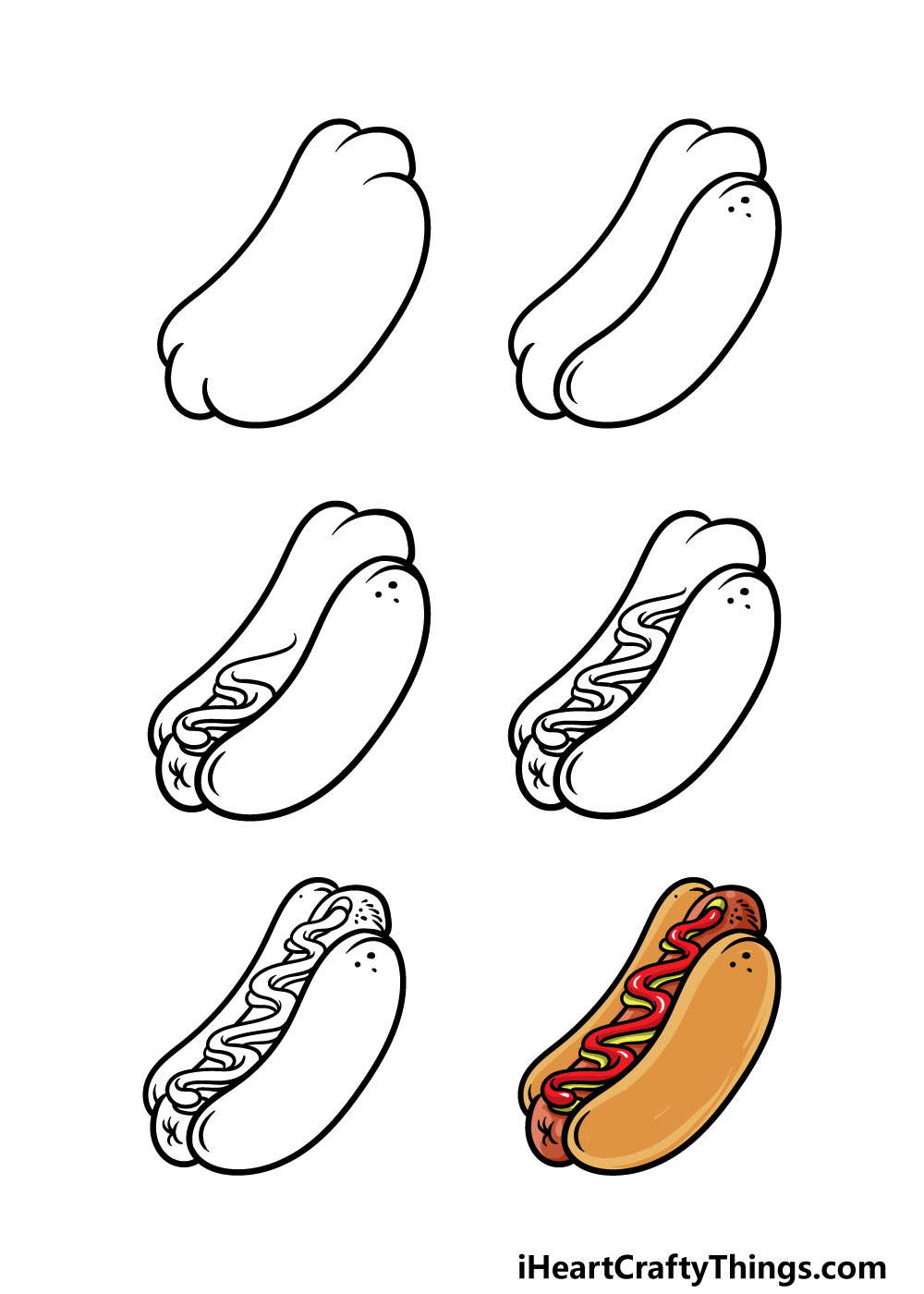 How to Draw A Hotdog – Let's Get Started!
Step 1
In this first step of our guide on how to draw a hotdog, we will start with the outline for the bun and the wiener inside of it.
These will be drawn with some curved and rounded lines that all connect to one another. We won't be adding many lines to the interior for now, because we will be drawing some details there later on.
Once you have the lines looking as they do in our reference image, you're ready to proceed!
Step 2 – Finish off the first part of the bun
We will be finishing off the outline for one half of the bun in this next part of your hotdog drawing. To do this, you will be using some more curved lines to connect the part of the bun that is closest to us.
Even though we will be adding details to the interior, we can still finish off the inner part of the bun here. Then, once you have drawn this part of it you can add some dots onto it for some extra texture detail.
That's all there is to it for this step, and now it's on to part 3!
Step 3 – Now, draw the sausage and start the sauce
For this third part of our guide on how to draw a hotdog, we will start on the wiener and the sauce covering it.
First, add some lines at the end of the sausage for some texture detail. Then, we will start to draw some sauce snaking up the hotdog.
These trails of sauce will be drawn with some curved lines going up the hotdog in one long twisty trail.
For now, we will be drawing this trail of sauce going up about halfway up the hotdog.
Step 4 – Next, draw some more of the sauce
We will simply be continuing the sauce snaking up the hotdog for this step of your hotdog drawing.
To do this, simply extend the twisty lines going further up the hotdog until they reach close to the top of it. That will leave just a small space to draw, and we will take care of that in the next step!
Step 5 – Now, you can finish off the final details
This step of our guide on how to draw a hotdog will be all about finishing off the final details before we move on to color it in.
To do this, simply keep drawing the twisty lines of the sauce up until the end of the hotdog. Some more dots and small details will finish off the hotdog nicely!
You don't have to move on to the final step quite yet, however. Before you do you can also add some details of your own to really put your own touches on this drawing.
There are many ideas that you could go with to do this! You could draw your favorite toppings onto the hotdog or add even more sauce!
Remember that this drawing is about creating your ideal hotdog, so you should add all of your favorites to it.
You could also draw a background to go with it to show what kind of setting you would be enjoying this hotdog at!
If you're feeling extra creative then you could also draw the kinds of additional foods you would be enjoying with it.
What creative details will you use for this amazing drawing of yours?
Step 6 – Finish off your hotdog drawing with some color
For the final step of our guide on how to draw a hotdog, we will be working on adding some amazing colors to it! In our reference image, we showed you just one way that you could color it in.
We used some dark orange and yellow for the buns, and then used some bright red and yellow for the ketchup and mustard. Finally, we used a few shades of brown for the sausage itself.
As we mentioned, however, this is just one way you could go about it. It's your drawing though, and you should feel free to use any colors that you may want for it!
If you drew extra toppings, a background or other foods then that gives you even more elements to color in.
You can also have some fun using your favorite art mediums to finish it off! Some brighter mediums such as acrylic paints or colored pens would really help the colors to pop!
If you prefer a more muted look then that would also look great. It's all up to you and we can't wait to see what you choose!
3 More tips to make your hotdog drawing easy!
Take a bite out of these tips we have for your hotdog sketch that will make it even easier!
For this drawing of a hotdog, we added some sauces on the hotdog to make it look even tastier.
We may not think about it when adding sauce to a real hotdog, but this detail can be surprisingly hard to draw!
If this is an aspect of the drawing that is proving too difficult, then you could leave it out for now while you focus on the hotdog itself.
You could also use some art tools and mediums to make it easier.
For example, you could use some paint straight from the tube to draw some wavy lines across the hotdog. However, as we said, you can also leave out this detail entirely!
This hotdog drawing was done in a detailed cartoon style, but you could change the style of the drawing to suit your own preferences. For example, you might like to draw in a simpler cartoon style.
If that is the case, then you could adapt this hotdog to suit that style. If you generally like to draw in a more detailed, realistic way, then you could instead use that art style for the hotdog.
There are no wrong ways to complete this drawing, and changing the style will also help to make it more unique!
This final tip we have for your hotdog sketch could potentially be the tastiest one yet! We would recommend using a real hotdog to use as a model for your drawing.
It would mean that once the drawing is complete, you will have a tasty reward waiting for you! Before you tuck in, try to look closely at the structure and details of the real hotdog.
If you can't get hold of a real hotdog for some reason, then you could look up drawings and photos of hotdogs online so that you have something to use along with the steps in this guide.
That way, you could also make some variations on the hotdog!
Your Hotdog Drawing is Complete!
You have added the final details, added your own elements and colored in your picture, so that means that you have reached the end of this guide on how to draw a hotdog.
You should be very proud of your incredible drawing, and we hope that this guide made it so much easier and more fun for you to do!
Remember that reaching the end of this guide doesn't have to be the end of the drawing. You can take it even further by adding your own details and elements.
The colors and mediums that you use can also be a great way to further personalize this image.
You can also find more drawing fun on our website! You'll want to check in often, as we upload new ones for you to enjoy frequently.
Once your tasty hotdog drawing is complete, we would love to see it! You can share your artwork with us by posting it on our Facebook and Pinterest pages.
We can't wait to see your creative drawing!