A big thank you to Orchard Valley Harvest for sponsoring today's post. I tend to have a serious sweet tooth! That combined with the every day busyness of being a Mom sometimes makes for a really hard time sticking to healthy snacking. Can you relate? It's so easy to grab for chips or sweet treats and on top of eating the wrong foods, it's too easy to eat way too much of them. This past month my entire family has been on a mission to snack smarter and healthier. With the help of Orchard Valley Harvest snacks and a few important changes, we have made some great strides in our quest for healthy snacking.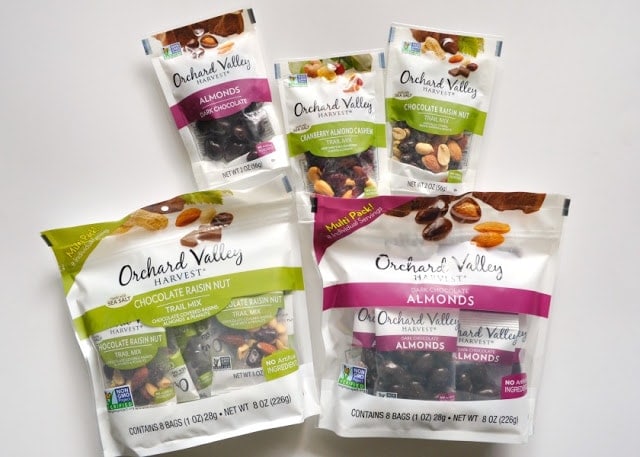 DON'T MISS THE GIVEAWAY AT THE END OF THIS POST!
Orchard Valley Harvest
is a brand dedicated to offering non-GMO products with great quality and taste. The nuts and fruits used are picked at their peak and are minimally processed. They also contain no artificial colors, flavors or preservatives.
The Grab & Go varieties include: Cranberry Almond Cashew Trail Mix, Dark Chocolate Almonds and Chocolate Raisin Nut Trail Mix. The Multipack varieties include: Chocolate Raisin Nut Trail Mix and Dark Chocolate Almonds. Are you drooling yet? They are seriously delicious!
TIPS FOR GETTING STARTED WITH HEALTHY SNACKING
After a month of working together as a family to stay on track, here are three tips that have helped us to get started and stick with healthy snacking:
1. Stock up on fruits and veggies. Make sure to have plenty of fresh fruit and vegetables on hand for snacking at home. Since the Orchard Valley Harvest snacks are conveniently located in the produce section at Walmart among the fruits and vegetables, it has helped me tremendously to make better choices by sticking with produce and avoiding other aisles in the store.
2. Drink plenty of water. It's no secret how good water is for our bodies. Start keeping track of how much water you are drinking during the day and make sure to drink at least 64 oz. every day. Our family has started to drink a glass of water when we wake up in the morning before breakfast and that has helped us to start off the day feeling hydrated which in turn helps us stay on track for healthy snacking throughout the day.
3. Have healthy snacks ready for on the go. Orchard Valley Harvest Grab & Go sizes and multipacks have been perfect for my family for when we are on the go. I always keep one in my purse so that if we're out and about in between meals and need a small snack, I have a smart snack in arms reach for all of us to enjoy. This has also been a great help in portion control for me.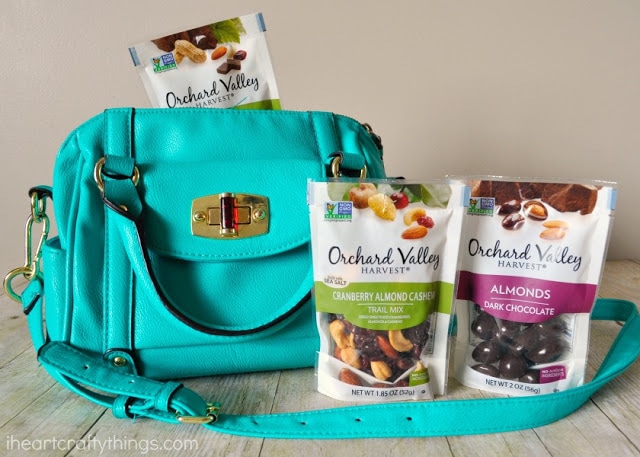 Encouraging Kids to Snack Healthy
One of my favorite ways to help encourage my kids to keep on track with healthy snacking is with fun notes on their snacks. Whether they find them in the pantry with a note attached, or you put them in their lunch for school, it's a great way to encourage children to snack healthier.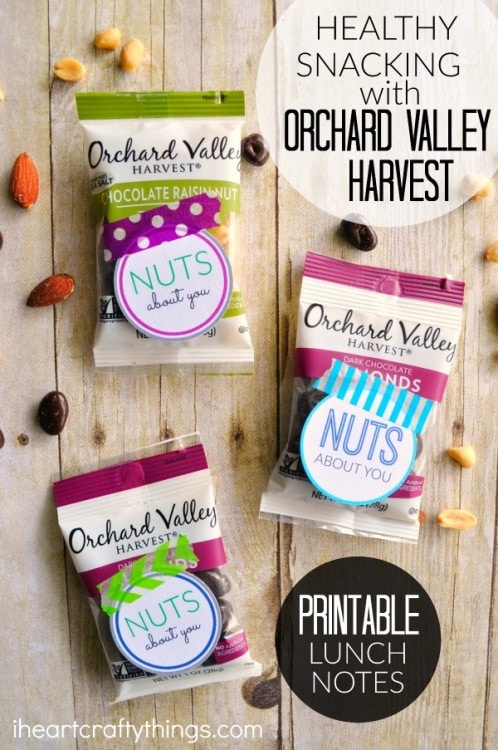 "NUTS ABOUT YOU" LUNCH NOTES PRINTABLE
Supplies you will need:
Orchard Valley Harvest Multipack snacks
washi tape
2-inch circle punch (optional)
Directions:
1. Start by printing off the Nuts About You Printable on white cardstock paper. Use your 2-inch circle punch (or scissors) to cut them out.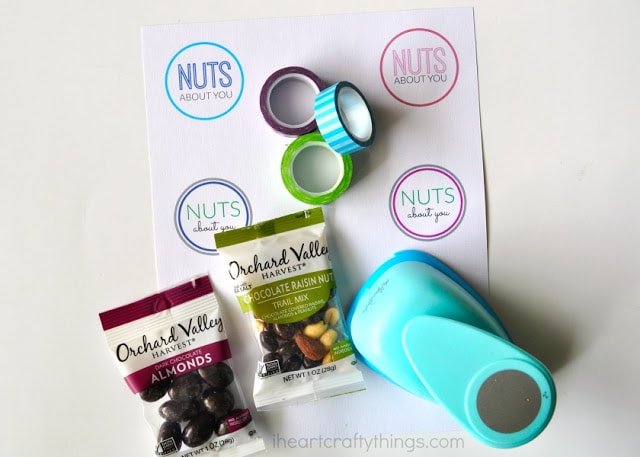 2. Attach the notes onto your Orchard Valley Harvest snacks with a piece of washi tape. Easy peasy huh?!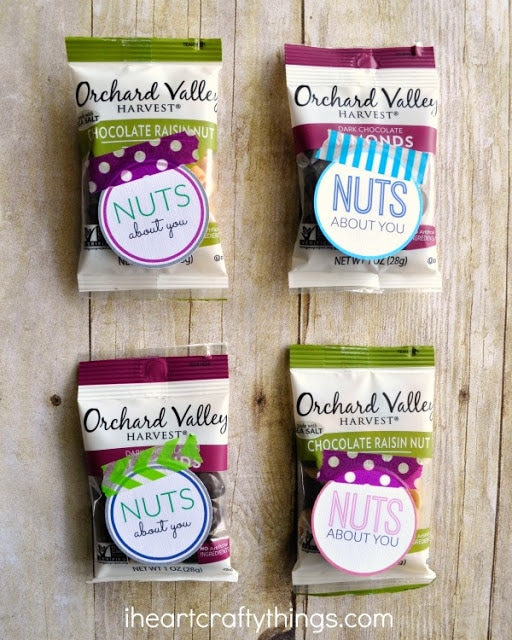 Now place them in your child's lunch or set them in your pantry where your kids go to grab for snacks. They will open up their delicious snack with a smile on their face.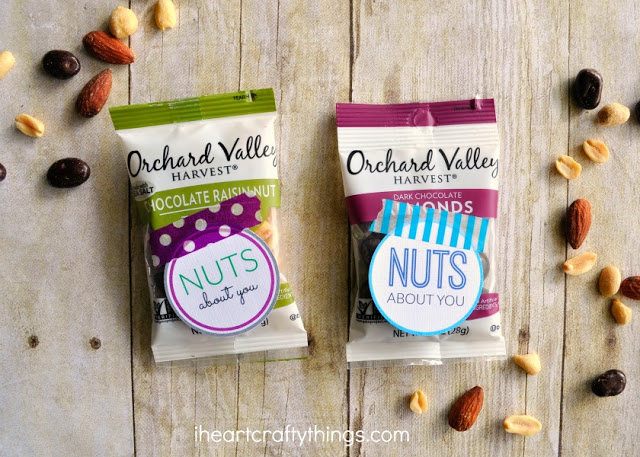 I love how Orchard Valley Harvest snacks has a variety perfect for every occasion. Whether I'm needing something to satisfy my sweet tooth craving or if I'm wanting to refuel after a workout, or if I just want a savory afternoon snack, there's a perfect variety for all. In fact, one of my new favorite afternoon snacks is combining a multi-pack with a small bowl of yogurt. It's the perfect amount of protein to keep me going through the afternoon with the kids.

For more information about the Orchard Valley Harvest product line, visit www.orchardvalleyharvest.com.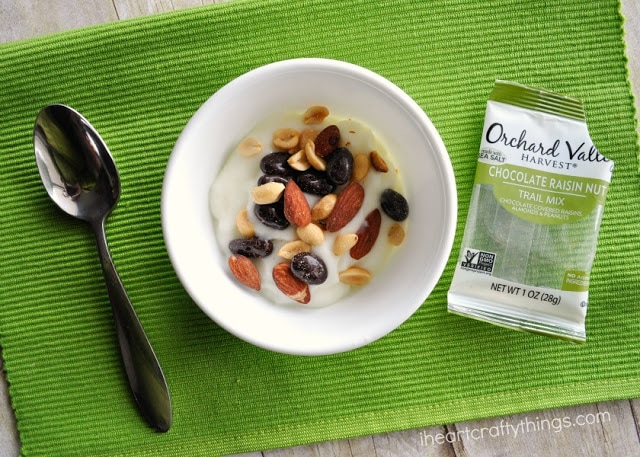 GIVEAWAY
Orchard Valley Harvest wants to help your family stay on track with smart snacking too so they are generously giving away an assortment of Orchard Valley Harvest snacks together with a $50 Walmart gift card to one of my readers. Yay! To enter, simply fill out the Rafflecopter form below. The giveaway will end November 25, 2015 at 12 a.m. MST and is open to U.S. residents only. So sorry to my international readers!
Follow I Heart Crafty Things on Facebook, Pinterest and Instagram for more crafty fun!

This is a sponsored conversation written by me on behalf of Orchard Valley Harvest . The opinions and text are all mine.
var ts=document.getElementById('ti-pixel-tracker'); var axel = Math.random() + ""; var num = axel * 1000000000000000000; var ti=document.createElement("img"); ti.style.display="none"; ti.src="https://tracking.tapinfluence.com/trk/u0q1r/Inc8Z/p.png?p=Dotx1″ + String.fromCharCode(38) + "i=z8gal" + String.fromCharCode(38) + "ord="+ num + String.fromCharCode(38) + "s=" + encodeURIComponent(document.referrer); ts.parentNode.replaceChild(ti,ts); JSON.stringify({"program_id":"1e09ef20-7f26-11e5-811c-22000a7d00a4″,"post_id":"d8725382-8775-11e5-b958-22000a66c666″});