You probably wouldn't expect a character styled after a teddy bear to be scary or intimidating, but Freddy Fazbear is both of those aspects.
He is the namesake and one of the main bad guys in the terrifying Five Nights at Freddy's series of video games.
Since his video game appearances, he has since appeared in many other forms of media, and he has won fans around the world.
Learning how to draw Freddy Fazbear is a great way to show off your creativity while replicating this iconic villain.
You'll definitely want to see this guide all the way through to the end!
Please enjoy this step-by-step guide on how to draw Freddy Fazbear in just 6 steps.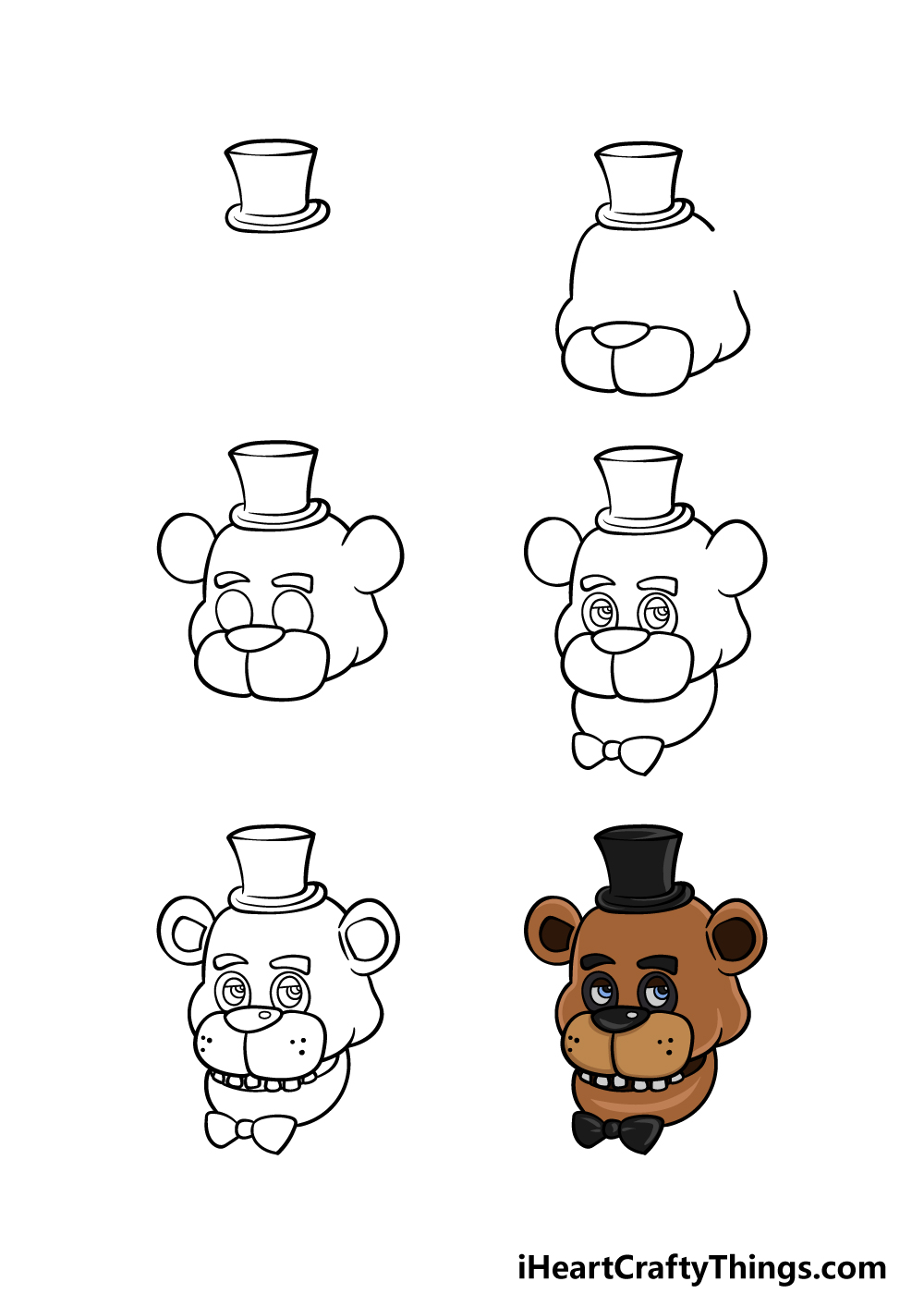 How to Draw Freddy Fazbear – Let's Get Started!
Step 1
One of the pieces of clothing that this character wears is his little top hat, and this is what we shall start with in this first step of this guide on how to draw Freddy Fazbear.
First, use a curved horizontal line for the rim of the tophat, and then add another curved line close above it.
The sides of the upper section of the top hat will also be drawn with some lines that curve outward slightly.
To finish it off, you can draw a flat oval shape for the top edge of the hat. That's all there is to it for this step, and now you're ready for step 2 of the guide.
Step 2 – Now, draw the start of his head outline
You have the hat for your Freddy Fazbear drawing done, and now we can focus on his face and head outline for a bit.
Draw a rounded triangular shape for his nose, and then attach some larger rounded shapes below it for his muzzle.
Then, extend some more curved lines down from the bottom of his hat for the front of his face. This will have two sections to it, and then it will connect to his muzzle as you can see in the reference image.
We will then finish off the back of his head with a short line from the right-hand side of his hat, and then you can finish off with more curved lines coming from the base of his muzzle.
There will be a space left on this side of the head, but we will fill it in when you get to the next step.
Step 3 – Draw his eye and ear outlines
In this third step of our guide on how to draw Freddy Fazbear, we will be drawing the outlines for his eyes, eyebrows and ears. First, let's focus on the ears.
Add a circular shape onto the left-hand side of the head for the first ear. Then, fill in that space on the right side of the head with another circular shape for the other ear.
Finally, draw some small oval shapes for the circle around his eyes and then add some angular eyebrows above them.
Step 4 – Next, draw some more eye details and the bottom of his face
Now we shall draw some more eye details along with the rest of the face outline in this step of your Freddy Fazbear drawing.
Draw some smaller ovals within the outer circles from earlier, and then draw his drooping eyelids and pupil details.
Then, draw his bowtie below his head by drawing a small circle at the center with the two side portions fanning out.
Finish off with a curved line for the bottom outline of his head extending from the sides of the bowtie and up to his head. Then you will be ready for some final details in the next step!
Step 5 – Add the final details to your Freddy Fazbear drawing
This fifth step of our guide on how to draw Freddy Fazbear will see you finishing off the final details before you color him in.
First, add some rounded shapes inside of his ear outlines for his inner ear sections. Then, we will be drawing a row of squared, irregular teeth to his mouth.
Finish off by adding a reflective shape onto his nose, and then add some dots onto the sides of his mouth for his whiskers.
When you have added these details, you could finish off by drawing more of his body or even a spooky background for him.
These are just a few ideas for extra details you could add, so what else can you think of to finish it off?
Step 6 – Finish off your Freddy Fazbear drawing with color
Now you're ready to finish off the final step of this Freddy Fazbear drawing with some colors! This character isn't really the most vibrantly colored character out there, and we reflected this in our example image.
We used some black for his hat and bowtie, and then we finished off with shades of brown for his head.
These colors show off how he appears in the games, so you can copy them if you would like him to look the same as he does in the games.
You could also create your own Freddy Fazbear variations by choosing some unique color choices, and changing up the art mediums you use also provide some great variation.
How will you finish off this amazing Freddy Fazbear drawing?
5 Tips To Make Your Freddy Fazbear Drawing Even Better!
Make this sinister character look even better with these 5 tips!
This drawing of Freddy Fazbear shows just the head of this villainous character. You could make it a more complete portrayal by drawing some more of his body.
To help with this, you could start by looking up some pictures of him before he becomes his more horrifying form. Then, use these pictures to draw the rest of his pose.
What kind of pose would you like to pick for Freddy Fazbear?
In the first tip, we mentioned the more horrifying appearance of Freddy Fazbear. This is how he will appear in the games when you meet him.
In this form, he looks more degraded with his inner robotics showing. Once again, maybe you could look up pictures of him in this form and customize the drawing to show him in this new appearance.
If you want to keep this Freddy Fazbear drawing as it is, you could make it more interesting by turning it into a logo.
He is the main mascot of a famous restaurant chain in the games, so you could use his head to design a Freddy's logo around his head. What color scheme would you use for the logo?
In the games, Freddy Fazbear is joined by other characters that exist to hunt down and terrorize the player. These characters are all based on animals, and you could pick any of your favorites.
There are a few to choose from, so you could look at the games or search images of characters from the series to help you as you draw.
The various games in the Five Nights At Freddy's series take you to a variety of locations. Any one of these locations could be used for your Freddy Fazbear drawing!
Most of the time you would be at Freddy's restaurant, but there are many other locations you could also use. For more personalization, you could even design a new location yourself!
What would you like to use for the background?
Your Freddy Fazbear Drawing is Complete!
This may be a rather terrifying character, but we aimed to make sure there were no unpleasant surprises hidden within this guide on how to draw Freddy Fazbear!
Guides like these can make even the toughest drawing challenges much easier as you follow the steps that break down any harder aspects.
We hope that this guide accomplished that goal for you and that it was made really fun and easy for you!
Now that you have finished this drawing, it's up to you to show off how creative you can be as you complete the final details.
We also mentioned that you can add some details and new ideas to the mix as you create a background or add fun new elements, so how will you finish it off?
Remember to also check out our website for some more awesome guides to enjoy. We have new ones coming out soon, so be sure to check in often.
We would love to see how your terrifying Freddy Fazbear drawing came out, so please remember to share your finished picture on our Facebook and Pinterest pages for us to see.