The concept of a flower crown has been around for many centuries. Throughout history, they have been used for many occasions and festivals to represent love, purity and fertility.
These days, they are most often seen worn during weddings and other such occasions, and they can come in many different beautiful variations.
It can be lots of fun designing your own one, and learning how to draw a flower crown is a great way to do just that!
If you love this beautiful headwear and would like to imagine your own unique one, then be sure to read on to the end!
Our step-by-step guide on how to draw a flower crown will show you how fun and easy it can be to create one of these fantastic crowns.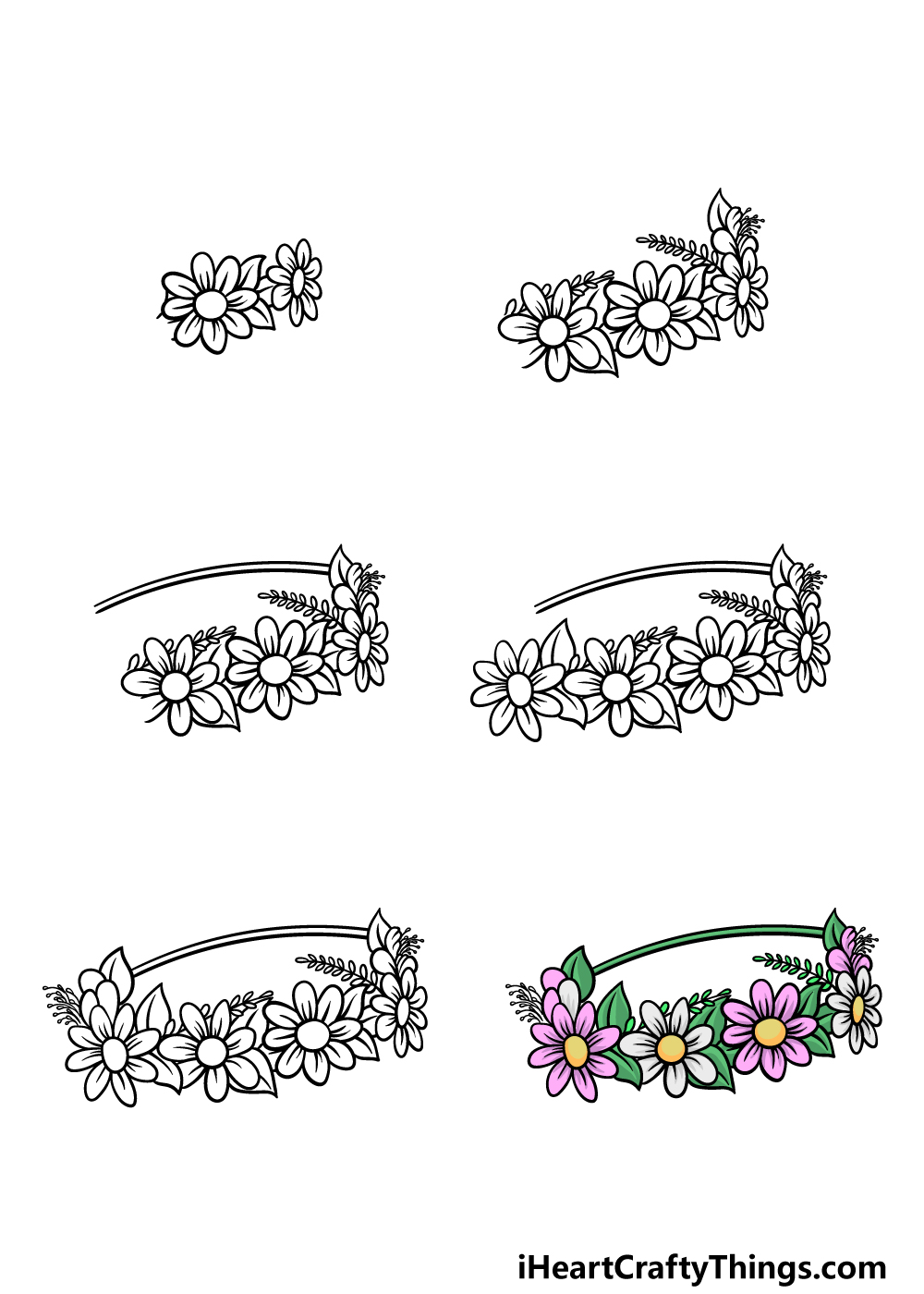 How to Draw A Flower Crown – Let's Get Started!
Step 1
As you may imagine, we will be drawing a few flowers in this guide on how to draw a flower crown!  With that in mind, we will kick off this guide by drawing some flowers.
These flowers will all be of a similar design, and to draw it we will start with a circle. The circle doesn't have to be perfect, so feel free to draw it free-hand!
Once you have that circle, use some curved lines all around it for the petals and add a line inside of each one.
Then we will be adding some more curved lines for leaves next to it, and then you can draw another flower that's a bit thinner due to the angle.
Step 2 – Next, draw some more flowers for the crown
We will continue adding some more flowers in this part of your flower crown drawing. First, you can draw another flower that looks very similar to the previous one to the left of that one.
This one will also have some leaves next to it, and you can leave a small gap in the petal on the bottom left.
That is because another flower will overlap it later. We will also be adding a new element in this step.
This element will be a small stem with lots of little leaves on it, so simply use a slightly curved line with lots of little round shapes on it for several of these stems.
Then it's on to step 3!
Step 3 – Draw the band of the flower crown
The flowers on a flower crown will always be attached to some sort of hairband so that it can sit atop your head without falling apart.
We will be drawing that band in this step of our guide on how to draw a flower crown.
You can draw this with two curved lines close to one another extending from the leaves on the right-hand side of the crown.
There will be a space on the left side of the band, as more flowers will be attached there in a future step.
Step 4 – Now, draw another flower for the crown
We shall continue adding to your flower crown drawing in this fourth step. To do this, all that you need to do is draw one more of those flowers on the left side of the crown.
This flower will also have some leaves next to it as the others did. Once you have drawn that flower and the accompanying leaves, we can finish off the final details in the next step!
Step 5 – Finish off your flower crown drawing
This fifth step of our guide on how to draw a flower crown will be all about finishing off the final details and elements of the image.
There is only a small space between the band and the last flower that you drew in the last step, so you can finish it off by drawing some more leaves and little buds.
That will finish off your flower crown, but this is also your chance to add some details and elements of your own to finish it off.
There is a lot that you could do to accomplish this. For one, you could add different species of flowers onto the crown, or incorporate some other decorative elements.
Perhaps you could even draw yourself wearing this crown to really finish it off! These are just a few ideas, but from here on out it is up to you. Be sure to get creative and have fun with it as you complete this image!
Step 6 – Finish off your flower crown drawing with some color
This is a drawing that by its very nature has a lot of flowers on it, and lots of flowers mean lots of colors!
For this final step of your flower crown drawing, you will be finishing it off with some amazing colors. In our reference image, we went with a slightly more muted, classic look for our picture.
We used some lighter pinks and greys for the flowers, but this is your chance to show off how creative you can be with it!
For this part, you should definitely feel free to use any amazing, bright colors that you love for it.
Once you know what colors you would like for it, you can then bring them to vibrant life by using your favorite art mediums and tools. We will look forward to seeing how you finish off this image!
4 More Ways To Make Your Flower Crown Drawing Unique
Create a pretty flower crown sketch with the help of these fun tips!
For this flower crown drawing, we chose some simple yet pretty flowers for the crown. There is a good variety, but you may wish to include more specific flowers in your own drawing!
These could include anything from daisies to tulips or roses. These flower crowns usually do have certain flowers incorporated in them, but for this one you could go with anything you like.
This is a great opportunity to show off all of your favorite pretty flowers!
A flower crown is made to be worn, and you could show off who would be wearing the one in your drawing of a flower crown! When adding this character, you could use anyone you like as inspiration.
It could be someone you know such as a friend or a family member. Or, it could even be yourself!
There is also the option of using your favorite celebrity as a model to show them wearing this flower crown. Who would you choose as the wearer of this beautiful crown?
Flower crowns are used in many different occasions around the world. These can range from weddings to Midsummer festivals.
You could show off where you think this particular flower crown sketch is being used by adding some more objects! This could be as simple as adding some corsages or as complex as an entire wedding cake.
Those are just a few of the ways that you could suggest more of a setting for this flower crown.
Leading on from the previous tip for your flower crown drawing, you could also draw an entire background. This is a tip you could use along with any of the previous tips we suggested.
We already suggested a wedding or a festival as a few places you might see a crown like this. You shouldn't feel limited to these settings, however.
This is your chance to show off where you think this flower crown would be used!
Your Flower Crown Drawing is Complete!
That will take care of all 6 of the steps in our guide on how to draw a flower crown! We hope that you had a fun and relaxing time working on this guide alongside us.
We aimed to break it down into smaller steps so that you could focus on the fun and creativity of drawing with no frustration.
Now you can put your own spin on this drawing by adding your own amazing elements and details.
We went over a few of these that you could do, but you should make sure to let yourself have fun with it as you express your creativity with your ideas!
This is far from the only drawing guide we have for you, as our website is full of amazing guides for you to sample. We have more coming soon as well, so be sure to keep checking in!
Please be sure to share your beautiful flower crown drawing on our Facebook and Pinterest pages for us to admire!