I am super excited about the craft we did today to go along with the book Five Little Pumpkins by Iris Van Rynbach. (affiliate link) This is a pretty popular Halloween story that is the well-known Five Little Pumpkins rhyming finger play in story version. I felt like it's more of a 3yr old book, but we read it pointing to each word and my boys were able to read along with me after reading through it several times. Regardless of it being a simple book for them, it is a fun rhyme that they enjoyed and we had a blast making our five little pumpkins craft.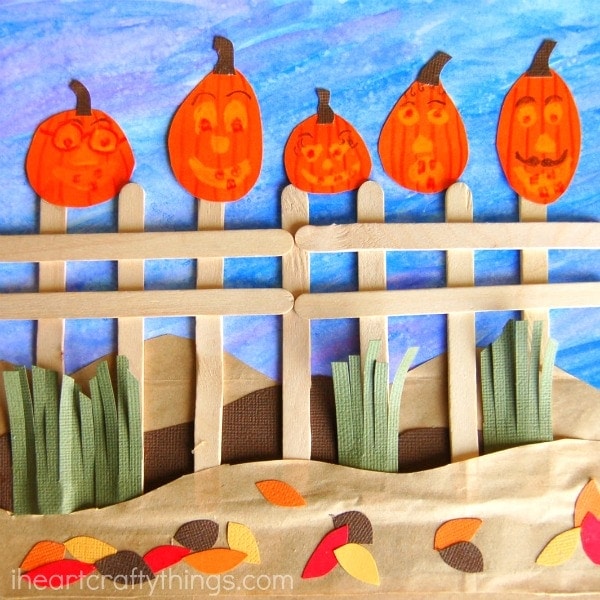 Five Little Pumpkins Craft for Kids
The basis of our craft is found on the first page of the book (affiliate link) when the five pumpkins are sitting on the gate. I picked up this book at the library last week knowing I wanted to do a craft with it, but wasn't sure just what to do. Then a couple days ago I saw a pin on Pinterest from kidsfunreviewed.com and I jumped with delight because it was one of those "over the top" crafts that I adore and I knew it was exactly what I was looking for.
I intended on posting a tutorial but once we got involved in the project I realized how INVOLVED it was and decided to just leave you with the link to the one that I used. It took us a couple hours to complete our artwork, but look how cute our pumpkins on a fence turned out.
My oldest son's artwork (1st grade)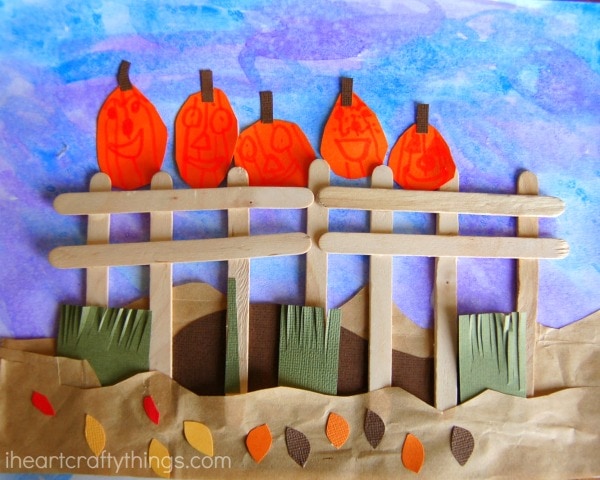 My younger son's artwork (preschool)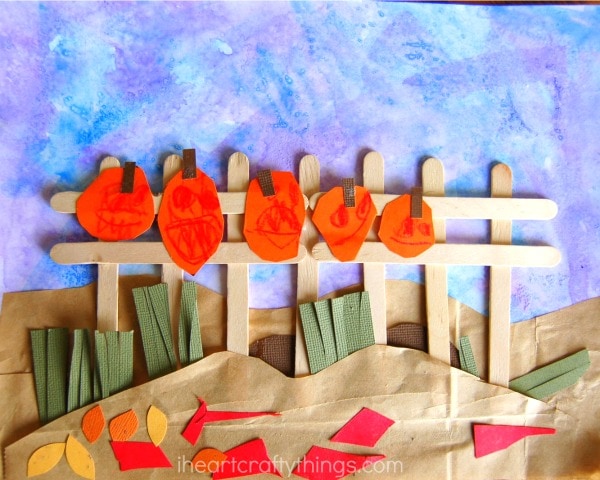 For the background we tried out watercolor salt painting. We basically just used blue and purple watercolor paints to paint the paper and as we went along we sprinkled salt on the paper when it was still very wet. When the watercolors were dry, we brushed off any loose salt from the paper.
I also wanted to mention that I drew the pumpkins and the boys cut them out themselves. My younger son needed a little help with the hill background so I drew the hill on the paper and then he easily cut it out himself. Both the boys had a go at cutting out their own leaves, and then I gave then some I cut out as well. Also, both boys were able to make the cuts in the rectangle pieces for the grass. There was a lot of cutting practice in this project making it perfect for a preschooler.
One more hint before I go, TACKY GLUE! Using tacky glue for our sticks and pumpkins worked perfectly because it is thicker than school glue and dries a lot faster. This helped everything stick into place nicely without any fuss with so many different layers going on. We used a glue stick for everything else. We hope you have fun making your own version of this five little pumpkins craft!