This shop has been compensated by Collective Bias, Inc. and it's advertiser. All opinions are mine alone. I hope you enjoy exploring emotions with your children with this fun Emotions Puppet Show Activity. #InsideOutEmotions #CollectiveBias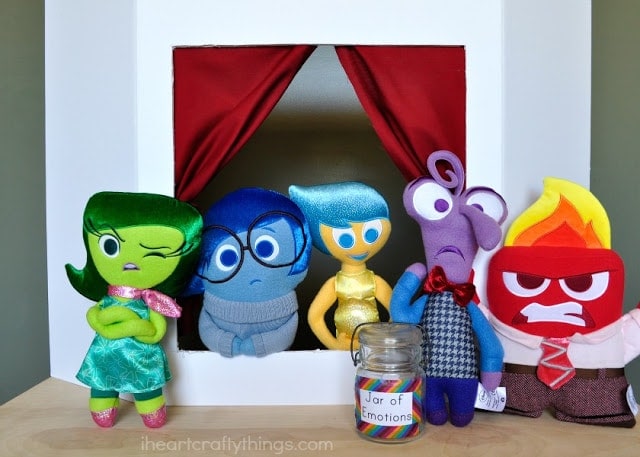 My children and I saw Disney's Inside Out on opening night in theaters and we loved it! In fact, immediately after the movie was over my 4 year old daughter asked me when we could come back and watch it again. We spent the entire drive home talking about all of the darling emotion characters and it sparked an idea in my head for a great way to explore emotions with my children by having an Emotions Puppet Show.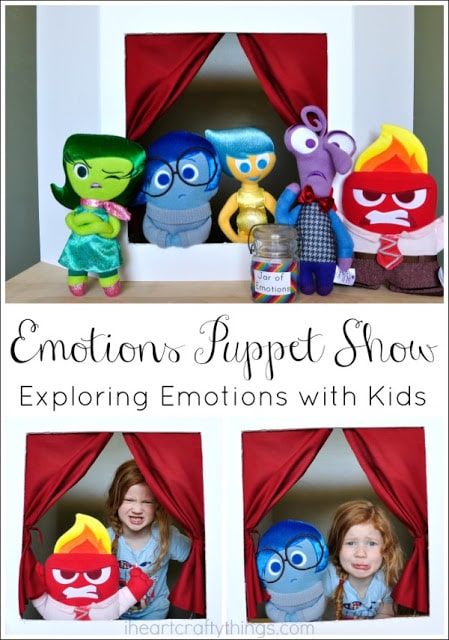 I share puppet crafts regularly so I'm sure you've already noticed how much I love them. I'm a big fan of imaginative play and I think using puppets is a great way for children to explore their emotions. Puppets create the perfect opportunity for children to grow and develop language skills, physical abilities and social skills. Not to mention how it can help them build a strong self-esteem by learning how to express their emotions in a healthy way.
I saw a display of adorable Inside Out plushes at Walmart last week and I knew they would make perfect puppets in our Emotions Puppet Show. They were on display right in front of the toy isles and are exclusive to Walmart so hurry and grab some while supplies last. My daughter was so cute after we picked out each character because she put them in the child seat in the shopping cart and buckled the seat belt around them to keep them all safe.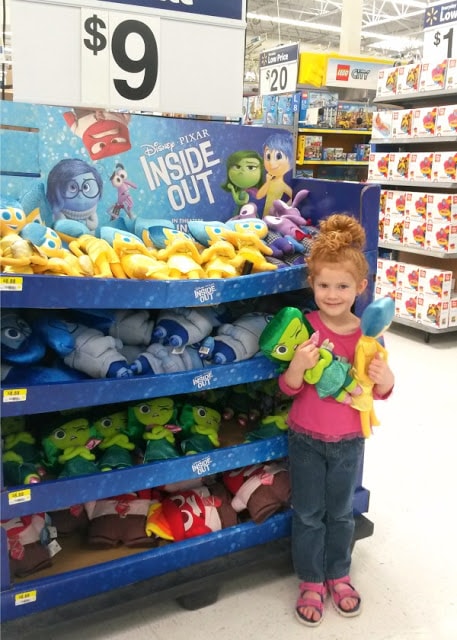 While at Walmart we also grabbed a tri-fold foam board and the cheapest red bed sheet we could find (under $5) to make our puppet theater. You aren't going to believe how easy it is to make!
HOW TO MAKE A DIY PUPPET THEATER
Supplies you will need:
tri-fold foam board
red sheet or piece of fabric
craft knife (for adult use only)
hot glue gun (for adult use only)
sewing scissors or rotary cutter (for adult use only)
yard stick
pencil
cutting board
Directions:
1. Start by cutting a large square out of the inside section of your tri-fold board. I used my yardstick and pencil to draw my square and then cut it out with a craft knife.
2. Cut a section out of your red sheet or fabric that is the same dimension as your square cut out. Then cut your fabric square in half to make two curtains. I used the finished end of my sheet as the bottom of my curtains.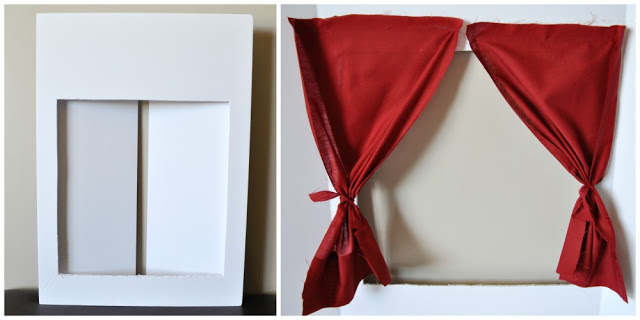 3. Use your hot glue gun to glue the top of the curtains on the inside of the tri-fold board square cut out. Also glue the sides down a few inches to help keep the curtains in place.
4. Cut out two thin strips from your extra red fabric and use them to tie the curtains back on your theater.
Now your theater is all ready for a puppet show!
HOW TO CREATE AN EMOTIONS PUPPET SHOW
Before putting on our puppet show, my daughter and I talked about each of the emotions and what different situations made her feel each of the emotions. I quickly typed out some of the different situations we talked about, then printed and cut them out. We folded and placed each scenario into a mason jar labeled "Jar of Emotions".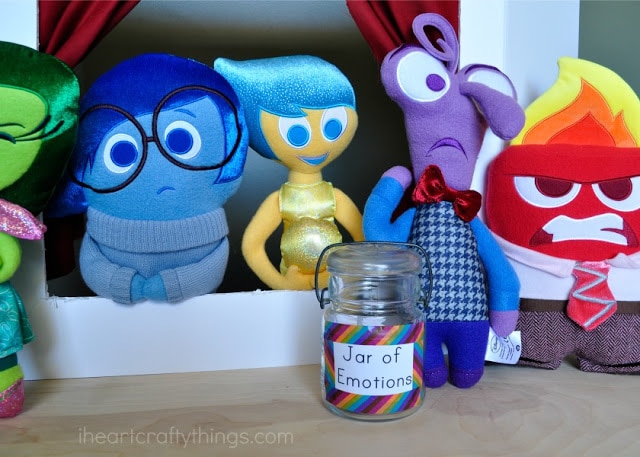 To start the puppet show, we set our puppet theater down on a flat table surface. My daughter choose a scenario out of the Jar of Emotions and then she picked the Inside Out plush character that matched the scenario and had a fun roll play with the character. It was a hoot! One of her first scenarios was "Mommy asked me to make a craft with her." She picked Joy to roll play the scenario with because crafts make her happy (Proud Mommy moment…We ♥ crafts!).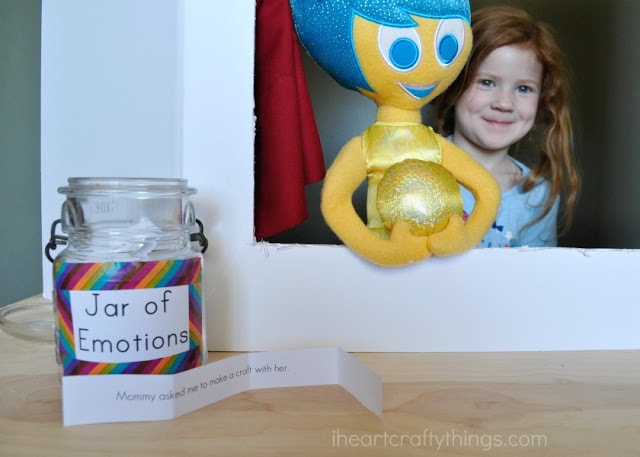 I captured some of my daughter's emotion faces while she was in act. I'm sure you can tell from the photos how much fun I had being in the audience watching her awesome puppet show. At one point she used two different characters to express how she felt about a scenario and I loved that she recognized that several emotions can happen at once.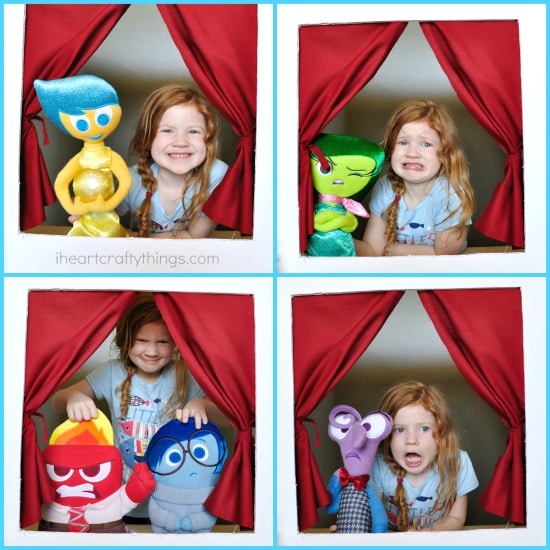 Our new puppet theater has already had some great use with the Walmart exclusive Inside Out plushes and we are excited to use it all summer long with all kinds of puppets. Besides being used a puppets, the Inside Out plushes also make great toys. My kids have all been taking turns sleeping with the different emotions at bedtime.
What activities have you tried to help your children sort through their big emotions?

Follow I Heart Crafty Things on Facebook, Pinterest and Instagram for more crafty fun!