An egg is quite an incredible natural wonder, as an egg can house all manner of creatures from tiny birds to baby alligators.
They come in all shapes and sizes, from tiny bird eggs to massive ostrich eggs. Eggs also feature in many artworks, making learning how to draw an egg an attractive prospect.
We have just the guide for you if you would like to know how it is done, so be sure to keep reading!
This step-by-step guide on how to draw an egg in just 7 steps will show you how you can create your own creative egg drawings.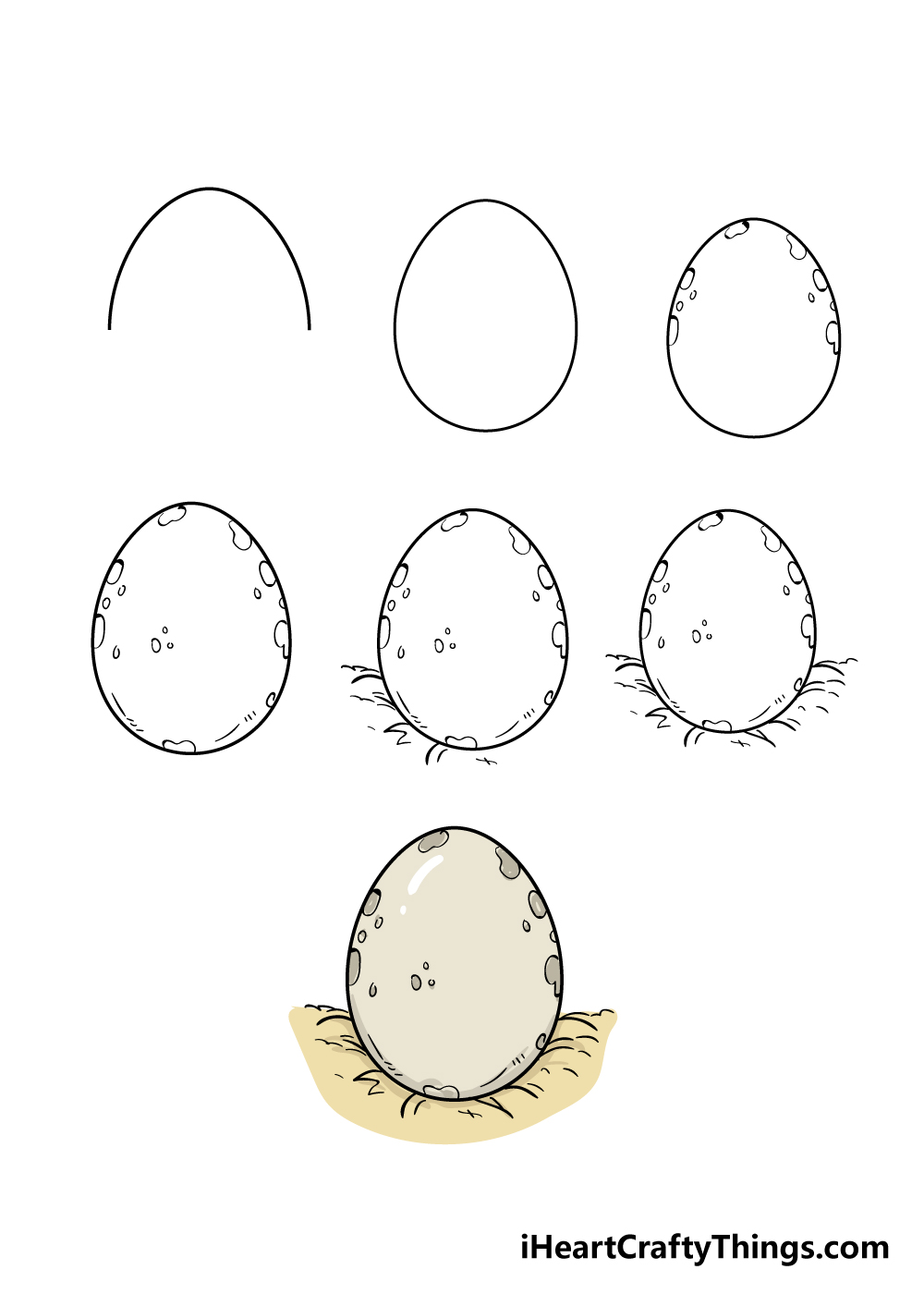 How to Draw An Egg – Let's get Started!
Step 1
Eggs have a very distinct and simple design, so we shall focus on creating this shape in the first few steps of this guide on how to draw an egg.
To begin this process, you can start with the top of the egg.
This will be drawn with a rounded top, and it will have a round tip at the top. We shall be drawing the second half in the next step, so let's move on to step 2!
Step 2 – Draw the bottom of the egg
You have the top half of your egg drawing done, so now we shall be drawing the bottom half. To do this, carefully extend the curved line before until you have a rounded bottom of the egg.
Unlike the top, this side won't have any kind of tip to it and will have a flatter round bottom.
Step 3 – Draw some pattern designs on the egg
This egg that we are designing in this guide on how to draw an egg will have quite an exotic design to it, and to show this we will start to draw some pattern designs on the egg.
These patterns will be quite small and rounded and will be made of various circular and oval shapes.
For now, these shapes will go along the upper perimeter of the egg. We will continue this pattern design in the next few steps!
Step 4 – Now, continue the pattern on the egg
In this part of your egg drawing, you will be adding some more of the spotty pattern that you began in the previous step.
These will go into the middle of the egg as well as near the bottom of it. You can also add some small lines throughout the egg for even more detail.
These are the pattern details we have added, but you could also create your own variation on the pattern if you would like to!
Step 5 – Start the base of the egg drawing in this step
For this fifth step of our guide on how to draw an egg, we shall be drawing a base for the egg. This egg is sitting in some sand, and it will be slightly submerged in this sandy base.
To draw this sandy base, you can use some small curved and jagged lines at the base of the egg. You could also add some straight and jagged lines for some grassy detail if you would like!
Step 6 – Finish off the base of the eggs and the final details
It's almost time for you to color in your amazing egg drawing, but before we do there are a few final details to add to the picture.
First, you can repeat what you did in the previous step to finish off the base of the egg. Once you've done those final details, you're ready for the final step!
Before you do, however, you can add some of your own details to really finish it off! You could draw a creative background to show what kind of environment this egg is in.
Maybe you could make it look like a dinosaur egg by drawing a volcano and prehistoric trees in the background.
You could also show what kind of creature laid this egg by creating and drawing a weird and wonderful creature beside the egg.
How will you finish off this drawing before you start to color it in?
Step 7 – Finish off your egg drawing with some color
Now that your egg drawing is complete, you can now have a fun time coloring it in!
The pattern design that we created for this egg makes it look like an exotic dinosaur egg or like it could belong to a fantastic fantasy creature!
This design means that you could pick any colors that you love to color it in.
The best thing about coloring a picture like this is that you have complete freedom with how you can color it in.
You could go for a bright and vibrant color scheme that has the colors leap from the page, or you could create a more muted and classic look.
If you would like to create a more vibrant look, then you could use some art mediums such as colored pens and acrylic paints to make the colors pop.
If you're thinking of a softer, more muted look then you could use mediums like watercolors and colored pencils for that kind of look.
Which colors and art mediums will you use to finish off your egg drawing?
Your Egg Drawing is Complete!
That brings you to the end of this guide on how to draw an egg! We hope that you had a lot of fun working through this guide as you learned how to create this cool egg.
Taking on a new drawing challenge is no yoke, so hopefully finishing this guide allowed you to crack a proud smile!
Now that you have completed this guide, it's up to you to put your own spin on the picture. You could do this by drawing a background, changing up the pattern or by showing what laid this egg.
We can't wait to see what you come up with!
This step-by-step guide on how to draw an egg is just one example out of many guides that we have on our website just like it.
Be sure to visit us there, and also check in often as we upload new guides for you to enjoy.
We would love to see your amazing egg drawing once it's done, so please do share it on our Facebook and Pinterest pages for us to see! We can't wait to see your incredible artwork!