Fashion is enjoyed by millions of people around the world.
From the latest styles in formal wear to fancy Summer looks, people can't get enough of the elegance, style and beauty that comes with fashion.
When it comes to fashion, dresses form a large part of it, and there are many different kinds and styles that they can come in.
If you have ever wanted to design your very own dress but not known where to begin, then this is the guide for you!
We created this step-by-step guide on how to draw a tutorial on how to draw a dress to let you unleash your inner fashion guru.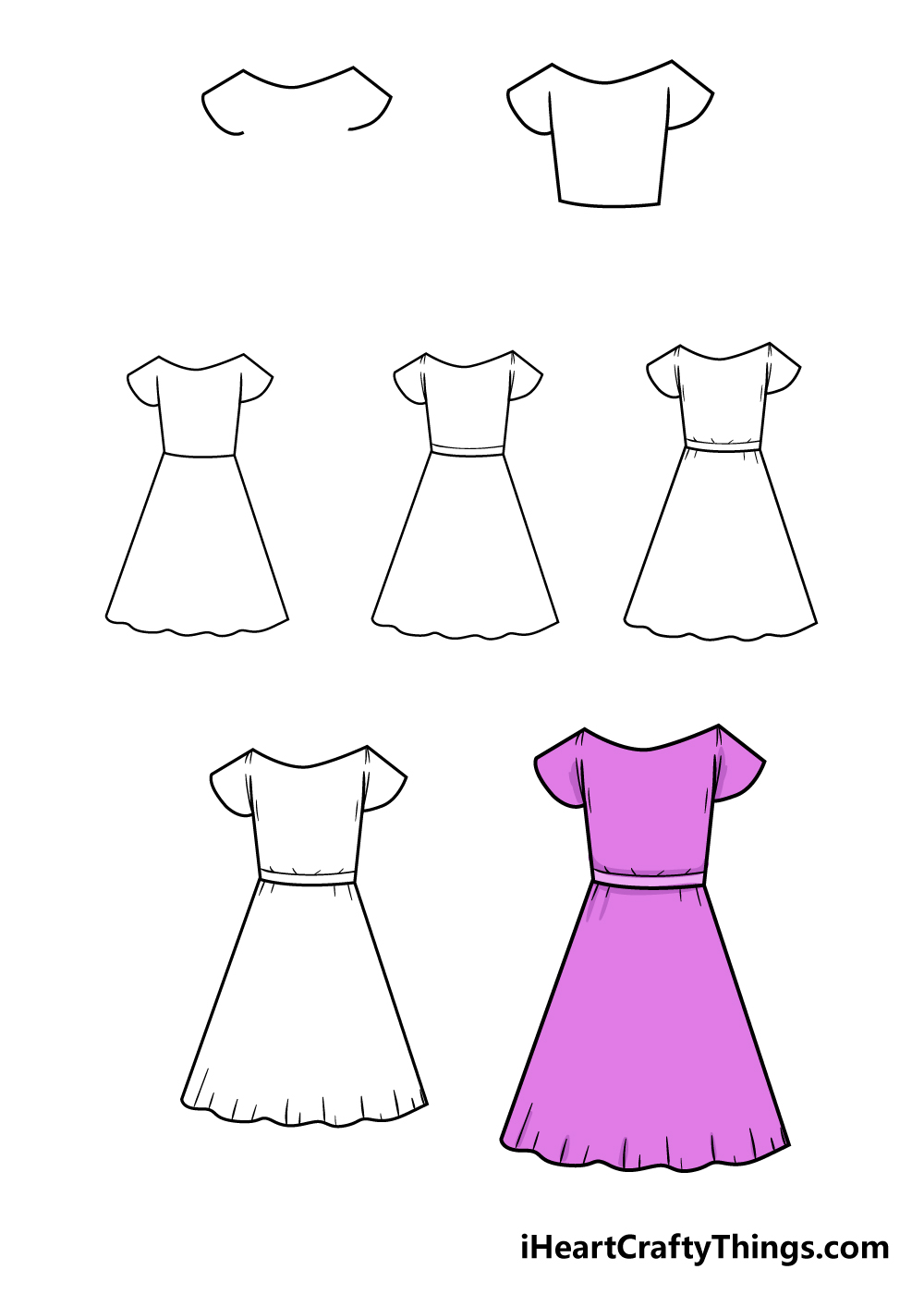 How to Draw A Dress – Let's get Started!
Step 1
In the first step of our guide on how to draw a dress, we will start with the neck and sleeves of your dress. This will be drawn by using a curved line for the neckline of the dress.
Then, you can draw some angled lines that come down in a curve at the end to make the sleeves.
Once you have these elements looking as they do in the reference image, you're ready for step 2!
Step 2 – Draw the chest of your dress
For this part of your dress drawing, we will be drawing a torso for it. To draw this part, draw two lines coming down from the inner side of the sleeves.
This will make a somewhat square shape with slightly sloped sides.
Step 3 – Now, draw the skirt of your dress
Your dress needs a flowy skirt portion, so let's draw one in for this step of our guide on how to draw a dress.
To draw this part, simply have two lines moving outwards from the bottom of the part that you drew in the previous step. Once you have those lines drawn, you can join them together with a slightly flowing line.
You can use a flowy, curved line as this will show that there is a flowy hem at the bottom of the skirt portion.
Step 4 – Start drawing some details for your dress in this step
We will start to add some details to your dress drawing in this step. To start with, add some thin lines to the start of the sleeves.
Then, carefully draw a line above the waist of the dress to create a belt-like strap portion.
Step 5 – Next, keep adding details to your dress
The last few steps of this guide on how to draw a dress will be all about adding in some final details and extra elements.
For now, you can simply add some details to the chest and the belt area to create some creases for your dress. Details such as this are subtle yet effective in creating a more dynamic look for your dress drawing.
Step 6 – Now, finish off the final details
In this step of our guide on how to draw a dress, you can add the final details to your dress before moving on to the color.
The final details that we have added for our example were some lines at the hem of the dress. Much like the lines that we used in the previous steps, these help to add the look of creases and movement to the fabric.
With those details, your dress drawing is almost ready for coloring! You could move on to the next step, but you could also keep adding details to further personalize your drawing.
You could really let your creativity flow in this step, and use some extra elements to create a stunning new style.
You could do this by drawing some accessories for your dress, or even by creating some patterns for it.
If you need some inspiration, you could look up some fashion pictures online and try to incorporate elements that inspire you into your dress drawing.
Step 7 – Finish off your dress drawing with some color
Now that you have finished your dress drawing, now you can have a lot of fun coloring it in! This is definitely a step where you should let your creativity and inspiration run free.
Fashion is all about expression through style and colors, so this gives you a lot of freedom to express yourself with the colors you use.
Will you use cooler blues and purples for a Winter look? Maybe you could use a bright and breezy floral pattern for a Summer feel or pair colors like white and red for an elegant eveningwear look.
If you've drawn any accessories or extra elements for your dress drawing, you can also color those in to match it.
There are also lots of great art mediums that you could use to color in your dress, from bright acrylic paints and colored pens to more subtle watercolors and colored pencils.
We can't wait to see how you finish off your beautiful dress drawing!
Your Dress Drawing is Complete!
You have reached the end of our step-by-step guide on how to draw a dress! You have managed to draw and design a beautiful dress, and you should be very proud of what you have created!
We really hope that you found this tutorial easy and fun to use. We aimed to show you that by breaking it down into steps you can make any drawing challenge much easier.
Now it's up to you to show us what you can do by personalizing your dress drawing! You can really get creative with this process, and there's no limit to the creative ways you can make this drawing your own.
Whether you change some elements of the dress, create some accessories or incorporate some beautiful patterns, we can't wait to see what you do!
You can also have lots of fun choosing some wonderful art tools and mediums to color in your dress, and you could create some wonderfully themed looks by just using your colors.
We have many more awesome step-by-step drawing guides like this one coming out often on our site, so please be sure to check in frequently to learn how you can draw many more amazing pictures!
Once you have completed your amazing dress drawing, please feel free to share it on our Facebook and Pinterest pages!
We will be looking forward to seeing what a creative fashion designer you can be!