Dragons are one of the most popular and widely represented creatures in myth and legend. They have appeared in stories and myths from around the world and are popular to this day.
Their striking eyes are one of their most well-known attributes, but drawing eyes is tricky even in the best of times. That is no different here, as it can be a challenge to learn how to draw a dragon eye.
Luckily, you're on a guide that will take out a lot of that challenge!
We hope that you enjoy this step-by-step guide on how to draw a dragon eye that we have for you!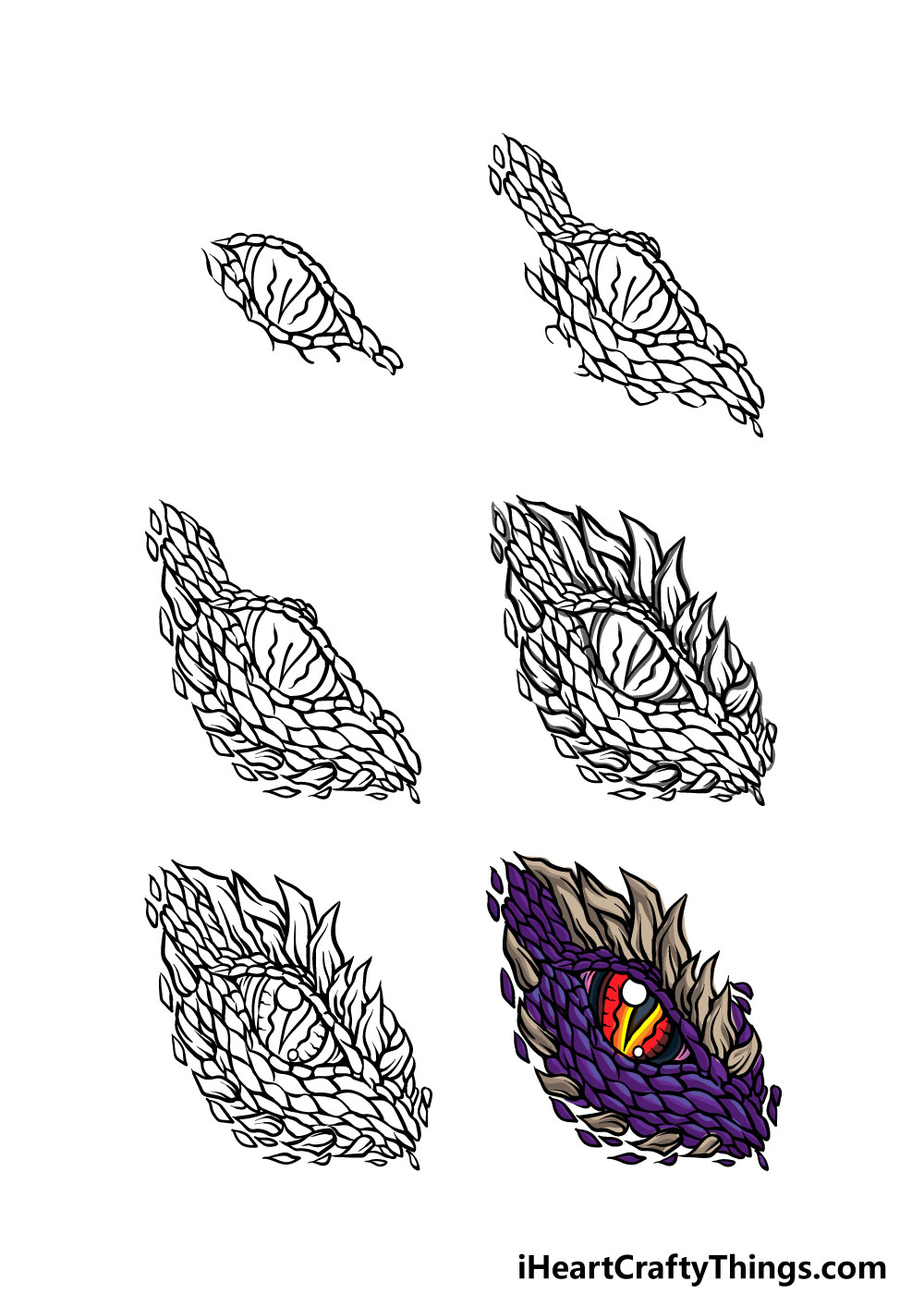 How to Draw A Dragon Eye – Let's Get Started!
Step 1
We will be preparing for the finer details of this drawing for the first step of our guide on how to draw a dragon eye.
To do this, you will want to use a pencil for now, as it will make it less stressful if you don't have to worry about making mistakes.
Following the reference image, draw the eye outline as it is shown. This can get tricky, so be sure to take it slow, and remember you can always erase any mistakes.
Then, once you have the eye drawn, you can start drawing spikes around it. The reference image will show you how to position these spikes, and will also show you how large or small they should be.
Then, once you have all of your pencil lines drawn, you can start using your pen to go over the lines for the eye.
Step 2 – Start drawing scales around the eye
In this part of your dragon eye drawing, you can start to add some scales around the eye. You could also do these with your pencil first if you're worried about getting it right!
To draw these, simply draw lots of squat, sharp oval shapes that intersect with one another around the eye. It looks a lot harder than it actually is if you take it slow and follow the guide image.
Step 3 – Now, keep adding pen lines to your drawing
You will be using your pen to go over even more of the pencil lines in this step of our guide on how to draw a dragon eye.
For this part in particular, we will be drawing over the spikes underneath the eye while adding some detail to them as well. You can also draw some more scales underneath this area.
Step 4 – Finish the large spikes over the eye
For this part of your dragon eye drawing, you will be using your pen to go over the larger spikes over the eye.
As with the previous ones, you can also add some details to each spike as you go. You can also add some more scales and other details around the eye if you would like!
Then, once this is all done you're ready for some final details in the next step.
Step 5 – Now, you can add some final details to your dragon eye drawing
Before you move on to coloring in your drawing, there are some final details to add in this guide on how to draw a dragon eye.
These final details for our guide will be focused mainly on the eye itself. We will be adding some line detail inside the eyeball to make it look even more reptilian and monstrous! You can then also add some more scales around these areas if you wish.
Once you've finished all of the details, you can then add any of your own that you may want for it!
If you're feeling ambitious, you could try to draw more of the dragon's head, or even draw its entire face! You could also add some more weathering details or battle damage to the scales and spikes.
Then, once you're happy with the drawing you can then erase the pencil lines from the drawing.
When you do this, be sure to ensure that all of the pen ink is completely dry before you start erasing. You wouldn't want to smudge ink all over your drawing!
Step 6 – Finish off your dragon eye drawing with some color
Now that your drawing is all done and inked, you can bring it to life with some amazing colors in this final step of our guide on how to draw a dragon eye!
We used some reds and yellows for the eye itself while using purple and grey for the scales and spikes. These are what we chose, but you're certainly not limited to these colors!
This is a step where you can really unleash your creativity and show us what you can do. It's also a drawing of a fantasy creature, so that means that you could use any colors you can imagine!
Once you know which colors you would like, you can use your favorite art tools and mediums to bring them to life.
Mediums like colored pens, markers or paints would be great for colors that leap off the page! Watercolors or colored pencils would be perfect for a more muted, classic look as well.
It's up to you, so be sure to let your creativity flow!
Here's how you can make your dragon eye drawing even better…
Take a look at some fun tips we have for making your dragon eye sketch even greater!
We used a lot of small details for this amazing dragon eye drawing we created in this guide. This level of detail works really well with the specific drawing style we wanted to go for.
That being said, you may have different styles that you prefer that you could use for the dragon eye.
You may want to remove some details for a more cartoony look, for instance.
What are some styles you could use for this artwork?
You don't have to completely change the style of the eye to make it look a bit different, however. You could also create a new look for this drawing of a dragon eye by changing just a few elements.
For example, the eye could be looking in a different direction to the one we showed in this guide.
That would already change the dynamic of the image a bit, but it's one example of small changes you can make.
If you feel up to it, you could also add more of the dragon to finish off this dragon eye sketch! Adding more of the face would be great if you want a more complete image.
If you need some help with designing the rest of the head and face, you can use pictures of dragons online. Looking at pictures of reptiles such as crocodiles and alligators can also be surprisingly helpful!
What sort of dragon would you like to create?
The final tip we have would be a great one to finish off with if you have tried some of our previous suggestions. This suggestion would be to add a background to your dragon eye drawing!
If you added more of the head and face of the dragon, then you could create a background of hoarded gold or maybe a battle against a brave knight.
These are just a few examples, but there are so many fun scenes you could create for this image!
Your Dragon Eye Drawing is Complete!
That brings you to the end of this guide on how to draw a dragon eye! We hope that you had a lot of fun creating this terrifying eye of a dragon alongside us.
There were a lot of small and intricate details to this drawing, but hopefully you found that it can be made much easier when you break it down into more manageable steps.
Now that you have completed this guide, you can keep it going by adding your own details and elements.
We mentioned drawing the rest of the dragon head or adding a background for some ideas, but what else can you think of to put your own spin on this picture?
We have many more awesome drawing guides for you to enjoy on our website, so we hope to see you there!
We upload new ones frequently, so you'll want to visit often so you never miss out on the new tutorials.
Once your dragon eye drawing is complete, we hope that you will share it on our Facebook and Pinterest pages for us to enjoy! We can't wait to see your awesome, creative artwork.