Eyes are notoriously difficult to draw, despite the fact that we are all very familiar with how they look.
You might assume that drawing cartoony eyes would be easier, but that's not always the case if you want to add some personality and expression to them.
Drawing cartoon eyes that also have a cute look to them can turn into a frustrating experience without guidance, so if you would like to conquer this drawing this challenge yourself then you'll definitely want to read on.
We have a fantastic step-by-step guide on how to draw cute eyes in just 10 easy steps to have you drawing your own cute eyes pictures in no time!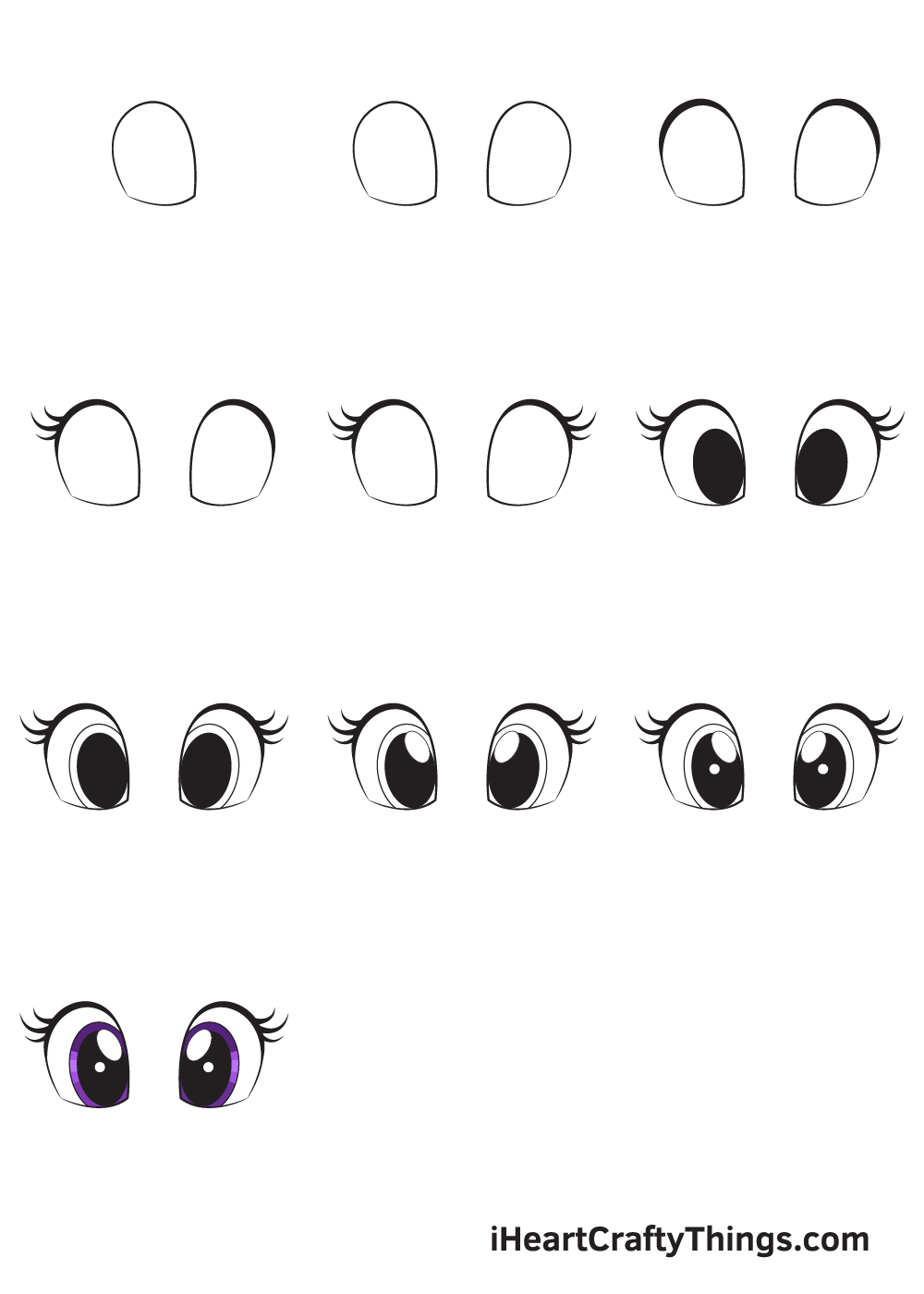 How to Draw Cute Eyes – Let's get Started!
Step 1
For this first step in our guide on how to draw cute eyes, we shall begin with the shape for the eye on the left.
You might think of round or oval when thinking of an eye, but for this style we will be doing something quite different.
This shape will look like a long oval, yet the base will have a flatter curve to it. There will also be a sharp point at the inner corner of the eye, as seen in the reference picture.
Step 2 – Next, draw the other eye outline
You've done one eye so far, and for this next step you can draw in an exact copy, except with the position reversed.
For this one, the sharp point will be on your left instead, as you can see in the image. With both eye outlines drawn, you can move on to the next step!
Step 3 – Now, thicken some of the lines of the eyes
This step of our guide on how to draw cute eyes will be simple yet effective. For this step, simply thicken the lines on the upper arch of the eyes, using the picture as your guide.
For this step, you should try your best to have the thickness be as close to the same for both eyes as possible.
Step 4 – Draw in some eyelashes next
Some eyelashes will help to give your cute eyes drawing some personality.
These will be made up of three thick, curved lines ending in points coming out from the upper left side of the eye on the left.
Step 5 – Now add in some eyelashes to the other eye
You've already drawn in three eyelashes, so now that you have the hang of it, for this step of guide on how to draw cute eyes, you can draw in more eyelashes on the other eye, which will be identical except mirrored.
Step 6 – Draw in the main part of the iris for this next step
In this sixth step, we shall start the irises of your cute eyes drawing.
These will have a solid black coloring as you can see in the reference picture, however I would recommend not filling them in for this step, as we will be adding some details to them later.
The irises themselves are simply two perfect ovals, and the image will give you an idea of the positioning.
You could also put them in different positions within the eye to have the eyes looking somewhere else!
Step 7 – Now, draw some iris outlines
Do this next part of our guide on how to draw cute eyes, we will simply be adding in an outline for the irises.
Drawing carefully around them, surround the outer edges of the irises with an outline like the ones you see in the picture.
Step 8 – Next, add in some light details to the eyes
You'll see why i recommended not coloring in the irises earlier for this next step, as we will add some glinting light details to your cute eyes drawing.
To do this, simply add in two white ovals as they appear in the reference picture. They will be mostly within the solid black of the irises, but they will extend slightly into the outline as well.
Step 9 – Add in the final iris details
It's almost time to get to the coloring of your cute eyes drawing! For these final details, simply add in two small, white circles underneath the white ovals you drew in the last step.
Once that's done, you can color in the solid black of the iris to have it looking like the image.
Now that you've brought your cute eyes drawing to life with some final details, it's time to finish them off with some colors!
We've shown just one way that you could color in your drawing, but you should let your creativity run wild for this step.
Will you use a realistic eye color such as blue, green or brown to color it in, or will you be more stylistic and use something like pink, red or yellow?
To color in the eye, I would use a medium such as colored pens or pencils to not only give you more control for the small details but also add some beautifully vibrant colors to your drawing.
Which colors and art tools will you use to complete your cute eyes drawing?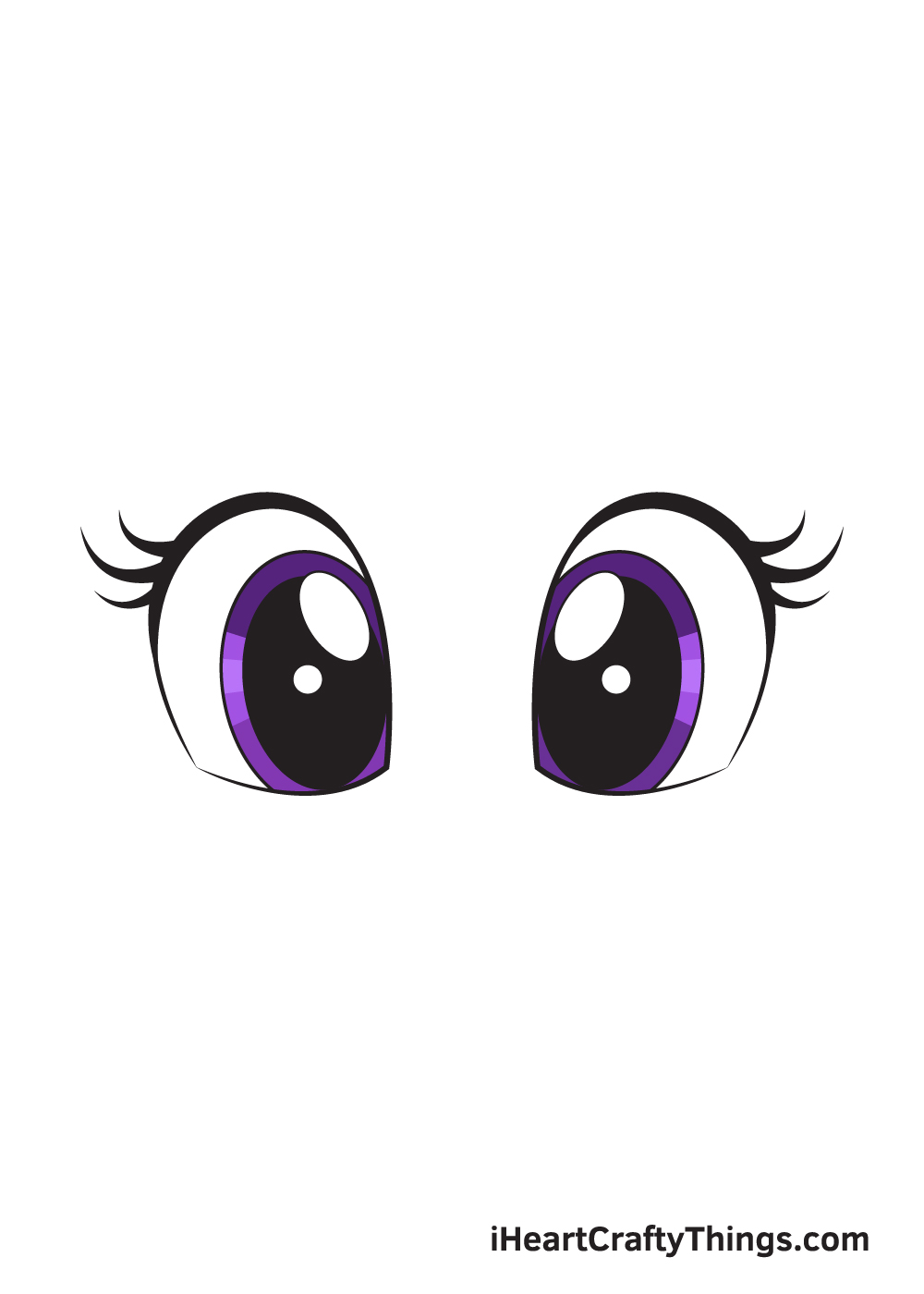 Your Cute Eyes Drawing is Complete!
You have reached the end of our tutorial on how to draw cute eyes in 10 steps! As we mentioned, drawing eyes can be quite a challenge at first, but we hope you were surprised by how easy it can be with a guide!
We aimed to make this guide fun and easy for you to use, and we hope you had a great time using it.
Now it's up to you to put your own spin on your drawing! If you're feeling extra creative, you could draw in the rest of the face that these eyes are a part of.
You also have so many options for different colors, drawing variations and art mediums, so we're sure to see some amazingly diverse takes on this drawing!
This fun step-by-step drawing guide is only the beginning, so we hope that you'll check in to our site often to make sure that you don't miss out on the many other guides we have coming out constantly.
We would also love to see your finished cute eyes drawing, so please do share it on our Facebook and Pinterest pages so we can enjoy your take on this drawing!