Summer time screams ice cream to me! I love those warm summer evenings that we hop in the air conditioned car and go out for an ice cream cone together as a family. My kids' favorite flavors are bubblegum and mint chocolate chip but I'm more of a Rocky Road type of gal. In honor of our favorite family summer outings, we got out some colorful cupcake liners this week and made this fun Cupcake Liner Ice Cream Cone Kids Craft. We included double scoops to make it extra fun!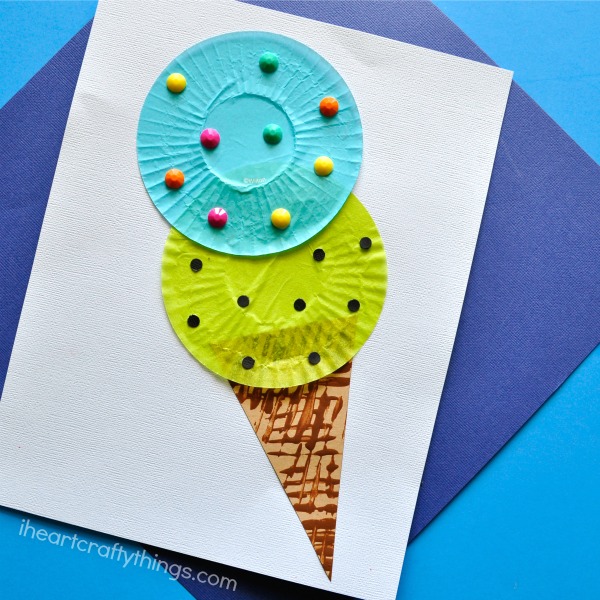 HOW TO MAKE A CUPCAKE LINER ICE CREAM CONE KIDS CRAFT
This post contains affiliate links to the products mentioned. Read our disclosure policy for more information.
Supplies you will need:
light blue or white cardstock paper (or color of your choice for the background)
small paper plate
embellishments of your choice, i.e. black paper hole punches, craft jewels, construction paper pieces (Some of the embellishments we used came from our Creatify All Wound Up kit, given to us from Horizon Group USA. You can find them at your local Target.)
Directions:
1. Start by cutting a triangle ice cream cone shape out of your light brown cardstock paper. Pour a small amount of brown paint onto your small paper plate and dip your fork into it lightly and then onto your cone. Make lines in both directions to resemble the pattern on an ice cream cone. Set it aside to dry completely.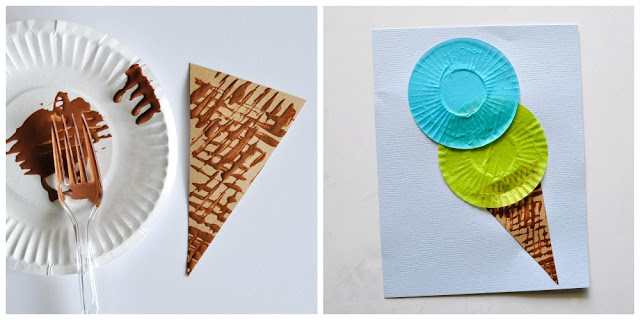 2. Glue your cone onto your light blue cardstock paper. Glue your cupcake liner ice cream scoops on top of your cone. Use one or two, how ever many you choose.
3. Glue any embellishments you want onto your ice cream scoops to make them fun flavors. In this example below, we used black hole punch circles to make mint chocolate chip ice cream and colorful neon gemstones to make bubblegum ice cream.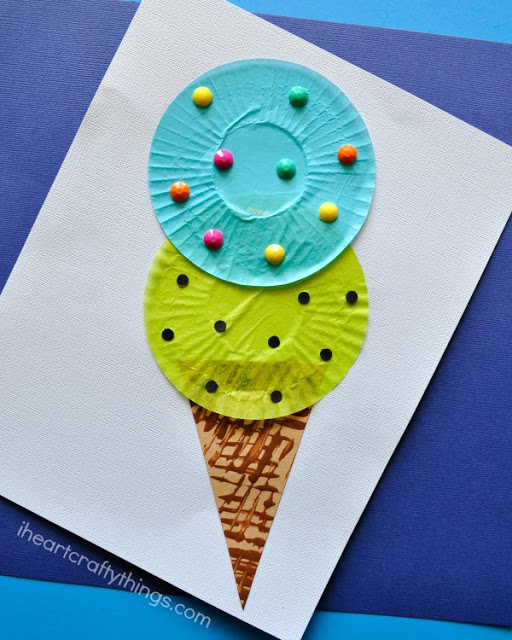 Our ice cream cones turned out so colorful and yummy looking that it put us in the mood for an evening ice cream cone trip. A perfect way to end the day!
Upgrade your art skills! Learn how to draw a snake!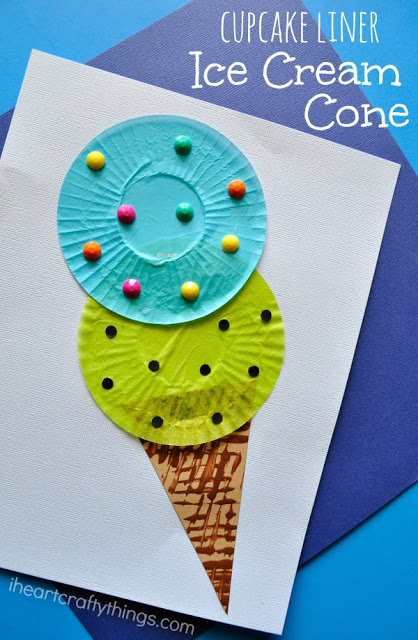 You might also enjoy these crafts: