I don't know what it is about fish crafts, but I'm obsessed. When I found out the Kids Craft Stars Challenge this month was all about using buttons in a kids craft, I jumped with excitement at the chance to create this simple button fish craft for kids.
The buttons add a perfect texture to the fish craft since they pop off the page and the little hole reinforcer bubbles are perfect for kids who love to play with stickers (because what kid doesn't like to play with stickers, right?!).
This fun and colorful fish craft is perfect as a summer kids craft and bonus, there are so many great books you use to go along with this craft (find a list of recommendations near the bottom of this post).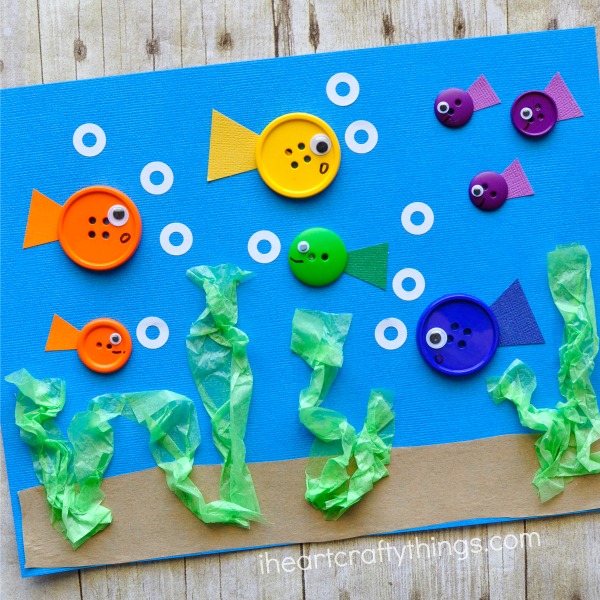 This post contains affiliate links to the products mentioned. Read our disclosure policy for more information.
How to Make a Button Fish Craft for Kids

Supplies Needed for this Fish Craft for Kids
– buttons (different sizes and colors)
– blue cardstock paper
– colored cardstock paper
– paper lunch sack (or light brown cardstock)
– green tissue paper
– white hole reinforcement labels
– small googly eyes
– black marker
– scissors
– glue
Directions for this Button Fish Craft
1. Start by cutting of a section of your brown paper lunch bag for ocean sand and glue it to the bottom of your blue cardstock paper.
2. Arrange your buttons on your blue cardstock paper where you want to add your fish. Now cut out triangle shaped tail fins for your fish and glue both the tail fin and buttons onto your paper to make all of your fish.
3. Crinkle up some green tissue paper pieces and glue them along the bottom of your paper to make plants.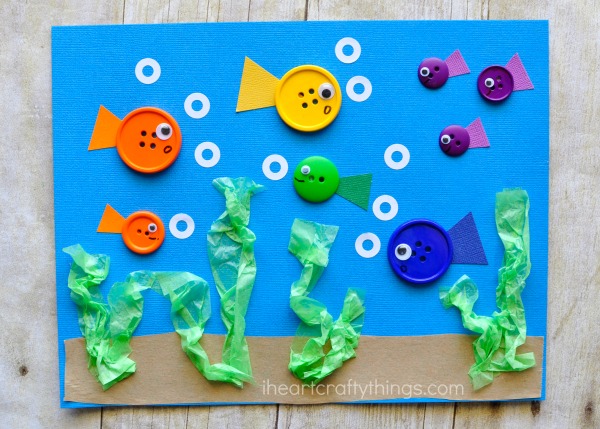 4. Glue your small googly eyes onto your fish and use your black marker to make a mouth on each of your fish.
5. Finish your fish craft by adding your paper hole reinforcers around your fish to make bubbles.
Looking for some fun books to go along with this craft? Try one of these:
– Hooray for Fish! by Lucy Cousins
– Commotion in the Ocean by Giles Andreae
– Fabulous Fishes by Susan Stockdale