This gorgeous black glue kite art project is a perfect compliment to a family afternoon of flying kites at the park on a windy day. It is also a fun art project to make this summer when you are indoors and want to avoid the afternoon heat. 
Can I tell you a secret? I am horrid at flying a kite. When my husband and I were newly married he thought it would be fun to venture out on a windy day for some kite flying. Romantic, right?! He of course had the kite flying up in the air on his first try and had a blast. Me…Well, lets just say after an hour of me trying we ended up leaving the park with my husband laughing hysterically about my kite flying skills [or lack thereof]. To this day I am still known for my inability to get a kite in the air. Sigh… This is one reason why I love the non-flying craft version of kites so much better.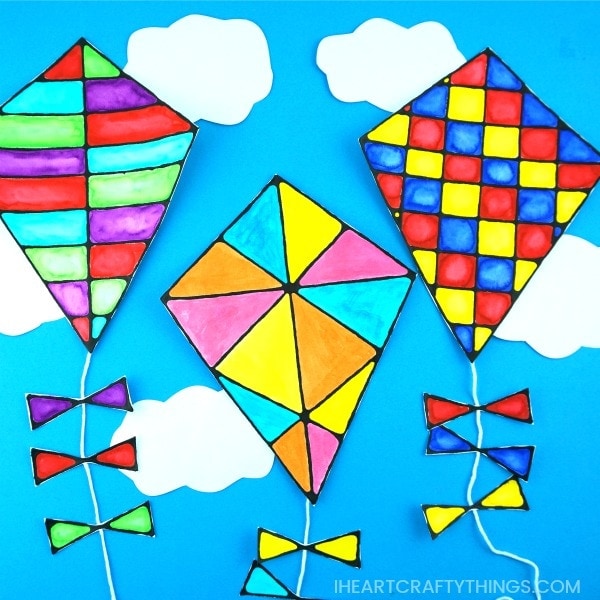 How to Make a Black Glue Kite Art Project
This post contains affiliate links to the products mentioned. I Heart Crafty Things is a participant in the Amazon Services LLC Associates Program, an affiliate advertising program designed to provide a means for sites to earn advertising fees by advertising and linking to amazon.com.
Supplies needed for your black glue art project:
*We received a complimentary set of Life of Colour Watercolour Brush Pens. Any opinions expressed are 100% my own.

NOTE: If you are in the EU, please visit our TpT Store to purchase any of our templates.
Instructions for making this kite artwork:
1. Start by mixing together your black glue. To do this, squeeze a generous amount of black acrylic paint into a bottle of Elmer's School Glue (We start with 1 Tbsp.). Use a wooden skewer or the end of a paintbrush to stir and mix the black paint into the school glue until it is thoroughly incorporated and the glue is black.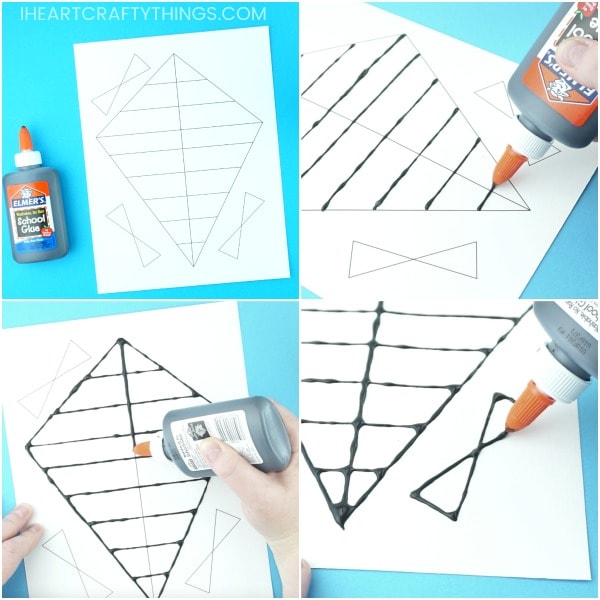 2. Purchase the kite templates at my TPT store. Print off one or several of the kite templates on mixed media paper. Note: If you prefer to not purchase a template, simply draw a kite onto your mixed media paper.
3. Before you begin tracing the kite with your black glue, test out the glue first on a napkin or separate piece of paper. Create some lines to experiment with the flow and spread of glue. Once you're happy with the way the glue flows, use a steady hand to trace the lines of your kite template with your black glue.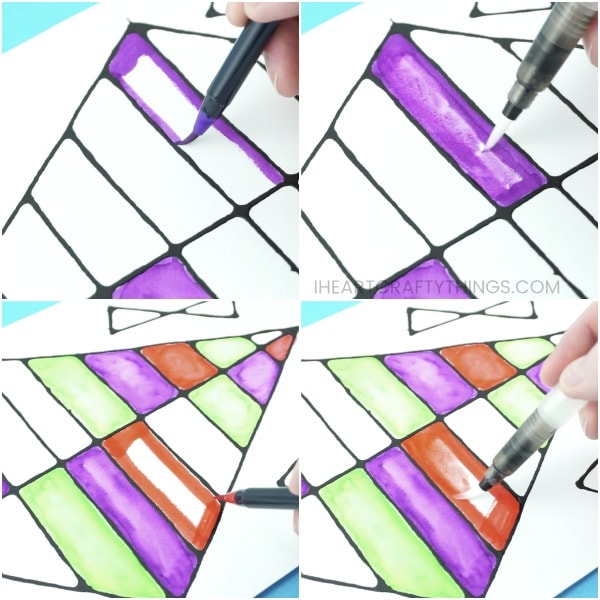 4. Leave the black glue to dry overnight. This step is a MUST because if you paint your picture prior to the black glue drying your watercolors will mix with the black paint leaving you with a mess.
5. Once the black glue is completely dry, paint your kite template with watercolors.
We were super excited to try out these new Life of Colour Watercolour Brush Pens on our kite art project. The set comes nicely packaged with 20 premium markers. It also includes a refillable water brush to help with blending the watercolors. When we first used the pens we found it best to dip the tip in water, shake the pen a bit and then let it sit upside down in a cup for about 15 minutes for the watercolors to flow more freely.
I was super impressed with the brightness of the colors and enjoyed having 20 different colors to choose from. The watercolor brush pens are non-toxic making them perfect for both children and adults. They would be great for taking on the go for children to use for creating watercolor art or using on coloring pages.
Want to try out the Life of Colour Watercolour Brush Pens? Find them on Amazon HERE and use code IHEART876 for 20% off your order.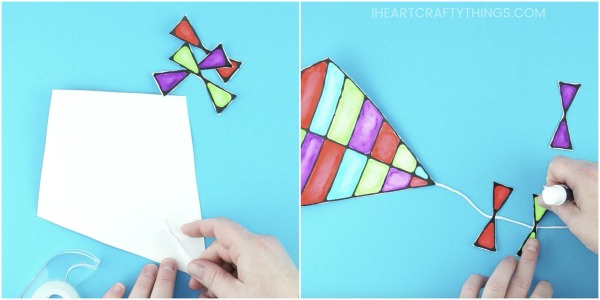 6. When your watercolors are dry, cut out your kite and the bows. Tape a string to the back of your kite so it hangs down below the kite. Then attach the bows along the kite string with glue.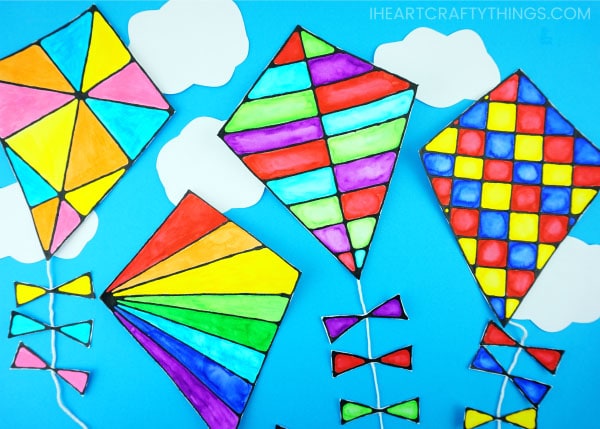 Your black glue kite art project is complete!
These colorful kites will look gorgeous up on display on a classroom bulletin board. Use blue butcher paper for a backing and cut clouds out of white paper so it looks like your kites are gliding in the air on a windy spring or summer day.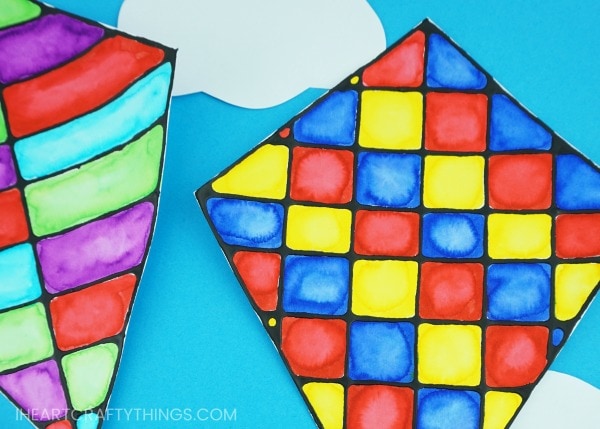 Looking for more fun summer art project ideas?
This gorgeous birds on a wire art project is perfect for a summer craft.
Want to try another colorful black glue art project? You will love these pretty mandalas.
Arrrr! These pirates are perfect for a summer arts and crafts project!