A big thank you to Elmer's Products, Inc. for sponsoring today's post. The craft tutorial and all opinions expressed are my own. We hope you feel inspired to create a bright a colorful sun craft with your kids after reading about our craft today.
Summer is in full swing and the last few days we have been blasted with a pretty gnarly heat
wave
. With temps over 100 degrees playing outside in the afternoon is not possible. Those hot summer afternoons are the perfect opportunity to get indoors, pull out the craft supplies and get crafting with your kids. And what better craft to make on a hot summer day than a
bright and colorful kids sun craft
?! We made ours with a paper bowl to give it a fun 3D look.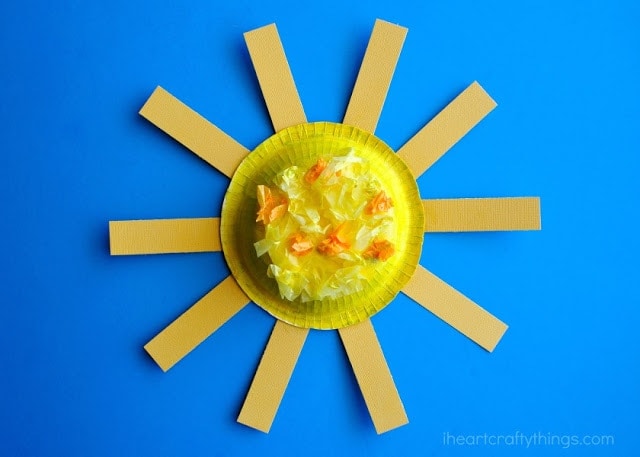 HOW TO MAKE A PAPER BOWL KIDS SUN CRAFT
Supplies you will need:
Elmer's Squeeze'n'Brush Wild Colors
Elmer's Squeeze'n'Brush Glitter Colors (optional)
Elmer's X-Treme School Glue Stick
small paper bowl (we used a 10 oz bowl)
yellow cardstock or construction paper
yellow and orange tissue paper squares
scissors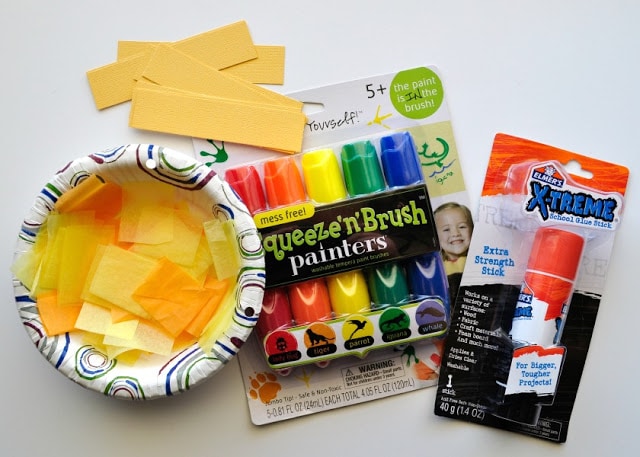 Directions:
1. Start by using your yellow and orange Squeeze'n'Brush Painters to paint the bottom of your paper bowl. These painters are so awesome because the paint and brush are all contained in one so it makes for less mess and less clean up. You don't even have to rinse off the brush tip when you are finished using them. Simply place the lid back on and you are good to go.
2. While the paint is still wet, crumple up pieces of your orange and yellow tissue paper and place it on the bottom of your bowl and some on the sides if you want. I love the extra texture it gives to the craft.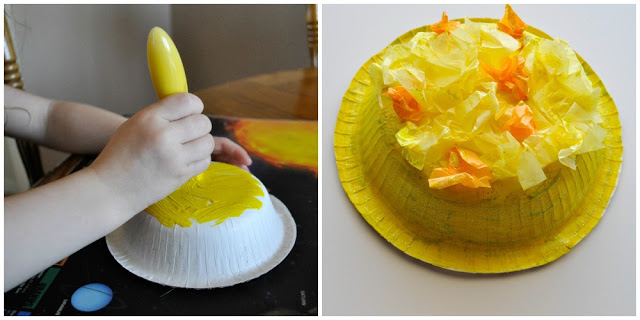 3. Once our paint was dry we decided to paint on some of the sunny glitter yellow from the Squeeze'n'Brush Glitter Colors Painters. This step is optional but we always love adding a little more sparkle when we can!
4. Once your paint is completely dry, cut strips from your yellow cardstock or construction paper and use your Elmer's X-Treme Glue Stick to glue them onto the rim of the bowl making sunshine rays.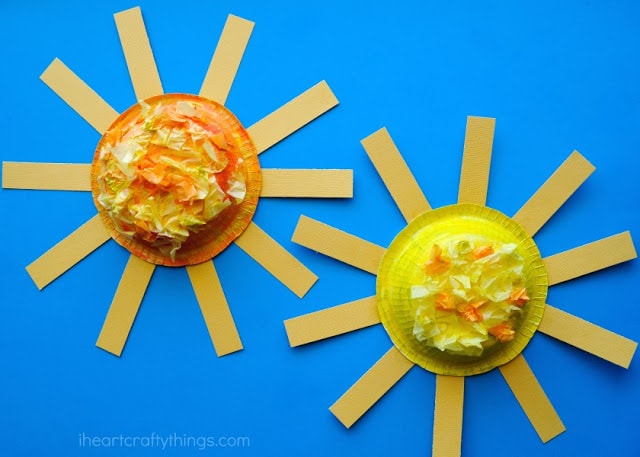 Here are mine and my daughter's suns. My daughter went with more orange on hers and I stuck with more of a yellow sun. I love how everyone can mix up their colors differently to create a unique looking sun. I also love how three dimensional the sun looks with the bowl shape.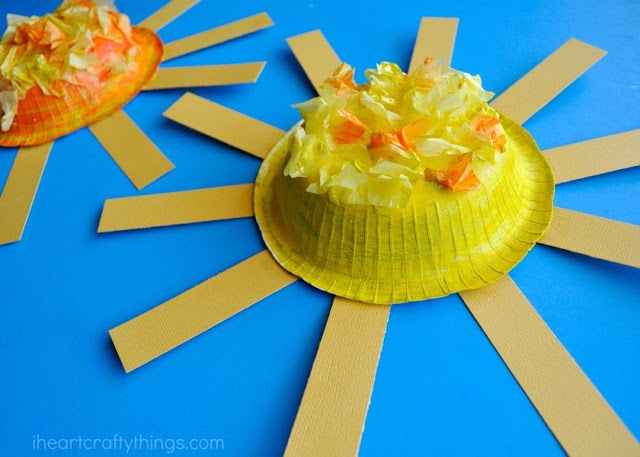 If you want to hang up your sun craft and put it on display somewhere in your home or classroom, punch a hole in the rim of the bowl and tie a piece of string to it for easy hanging.
What activities do you enjoy doing with your family indoors on those extra hot summer days?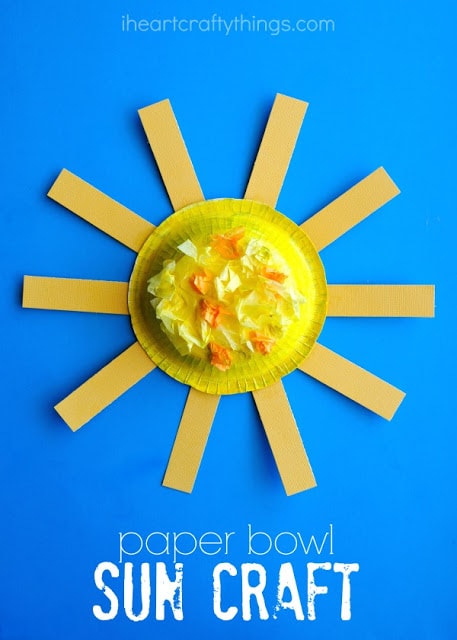 Visit the Elmer's website for more summer craft ideas and info about their products, or find them on Facebook.
You might also enjoy these summer crafts: