Coral is one of the most stunning beings that live in our oceans. They may look like plants, but these colorful structures are technically living animals!
They cover sea beds in a wide array of beautiful colors and structures, and in areas like the Great Barrier Reef they can form an attraction that draws thousands of tourists.
Despite how familiar many people are with these creatures, it can still be difficult to learn how to draw coral.
It doesn't have to be difficult if you have a guide like the one you're about to complete, however!
This step-by-step guide on how to draw coral will show you how to do it in a way that's fun and easy!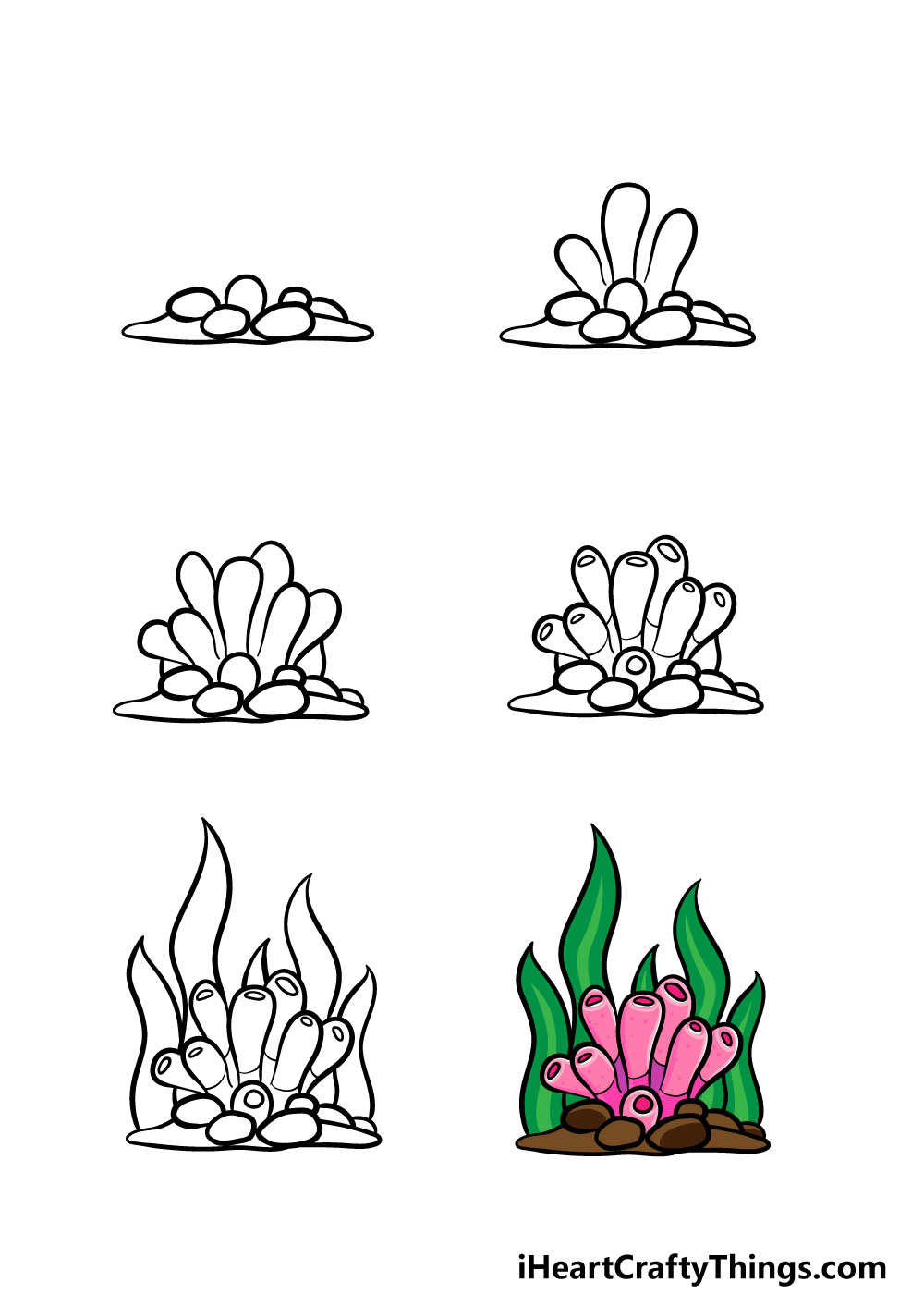 How to Draw Coral – Let's get Started!
Step 1
To get this guide on how to draw coral started, we will begin with the base of the coral. To do this, you can draw some simple oval shapes with some overlapping over one another.
Then use some curved lines coming out from the sides and underneath the ovals to form the base. That's all there is to it for this step, and you're ready for step 2!
Step 2 – Draw some coral extending upward
This second part of your coral drawing will see you drawing some long, thin and rounded tentacles of coral extending upward.
To do this, simply draw three thick curved lines above the base that you drew in step 1. It may look basic now, but we will be adding some more tentacles
Step 3 – Now, you can add some more tentacles of coral
We will continue adding to the clump of coral in this step of our guide on how to draw coral. To do this, you can simply add some more curved lines behind the previous tentacles of coral that you drew in the first step.
This will help to create some great depth for this clump of coral. That's all there is to it for this step and you're ready to move on!
Step 4 – Add some details to the tentacles of the coral
Now that you have all of the tentacles of your coral clump drawn, you can now start to add some details to them in this part of our guide on how to draw coral.
To do this, simply draw some small, flat ovals into the inner tips of the coral tentacles. Then, you can use some lines near the base of these tentacles of coral.
Once you have these drawn, it's on to some final details before you start to color in your coral drawing!
Step 5 – Now, you can add some seaweed and final details
To finish off this drawing before the final step, you have just a few more details to add in this fifth step of our guide on how to draw coral.
The main detail that you will be adding will be some seaweed for the background of the coral clump. To do this, you can draw some curved lines with sharp tips at the end. With that, you will have some great coral for your image!
Before you move on to the coloring step of this image, be sure to add any more final details or elements that you may want for your picture.
You could extend the coral to create a proper coral reef or even create your own variations of coral to go with it!
Another thing you could do would be to add a background for your coral drawing. You could show what kinds of incredible sea life is swimming all around this clump of coral!
You could draw some fish, dolphins, sharks or even an octopus for some ideas!
What creative touches can you think of to really put your own spin on this coral drawing of yours?
Bonus: Use These Tips To Make Your Coral Drawing Easier
The purpose of this guide on how to draw coral was to make it as easy as possible, but we know that it could still be a bit tricky for some. Even though the drawing is fairly simple, there are still some significant challenges.
If you got to this point in the guide and need a bit more assistance, we have you covered! One way you can make this a bit easier is to look up pictures of real coral.
This is a great representation of coral, but you may want to see realistic pictures to better see the details and forms that it can take. These might help you to better get a grasp of how the details should look.
You may also see different kinds of coral, as there are many variants in real life. If you find some pictures of coral that are simpler in appearance, then you could use them for the drawing instead.
Going back to the guide, you can also consider the tools you used to work through it. If you went straight for a drawing pen, you may feel more pressure as you need to get it right on the first try.
Instead, why not use some drawing pencils instead, as that way you can erase any mistakes or parts you're not happy with. Slowly work through the guide with your pencil and start with quick, rough sketches.
You can always build up the details as you go, eventually landing up with the more detailed portrayal in our reference image. If you use these tips, you should be able to complete the guide more easily.
We also have some more tips after the next step that would allow you to take it even further.
Step 6 – Finish off your coral drawing with some color
You have reached the final step of your coral drawing, and this is where you get to have fun coloring in your amazing drawing!
As we mentioned in the introduction, coral can be some of the most colorful and diverse creatures you can find in the ocean. For that reason, you have plenty of options for how you can color this drawing in!
Coral can be any color you can imagine, so you can use any of your favorite colors and patterns to finish off your amazing drawing.
If you drew a background or some extra details then you can also color these in for even more color variation.
Once you have all of your colors chosen, you can also have some fun choosing which art mediums and tools you will use to really bring these colors to life.
Acrylic paint, colored pens and markers would be perfect for a bright and vibrant coral reef.
On the other hand, some watercolor paints, colored pencils or crayons would be great for a softer, more classic look. Which creative colors and mediums will you use to bring your coral drawing to life?
Here's how you can make your coral drawing even better…
Head under the sea for drawing fun as we make your coral sketch even more amazing!
When it comes to coral, the different forms and appearances it can take seem almost endless. The example we created in this coral drawing is only one example, but there are so many different forms you could create!
Once you have the hang of this design, you could create a few varieties. They could go next to the existing one or maybe even replace it if you prefer.
You could look up some photos of real coral if you need some inspiration!
At a coral reef, there will usually be all kinds of sea creatures swimming around. It could be fun to add some of these to this drawing of coral!
You could add anything from fish, crabs and more coral to sharks, an octopus or maybe even a whale. Our oceans are rich with life and wild diversity, so you could show any of your favorite aquatic animals.
What lifeforms would you like to add to this drawing?
Once you have settled on the coral design and have added all your favorite creatures, you could also complete more of the background. This is a great way to take your coral sketch to the next level!
Just as there is a great variety to the animals of the sea, there is also a great variety of different underwater environments. You could draw sandy floors, add seaweed or maybe even draw a sunken ship.
There are so many ways to make the background more interesting!
Coral is famous for the many beautiful colors it can come in, and you could use any colors you love for your coral drawing. Nothing would look out of place, so you should really let your creativity run wild here.
It could also be fun to use various different art tools and mediums. Using some glitter would add some sparkly life to the coral, for instance.
Which colors and art mediums would complete this beautiful artwork?
Your Coral Drawing is Complete!
That brings you to the end of this step-by-step guide on how to draw coral! This guide was created to show you not only how easy it can be to draw this marvelous creature but also how much fun you can have along the way as well!
We really hope that this guide achieved both of these goals for you and that you had a great time working alongside us to complete this drawing.
The undersea fun doesn't have to end here, though! You may have finished all of our suggestions for this picture, but you can still add some elements of your own to really bring this drawing to life.
You could use some of our suggestions such as extending the drawing into a full-blown coral reef, but you could also draw some background sea creatures to bring the scene to life.
Once you have completed this guide and are ready for more, we have more drawing guides to suit every interest and skill level on our website.
Be sure to visit us there for your next tutorial, and be sure to visit often as we upload new ones for you to enjoy all the time!
We would love to see your beautiful coral drawing when it's done, so please be sure to share it on our Facebook and Pinterest pages!