This smiling emoji wearing sunglasses is arguably the most frequently used emoji. This emoji can signify different meanings, depending on what message they accompany.
Generally, this emoji is most commonly associated with feeling cool or awesome. The popularity of this specific emoji has created a huge demand for a tutorial. Now, you've asked for it, so we delivered.
Fortunately, we have curated a step-by-step tutorial on how to draw cool things summarized in 9 easy and simple steps. With this comprehensive guide, drawing cool things is made easier.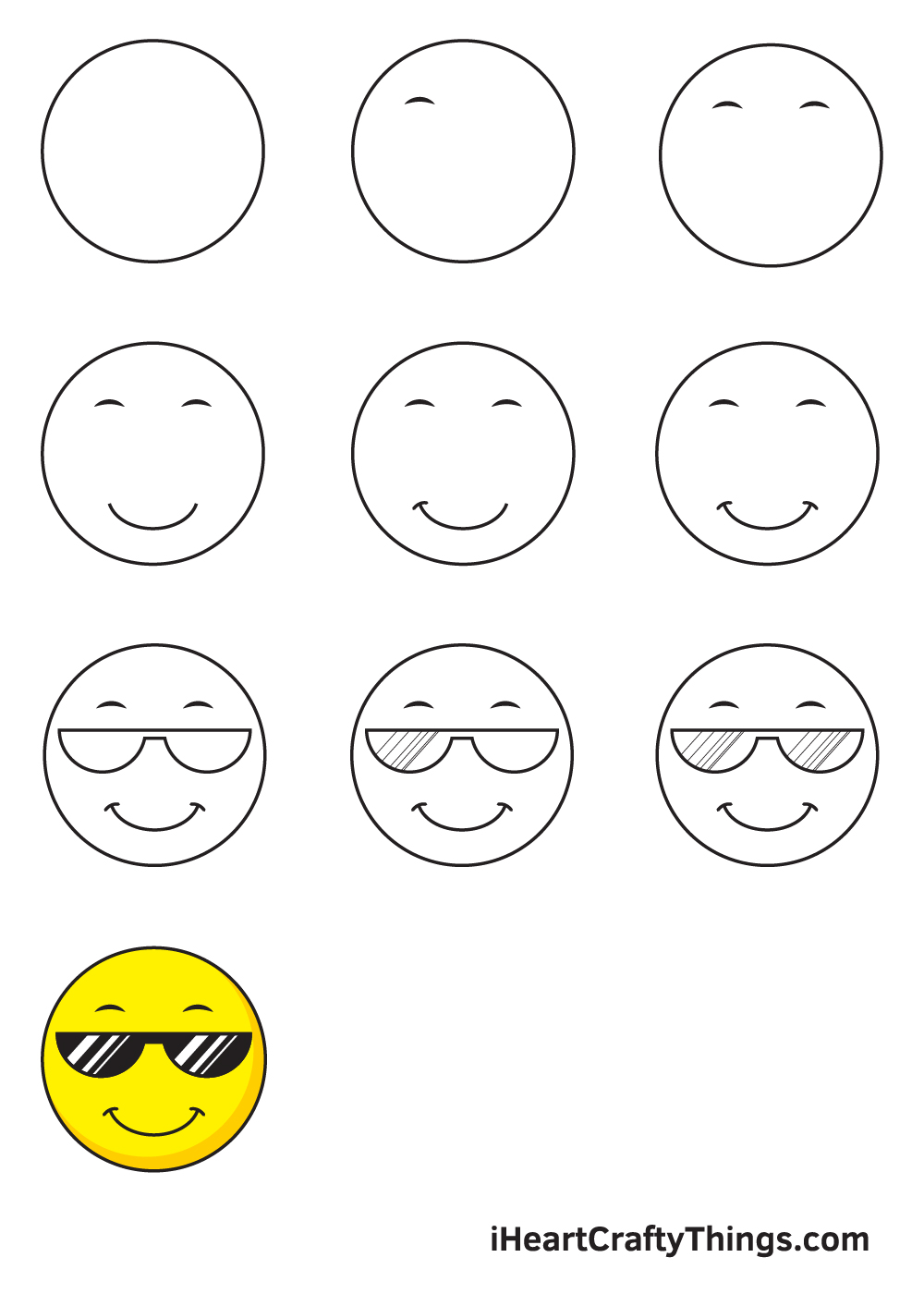 Each step is accompanied with comprehensible illustrations that serve as your visual guide as you follow the instructions. All you need is a pen and paper and you're all set to draw!
Whether you are a novice or an expert in drawing, we're sure you can follow these steps effortlessly. What's more, you can add your own style and improvise in every step.
Feel free to mix and match colors to customize your artwork and make it unique. Let your imagination wander and unleash your creativity. Have fun and use your artistic skills!
How to Draw Cool Things — Let's get started!
Step 1
Draw a perfect circle in the very middle of your paper. If you can't freehand a perfect circle, don't worry!
There's a tool that you can use to aid you in drawing a flawless circle, which is called a "compass". Feel free to use it if you need to!
To ensure that the outline will be positioned in the middle correctly, draw a horizontal and a vertical line across the paper to create reference lines. The spot where the two lines meet is where you should draw the outline.
Step 2 — Draw the Left Eyebrow
Inside the circle, draw an arched eyebrow on the upper left portion of the face.
Step 3 — Afterwards, Draw the Right the Eyebrows
On the opposite side of the face, draw another curved line to complete the eyebrows.
Make sure that the eyebrows look identical and even. In order to ensure whether their alignment is within the same level, make use of reference lines as guidelines.
Step 4 — Now, Draw a Wide Smile
Draw an upward curved line at the middle bottom of the face to put a huge grin on the emoji's face. The smile should be positioned just above the chin.
Step 5 — Draw the Left Dimple
Draw a short curved line on the left end point of the line forming the smile. This creates the illusion of a "dimple"
Step 6 — Then, Draw the Right Dimple
Repeat the previous step on the opposite end point of the mouth.
Step 7 — Put Sunglasses on its Face
Right underneath the eyebrows, draw sunglasses with half round frames, as shown in the illustration. The eyebrows and the sunglasses should be slightly apart.
Don't hesitate to personalize the sunglasses and draw any style of sunglasses you like. Sunglasses exist in a wide range of shapes and styles, including round, square, rectangle, and more!
Step 8 — Add Patterns on the Left Lens
Draw multiple diagonal lines within the left lens of the sunglasses. The spaces between the lines varies to create the illusion of reflection.
Step 9 — Next, Add Patterns on the Right Lens
Repeat the previous step on the other lens of the sunglasses.
Finally, here is the most exciting part—filling in the colors for your awesome drawing! This is the part where you can show off your artistic skills and your ability to mix and match various colors.
This emoji is originally yellow in color and its sunglasses are pitch-black. However, feel free to color your cool things drawing however you like and use any colors you prefer! And while you're at it, why not try experimenting with different coloring materials as well?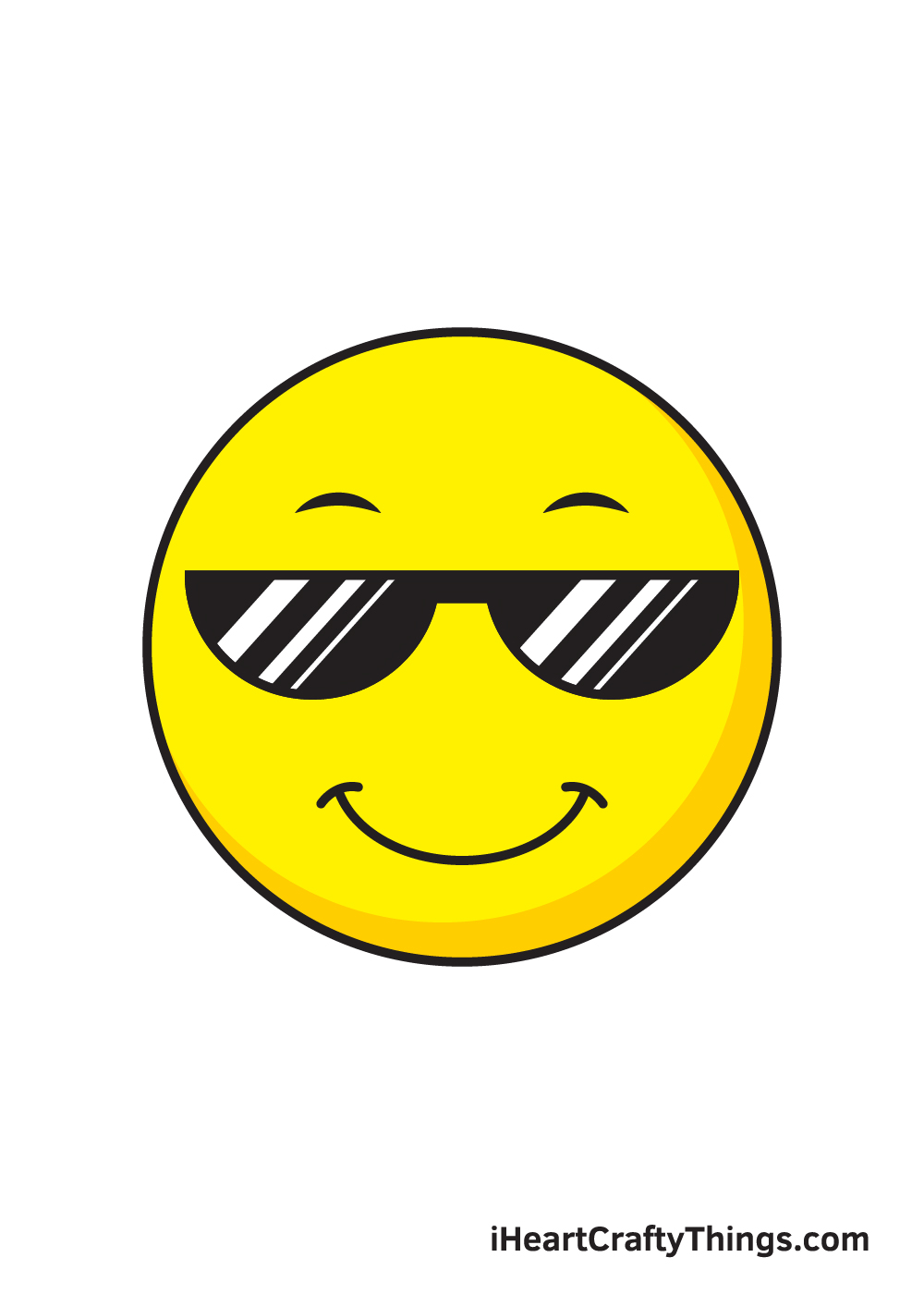 Your Cool Things Drawing is Complete!
We hope you enjoy this step-by-step tutorial on how to draw cool things. With this guide, you can surely draw and color cool things along with its complex features and elaborate details in no time.
And the most fun part is, you can customize its physical attributes and play with various colors as much as you like!
We are always updating our "How to Draw" catalog, so make sure to keep checking back on our website to take advantage of newly uploaded tutorials.
All you need is a pen and paper and you're all set to start drawing! We are excited to see what you will draw next. We're sure it will be just as amazing as this one!
Once you've finished your masterpiece, we're certain you must be feeling very proud of yourself—as you should be! Completing this cool things drawing is definitely fulfilling.
Make sure to show off your work of art and share it on our Facebook page and on Pinterest. We're sure it looks amazing! We can't wait to see your colorful cool things drawing!