We all wear clothing every day, and there are many different kinds and variations of clothing out there.
Seeing as we all wear many different kinds of clothes in our lives, one may assume that it would be easy to draw, however because clothes are made of fabric that can make them finicky to draw. It can be especially frustrating to learn how to draw clothing folds for this reason.
It can be frustrating without the right guide, at least, but luckily you have the right one in front of you!
This step-by-step guide on how to draw clothing folds will show you how easy and fun it can be to draw.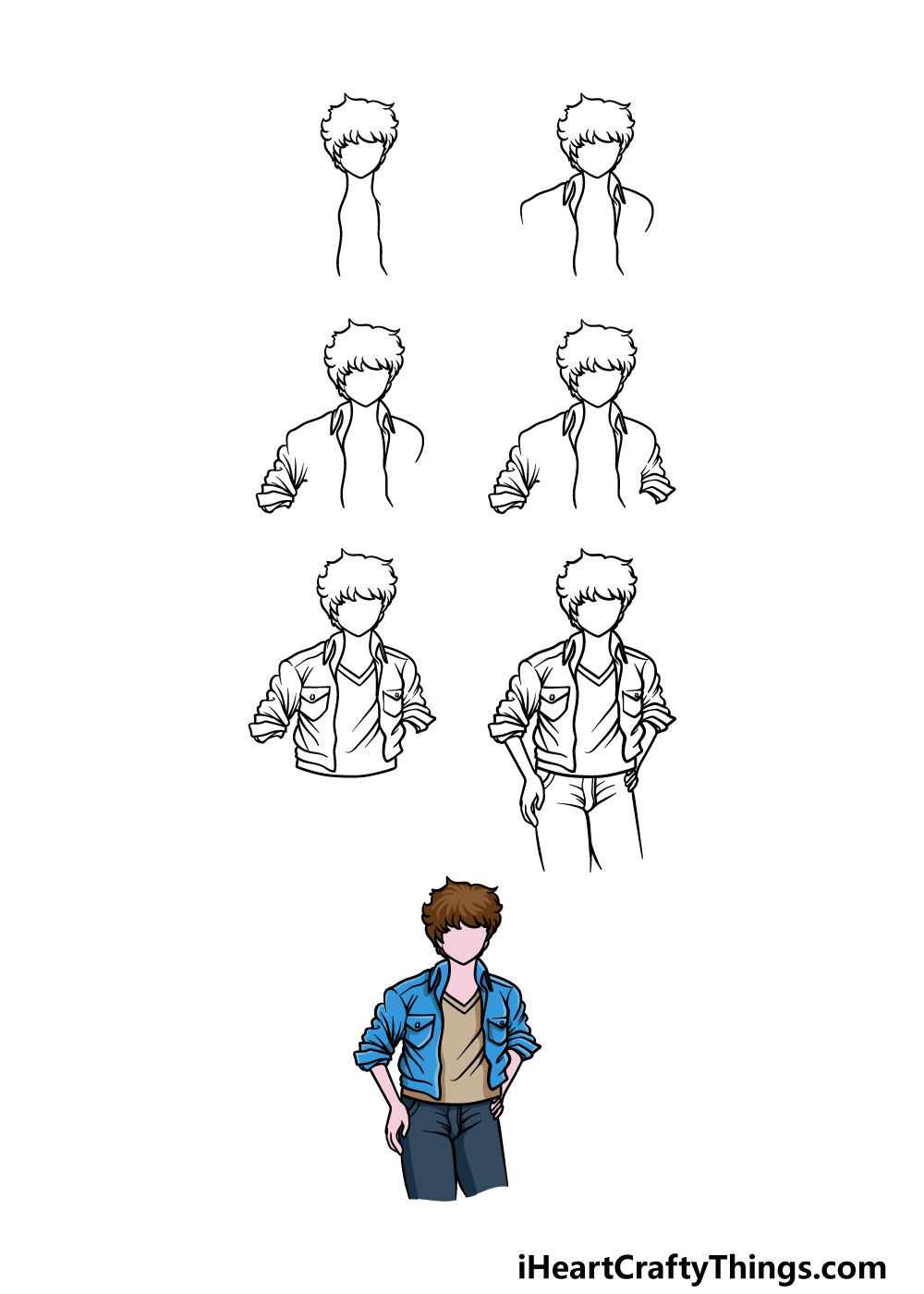 How to Draw Clothing Folds – Let's Get Started!
Step 1
In this first step of our guide on how to draw clothing folds, we will start with the head of the person wearing the clothes. This is an element that you could also change up a bit if you wish!
You could draw your own face design or even change the details to make it look like it's you who is wearing these clothes. If you follow our design, you can use some sharp lines for the hair and smoother round ones for the face.
Then, you can extend some smooth, wavy lines down from the face for the opening of the jacket this person will be wearing.
Step 2 – Draw the shoulders and collar next
For this second step of your clothing folds drawing, we will be starting on the collar and shoulders of the outfit.
First, you can extend some more curved smooth lines down from the face for the collar of the shirt that is being worn beneath the jacket. Then you can use some more rounded lines extending down from the collar for the shoulders.
Once you have it looking as it does in our reference image you'll be ready for step 3!
Step 3 – Next, you can start drawing the folds
It's time to start drawing the titular folds in this step of our guide on how to draw clothing folds. For now, we will be focusing on the arm of the jacket that this character is wearing.
The fact that clothes are made of fabric is what can make it so challenging to draw, as the less solid something is the trickier it can be to draw.
For this arm, we will be using lots of straight and curved lines bunched close to one another to create the fabric of the sleeve.
Be sure to follow the reference image that we provided closely as you draw this element, as it can be a bit tricky!
Step 4 – Draw the next sleeve of the jacket
You've drawn one bunched-up sleeve of your clothing folds drawing so far, so seeing you've done it once it should be a bit easier to do a second time!
This sleeve will go on the right-hand side this time, but it will be quite similar to the other one that you drew. Once you have this sleeve done, you're ready to move on!
Step 5 – Now, you can add the chest and waist
We will be adding a lot of details in this step of our guide on how to draw clothing folds! For that reason, this is definitely a step you may want to take slowly as you draw.
Using some more curved and straight lines, we will be adding the chest and waist of the person wearing these clothes.
We will also be drawing some pockets onto the jacket in this step. There will also be some lines drawn on the shirt underneath the jacket to show even more folds in the fabric.
Then, we will focus on some final details in the next step before bringing some color to this picture!
Step 6 – Next, you can add some final details for the drawing
Before we move on to adding some color to your clothing folds drawing, we have a few final details and elements to add in this sixth step.
First, you can draw some arms extending out of the sleeves and at the hips of the person. Then, you can finish off by drawing the jeans they are wearing.
That will complete this outfit, but before you move on you should be sure to add any details of your own that you may want!
These could include drawing a background, changing up the details or adding some accessories for the person to be posed with. What else can you think of to finish off this amazing drawing?
Step 7 – Finish off your clothing folds drawing with some color
You've worked very hard on this guide on how to draw clothing folds, and now you can relax with some fun coloring!
We showed you some colors you could go for in the reference image that we provided, and you could replicate these colors if you like them. You could also use any colors you love for this image as well!
Fashion is all about expression, so this is a great way to express your own style using your colors and art tools.
You could also incorporate some crafts and art supplies to give this image even more depth!
How do you think you will finish off this picture with your coloring creativity?
Your Clothing Folds Drawing is Complete!
You've drawn all the details and added your colors, and that means that you have completed this guide on how to draw clothing folds!
As we mentioned, drawing clothing can be a bit tricky, so we hope that this guide made it easy and fun for you to do.
You can also keep this drawing by using your own details, elements and creative color choices to really personalize it. Be sure to have fun with it and see what happens!
When you have finished this guide, there are many more amazing drawing guides for you to enjoy on our website.
Be sure to visit us there for your next drawing challenge, and we hope to see you often so that you never miss out!
We know that you will have done an incredible job on this picture, so please be sure to show us by sharing it on our Facebook and Pinterest pages once it's done!