The church is an important place for many people around the world. Churches are known as a place of peace, sanctuary and worship, and they are an important cornerstone of many religions.
Churches can come in many different shapes and sizes, but all are equally important and special! With this huge range of different architectural designs, it can also be lots of fun to learn how to draw a church.
If you would like to learn how to do just that, then you're in the right place!
This step-by-step guide on how to draw a church will show you how to easily learn how to draw one of these peaceful places.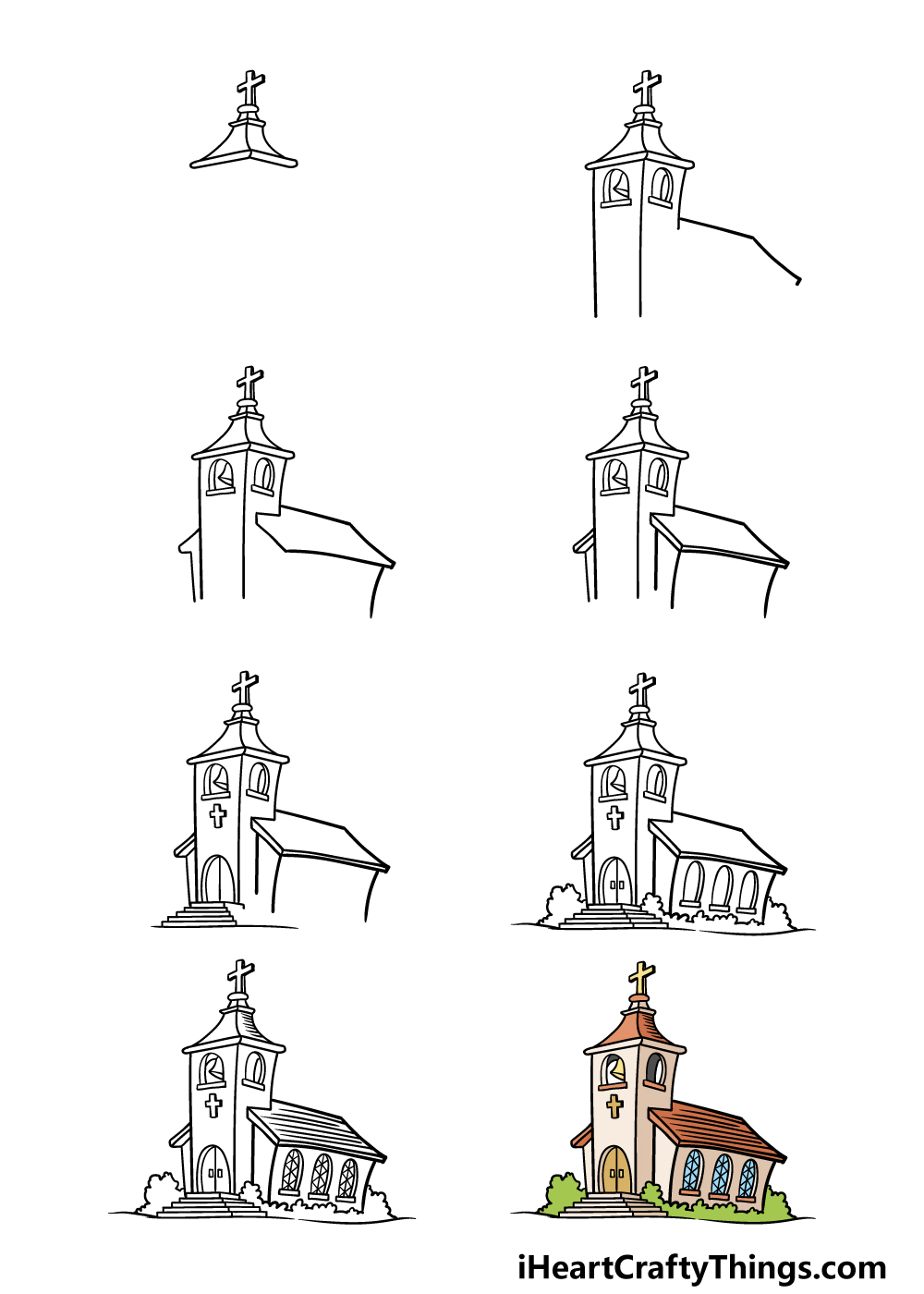 How to Draw A Church – Let's get Started!
Step 1
For this first step of our guide on how to draw a church, we will be starting with the roof of the main section of the building.
You can start by using some straight lines for the cross atop the church. Then, once you've drawn that you can extend some curved lines down from it for the sloping sides of the roof.
Finally, you can use some more lines to draw the edge of the roof, as shown in the reference image. Once you have these drawn, you can move on to step 2.
Step 2 – Now, draw the walls and bell of the church
In this second part of your church drawing, we will be focusing on the walls and the bell of the church tower.
First, you can draw some small rectangle shapes near the top of the tower as the base of the window we'll see the bell through.
Then, you can draw the top of the windows with some round, arching lines. Once you have the tops of the windows drawn, you can then add the shape of the swinging bell into the window.
Once you have that window drawn, you can then use some straighter lines coming down from the roof for the walls and then use some more straight horizontal ones for another roof.
The reference image will show you how it should look before you proceed to step 3.
Step 3 – Next, draw some more of the roof for the other sections
We will leave the tower for now in this step of our guide on how to draw a church. Instead, we will focus on the roof of the other sections of the church.
To draw this roof, we will be using some more straight lines that connect to the lines you started in the previous step.
Then, you can finish off this part by drawing a very slightly curved vertical line coming down from the roof for the back wall of the church.
Step 4 – Now add some more details to the roof
This should be a fairly simple step of your church drawing! For this part, we will simply be adding some line details to the edge of the roof of the other section of the building.
Simply add some more straight lines along the inner perimeter of the roof lines that you drew in the last step.
Step 5 – Draw the entrance of the church next
This church wouldn't be very welcoming without an entrance, so we shall add one in this step of our guide on how to draw a church.
The door of the church will be drawn with a sharply curved, arched line. Then, you can use some straight lines beneath it to create some thin rectangle shapes for the stairs of the church.
Finally, you can finish off by drawing another cross above the doorway.
Step 6 – Next, add some windows and shrubbery for the church exterior
We will be moving on to the final details of your church drawing in the next few steps. First, you can add some windows to the side of the church using some more arched lines.
Then, you can create some shapes for the shrubs and bushes next to the church using some bumpy lines.
Then we will be ready to finish off the final touches and details in the next part before you color in your drawing.
Step 7 – Now, add some final details for your church drawing
For this seventh part of our guide on how to draw a church, we will be finishing off some final details before moving on to the final part.
First, you can add some straight-line patterns inside the windows to make them look like stained glass.
Then, we shall finish off with various line details on the roof and walls of the church to give it a more realistic look.
That will finish off the details in this guide, but you should feel free to add any additional details and elements that you may want!
Step 8 – Finish off your church drawing with some color
Now you have reached the final step of your church drawing, and this is one where you can have fun getting creative with your colors!
We showed you an example of some colors you could use in our reference image, but you should definitely use any of your favorite colors to finish off this image.
You can also have a great time experimenting with different color combinations and art mediums to make the colors pop.
How will you finish off this church drawing with your colors and art tools?
5 Tips To Make Your Church Drawing Even Better!
Create some reverent artwork as we make your church sketch even more amazing.
The focus of this church drawing was solely on the building, but you could also add some details around it.
These could be pretty simple, such as adding small bushes and plants around the perimeter.
That is just one example of what you could add to this church, but there are loads of details you could use to make it look even greater!
What would you like to add to the surroundings of the church?
Once you have added some elements to the surroundings of this drawing of a church, you could change some details on the church itself.
For one simple yet effective example, you could turn the windows into colorful stain-glass windows. That's just one little change, but you could alter and add any other details you like!
Changing small details is one thing, but you may also want to change the design of this church sketch in more drastic ways.
Churches come in many shapes and sizes, so there are lots of ways you could completely change the design.
If you have some churches near where you live, then you could use them to help you as you redesign the building!
A church is an important building for many people, and it takes on special meaning for them. You could show this meaning by adding a few effects to the background.
For instance, maybe you could draw some rays of light coming from behind the church. That would help to emphasize the spiritual nature of this building.
What are some other touches like these you could add?
If you used our previous suggestion, then you could use colors and art tools to make the details even more effective. For instance, for the ray of light you could use some soft mediums like watercolors or colored pencils.
That would create a lovely subtle effect! Then, you can decide on the color scheme and art tools you would like to use for the rest of the church.
Your Church Drawing is Complete!
With the final details and colors added, you can confidently say that you have finished this guide on how to draw a church.
You did a really great job on this drawing, and we hope that this guide made it fun and easy for your to recreate this beautiful church.
Now you can take over and show us some cool extra details, colors and mediums that you think would suit this drawing. There are lots of ways to be creative with it, and we can't wait to see what you do!
We have plenty of amazing drawing guides for you on our website, so be sure to visit us there for more fun! You'll want to visit often, as we upload new guides frequently.
When you have completed your church drawing, we hope you will share it on our Facebook and Pinterest pages. We can't wait to see your amazing artwork!