The chihuahua is a dog that has a personality much larger than its little body would suggest! They may look like cute little teddy bears but they can be full of life and mischief.
These dogs are beloved around the world, and it can be lots of fun to learn how to draw a chihuahua.
By the end of this guide, you will also be able to draw one of these feisty little dogs yourself!
This step-by-step guide on how to draw a chihuahua in just 8 steps will help you to create your own doggy pal in no time.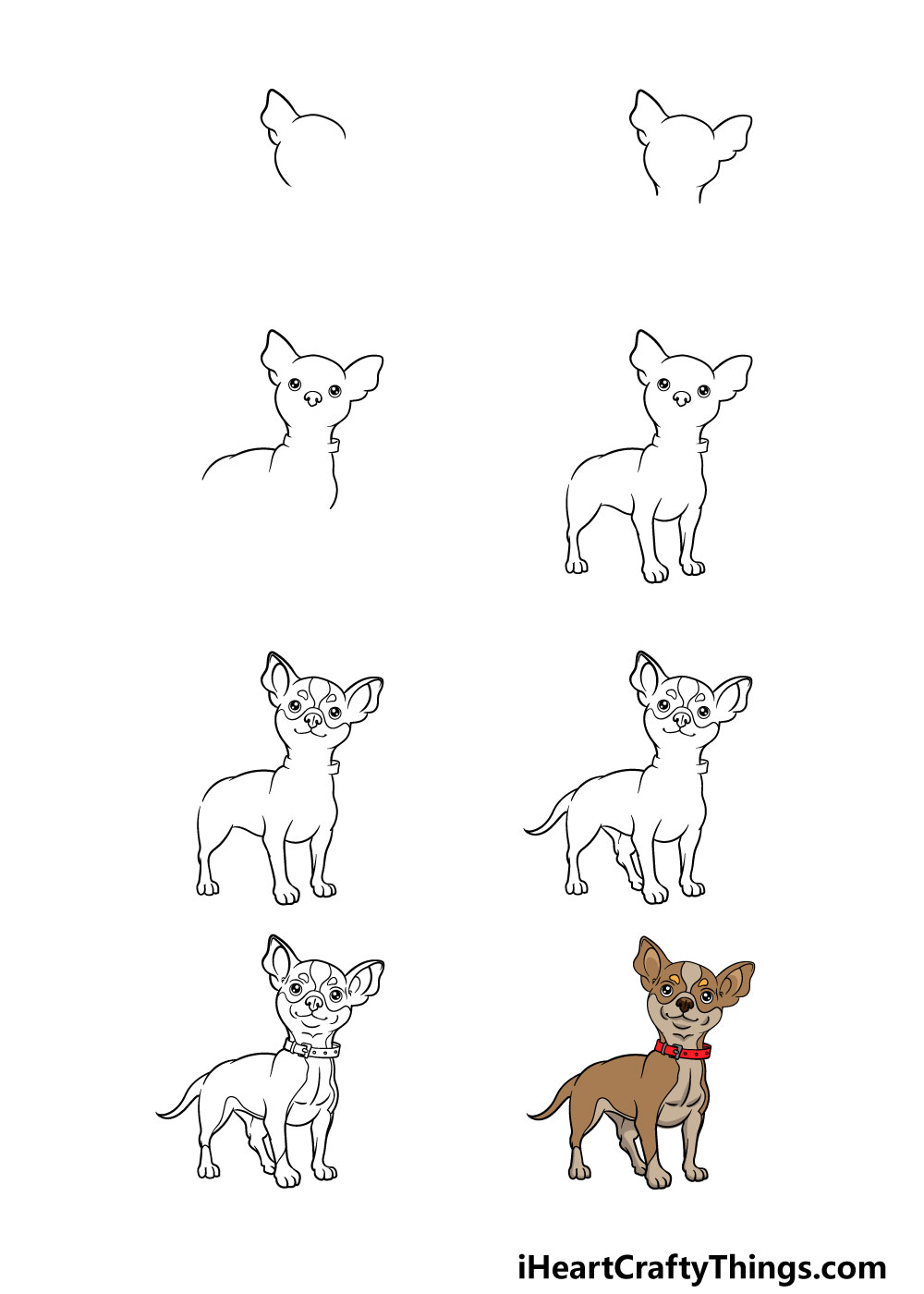 How to Draw A Chihuahua – Let's Get Started!
Step 1
We will begin this guide on how to draw a chihuahua by using a pencil to create a rough outline for the dog.
Using your pencil, carefully follow the reference image that we provided to create a rough plan for your chihuahua.
We will be adding a lot more detail to them later, so don't worry if it looks a little basic for now! Then, once you're happy with how it looks you can use your pen to start going over the head outline.
Step 2 – Next, draw the rest of the head outline
Now that you have the pencil outline guide drawn, you can finish off going over the head outline of your chihuahua drawing using your pen.
This will mean that you can finish off the ears and face of the chihuahua, and you will add the inner elements in a future step.
Step 3 – Now, draw the face details and back outline of the chihuahua
This step of our guide on how to draw a chihuahua will have you adding some facial features while you also continue the pen outline of the body.
For the face, you can use two small circles with large black pupils in them for the eyes. Then, you can draw the nose that we show in our reference image.
Once you have these facial features added, you can then start drawing the back outline of your chihuahua.
Step 4 – Next, draw some legs for your chihuahua drawing
In this part of your chihuahua drawing you will be adding some outlines and details to the legs and feet of the dog.
You can go over the pencil lines that you drew in step one, but now that you're using your pen you can start refining the details a bit too.
Step 5 – Now, finish off the facial details
You will be finishing off the facial details in this step of our guide on how to draw a chihuahua. These details will include finishing off the shapes inside of the ears and the pattern on the face.
You can also finish off the little mouth in this step, and that will be the last touch for the face of your cute little chihuahua!
Step 6 – Next, draw the remaining outlines for your chihuahua
In this part of your chihuahua drawing, you can finish off drawing the outline of the body before you work on the final details in the next step.
Once you have gone over all of the pencil lines with your pen, you can also start erasing the pencil lines from the first step, as you won't really be needing them anymore.
Just be sure to let the pen ink dry completely before your start digging in with your eraser! You wouldn't want to smudge wet ink all over your amazing chihuahua drawing.
Step 7 – Next, draw the final details of your chihuahua drawing
Now that you have all of the outlines drawn, you can add some final details and touches in this step of our guide on how to draw a chihuahua.
These details will include finishing off the collar of your chihuahua, as well as some lines throughout the legs and body for some muscle definition.
You can replicate the details that we have in the reference image that we've provided, but you can also add some of your own details and elements!
Maybe you could draw a background or some toys for your chihuahua to play with. How do you will finish off this chihuahua drawing before coloring it in?
Step 8 – Now finish off your chihuahua drawing with some color
This final step of your chihuahua drawing is the step where you get to take over and add some beautiful colors to it!
In our reference image we went with some light and dark shades of brown  for the body and face. We also used a bright red for the collar for a splash of bright color!
This is just one of many ways that you could color in this picture, however! A chihuahua can come in many different color schemes, so that gives you a lot of freedom with how you can color it in.
You can also play around with some wonderful art mediums to really bring it to life!
Whether you use some acrylic paints and colored pens for brighter colors or keep it more muted with some watercolors and colored pencils it will look great no matter what you use!
Here's how you can make your Chihuahua drawing even better…
Make this adorable Chihuahua sketch even better with these fun and easy suggestions!
This cute Chihuahua drawing we have created together looks great, but we bet it would like some toys to play with! These would be pretty easy to add to the image, but they would make a big difference.
There are so many toys and objects you could choose from, too. They could include a ball, a chew toy or maybe even a food or water dish.
Adding these would certainly make this little Chihuahua happier, and they would make the image even more interesting!
The only thing cuter than a Chihuahua is another Chihuahua, as we all know. That's why we think you could double the cuteness of this drawing of a Chihuahua by adding a friend.
Now you know how to draw a Chihuahua, so you have everything you need to add a friend. You could mirror the pages of all of our example images if you would like to have it facing the opposite direction.
How else could you differentiate them?
Adding a second Chihuahua would be great, but you could also add different breeds of dog if you prefer. That would be a great way to shake up this Chihuahua sketch!
If you wanted to do this, you could use any dog breeds that you love. It could be small cute ones like a poodle or a pug, or you could add a big alsatian or dalmatian.
What are some dog breeds you would like to portray in this picture?
Finally, you could finish off your Chihuahua drawing with a fun background. There are all sorts of settings you could choose if you wanted to do this!
The Chihuahua could be playing in a park or maybe relaxing in a cozy home setting. This is also a step where you could combine this suggestion with some of the previous ones.
There are so many background settings that you could create for this image, so what are some background ideas you may have?
Your Chihuahua Drawing is Complete!
That brings us to the end of this guide on how to draw a chihuahua!
When you saw the little guy that you were going to be drawing it may have looked like an intimidating drawing to take on, but hopefully this guide made it easy and fun for you.
Now that you have completed this guide, you can keep adding to it by adding your own elements and details.
Some ideas could include you changing up the pattern on the chihuahua, drawing a background, or by adding some toys for it.
There are so many ways you can put your own spin on your drawing, so we can't wait to see what you do!
Now that you have completed this guide, you can enjoy one of the many others we have for you on our website!
We also upload new ones all the time, so be sure to check in often so that you never miss out!
We would love to see your adorable chihuahua drawing when it's done, so please be sure to share it on our Facebook and Pinterest pages for us to admire!