Heading outside to enjoy some time in the sun can be a lot of fun, but there are a few things you need to be careful of!
You can get sunburns if you don't wear sunscreen, for example, and you can also hurt your eyes if you look at the sun.
That's where sunglasses come in, as they protect our eyes while also making us look cooler! Here you will learn how to draw cartoon sunglasses so that you can design your own perfect pair.
By the end of this guide, you will know exactly how it's done, and you will have your own awesome pair of sunglasses.
So get ready to begin this step-by-step guide on how to draw cartoon sunglasses in just 6 fun and easy steps!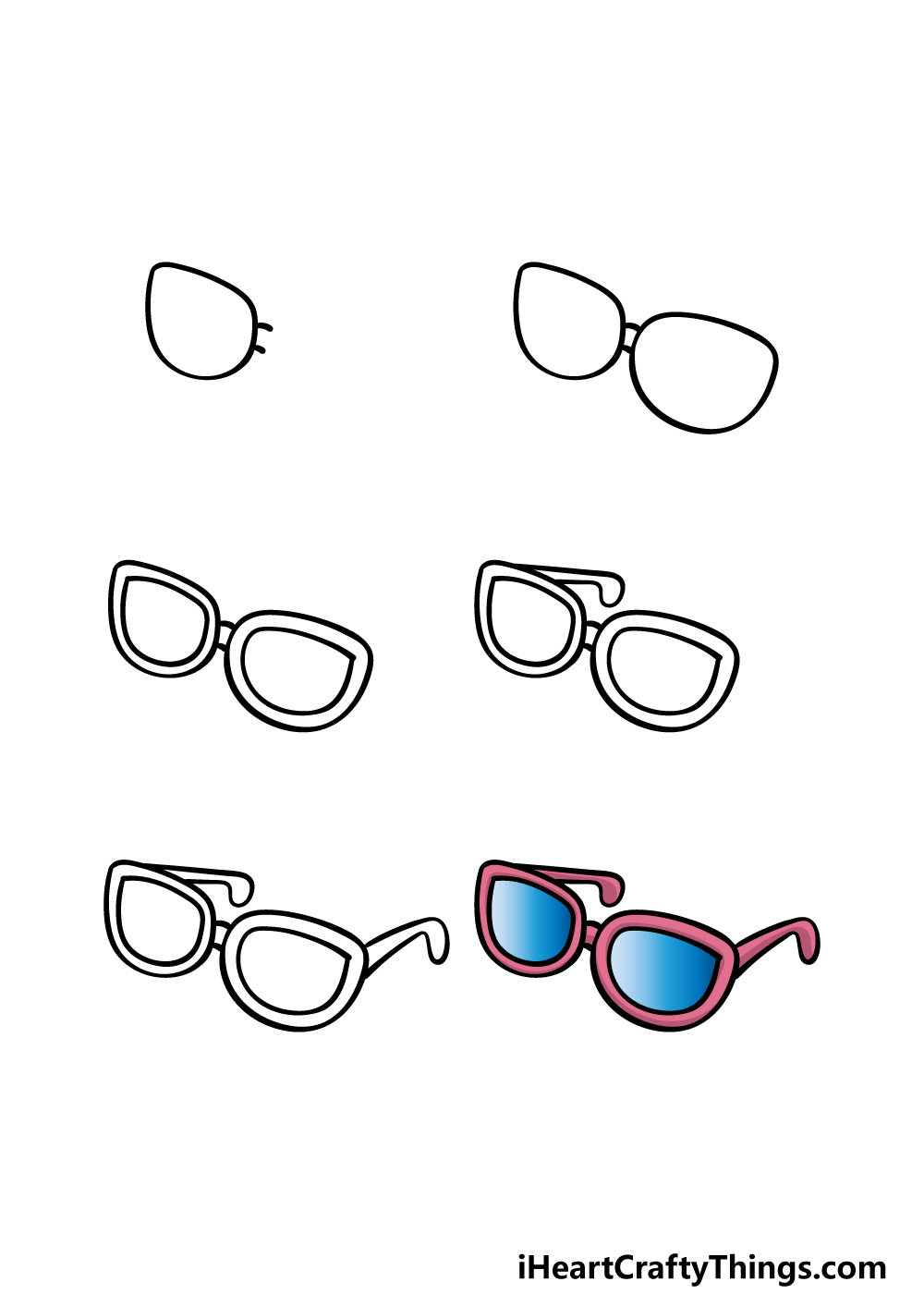 How to Draw Cartoon Sunglasses – Let's Get Started!
Step 1
Let's start things simply as we begin this guide on how to draw cartoon sunglasses! Objects such as sunglasses are not super complex, but that doesn't necessarily make them much easier to draw.
In fact, the simplest objects can be the hardest to draw sometimes!
That's why we will be breaking it down for you, and we will start with the first half of the frame. This one will go on the left, and it will be drawn as a large, rounded shape.
It has a dull corner on the upper left-hand side, but the rest is completely rounded. This shape can be deceptively tricky, so be sure to take your time with it!
Then, we will finish off this step by drawing some small curved lines on the right-hand side for the bridge of the glasses.
Step 2 – Now, draw the second half of the frame
Now that you have drawn one half of the frame, drawing a second one should be much easier! This one will go on the right, and it will essentially be identical to the first one.
It will be a mirrored version of the first one, and that means that the little rounded corner will be on the top right this time.
That's all there is to it for this step, and then we can move on to the next step of the guide!
Step 3 – Next, draw the lenses
Glasses need lenses for us to see through, and these are what we will add to your cartoon sunglasses drawing in this third step.
These lenses will be drawn on the inner perimeter of the frames that you drew in the first few steps.
This means that each lens will have a little rounded corner that is positioned in the same location that the frames are.
These corners will be slightly pointier than the ones for the frames, but not by much. Then. it's on to step 4 to add the next elements!
Step 4 – Now, draw the first temple
Every pair of glasses has a little pair of arms on them, and these are known as the temples of the glasses, and we will add the first of these temples in this fourth step.
This first one will go on the left lens of the glasses.
These would be attached to the pointy corners that you drew on the lenses, but due to the angle it is at, we won't see where it connects to the frames.
Otherwise, it will be drawn using some curved lines to form a curved 'L' shape. We will then be ready to add some final details and extra touches in the next step of the guide, so let's proceed!
Step 5 – Add the final details to your drawing
You're nearly ready to add some colors to this picture in the final step of this guide on how to draw cartoon sunglasses, but we have one more detail to add!
We have one more temple to add, and this will go on the right-hand side of the glasses. This one will look very similar to the previous one, but it will look a bit longer due to its positioning.
Once you have finished this detail, you're ready for that final step! Before moving on, you could also keep adding to this image.
There are many ideas you could go for when doing this! You could draw a background, or you could add some smaller details onto the glasses themselves to personalize them even further.
It's up to you, so how will you finish off this pair of glasses?
Step 6 – Finish off your cartoon sunglasses drawing with color
Now it's time to take on the final step of this cartoon sunglasses drawing, and in this step we have shown you one way that you can color this drawing.
We used a lovely set of pinks for the frames, and then we used some shades of blues for the lenses.
These are the colors we chose, but you could use any other colors that you may prefer!
This drawing is all about creating your own perfect set of glasses, so you should feel free to let your creativity run free.
When coloring the frames, you may want to use mediums like colored pens, pencils or markers to give you more precision in the tighter quarters. What colors and art tools will you choose?
Here's how you can make your sunglasses drawing even better…
Make your sunglasses sketch look even cooler with these fun tips!
This drawing of sunglasses shows a pair of shades that are done in a classic and timeless style.
Sunglasses can come in many different shapes, sizes and styles, so you would have many options for creating some variations.
This could depend on what styles you like the most, or you could use pairs of sunglasses in your house as inspiration. What are a few styles that you could use to adapt for this artwork you have created?
Sunglasses always come in handy on a trip to the beach. For that reason, you could add some other objects you might expect to have on a beach trip!
These could include a beach towel, a beach ball and maybe a picnic basket. You might even want to have a big umbrella casting some shade!
We have given you just a few examples of beach items you could include. You could also add objects from another place you would wear sunglasses to!
Whether you went with our previous suggestion for your sunglasses drawing or not, it could be fun to draw a background.
If you added some beach objects, then that would be the perfect place to use as a background
There are so many other places you could use, though. For instance, maybe they could be seen in a desert near the pyramids in Egypt.
That is just one alternative place you could use, but we're sure you can think of many more that you could use!
Finally, it would also be fun to show these glasses on someone's face. You could use someone you know or even yourself if you want to add a character to your sunglasses sketch!
Once you know who you would like to use, you could also pick a style of drawing that you love in order to make it look even better.
This would also be a great idea if you added a background and other objects in the previous steps.
Your Cartoon Sunglasses Drawing is Complete!
You are at the end of this guide on how to draw cartoon sunglasses, and we hope that you had a great time finishing off this fun drawing!
It may have looked like an intimidating project to take on, but hopefully you found it to be much easier and even more fun than you may have expected once you followed the steps.
Now you can take it even further by adding some extra details of your own!
We mentioned a few ideas in the guide, but now you can take charge and show us what you think would best suit this image.
Then, you can keep the fun going on our website! Here you will find many more drawing guides to try out and enjoy. These guides are all free and more are on the way soon, so be sure to keep checking in!
When you're ready to show off your amazing cartoon sunglasses drawing, you can share your finished artwork on our Facebook and Pinterest pages. We can't wait to see it!