Oceans are full of many different strange and incredible sea creatures to behold. It's believed that there are many species and variations that have yet to be discovered in the depths as well!
Of all these creatures, few are as weird and incredible as the squid! These slippery creatures come in many shapes and sizes, and they can be rather small or surprisingly quite huge.
We will be depicting a fun portrayal of one in this guide on how to draw a cartoon squid.
By the end of this guide, you will know exactly how to draw your very own adorable squid!
So get ready to take a deep dive into some drawing fun as we begin this step-by-step guide on how to draw a cartoon squid in just 6 easy steps.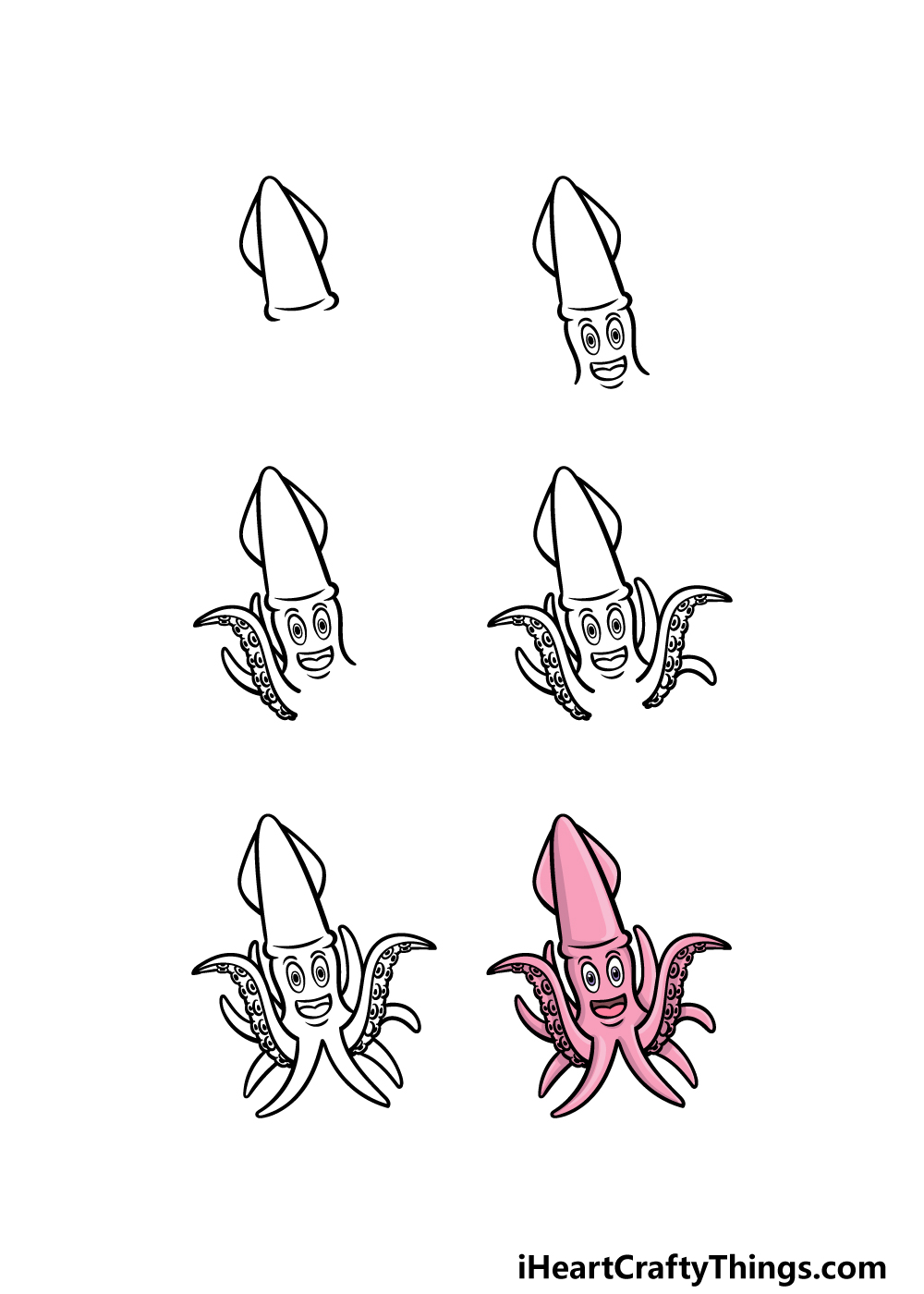 How to Draw A Cartoon Squid – Let's Get Started!
Step 1
To begin this cartoon squid, we will be starting with the top portion of the head.
Like a real squid, this top portion is long, rounded and pointy, and the reference image will show you how you can portray it.
There will also be some rounded triangular shapes on the sides for some fins.
The base of this top portion will have some rounded rims on each side, and there will be a simple curved line between them.
You'll notice there is a space left at the base, but we will fill that in as we move to the next steps of the guide!
Step 2 – Now, draw the head and face for your cartoon squid
In the second step of this guide on how to draw a cartoon squid, we will be adding the head outline and the face for this cute squid.
The head outline will extend from the edges of the portion you drew in the previous step, and these will be drawn as some curved, wavy lines.
For the face, you can draw two eyes using some oval shapes that have some round pupils inside. These will also have some curved lines above for the eyebrows.
Finish off with the large, smiling mouth beneath, and we will then move on to step 3!
Step 3 – Next, add some tentacles
It wouldn't be much of a squid without some tentacles, so we shall add some for your cartoon squid drawing in this step!
The main tentacle will extend outward from the base of the face, and the outline will be drawn using some curvy lines.
Because of the angle this main tentacle is at, we will also see the underside that has lots of suction cups beneath. These will be drawn using rounded lines that have a large black dot inside each one.
Behind this, there will be some other smaller tentacles, but we won't see the suctions on these ones. We can then add more tentacles as we get to the fourth step of the guide!
Step 4 – Now, draw some more tentacles
For this fourth step of the guide, we will essentially be replicating what you did in the previous step, only in reverse this time.
That means that we will draw another large tentacle that will have a mass of round suction cups underneath.
We will also again be adding some more tentacle shapes behind this one that we will only see the tops of.
You can also change up the positioning of these tentacles if you like! There are a few empty spaces left over, but we will fill those in as we get to the fifth step of the guide.
Step 5 – Add the final details to your cartoon squid drawing
Soon, we shall add some colors to this cartoon squid drawing, but first we will be adding the final details.
This squid already has a lot of tentacles, but we will be adding four more to fill in the final gaps.
Because of the positioning, we won't see the suction cups on these ones, so they will be drawn using some simple long, curved shapes.
Once you have finished adding these tentacles, remember to add some details of your own that you may like!
Creating a background can make a great drawing even greater, and there are many different incredible ocean backgrounds you could create for this squid.
You could even add some more sea creatures for it to hang out with! It's up to you now, so how will you finish it off before the final step?
Step 6 – Finish off your cartoon squid drawing with color
You have arrived at the final step of this guide on how to draw a cartoon squid, and this is a really fun step!
In this one, we will finish off this cute squid with some amazing colors.
In nature, squids can come in pretty much any colors you can think of, so you have a lot of freedom with how you can color this guy in.
In our reference image, we have shown you just one of the many ways you could color this squid.
We used various shades of pinks for the body and tentacles, and you could try to use similar colors if you enjoy this look.
Remember to have fun getting creative with it as you play around with colors and art mediums. When you let your creativity flow, you can sometimes surprise even yourself with what happens!
5 Tips To Make Your Cartoon Squid Drawing Even Better!
You'll definitely want to dive into these tips for your cartoon squid sketch!
The drawing of a cartoon squid that we created in this guide looks great as is, but it could use some friends! One way of giving the squid some company would be by drawing more squids.
This could be done by following through the guide again and drawing more squids around the first one. By changing their facial expressions and poses, you can make each one unique!
There are many other sea creatures you could add to populate this drawing, too. These could be small fish or jellyfish, for example.
You could also add some bigger creatures such as whales, dolphins or sharks. These are just a few examples, but what other sea creatures could you add?
Another interesting way of adding some life to this cartoon squid drawing would be by adding a human character. This could be a diver enjoying the underwater sights while on a dive.
When portraying a human character, they could be dressed in a modern divers outfit, or you could draw them in an old-fashioned diving suit instead.
Who would you like to base this human character on if you were to go for this suggestion?
Once you have all the living creatures you could want in this image, you could then add a background to make it even better. There is so much life and variety underwater to behold.
This means that you would have many options for an awesome background! If you need some inspiration, you could look up some pictures of the ocean floor to guide you.
This final tip brings the focus back to your cartoon squid sketch. In reality, squids come in many amazing colors.
With this in mind, you could do all sorts of interesting things with colors in your own image.
Choosing your colors is one thing, but you could also try out different art tools and mediums.
For instance, it could be fun to use some mediums like glitter for your cartoon squid.
Your Cartoon Squid Drawing is Complete!
That will conclude this guide on how to draw a cartoon squid!
We tried to create a design that was not only fairly accurate to how a real squid may look but also one that has a fun and creative feel to it.
Our main goal was to ensure that it would be fun and easy for you to replicate, so we hope that this was achieved for you!
Remember that you can also add some of your own details such as a background featuring some more sea creatures. What will you do to finish this one off?
When you are ready for your next drawing to try, you can find it on our website! Here we have many awesome guides to enjoy, and more come out all the time as well.'
Don't forget to also share your finished cartoon squid drawing on our Facebook and Pinterest pages! We can't wait to see how it turned out.