If you're passionate about drawing, learning how to draw cartoon people is essential. Once you're capable of drawing cartoon people, you can draw much more complex drawings featuring various characters in the future.
To make it a lot easier for you, we have created a step-by-step tutorial on how to draw cartoon people.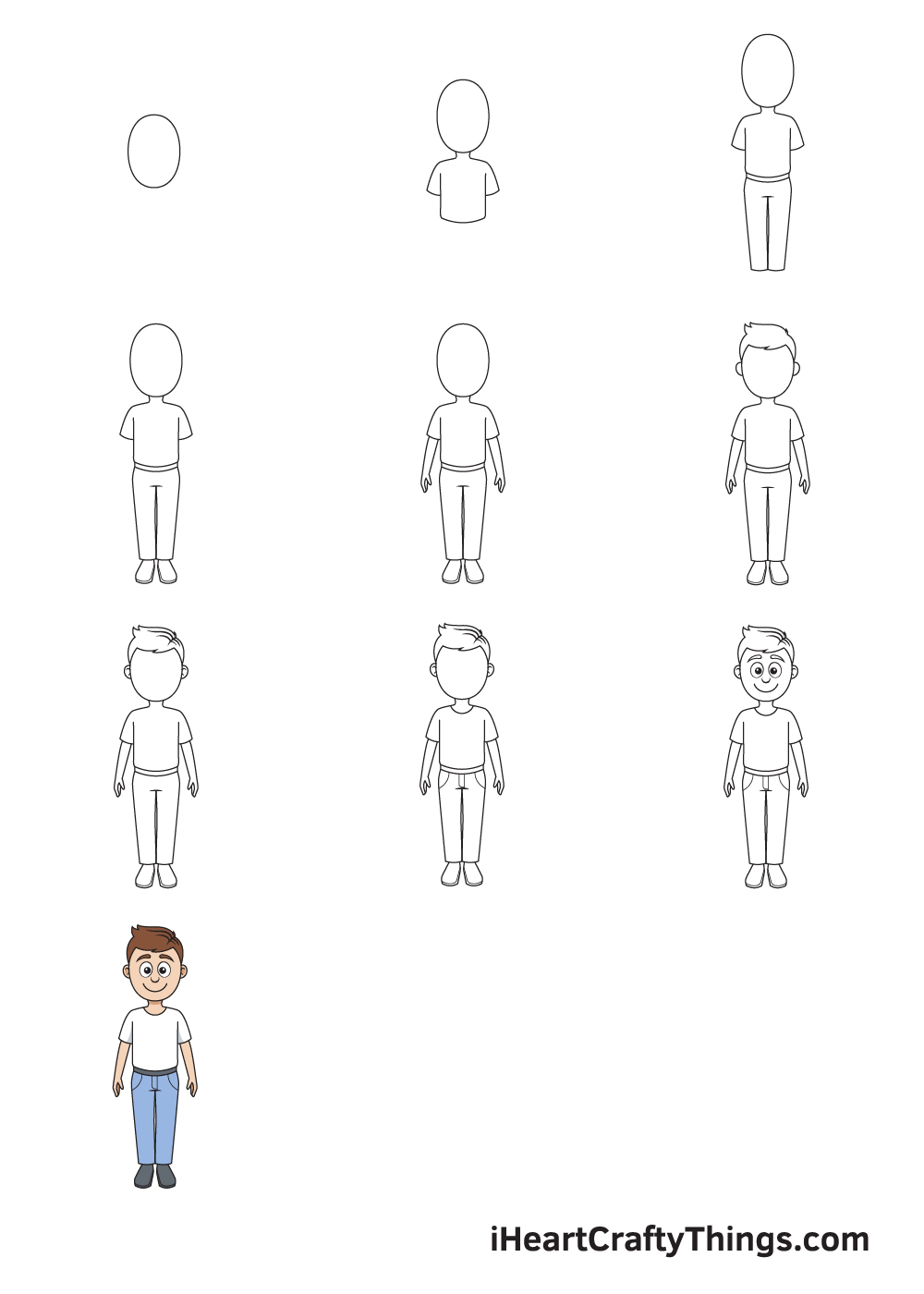 This guide is summarized into 9 quick and easy instructions that come with simple illustrations.
What's fun about this tutorial is that you can create a cartoon version of yourself!
Have fun and use your imagination and creativity!
How to Draw Cartoon People — Let's get started!
Step 1
Start by drawing an upright oval shape on the upper portion of your paper. This creates an outline for your character's head.
Make sure that the character will be drawn in the center by drawing an intersecting horizontal and vertical line across your paper to create reference lines.
The vertical line right above the horizontal line marks the spot where you should draw the outline of the head.
Step 2 — Outline the Head and the Upper Body
Right underneath the head, draw two angled lines facing the opposite directions to create the neck and the shoulder.
Then, bring both lines downward forming the sleeves of the shirt. Afterwards, draw an open-top square shape in between the sleeves to create the body of the shirt.
After completing this step, the top that your character is wearing should now be finished!
Step 3 — Afterwards, Draw the Pair of Trousers
Draw two elongated shapes side by side underneath the shirt. This forms the pair of trousers paired with the shirt that we drew in the previous step.
Make sure that the legs of the trousers are parallel, meaning the shapes should have a similar width and length.
Step 4 — Draw the Shoes Your Character is Wearing
Draw a slightly diagonal U-shaped line right underneath each leg of the trousers. This creates the pair of shoes.
Don't forget to add a thin line at the bottom of the shoes to create the soles. At this point, your character's outfit should now be complete!
Step 5 — Draw Your Character's Left and Right Arm
Underneath each sleeve, draw two parallel slightly diagonal lines forming an arm.
Then, draw elongated pointed shapes at the bottom of each arm for the fingers.
Step 6 — Next, Draw Your Character's Hair and Ears
Draw a semicircle on each side of the face forming the ears.
Then, draw the hairline and the top of the head starting on the temple located right above the ear all the way to the temple on the opposite side. Don't forget to add pointed clumps of hair to add texture!
As you can see in the illustration, we've kept our character's hair pretty simple. However, feel free to draw any hairstyle you want for your character. After all, it's your character and your work of art!
Step 7 — Then, Add Details on Both Ears and Hair
Draw thin line streaks on the surface of the hair to add texture and make it appear realistic.
Remember, the lines should be drawn on the spot where you want your character's hair to be parted.
For the details within the ears, simply draw a small curved line inside each ear.
Step 8 — Add Texture on Your Character's Clothing
Draw an upward curved line to outline the collar hem of the shirt your character is wearing.
Then, moving on to the bottom, draw a curved line on each side of the pants to create the appearance of pockets.
Afterwards, draw an elongated rectangular shape on the upper middle of the pants for the zipper.
After finishing this step, the details on your character's outfit should be complete.
Step 9 — Draw the Features on Your Character's Face
Now, it's time to draw your character's facial features to complete the look.
Starting from the top to the bottom, draw two curved, pointed shapes right underneath the hairline. This forms a pair of arched eyebrows.
Remember, men typically have thicker, fuller eyebrows compared to women. So, keep that in mind whenever you're drawing your character's eyebrows. It all depends whether your character is a male or a female.
Afterwards, draw a wide oval shape underneath each eyebrow for the eyes. Then, draw a shaded small circle with an unshaded tiny dot inside within each eye.
Draw a small upward curve for the nose and a wider one to put a wide smile on your character's face.
After you've finished drawing cartoon people, it's finally time to make it colorful! This is where you can showcase your artistic skills especially your ability to mix and match various colors.
The colors you will choose for your drawing is entirely up to you! But here's a useful tip: blend the colors white, yellow, red, and blue to create a customized skin tone color.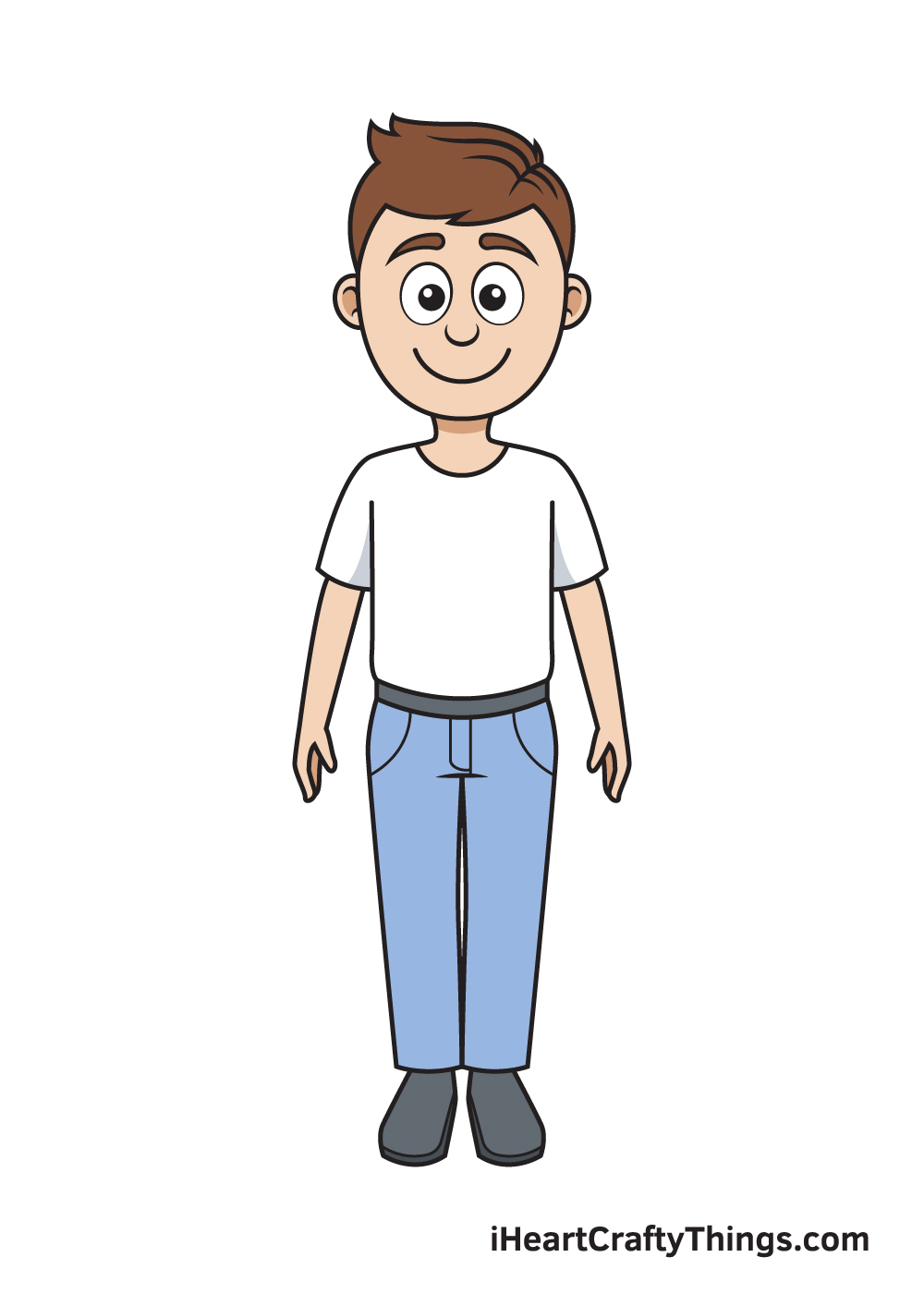 You may need to add more of a certain color depending on the complexion you're trying to achieve.
Take note that skin tone colors are best achievable with easy to blend coloring materials like watercolor or acrylic paint. Have fun playing with colors and watch as your cartoon character comes to life!
Your Cartoon People Drawing is Complete!
Hopefully, you enjoy this step-by-step cartoon people drawing tutorial. If you had a good time drawing a cartoon character, we think you will also have fun drawing a man or a woman.
Go ahead and check out our "How to Draw" catalog to explore many more drawing tutorials!
As soon as you've drawn and colored your cartoon character, don't forget to show off your masterpiece!
Take a photo of your artwork and share it on various social media platforms. And while you're at it, make sure you like our Facebook page too!
We would love to see your awesome cartoon character!