There are almost infinite wonders to see beneath the waters of the oceans and bodies of water that cover our planet.
The creatures come in all shapes, sizes and varieties, and each has something new to show off.
Jellyfish are some of the most incredible creatures in the ocean, and they too come in many different varieties.
It can be so much fun creating your own cute jellyfish, and that's what we will be doing in this guide on how to draw a cartoon jellyfish!
By the end of these 7 steps, you will have an adorable jellyfish friend to call your own.
With that, let us begin this step-by-step guide on how to draw a cartoon jellyfish in just 6 fun and easy steps!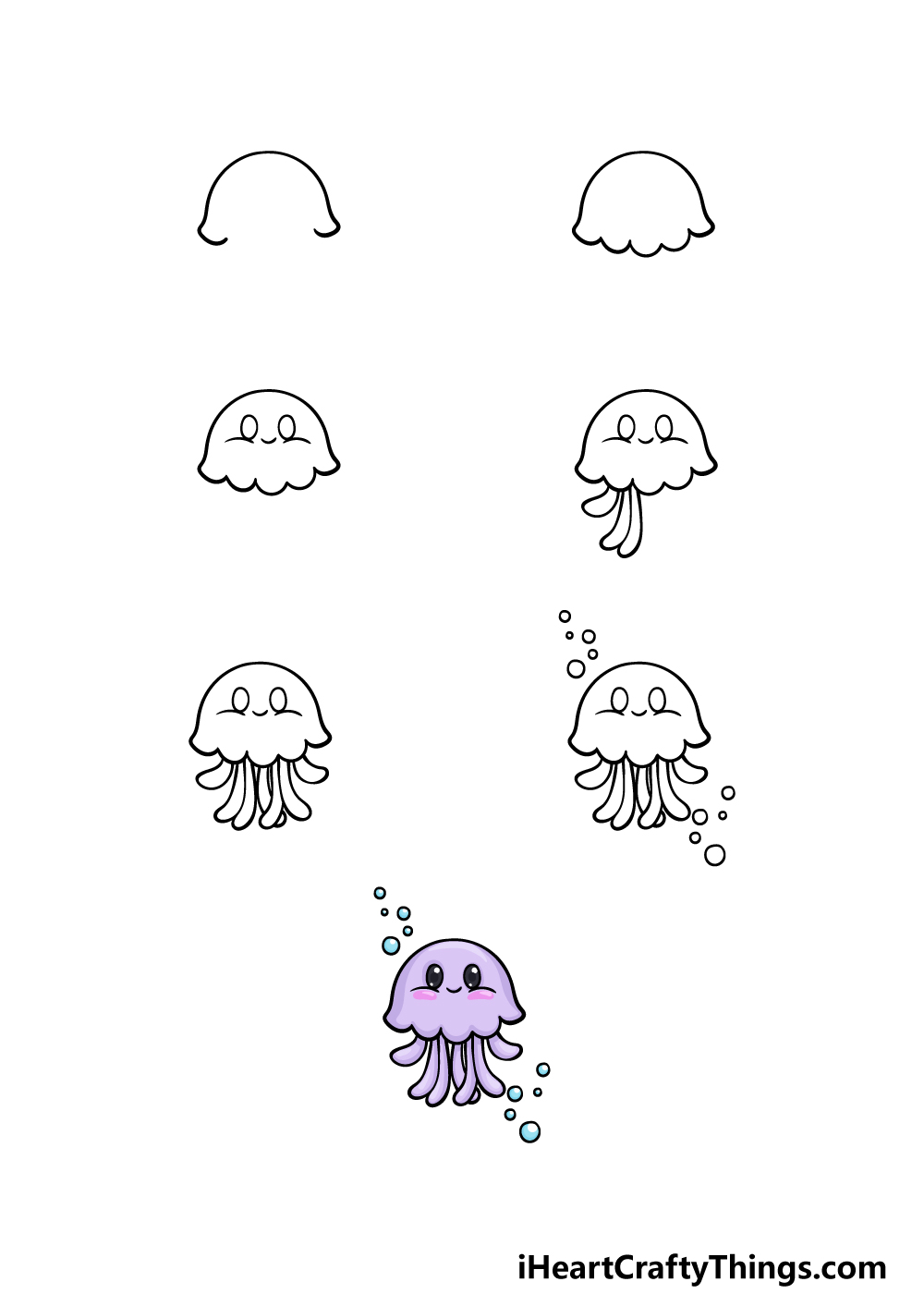 How to Draw A Cartoon Jellyfish – Let's get Started!
Step 1
For this first part of your cartoon jellyfish drawing, we will begin with the body outline of this cute jellyfish.
As you will see in the final image, the body shape is rather simple for this design. That just helps to make it even cuter, however!
First, to begin this design you will be drawing a rounded line for the top edge of the body.
Later on, we will be adding a bumpy line pattern to the base of the body, and you can start this by extending the base outline outward a bit.
Once you have it looking as it does in our reference picture, you can move to step 2.
Step 2 – Draw the base of the body
We mentioned a bumpy base for the design in the first step of our guide on how to draw a cartoon jellyfish, and in this second step we will be drawing that base.
This line will bend outwards near the center of the base, and it will be drawn using a series of smaller rounded lines connecting to one another.
It should be fairly simple to create this base, and you can refer to the reference image to help you out as you draw.
Step 3 – Add the facial details
You have finished the body outline for this jellyfish, and now we will start adding a cute face design to the image.
For the eyes, draw some oval, almost egg-shaped shapes near the center of the face. These will also have some simple curved lines beneath them for some extra facial expression.
The eyes will then have a simple, small curved line between them for a small smiling mouth. Once these elements have been added, we will continue adding more details as we proceed.
Step 4 – Now draw some tentacles beneath the cartoon jellyfish
Real jellyfish will often have tentacles hanging from below them, and we will begin adding some of these to your cartoon jellyfish drawing now.
For now, we will be adding three to the left-hand side of the body. These will be long, thin and rounded, and you can also change up the lengths and positions of these tentacles as you wish.
That's all there is to it for now, so let's head to step 5 when you're ready!
Step 5 – Draw the rest of the tentacles
Now, we will be adding four more tentacles to complete this portion of the jellyfish. These will fill in the empty space on the right-hand side of the base that you've been working on.
Once again, you can change up the details and positioning of these tentacles to suit your own tastes.
When you have added these final tentacles, we will add the finishing touches and extra details in the sixth step of the guide.
Step 6 – Now, add some final details
You're almost ready to add some color in the final step of this guide on how to draw a cartoon jellyfish, but first we will add some final details and touches.
You will also be able to add some extra detailing of your own, but we will get to that soon!
First, we will add some underwater ambiance by drawing some bubbles surrounding this jellyfish.
These can be drawn using some simple rounded shapes, and this is another detail where you could add more or fewer depending on your own preference.
Then, you could add some awesome details of your own!
You could draw a background showing off an incredible ocean setting, and that would give you the opportunity to add some more ocean creatures or some great scenery.
What will you do to add your own touches to this image?
Step 7 – Finish off your drawing with some color
This cartoon jellyfish is already looking amazing, but you can make it look even better with some color!
We have shown you just one of the ways that you could go about coloring this cute jellyfish in our example image.
We used various shades of pinks and purples for the jellyfish, and they help to give it a delightful, softer look.
Of course, you could also choose some unique color choices of your own to put your own spin on it! You can also play around with different art tools and mediums.
Jellyfish have a rather translucent, almost see-through texture in real life, so we think that softer art mediums such as colored pencils or watercolor paints would be great for portraying that softer look.
What will you choose to use when adding some color to this amazing cartoon jellyfish?
Do this to take your cartoon jellyfish drawing to the next level
Make this adorable cartoon jellyfish sketch even better with these tips!
This cute drawing of a cartoon jellyfish is adorable enough on its own, but this would only be increased if you added more. These additional jellyfish could look very similar to this first one.
That means that you could follow through the guide again and recreate this cartoon jellyfish as many times as you like. Each one could have some minor changes to make them unique, however.
How many other cartoon jellyfish would you like to add to this scene to make it even more adorable than it already is?
Adding more of these cartoon jellyfish is one way of doing it, but you could also add other ocean creatures as well. They could even be drawn in a similar cute cartoon style to this first cartoon jellyfish!
You could draw fish, dolphins, whales or sharks to hang out with this cartoon jellyfish. These are just a few ideas, but you could use any of your favorite sea creatures to populate the image.
Once this cartoon jellyfish drawing has all of the sea creatures you could hope for, you may then wish to add a background for your artwork.
There are so many great settings you could create under the sea!
It could be simple with some sand and wavy lines for the water, or you could add rocks, plants and maybe even something like a sunken ship. What other objects and features could you add?
Another way that you can really bring your cartoon jellyfish sketch to life would be by using some fun arts and crafts. For example, you could make your cartoon jellyfish sparkle by using some glitter.
Glitter glues would also be great to make the colors pop and sparkle! You could even add some stickers and beads to make the image even more eye-catching.
Don't be afraid to try out some unique arts and crafts, as they will only make your artwork look even more amazing!
Your Cartoon Jellyfish Drawing is Complete!
You have finished all of the steps in this guide on how to draw a cartoon jellyfish, and now you have an absolutely adorable portrayal of a jellyfish to show for it!
The steps in this guide were designed to show you how fun and easy it can be to create this design, and you may have surprised yourself with what you can do.
Don't forget that you can also add some of your own details, ideas, additions and changes to make this drawing even more personalized!
The fun then continues on our website. We have so many amazing drawing guides and other activities there, and more are on the way.
We would be very interested to see how this cartoon jellyfish drawing turned out, so please share your finished artwork on our Facebook and Pinterest pages!
This is the best way to show off how great your drawing turned out.