There are so many incredible animals on our planet, and a huge variety of them live in our oceans.
With so much variety under the sea, it can be hard to choose a favorite! Many people love dolphins due to their high intelligence and great personalities.
We will be celebrating this incredible creature as we learn how to draw a cartoon dolphin.
Throughout this guide, you will learn everything you need to know about drawing this wonderful sea mammal while also getting to design your own extra details.
This will look incredible once you've finished with it, and we can't wait to see how it turns out!
So get ready to take a deep dive into this step-by-step guide on how to draw a cartoon dolphin in just 6 easy steps!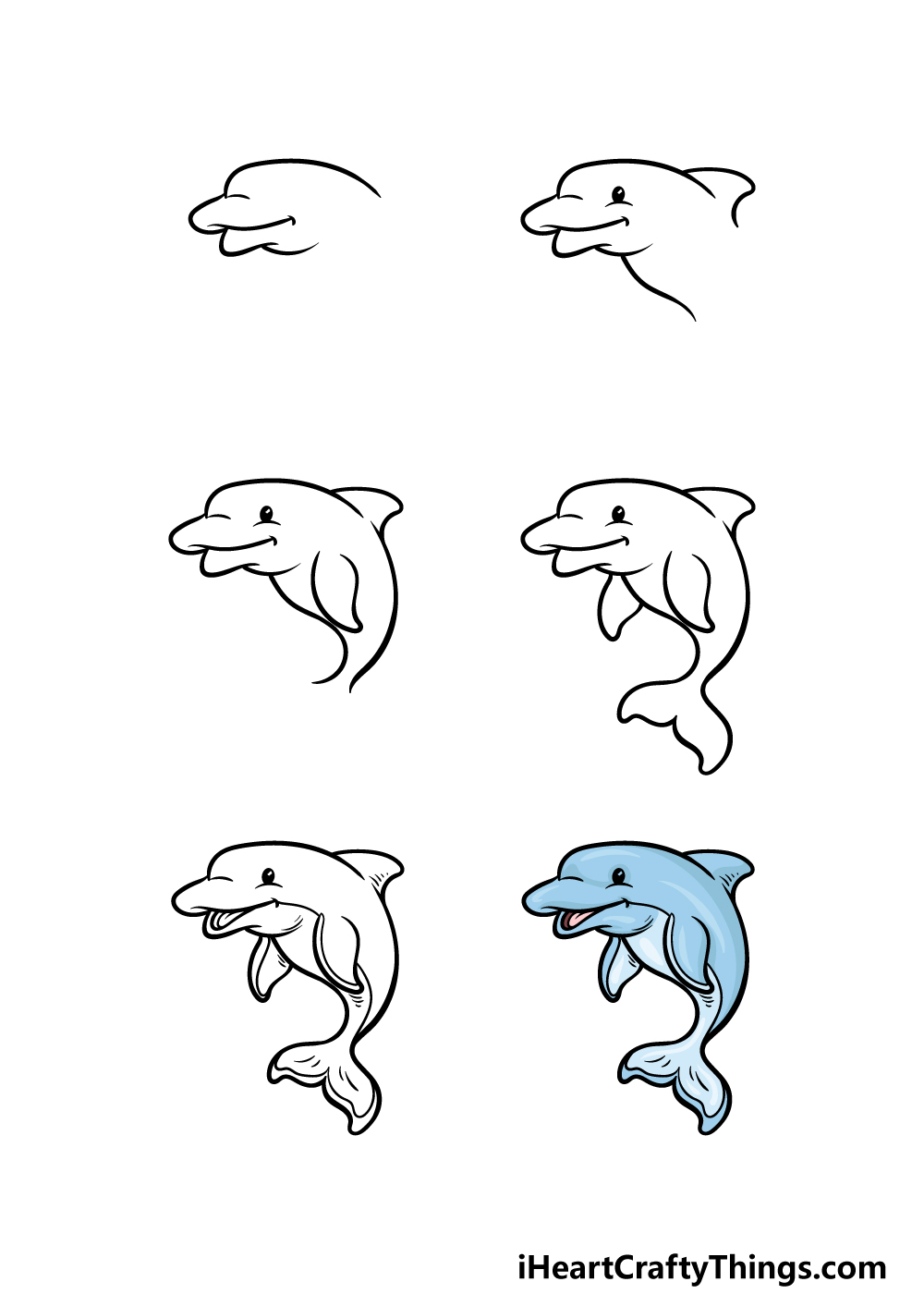 How to Draw A Cartoon Dolphin – Let's Get Started!
Step 1
This guide on how to draw a cartoon dolphin will begin with the head of this incredible mammal. If you've ever seen a dolphin before, you will know that they have a rather distinctive head shape.
For this first step, you'll want to follow our reference image as closely as you can, as there are quite a few details to portray. The top of the head is rather long and curved, and it leads to the snout.
This snout is possibly the most complex portion of the head, and it is drawn using lots of smaller curved lines.
There will be a line at the center of this snout to give the dolphin it's little smile.
The snout is the portion that could be hardest to draw, so be sure to take it slowly and replicate our example as best you can!
Step 2 – Now, add some facial details and start drawing the body
You have the head of this cartoon dolphin done, and now we can add some facial details along with the start of the body. First, add a solid black oval for the eye of the dolphin.
This will have a small white spot inside of it for a glint in the eye, and there will then be a curved line beneath the eye for some extra expression.
Then, use another curved line with a rounded tip for the fin on the back of the dolphin. Finally, add another curved, wavy line for the dolphin's chest.
That's all there is to it for now, so let's take on step 3!
Step 3 – Next, draw the flipper and more of the body
This cute cartoon dolphin is really starting to take shape! This third step of the guide will help you to build onto the design even further.
First, use some more curved lines to add to the body outline of this dolphin.
As you can see in our example, the back and chest of the dolphin will be rather thick and rounded, and it will extend to the thin tail of the dolphin.
Then, finish off by drawing a thin rounded shape onto the side of the body for the flipper. It will then be time for step 4!
Step 4 – Now, complete the outline of the body
You will be adding the final details and touches in the next step of this guide on how to draw a cartoon dolphin, but first we need to finish the outline for the body.
First, draw the end of the tail. This fans outward and then in again, and is drawn using some more curvy lines.
Once the tail is complete, add the other flipper poking down from the other side of the body.
When it looks as it does in our reference image, we will be able to finish off those final details we mentioned in step 5!
Step 5 – Add the final details to your cartoon dolphin drawing
It's time to add the final details to this cartoon dolphin drawing! This picture is already looking amazing, but it will look even better with the extra detailing.
These details include the tongue and mouth outlines and some more lines on the belly and the flippers.
When you have added the details we show in this image, you can then add some of your own!
It could be fun to draw a background to show what kind of ocean environment this dolphin is swimming in.
You could take it even further and add some extra sea animals as well, so let your creativity take over and see what happens!
Step 6 – Finish off your cartoon dolphin drawing with color
For the sixth and final step of this guide, we will finish off this amazing dolphin with some colors!
In our reference image, we showed you just one of the ways that you could color this cute cartoon dolphin.
We used shades of blues and light greys for the body of the dolphin, and that creates a lovely soft look for this cute guy.
Will you use the same colors or maybe try some other color combinations?
You can also switch up the art tools and mediums that you choose in order to achieve all the color shades you're after. Whatever you go with, we know it will look amazing!
5 Tips To Make Your Cartoon Dolphin Drawing Even Better!
Dive into these tips for your cartoon dolphin sketch to make it even better!
This drawing of a cartoon dolphin that we created in this guide shows a dolphin leaping up from the water. It's a great pose for this cartoon dolphin, but there are other ways you could have it posed.
For example, you could show it swimming in a more leisurely fashion or have it in a stationary pose. What are some other poses you could create for this cartoon dolphin?
If you have loads of ideas for poses for this cartoon dolphin, you could use them by drawing some dolphin friends for this one. This would also make your artwork even more interesting!
Dolphins will often travel in groups in real life, so this would work especially well. The only question is how many dolphins would you like to add to the scene?
When you've had enough of drawing dolphins, you could also add other sea creatures to this cartoon dolphin drawing.
There would be so many to choose from, and you could include all your favorites!
These could include giant whales, fearsome sharks or lazy starfish for just a few examples. What are some other sea creatures you could add to the scene?
Another way to add some life to your artwork would be by adding a human character or two. There are a few ways that you could go for this approach.
One would be to draw some humans swimming with the dolphins. Or, you could have them feeding the dolphins from dry land.
These are a few ideas, but what else can you think of?
Finally, you could finish off this cartoon dolphin sketch with a background. Once again, there would be a few different approaches you could take for this.
One would be to draw the cartoon dolphin in its natural ocean habitat. Or, you could draw one in a man made enclosure at an aquarium.
Where would you like this cartoon dolphin to hang out in your picture?
Your Cartoon Dolphin Drawing is Complete!
Dolphins are truly amazing creatures, and we hope you enjoyed portraying one in this guide on how to draw a cartoon dolphin!
Drawing animals can be tough, but we wanted to show you that it can be so much easier when you have some steps to follow.
As long as you follow everything we laid out, we know you will finish it in no time!
Then, you can have even more fun adding your own elements to the mix. We mentioned drawing a background featuring more sea creatures as one idea, but there are so many ways that you can finish this image off.
When you're ready to dive into a new drawing guide, you'll want to check out our website for more fun! We will be featuring many new drawing guides and other fun activities to enjoy there, so be sure to check in often.
We would also love to see how this cartoon dolphin drawing turned out, so please share your creation on our Facebook and Pinterest pages for us to see!