Who doesn't love cartoons? There are so many great cartoon characters that entertain people young and old, and there are characters to suit every taste and age group.
Animals are a common inspiration for cartoon characters, and learning how to draw cartoon animals can be a fun way to create some of your own!
In the tutorial you have in front of you, we will be showing you how to create a trio of cute cartoon animals of your very own! As long as you follow our steps, you will see how fun and easy it can be.
With that, we can begin this fun step-by-step guide on how to draw cartoon animals in just 6 easy steps!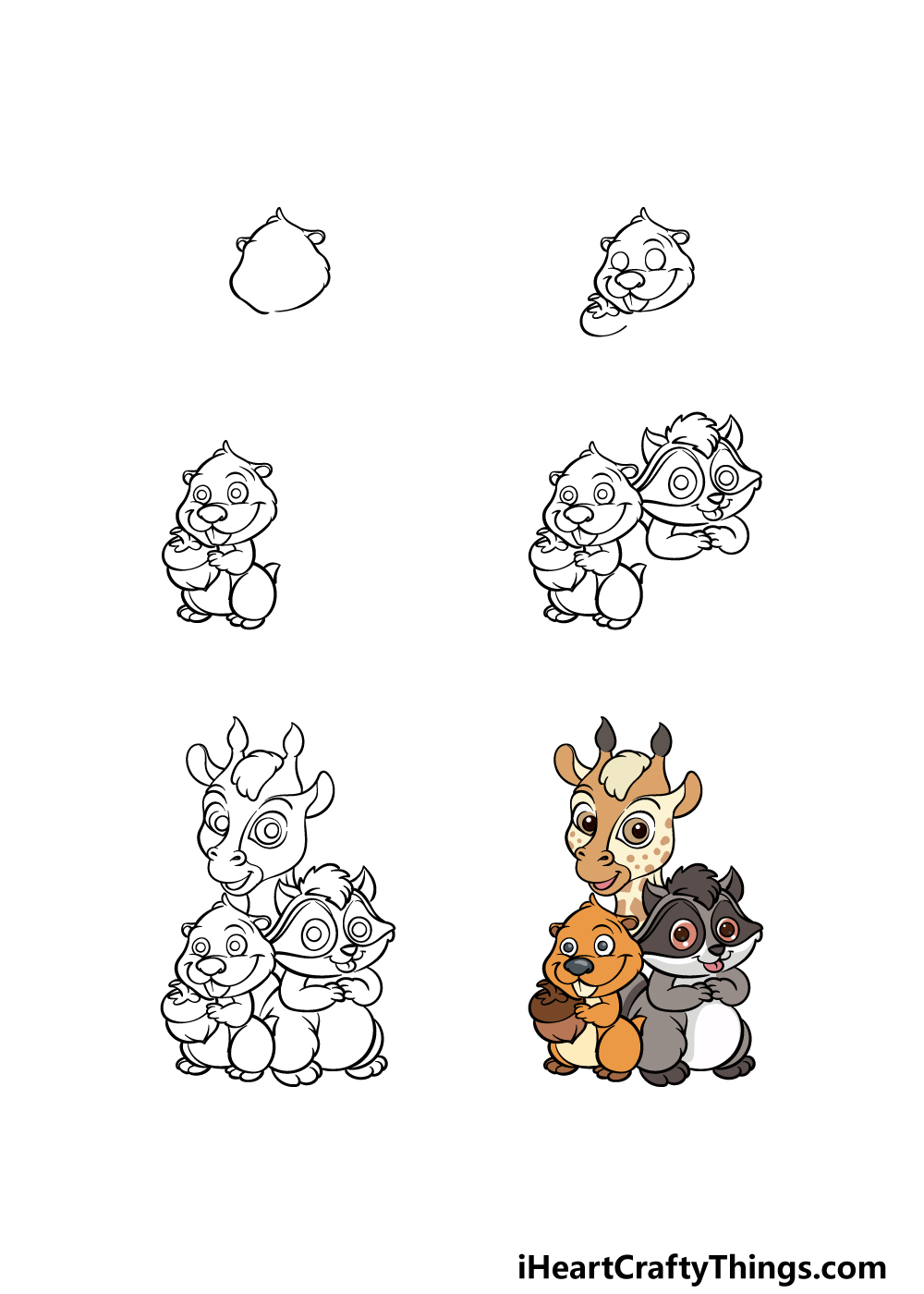 How to Draw Cartoon Animals – Let's get Started!
Step 1
We will be creating three cute little animals for this cartoon animals drawing!
These will include a giraffe, a chipmunk and an adorable raccoon. In this first step of the guide, we will begin with the chipmunk.
To start this little critter, we will begin with the head outline. This will be drawn using some smaller curved, bumpy lines.
These will make the head outline look furrier and will help to make this chipmunk look even cuter!
Once you have finished this outline, we can move to the second step to add some more details.
Step 2 – Draw some facial features for the chipmunk
With the head outline down, we can now start adding some facial details for this cute chipmunk in this step of our guide on how to draw cartoon animals.
First, draw some small ovals for the eye outlines. These will also have some small details such as eyebrows above and around them to give the chipmunk even more personality.
Next, draw a large nose beneath the eyes, and then extend some curved lines out from the center of the nose's base.
These will form the smiling mouth of the chipmunk, and you can finish off that area with some pointy teeth poking out. Then, draw the top of the acorn it will be holding.
Step 3 – Now, draw the body for this chipmunk
Now you're ready to finish off this cute chipmunk before adding more critters for this cartoon animals drawing. To do this, we will be drawing the body for the chipmunk you've been working on.
First, draw some small circles inside of the eye outlines. You can then draw its little arms holding onto the acorn, and you can also finish this acorn while you're at it!
The body will be drawn using some curved lines, and the legs will be short and rounded with little round toes at the ends. Finally, add a small, pointy tail to its back, and then you're ready for step 4!
Step 4 – Draw the next animal
You're really getting the hang of it now! For the next few steps of this guide on how to draw cartoon animals, we will be adding the next few animals.
You have seen from the previous steps how you can build up the various details to form the entire creature, so we will cover the remaining two animals in a bit less detail.
First, draw the outline of the raccoon's head. This will also be drawn using curved lines to make it look fluffy, but it will be wider at the sides.
You can then draw facial details such as the eyes, nose and mouth as they appear in the reference image. Finish off by drawing its little arms, and then we can add some final details in the next step.
Step 5 – Now, add in the final details of this animal drawing
This fifth step of the tutorial will see you finishing off the raccoon while also adding the final animal.
First, use some rounded lines for the body of the raccoon, and draw his little legs and feet to finish off the pose.
Then, we will add the head of the little giraffe poking up from behind the other two animals.
Once again, you can use what you have learned in the previous steps of the guide when drawing this giraffe head.
That means starting with the outlines and then adding facial details and spots to finish it off.
With all three animals drawn, you can then add some extra details of your own! These can include some more animals of your own design, or maybe a fun background for these animals.
Step 6 – Finish off your cartoon animals drawing with some color
When coloring this cartoon animals drawing, we chose to use a different color scheme for each animal.
This makes them look more like their real-life counterparts, but it also makes for an image that is more interesting to look at.
For the chipmunk, we used light browns and yellows for its fur and belly. We also used different brown shades for the acorn it is holding.
Then, we used a combination of light and dark greys for the raccoon, and we left its belly white. We then finished off the giraffe with some tan colors and light yellows.
These are the colors that we chose, but you should feel free to use any other color choices you may have!
Do this to take your cartoon animals drawing to the next level
Find out how to make this cartoon animals sketch even better with these tips!
For this cartoon animals drawing, we showed three cute animals for you to draw. They are a wonderful trio, but you could add even more animals to the scene if you wish!
You could pick any animals you like and then translate them into the same cute style we depicted these three in. It could be a traditionally cute animal like a bunny or a squirrel!
Or, you could make a less obvious creature like a rhino fit into the cute style. It's up to you, so what could you add?
The way this drawing of cartoon animals is done looks great, but it could be even cuter if you add some clothing. The animals could be dressed in little hats or sweaters for a few ideas.
These are just a few suggestions, but you could add any others you like.
The clothing could even be themed or matching for extra cuteness! What are some items of clothing that you could dress these cartoon animals in?
Next, you may want to add a background to this cartoon animals sketch. This is another instance where you could really use your imagination when picking the setting!
It could be somewhere like a jungle or a forest, or they could be at a fun birthday party. It's the kind of image that would work in any setting you like, so be sure to try out all your ideas!
Finally, you can really finish off this cartoon animals drawing with some colors. We showed you some nice colors you could use, but you don't have to necessarily stick to these.
Choosing the colkors you will use is just a part of the process, however. You could also enhance the colors with the art tools and mediums that you use to achieve them.
It's another case of where you can have a great time experimenting and trying out several different approaches! What will you choose to finish it off?
Your Cartoon Animals Drawing is Complete!
We hope that you enjoyed creating a trio of cuties with this guide on how to draw cartoon animals!
In this guide, we wanted to make the process fun for you while also showing you how you can recreate other cute animals by breaking it down into small steps.
Then, when you have finished this guide, you can create your own unique pictures.
You could do this by adding details, drawing fun backgrounds or even by designing your very own cartoon animals. How will you show off your creativity with what you learned in this guide?
If you enjoyed working through this guide, you will be glad to know we have many more for you to love on our website!
We have tons of awesome drawing guides and other fun art goodies to enjoy, so be sure to visit us there frequently to never miss out.
When your cartoon animals drawing is finished and colored, we would love to take a look at it! You can share your artwork on our Facebook and Pinterest pages for us to see when it's done.