The Wild West was an exciting yet dangerous time to live in! It was a time of cowboys, bandits and train robberies.
Some of these elements have been overblown thanks to many Western movies and books, but there are some elements that have become closely associated with the era.
We will be depicting one in this guide on how to draw a cartoon cowboy hat!
These hats are iconic aspects of the cowboy mythology, and while they are recognizable they can be rather difficult to draw.
In this step-by-step guide on how to draw a cartoon cowboy hat, we will show you how you can easily work through this design to create your very own cowboy hat!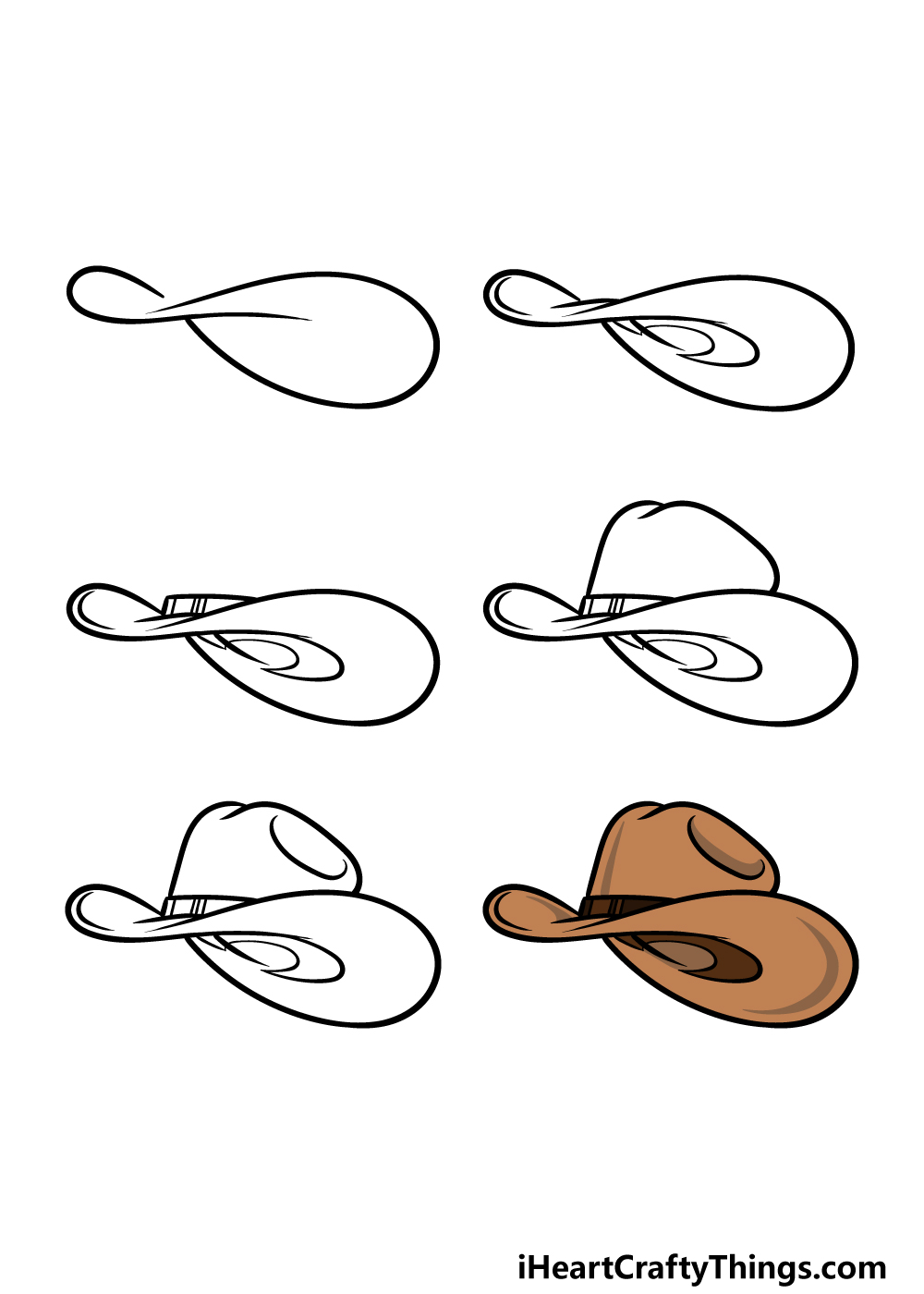 How to Draw A Cartoon Cowboy Hat – Let's Get Started!
Step 1
In this first part of your cartoon cowboy hat drawing, we will begin with the rim of the hat.
This helps to protect the face and neck from the harsh rays of the sun, but it can be a rather tricky element to draw.
We will essentially be using two wavy lines that connect to one another for this rim, but if not placed right they can look a bit messy and chaotic!
The line at the front of the rim will be sharply curved, and will extend to the right of the image. The other line will be much larger and thicker, and it will begin from the underside of the first line.
It will loop to the left of the image until it ends above that first line.
Try your best to follow our example image, and then we can proceed!
Step 2 – Now, add some more details to the rim
This step of our guide on how to draw a cartoon cowboy hat will focus on adding some more details to the rim that you began in the previous step.
This will include adding the hole of the hat that would go on the head.
First, we will add a few smaller curved lines onto the front portion of the rim to give it some more depth. Then, we will be adding some more intricate lines to the back portion.
These details that we are adding will almost connect the front and back portions of the rim we've been working on, but they will not quite touch.
This part can be trickier than expected, so be sure to take your time with it and closely follow our example!
Step 3 – Next, draw the hatband
The previous 2 steps of this guide were a bit on the tricky side, so we will slow things down for this third step with a much simpler, easier element.
In this step, we will be drawing what is known as the hatband.
This is a small, thin belt-like portion that wraps around the hat over the rim. You can draw this by adding a slightly curved rectangular shape onto the top of the hat.
This will also have some vertical line details on it.
That's all for now, and then we can proceed!
Step 4 – Now, draw the top half of the hat
We're getting to the final stages of this cartoon cowboy hat drawing, and in this one we will be drawing the top, main portion of the hat.
Luckily, the last few details we have to draw should be much easier than the first two were!
We will essentially be using two curved lines for this top portion of the hat. The first line will extend up from the front of the hatband and extend vertically.
Then, we will add another curved line that's longer and more horizontal connecting to that and then to the rim.
Cowboy hats often have a dent at the top, and we have portrayed this by connecting these two lines in this way.
Once drawn, we will be ready for some final details!
Step 5 – Add the final details to your drawing
Now we have another easy step for you to take on in this step of our guide on how to draw a cartoon cowboy hat.
We will be drawing another dent crease onto the surface of the hat, and this time it will go on the side of the hat. This crease will look like a large letter C that is laying on its side.
When you have drawn this crease, we will then move on to the final step of the guide! Before that, you could also add some extra ideas of your own!
For a couple of ideas, you could draw a Western-themed background behind the hat.
Alternatively, you could also draw the head of a cowboy wearing the hat if you're feeling a bit ambitious! These are just a few ideas, but what else can you think of?
Step 6 – Finish off your drawing with color
Cowboy hats come in all kinds of different materials, and that means that they come in many different colors.
This is good news for us, for even if you wish to keep this cartoon cowboy hat looking realistic you have tons of options!
In our reference image, we went with various shades of muted browns to give the hat a leathery look.
You could go for similar colors in your own drawing, but this is completely up to you! Now you get to show off your creativity as you choose your favorite colors and art mediums.
4 More Ways To Make Your Cowboy Hat Drawing Unique
Get ready for an artistic rodeo as we show you how to make your cowboy hat drawing more unique!
Cowboy hats come in many different designs and forms, and the one we created for this cowboy hat sketch is just one of those many designs.
It's a great classic design, but by changing just a few details you can make it an entirely new kind of hat.
You could just change elements such as the hat brim and the buckle. Why not look up different types of cowboy hats in order to get some inspiration?
Having a cool hat is one thing, but it needs to be worn in order to reach its full potential! For that reason, this next step will focus on adding a head for the hat to be on.
You could design your own cartoon cowboy head for the hat to be on, or you could look up a famous cowboy character, such as one played by Clint Eastwood.
For an extra fun touch, you could use your own head and face as a model to put this hat onto. That would really make this cowboy hat drawing even better!
One of the easiest ways to make a drawing more unique is by using some fun colors and art mediums.
These hats could be made of anything from different types of leather, and that means you have lots of different colors you could use.
You could also try out different mediums such as watercolors and acrylics to make the colors really look incredible.
The final way we have for you to make this drawing of a cowboy hat more unique is by adding a background.
We mentioned drawing a head for this hat to be on, but you could also put it in a setting with more things you would expect a cowboy to own.
You could draw some cowboy boots, a pistol or maybe a cowboy belt. These are a few objects that you could draw with the hat, but what other ones can you think of?
Your Cartoon Cowboy Hat Drawing is Complete!
These hats may seem simple at first glance, but while working on this guide on how to draw a cartoon cowboy hat we think you may have discovered that there can be more than meets the eye sometimes!
We hope that with the help of these steps you found these difficulties to be only a small problem to overcome.
Now that you have mastered this drawing, you can keep adding even more to the image to take it even further! What ideas do you have for this drawing?
If you enjoyed depicting this cartoon cowboy hat, you can find many more amazing drawing guides on our website. In addition, we will be bringing out many more soon, so keep checking in!
Lastly, you can share your cartoon cowboy hat drawing on our Facebook and Pinterest pages when it's finished for us to see!