Throughout the history of animation, certain animals have been featured as cartoon characters more than others.
Some examples of these animals would be dogs, cats and of course birds. There have been many classic bird cartoon characters, and learning how to draw a cartoon bird is a great way to add your own unique character to this list of characters.
If you would like to know how you can do this and have your very own bird cartoon character, then this will be the guide for you!
We hope that you have a great time as you work with us on this step-by-step guide on how to draw a cartoon bird in just 6 easy steps!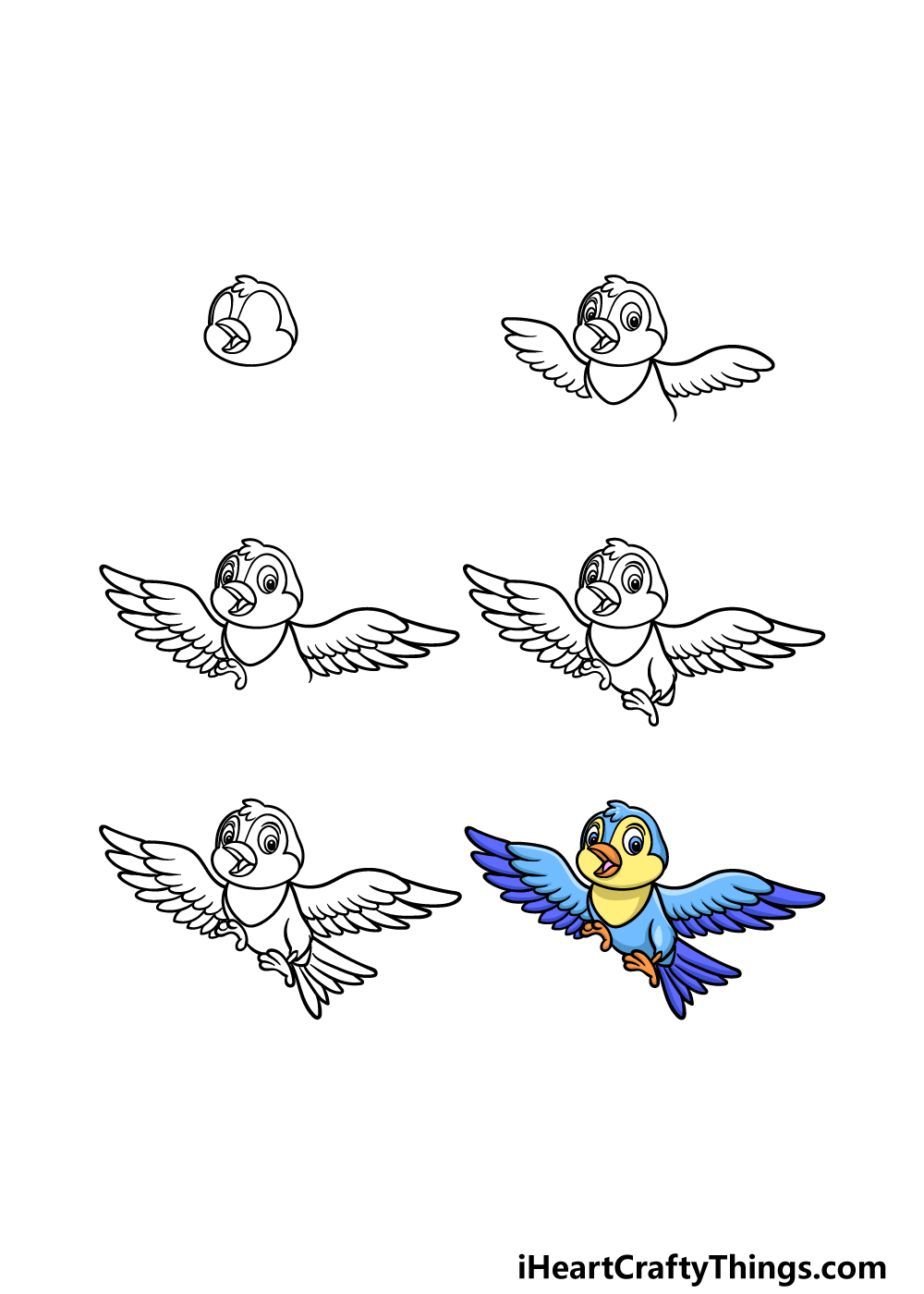 How to Draw A Cartoon Bird – Let's Get Started!
Step 1
To start this guide on how to draw a cartoon bird, we will begin with the face of the bird.
We are designing a really cute interpretation of a bird, and the head will be quite rounded to make it look even cuter! Start off by drawing the beak using some curved lined shapes with sharp points at the ends of them.
Then, use some more rounded liens for the base of the head, and then some more for the outline of the head on top.
There will be some round lines around the eyes that we will be drawing in a future step. Also, be sure to add three small rounded lines at the top of the head for added cuteness!
Step 2 – Now, draw some eyes and wings for this cartoon bird
You can now start adding some more details to your cartoon bird drawing in this step. The eyes will have an oval outline, and then we shall use some rounded shapes for the pupils inside of the eyes.
The eyes will be big and round to, you guessed it, make the bird look even cuter!
Once the eyes are drawn, we shall next add some wings to it. The wings will be drawn with some round lines, and there will be some rounded feathers on the lower half of them.
Finally, draw a curved shape for the chest of the bird, and start drawing the back as well to finish off this step.
Step 3 – Next, draw some more feathers for the bird
In this third step of our guide on how to draw a cartoon bird, we will be adding some more feathers to the wings that you drew in the previous step.
To do this, draw another layer of long, curved shapes onto the tips of the wings, as shown in the reference image.
Once you have finished off the wings, you can then draw a small leg and foot to the base of the bird.
Bonus: Here Are Some More Ways To Depict The Feathers
We just covered how you can depict the feathers of this cartoon bird drawing, and they look great as they appear in the reference image! However, there are also a few other ways that you can depict the feathers.
Some of these ideas would also fall under the category of coloring the bird later on in the guide, but you can at least start thinking about them now.
One way that you could create the feathers of this cartoon bird would be to make individual feathers out of construction paper. You would need to decide on the color scheme you would like for the bird.
Let's say for the sake of argument that you would like the bird to have a blue color scheme. Then, you could use light and dark blue construction paper and cut out lots of feather shapes.
Next, you could make layers of the colors alternating between them. This would create the effect of layered feathers as you would see on a real bird.
It also functions as a really nice way to add some more dynamic color to the drawing. It would take more work, but the end result would be worth it!
Instead of drawing the feathers with outlines, you could also use brushstrokes if you're planning to paint the picture later. To plan it, you could draw out the feather shapes with a light pencil.
Then when you paint, you will know where the brushstrokes should go, and you can erase the pencil once the paint is dry. These are a few ways that you could depict the feathers, but you could use any other ideas you have!
Step 4 – Draw another leg for the bird
We will be adding another leg to your cartoon bird drawing in this next part of the guide. This leg will have a feathery base that you can draw with some curved lines.
Due to the position of the bird, this feathery base was unseen on the other leg.
Otherwise, the leg and foot will look very similar to the other one. We shall then move on to some final details and elements in the next step!
Step 5 – Add the final touches for your cartoon bird drawing
Now you are ready to add some final details to the picture for this step of our guide on how to draw a cartoon bird.
You can use some more long, thin and curved shapes for the tail feathers. These feathers will look rather similar to the feathers that you drew at the ends of the wings previously.
Once this tail is added, you can also add some details of your own! One fun idea would be to draw a background for this adorable bird.
It could be in a cage with some bird toys, or maybe it could be flying around a pretty garden!
These are just a few ideas, but what else can you think of to add to this cute drawing? Maybe you could also take what you have learned and design a friend for it!
Step 6 – Finish off your cartoon bird drawing with some color
In this final step of your cartoon bird drawing, you will be finishing off with some color. In our reference image, we provided you with an example of one set of colors that you could go for.
We used a contrasting set of blues and yellows to create a bright and cheery look for the bird.
You could use these pretty colors for this little bird, but you should also feel free to use any other colors that you may prefer!
This is a great opportunity to work in all of your favorite colors to bring this cartoon bird to life.
When you know which colors your will use, be sure to also have fun experimenting with your favorite art tools and mediums.
You could go for some painterly mediums like acrylics and watercolors or maybe go for colored markers and pencils. Which colors and mediums do you feel would best suit this image?
Do this to take your cartoon bird drawing to the next level
Fly into these 4 tips we have for making your cartoon bird sketch even better!
This cute drawing of a cartoon bird is having a great time on its own, but now that you know how to draw it, you could add some friends for it.
Even if these additional birds have a similar design generally, you could change a few details such as the pose or the facial expressions of the additional birds.
There are so many fun scenarios and poses that you can create, so don't be afraid to be creative with it as you add some additional cartoon birds.
If you wanted to add more characters to your drawing, you don't need to stick to the same bird design we created in this guide. You could also incorporate some other bird species that you like!
Or, if you wanted to create some cartoon characters based on non-bird characters, then you could do that as well.
The question now is which animals or additional bird species would you like to add to the image?
Another option for bringing some life to your cartoon bird drawing would be to add a human character to the image. This character could be drawn in a similarly simple cartoon style to the bird, too.
If you were to do this, you could base them on a real person or create a completely unique character. Who would you like to add to the picture?
Once you have added any characters you want for this cartoon bird sketch, you could then finish it all off with a background. This would be a great way to make this lovely picture even more complete!
You would also have so many options for different background settings you could use. The cartoon bird could be in a garden, perhaps in a bird bath.
Or, it could be posed in front of a famous landmark or structure. These are just two ideas, but how else could you create a background for this picture?
Your Cartoon Bird Drawing is Complete!
You did an incredible job on this guide on how to draw a cartoon bird!
Designing your own character can be a lot of fun, so in this guide we aimed to give you all the tools you needed to create this adorable character. As long as you follow all of the steps then you will have it done in no time!
When you have finished all of the steps in this guide, you can keep the fun going by adding your own elements and touches.
We spoke of a few ideas that you could go for such as drawing a background or changing up some details to create a unique character. These are just a few ideas, so what else can you think of to finish it off?
When you're ready for a new drawing challenge, you can find plenty more to enjoy on our website. We have an ever-growing list of drawing guides, so keep checking in to make sure you never miss out!
Please also feel free to share your finished cartoon bird drawing on our Facebook and Pinterest pages, as we would love to see the finished product!