We created this canvas bag painting project as a sponsored craft for Testors®. All opinions expressed are 100% my own. We hope you, your children and your guests enjoy making this fun project.
My daughter has reached an age where sleepovers with her best friend, or a few of her cousins, is her favorite thing. While slumber parties are extremely fun all on their own, planning ahead with a craft activity is something that can bring the party to a whole new level. I can attest firsthand to how much fun it is to get crafty alongside my friends.
This geometric canvas bag painting craft is a fun and simple project for kids of all ages to make at a sleepover or a play date. The finished canvas tote makes a perfect bag for kids to use as their designated sleepover bag after making it too.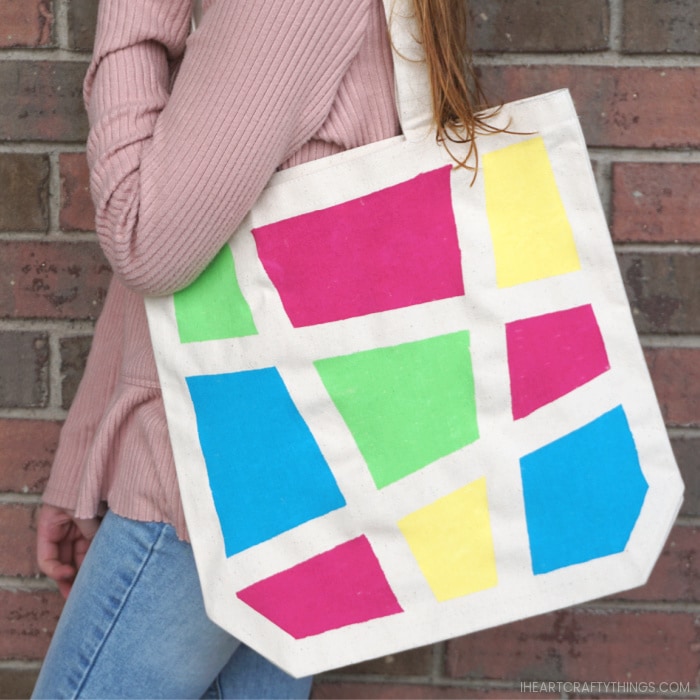 We used Testors® Craft acrylic paints in this painting project. We have a huge collection of the acrylic paints in our crafting supplies and I love them. Testors® has a fantastic collection of color assortments available that are perfect for projects like the one we are sharing today. They are multipurpose and non-toxic too, so I love how we can use them on all sorts of surfaces for all our crafting needs.
The products are available online (and in stores) at Do-It-Best, Menards, Joann Stores and of course Amazon.com.
The acrylic paints are not marked as washable so I definitely recommend spot treating your finished tote bag, should it get dirty. Or test a small area before washing it, especially with other clothing.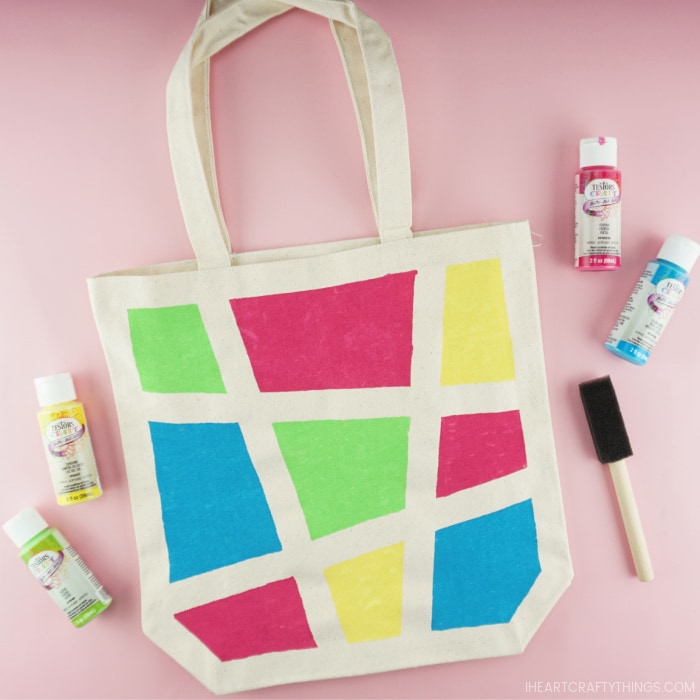 How to Paint a Canvas Tote Bag with Geometric Shapes
Big smiles and excitement are guaranteed when making these fun and colorful canvas totes. You only need a few supplies for this simple project too, which makes it even more perfect for a sleepover craft.
Read our easy step-by-step tutorial below for how to create your own colorful geometric shapes tote bag. We also have a video tutorial inside this post for you to watch before getting starting making your painted canvas bags.
Supplies needed for this easy slumber party craft:
cardboard
canvas tote bag
painters tape
sponge paintbrushes
paper plates
scissors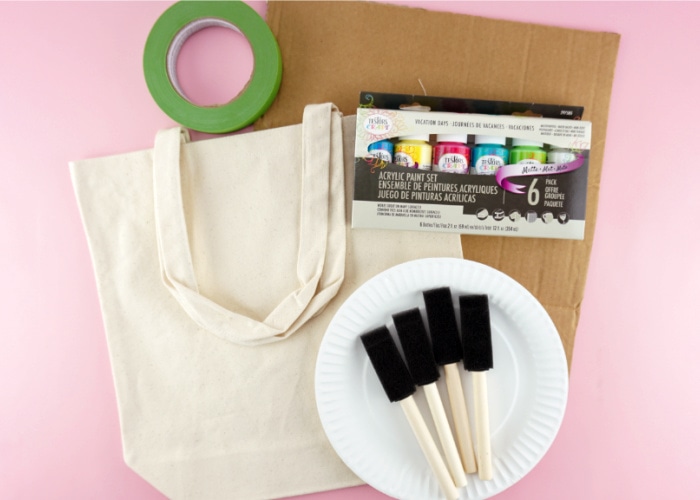 Prepping your Canvas Bag
Start by prepping your canvas bag for painting. To do this, use scissors to trim a piece of cardboard to the dimensions of your canvas tote and insert it inside your bag.
This step is super important because it will help the paint adhere to the fabric and will prevent any paint from bleeding through to the other side.
Our canvas bags had minimal wrinkles in them so we left them as is before painting. However, if your bag has large wrinkles in it you can use an iron to smooth them out before adding the cardboard inside your bag.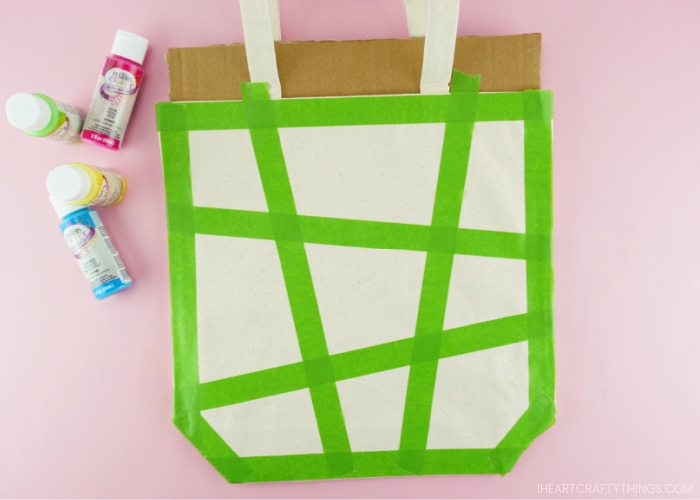 Add a Geometric Design to your Canvas
Now comes the fun part of creating the geometric design on your canvas bag. Each tote bag will turn out completely different dependent on how the tape is placed on the bag. That makes it super fun for kids!
We tried two different ways of creating our design, one with a border and one without. You can choose whichever look you like best.
If creating a border, start by using painters tape to add a border completely around the perimeter of the bag. Then add two strips of tape horizontally from top to bottom placed at two different angles. Lastly, add two strips of tape vertically from side to side placed at two different angles. You are left with nine different geometric shapes for you to paint.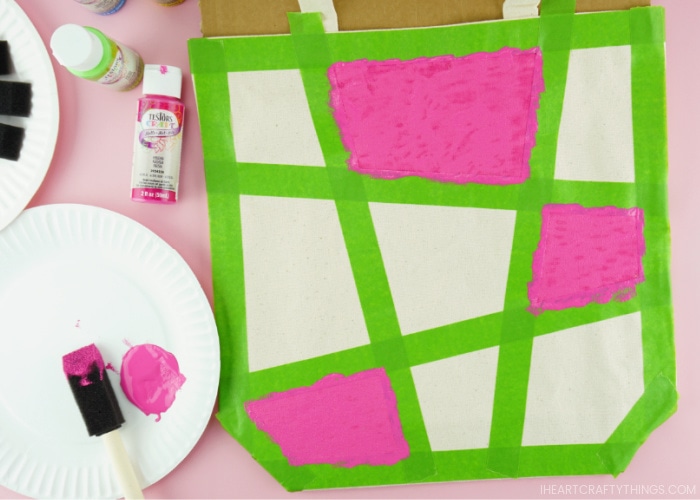 Painting your Canvas Tote Bag
Choose a few different colors from your Testors® Craft acrylic paint set to paint your canvas bag. My daughter loved their Vacation Days set. The bright pink, green, blues and yellow were a perfect combination for the tote bag. We used four colors from the pack but kids can choose any amount and variety of colors.
It's helpful to plan out what color you want to paint each shape before getting started so you can work with one color at a time.
Pour a quarter size amount of one of your acrylic paint colors on a paper plate. Dip a sponge paintbrush into the paint to saturate the end of the sponge and then carefully dab the brush onto a shape on your canvas bag to start painting it. Continue dabbing the sponge into the paint and then dabbing it on the shape to paint it completely.
Using a sponge painting method is helpful for preventing any paint from getting under the painters tape, leaving you with clean lines and edges for the geometric shapes.
After you have finished with one color, add another color of paint onto your paper plate palette. Use another sponge paintbrush to paint the second color in the shapes of your choosing.
Continue with additional acrylic paint colors until each shape of your canvas bag has been painted. Set your bag aside and allow the paint to dry completely.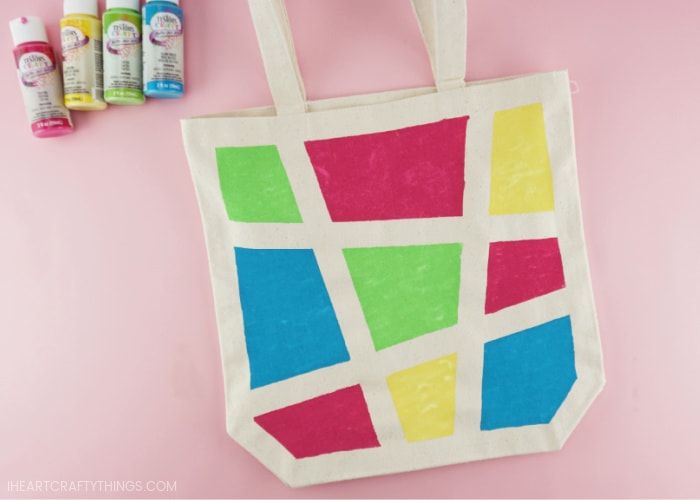 Revealing the geometric shapes on your painted canvas bag
After your paint has dried completely, carefully remove each piece of painters tape from your canvas, revealing the fun geometric painted shapes on your bag.
You can see above how the canvas looks with a border around the edge and below, how it looks without a border added. I painted the tote with no border and love that look but my daughter adored the border look. Everyone will love creating their own custom painted design on their canvas bag.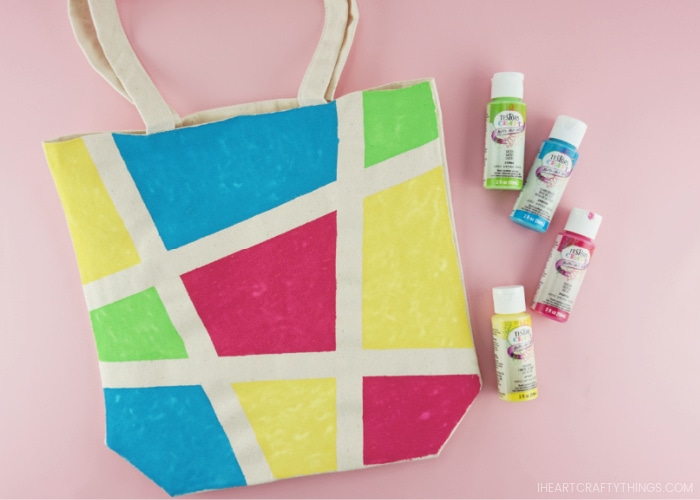 There are so many fun ways kids can use their new colorful tote bag. It can be a designated sleepover bag for kids to use when they have a slumber party with their friends or family.
It can also be used a library bag for kids to keep their library books in for safe keeping. Kids can also make their bag as a gift to give to a favorite teacher, friend or family member. The designs are so colorful and fun, it's a bag everyone is sure to love!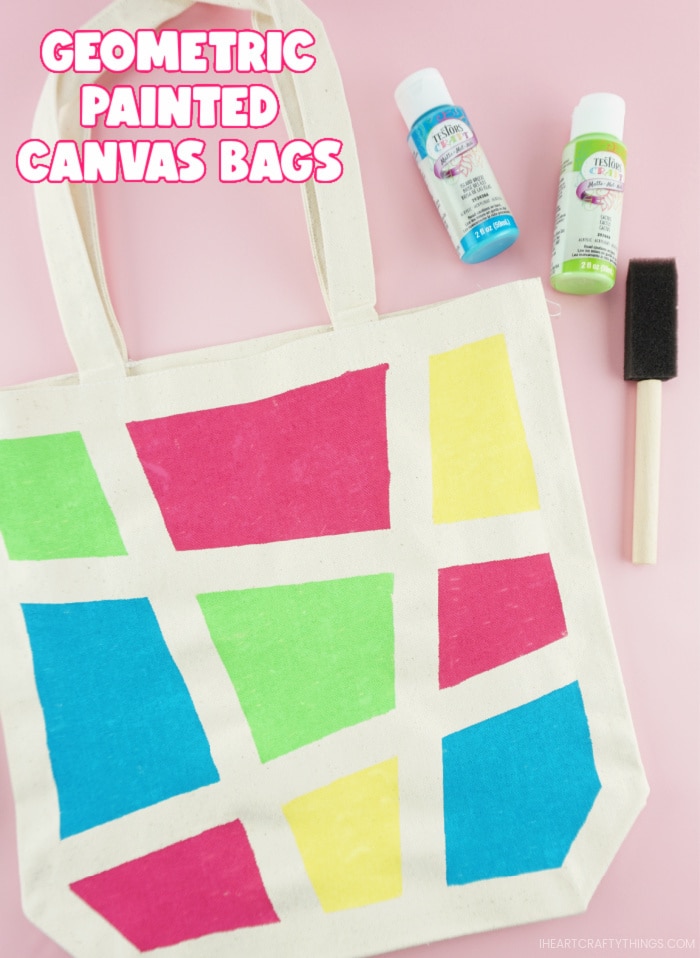 More Sleepover Craft Ideas for Kids
Looking for more fun arts and crafts ideas you can create at a slumber party? Check out some of these fun ideas below:
Use Testors® Craft Pouring Paints to create a gorgeous marbled canvas art.
Making finger puppets is a fun activity for kids to make and play with. We have so many fun finger puppet ideas to choose from like these fun unicorn puppets or these galloping zebra finger puppets. These little gnomes are super fun too!
Create a DIY Windsock to hang up under a covered porch or inside the home. We have over a dozen ideas, one for every season and holiday throughout the year.
Paper crafts are always a fun treat for kids! Here's a fun way to create a 3D Paper Hot Air Balloon Craft. Our free template makes prep time a breeze.
Visit Testors® website for more information about their craft products and to get more arts and crafts ideas to make with your kids.